May is National Water Safety month, so in partnership with the British Swim School, where Bergen (4 years) and Georgia (16 months) have been enrolled in lessons for the past month, I'm excited to be bringing you 5 reasons why we feel that swim lessons are not only important, but a necessary life skill!
For more information on our experience at British Swim School, and a few tips about how to keep your kids safe, be sure to reference our previous two posts in this 3-part series on water safety: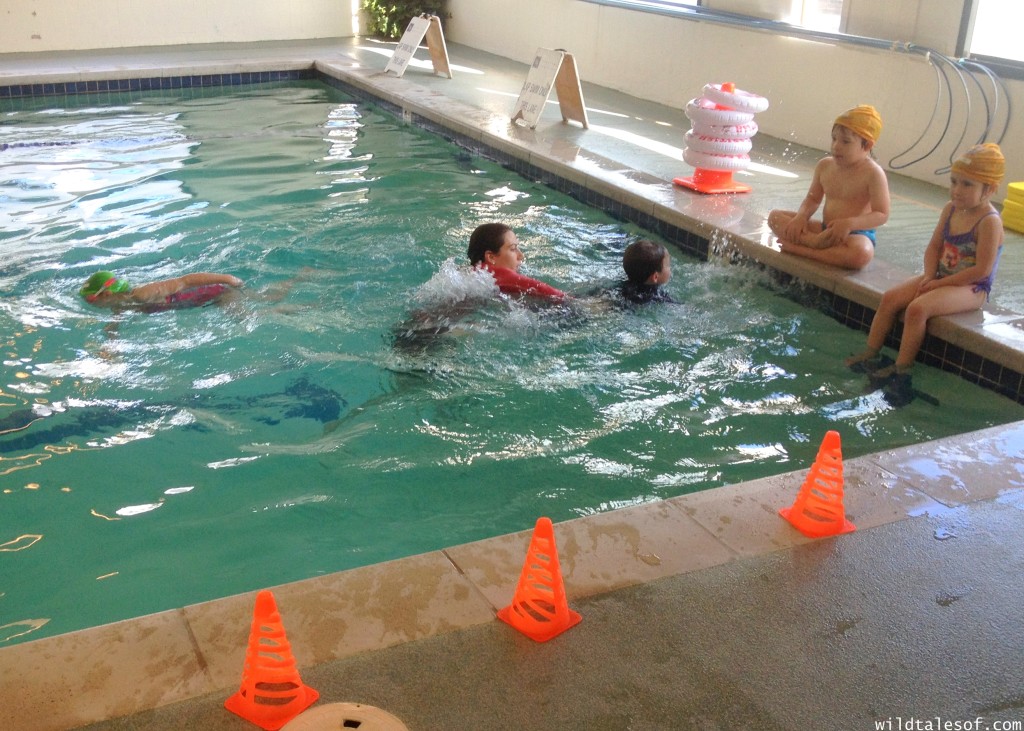 Why Kids Need Swim Lessons
Water Safety
First and foremost, children need to learn life saving skills for the water.  As I've mentioned in one of our previous posts about British Swim School, especially with our proximity to the water here in Seattle and the amount of traveling we do, our kids need to be able to navigate water safely, skillfully, and independently.  In talking with Tracey Weller, the owner of the Seattle area British Swim School franchise, she emphasized that swimming is more than just learning a new sport.  Rather, according to Weller,  "it's an essential lifesaving skill", and "while learning to swim does not drown proof your children, it greatly reduces the risk of drowning".
Exercise and Fitness
When I asked Bergen why he thinks he needs swim lessons, the first thing he said was, "to get my energy out".  He's exactly right! Developing water safety and swimming skills will provide him with a way of exercising for his entire life! In the meantime (as he hones those skills), lessons wear him out and is one of the ways we can guarantee a good night's sleep for him!
Enjoyment and Fun
Swimming and being in the water whether playing at the beach or jumping into the pool with a cannon ball is just plain fun! Add in the independence of being able to get from here to there and keep yourself safe multiplies that enjoyment by 10 (at least)!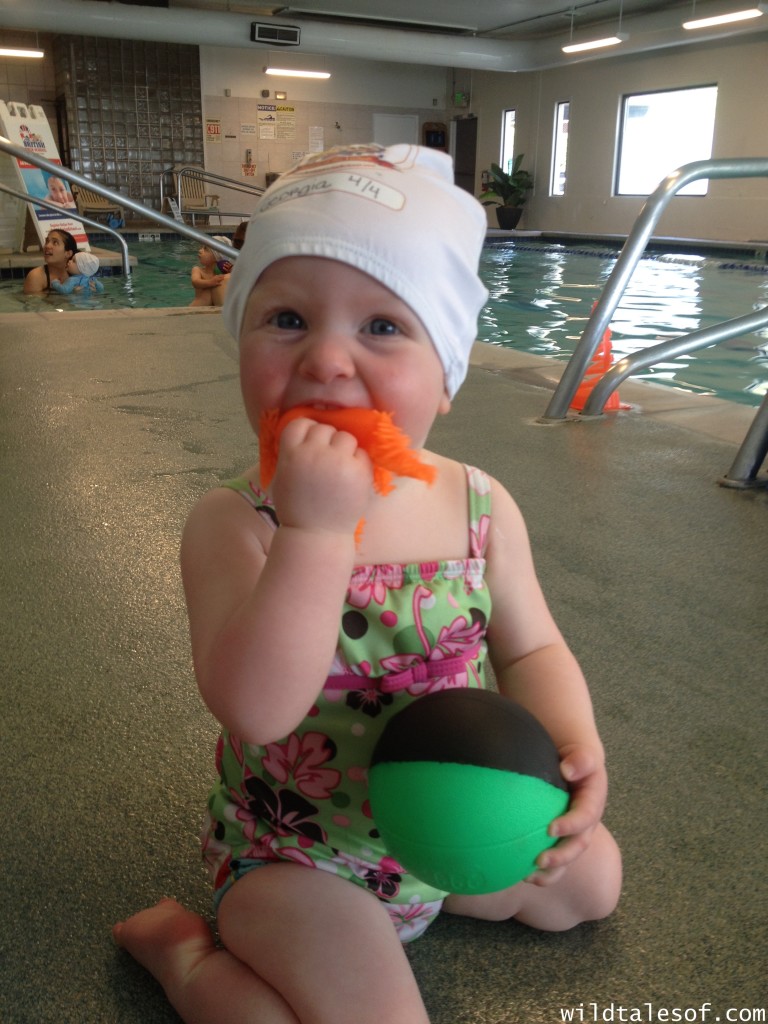 Confidence Boost
There are so many skills involved with swimming and water safety that kids are learning and building upon their "repertoire" all the time and no matter their level. I love how in just a few lessons at the British Swim School, Bergen was able to master the back float.  His teachers made a big deal out of it (he even got a ribbon!), and it's given him the confidence to continue striving for more!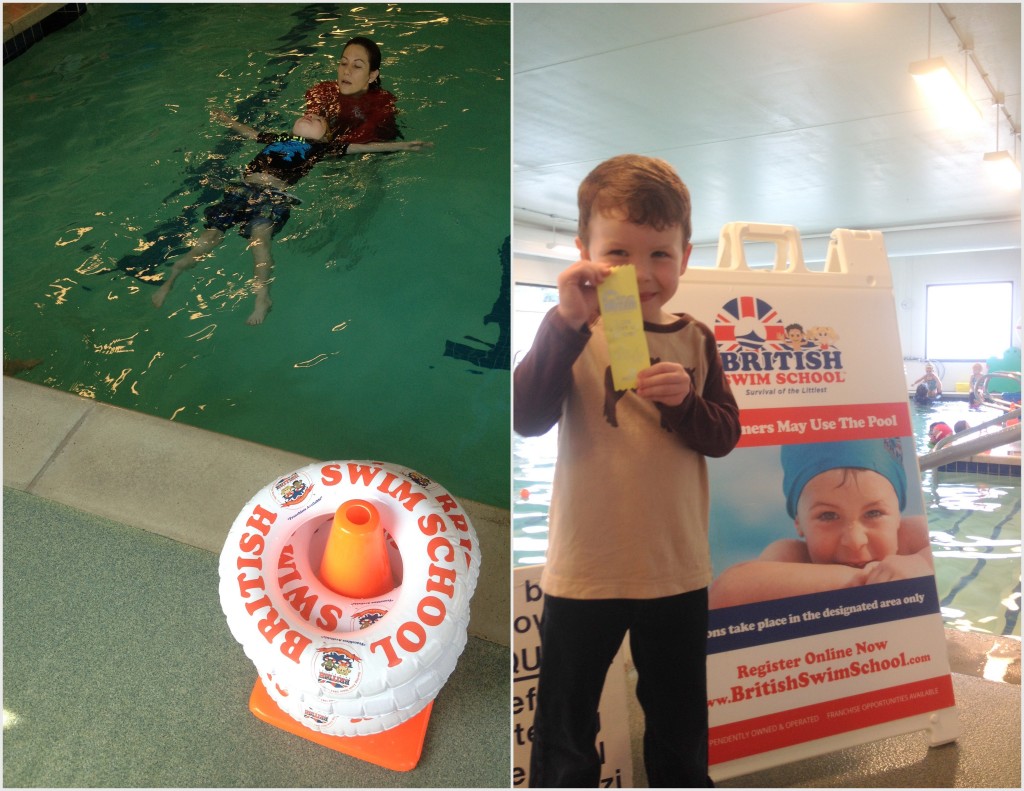 Weller also mentions that if families don't have easy access to pools outside of swim lessons, they can even practice their skills in the bath tub at home! Children can practice putting their face under water (something that can be scary and uncomfortable for many kids), by being encouraged to pick up small coins placed in the tub as a treasure hunt of sorts.  Once the coins are picked up, the kids can add them to their piggy bank—such a creative motivating activity!
More Opportunities
Learning to swim opens up a whole host of activities that are better enjoyed when you have a few skills under your belt.  Water parks, rafting, boating, surfing/ocean play, and snorkeling all come to mind, (and all require some level of swimming ability), when I think about some of the fun we have in store for us as we continue traveling and enjoying the outdoors as a family.
The bottom Line.
It's so important to remember that even with kids enrolled in lessons, the greatest factor in preventing drowning injuries is adult supervision.  No matter what, parents and caregivers must be vigilant and pay attention while their children are in or near water.
What do you love most about swimming? If you're interested to see if BSS offers lessons in your area, here's the link for all the locations available.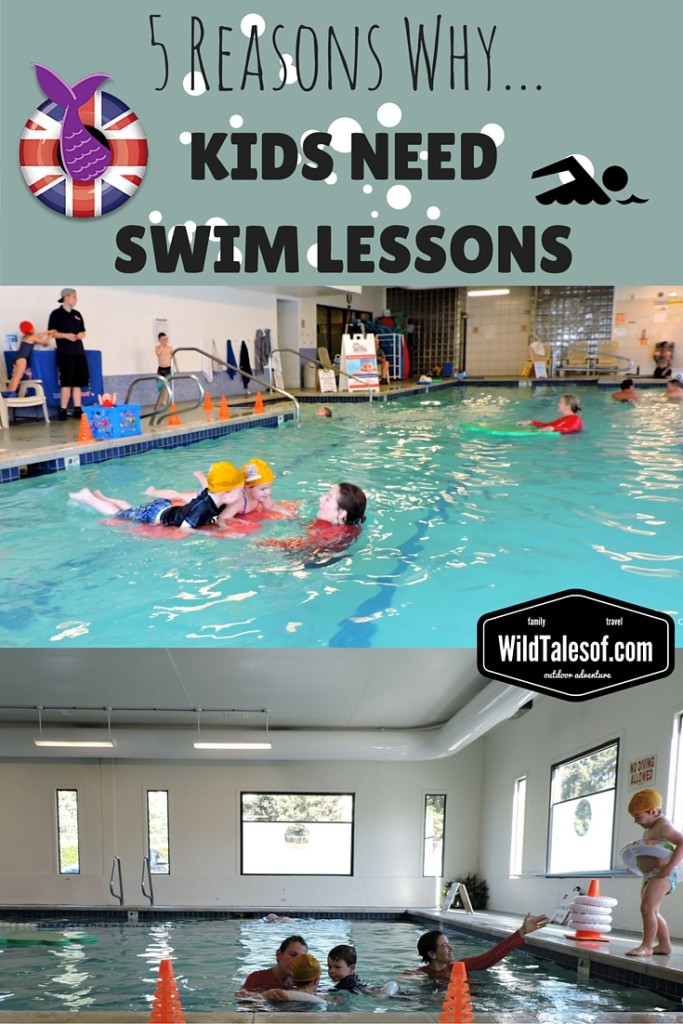 Come join the conversation! You can keep up to date with each and every post by subscribing to the blog via email. We'd also love to have you join us on all of our adventures by "liking" our facebook page and following us on twitter! If you enjoyed this post, please "like it", "tweet it" or "pin it"! 
British Swim Lessons is providing us with complementary swim lessons as well as sponsoring a series of Water Safety posts in exchange for our coverage.  However, all opinions expressed here are my own! Questions? Don't hesitate to email me! I'd love to hear from you: wildtalesof@gmail.com