Georgia and I have been busy testing the Deuter Kid Comfort 3 Carrier this past summer and into fall.  We've loved the opportunity to add some experience with another hiking style carrier to our repertoire.  This review is intended to help more families make informed decisions about the product they ultimately decide to purchase.  If possible, we always advise to visit an outdoor store, such as REI, to try on the carriers yourself.  When you see them in person, you are better able to see each carrier's features.  You can also feel the pack on your very own shoulders, back, and hips.  However, hopefully our review will give you some things to think about as you compare and make your decision.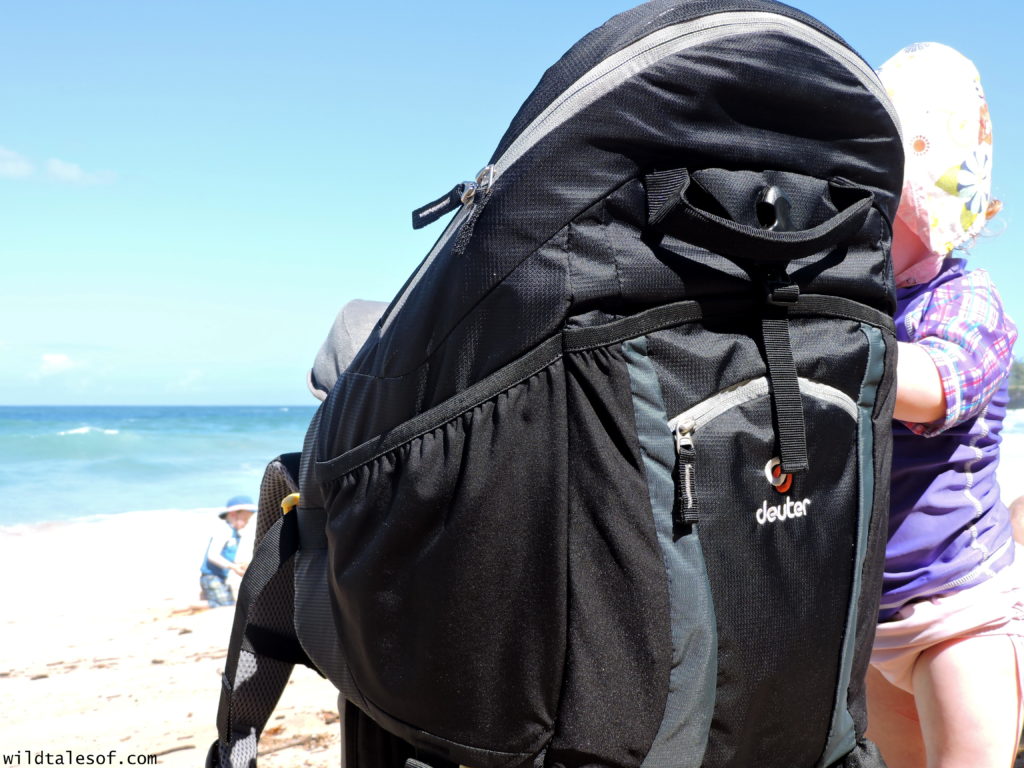 To give you an idea of our testing process of the Deuter Kid Comfort 3, here are a few details:
Testing Time: 2.5 months (summer to late fall)
Testing Conditions: long urban walks on sidewalks, walks on the beach, hikes (varied terrain-gravel, dirt) up to 6 miles
Other Notes: tested in a variety of locations/climates including the Outer Banks of North Carolina, Maui, Hawaii, and all around the Pacific Northwest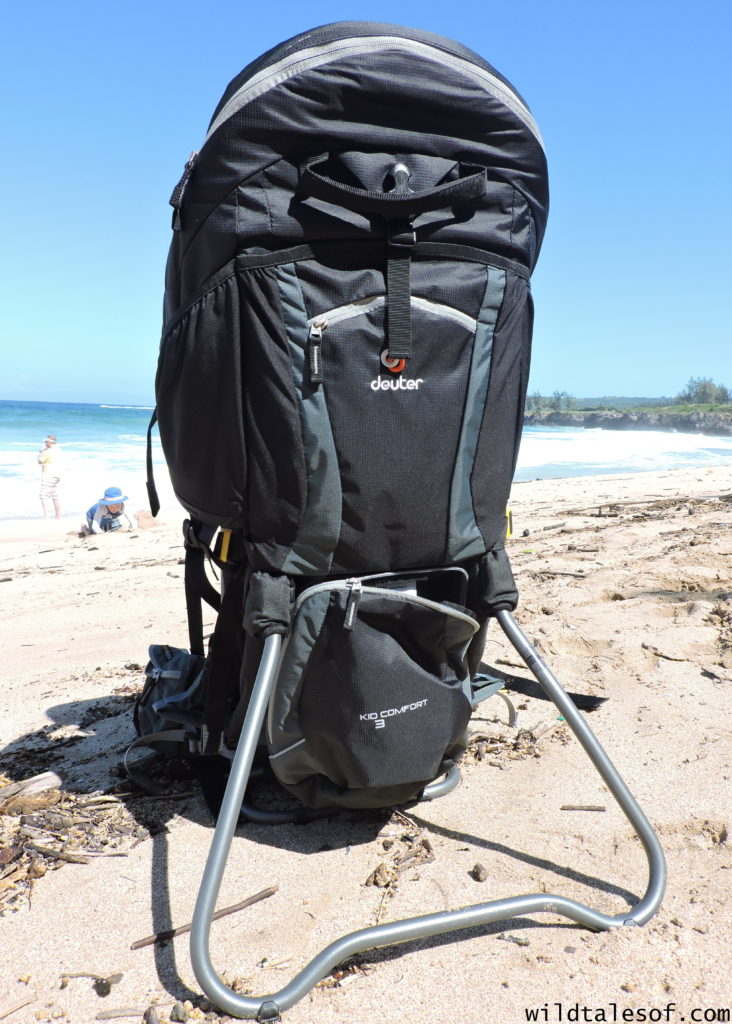 What is the Deuter Kid Comfort 3 Carrier?
The Deuter Kid Comfort 3 Carrier is a backpack-style framed carrier made to carry kids from 16 pounds (who can sit upright unassisted) to 40 pounds on hikes.  The entire load (kid+gear) should not exceed 48.5 pounds.  Deuter is a German company, and has been creating and designing bags and packs since 1898–starting with mailbags! It wasn't until the mid-1990s that they introduced the first kid carrier, but the quality and innovation from all that history of creating bags shines through.
Features of the backpack carrier include (top to bottom):
Built-in sunshade
Padded and detachable (and washable) chin-pad
Adjustable 5-point safety harness (for child)
Back length adjustment
"Aircontact" ventilation system throughout the back panel
Adjustable and flexible hipbelt
External kickstand
What's to Love?
There are so many ways that the Kid Comfort 3 Carrier can be adjusted to achieve the perfect fit for each wearer! The back panel has a handy adjustment system allowing us to increase the length.  I love that it's not just fixed to Small, Medium, and Large.  Instead, the torso can be made longer or shorter by pulling up or down on the strap (located behind the lumbar panel) for a custom fit.
The shoulder straps and back panel are made of a special breathable material called "Aircontact", which helps improve ventilation.  Most of our testing took place in warmer climates including hot and muggy eastern North Carolina, and the beaches of West Maui.  I appreciate this feature, and know that it's making a difference in terms of temperature regulation as we trek.
Compared to other structured backpack carriers that I've tested and worn, and Kid Comfort 3's shoulder straps have more sufficient padding.  I feel that Georgia's weight feels more comfortable on my shoulders with that extra padding rather than pulling, pressing, and causing strain.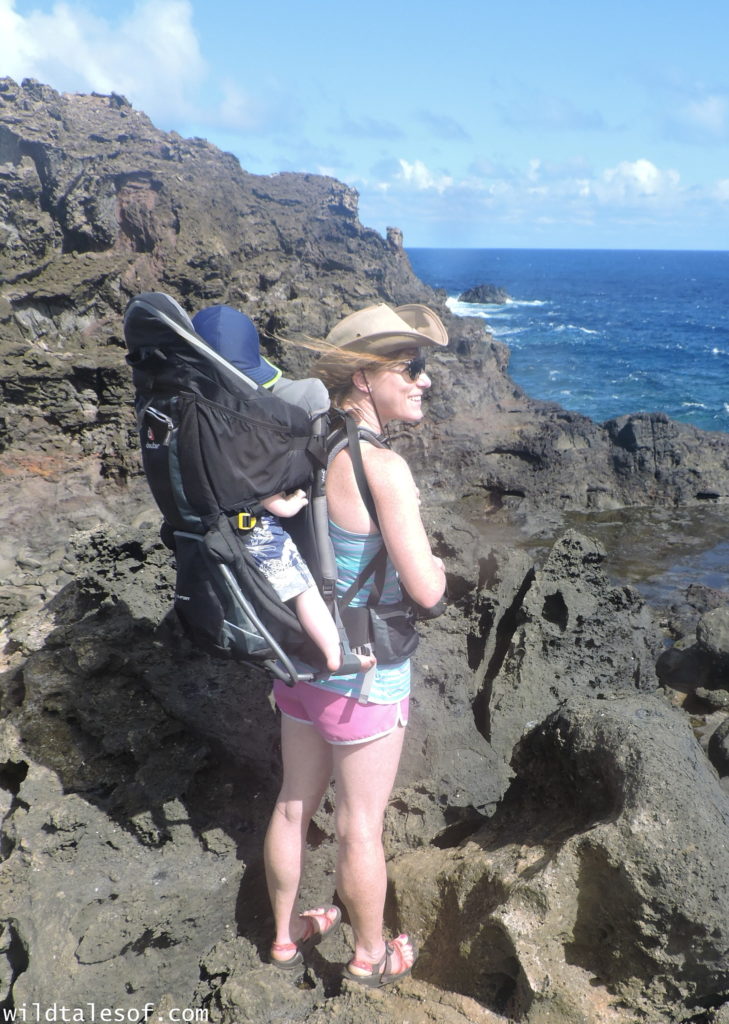 Even though it took some time to get used to (see below for more information), I love that Georgia is well secure in the 5-point harness.  It's also adjustable at several points, including the seat and leg openings, so it will accommodate her as she grows (or if another child needs to use it).
The stir-ups are an optional feature located on the left and right sides of the carrier.  When used by the child, it improves their blood circulation and all around experience of being carried.  Most structured carriers have this feature now, but I love that the Kid Comfort 3 has two positions–upper or lower.  Depending on the way the child is sitting and the height of the child, the stir-ups can be adjusted.
Not only does Georgia have a place to rest her head in case she decides to take a snooze while we are hiking or walking, this just happened the other day, but the chin-rest is removable and washable! I can also feel the chin-rest if I lean my head back, and it's kind of a nice little "resting" spot for me too!
The Deuter Kid Comfort 3 has tons of storage for gear that we need to bring along on our adventures.  The hip belt has pockets on each side, there are 2 open pockets on the upper portion, a zippered pocket, plus larger open pocket on the back, and a large storage area underneath where we usually carry our lunch!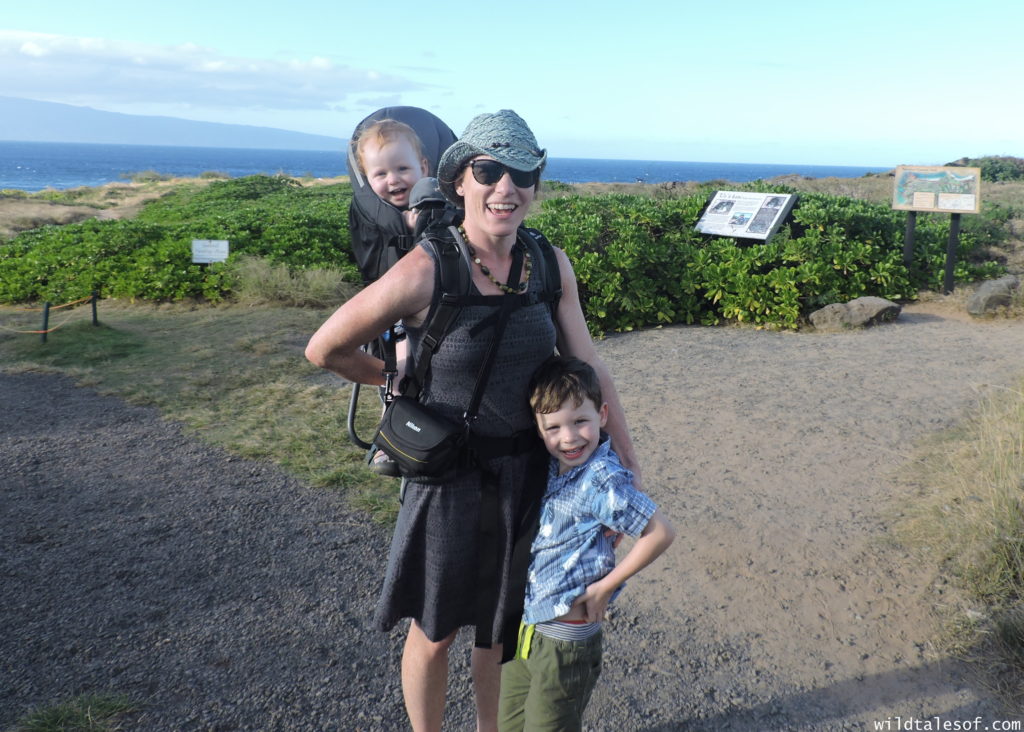 What's to be desired?
Certainly not a deal breaker, but I'd love for the hip belt storage to be a little bigger.  I have a smaller phone than most, and I'm just barely able to squeeze it into the left hip belt pocket.  I also love being able to store snacks at the ready for Bergen and Georgia, and the small size of the pockets make that a little trickier.
Notes:
The child seems to sit up higher in the Kid Comfort 3 compared to other structured carriers that we have used.  This is a plus for the child's viewing experience, but I also had to train myself to be more aware of branches, hanging foliage, and doorways!
The carrier is set-up to accommodate a camelback-style hydration pack.
When I first started using the carrier with Georgia, I really disliked the child harness! It felt cumbersome to buckle because the hip attachment is deep into the carrier.  It was awkward to line-up, and took extra time (often causing her to fuss).  Then while we were in Maui I discovered that I could load her from the back, and buckle her in from overhead.  This provides for a more streamlined loading process, and makes it so much easier to line up the buckles because I can see what I'm doing!
To purchase the Deuter Kid Comfort 3 Carrier:
Last Word: I highly recommend the Deuter Kid Comfort 3 for parents of young children.  It's a quality pack that provides a comfortable adventure experience for parent and child, and it's features set it above many others.
Related Posts: 
Thanks to the folks at Deuter for providing us with the Deuter Kid Comfort 3 to test and review. Affiliate links are included in this post to direct readers to products from our affiliate partners (Amazon, Sierra Trading Post, REI, etc).  We receive a small commission from purchases made through these links, which helps to keep the blog up and running! Thank you for your consideration!  
Come join the conversation! You can keep up to date with each and every post by subscribing to the blog via email. We'd also love to have you join us on all of our adventures by "liking" our facebook page and following us on twitter! If you enjoyed this post, please "like it", "tweet it" or "pin it"!