Every year we make it a tradition to celebrate Christmas in downtown Seattle.  It's always in the evening and,  more or less, we visit the same places to take full advantage of this magical time in the city.  A couple of years ago, I highlighted 3 of those happenings (all free), but this year I thought it would be fun to show you our trail of Christmas cheer with a little video/slideshow:
Christmas in Downtown Seattle
I put together a list of links highlighting our route around downtown Seattle in case any of the attractions happen to interest you!
Open Monday-Thursday 11am-5pm, Friday-Sunday 10am-7pm until December 27, 2015.  Tip: Visit during the day for less crowds & better photos (lighting)! 
Open daily until January 3, 2016. Tip: Lines can get rather long during their most popular times, which seem to be in the evening. Call ahead to inquire about "low traffic" times. 
Open daily through January 1, 2016.  See website for hours as it varies depending on the day. Tip: After your carousel ride, grab a Treehouse shopping bag (provided) & fill it with a new outfit, shoes, and/or toys for needy foster kids. 
Since it's a window display, it's open all the time! Bergen loves putting his hands on the mittens (there are two sets on either side of the display) to control the trains. Located on the corner of Stewart Street & 4th Avenue.  Tip: Sometimes little hands are too small to trigger the train, so grown-ups sometimes need to lend a helping hand! 
After visiting the Macy's train display, walk across the street to take in the view of the giant sequoia that is situated in a triangular "park" in the middle of Stewart Street. Seattle resident Eric Greenberg lovingly decorates the tree every year for the Christmas season!
At 6pm every night until December 24, 2015 it snows in the Pacific Place mall! The snowfall takes place for about 10 minutes and is accompanied by Christmas music–you might even catch a glimpse of Santa while you're there! Tip: Though opinions may vary, we think the best spot to enjoy the snow action is from 2nd floor!
How are you celebrating the holiday season in your city or town? We'd love to hear about your traditions!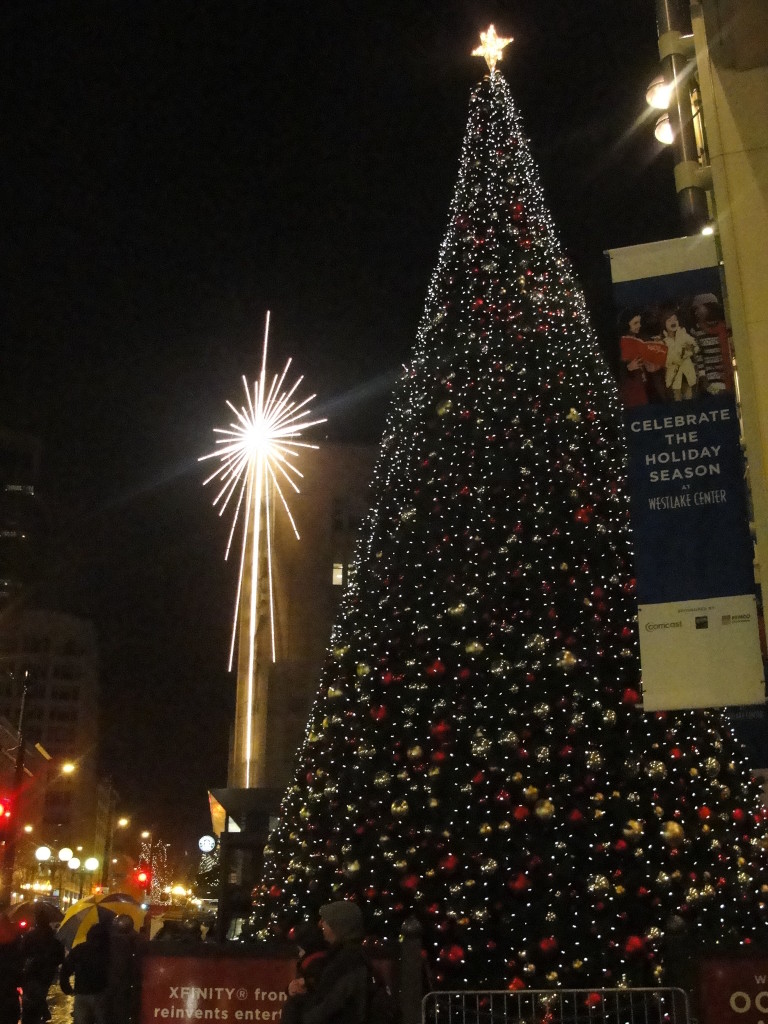 Come join the conversation! You can keep up to date with each and every post by subscribing to the blog via email. We'd also love to have you join us on all of our adventures by "liking" our facebook page and following us on twitter! If you enjoyed this post, please "like it", "tweet it" or "pin it"!