Our 4-year old has survived and thrived in outdoor preschool, also known as Forest School, through the "worst" part of the year! Even though it's only February, it feels like we're turning a corner weather-wise.  I know that the precipitation and chilly temperatures will continue though so I wanted to share how we dress him for a day outside in the rainy winter!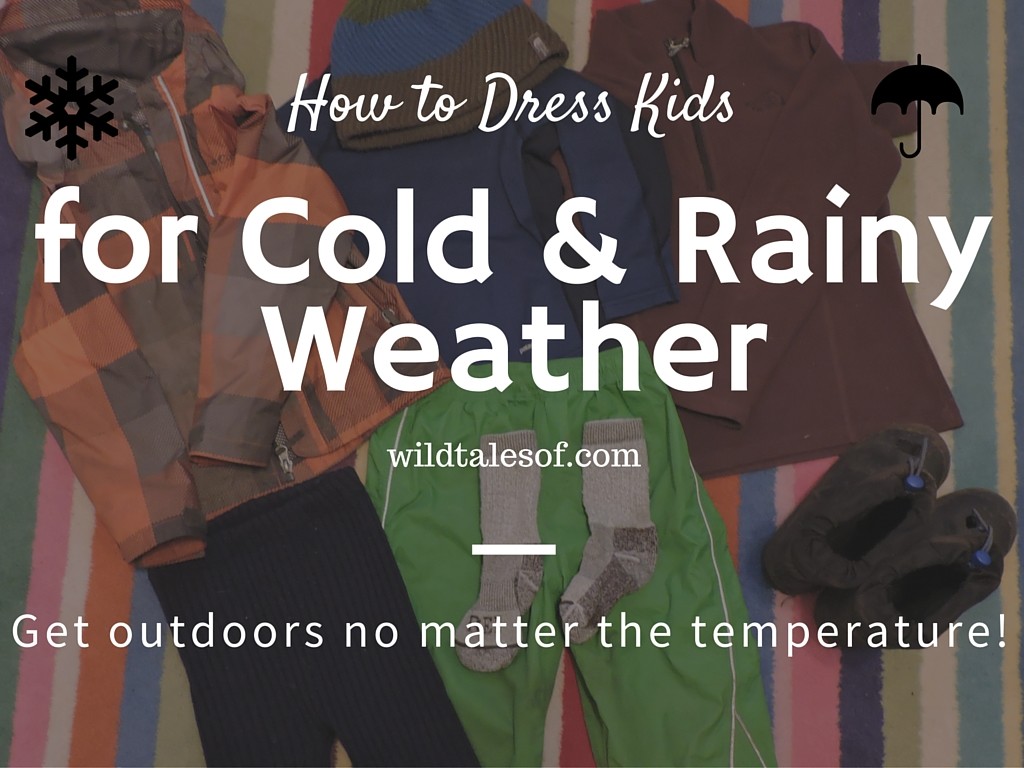 We've learned a lot from his knowledgeable (and experienced) teachers at forest school (entirely outdoors), plus through some trial and error on our part to find a dressing routine that works best to protect from the cold, wind, and rain.  Bergen spends nearly 5 hours straight, between our walk to school in the morning, actual school, and loitering around after pick-up, outdoors, and even though he's sometimes a bit water-logged, I've never once heard him complain! Part of that is his personality, but it's also because we're taking steps to ensure he's comfortable and in the right clothing for the conditions.
You'll find affiliate links throughout this post to direct you to some of our favorite clothing and gear choices.  If you purchase through our special links, we'll receive a small commission, but there's no extra cost for you! Thank you for your consideration! Commissions go toward keeping the blog updated.
How to Dress Kids for Cold and Rainy Weather
Cover top and bottom with a non-cotton base layer.  We recommend merino wool or soft polyester fabric.  Both will keep kids warm, and wick away moisture from the skin.  Our picks:
Cover top half with a fleece or wool layer. Our picks:
Cover bottom half with a fleece or wool layer. Our pick:

Tubes by Ella's Wool (review here) Wild Tales of readers get $10 off everything in Ella's Wool shop with the code–10UNDER!

Protect feet with wool socks AND insulated rain boots. Our picks:
Stay dry from the rain with a waterproof layer.  Our picks:
Last but not least, cover that head & those hands! For heads, recommend wool for greatest warmth & wicking features.  For hands, we recommend mittens as they keep hands warm better than gloves.  If you can find mittens with zippers, those are easiest to get on!  Our picks:
See some of the gear in action, plus get a closer look at our favorite pieces in our quick "How to Dress Kids for Cold & Rainy Weather" video!
Tell us about your favorite gear options for keeping kids warm in the winter! Looking for baby gear recommendations? See our post on how to dress a baby for the cold weather.
Come join the conversation! We'd love to have you join us on all of our adventures by "liking" our facebook page and following us on twitter! You can also keep up to date with each and every post by subscribing to the blog via email.