Do you want to boost your confidence as an outdoor mom?
As an ambassador for the class, I want to make sure all you amazing mama readers knew about the OUTDOOR MOM ACADEMY's first online course! It's a 6-week course designed to teach moms (and really any caregiver of kids) strategies for easy, fun, and safe outdoor adventures! Want to join me?
I'm taking the class to refine my skills, learn from other inspiring outdoor moms, and to get some practical advice on the most important aspects of adventuring in the outdoors with kids.  I'm particularly excited about the camping lesson, as our family is looking to make our camping trips easier and more organized.  As my children grow, and we take on "more adventurous" activities, I also think the risk management lesson will be especially relevant.
The course is being taught by 3 amazing outdoor family bloggers: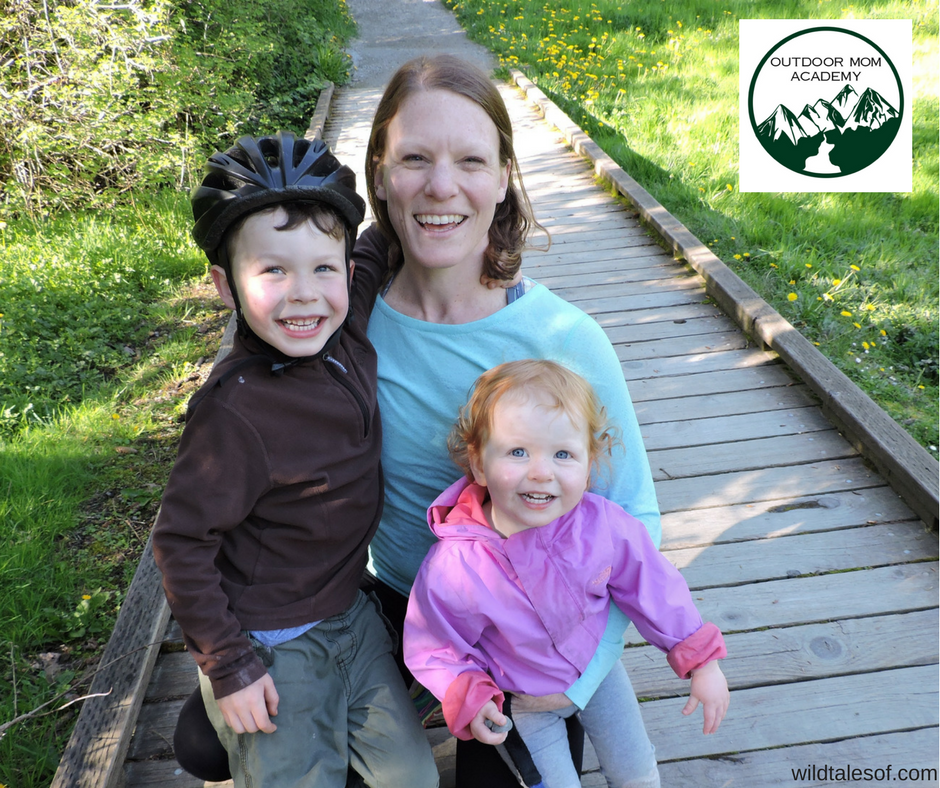 What's this Outdoor Mom Academy Course all about?
You might be wondering exactly what this course is all about!  Here are all the nitty-gritty details of how the course is organized, and each class' specific lessons:
Week 1: "Raising Outdoor Leaders"  Get the low down on on adventuring with kids broken down by age group (babies to high schoolers).
Week 2: "Identifying, reducing, and managing risk in the outdoors" Learn how to keep kids safe, but also enjoy yourselves, and have a little fun and adventure outdoors!
Week 3: "Family First-aid"  Find out what you really need in your first aid kit, and what items you'll actually use the most.
Week 4: "Family Camping Made Simple"  Lessons, pro-tips, and checklists to help you plan and execute an amazing camping trip with kids!
Week 5: "How to Pack What You Need" Learn how to pack and organize your day pack, and receive tips on how to manage all the gear that is necessary for getting outdoors with kids.
Week 6: "Equipping your family for outdoor adventure on a budget"  Tips on how to find quality items frugally.
Each Monday you'll receive an email that will include a video, audio file, and worksheet to fill out.  On average, it will take about 20 minutes or so to watch the video (or listen to the audio file), and fill out the corresponding worksheet.  After your "individual" lesson, you can join in on discussions via course's exclusive facebook group. Don't worry, you won't be graded, and there won't be any quizzes or tests! Just a comfortable, safe environment to build your confidence as an outdoor mom.  If you can't get to the lesson one week, no worries! You can always catch up the next week, and move at your own pace.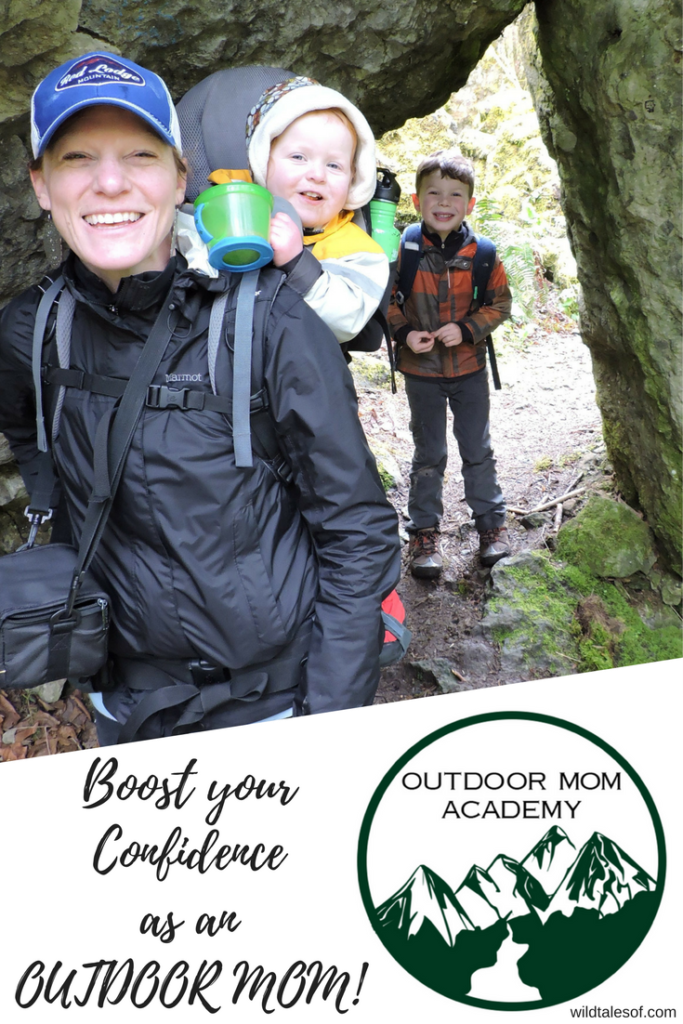 How to Sign-up for the Outdoor Mom Academy!
Visit the Outdoor Mom Academy page (via Hike Like a Woman).
Register by Sunday, May 7th for $20 off!
Enter my special affiliate code OMA-5 for another $5 off! 
After May 7th (May 8th-May 14th), the cost rises to $60, but you can still use my special code (OMA-5) for $5 off.
Join the facebook group so you can start chatting with, getting to know, and networking with our outdoor-loving mamas.
Email me! When you join, send me a message, and I'll send you some of our best printables to help with your family's outdoor adventures.
Another Bonus!
Along with the course, when you sign-up you'll receive 2 free E-books written by one of the Outdoor Mom Academy instructors, Rebecca Walsh.  You'll also receive a special Outdoor Mom Academy patch that you can sew onto your backpack or jacket! PLUS–there will be weekly giveaway drawings thanks to all the awesome sponsors (REI, Deuter, Action Wipes & Little Adventurer Shop) of the Outdoor Mom Academy.
Let's bump up the awesomeness and adventure in the outdoors with our kids! Questions? Leave a comment or email me (wildtalesof@gmail.com)!
As an ambassador for the Outdoor Mom Academy, I am receiving complimentary access to the course in exchange for sharing my experience here on the blog.  As always, all opinions expressed are my own! 
Come join the conversation! You can keep up to date with each and every post by subscribing to the blog via email. We'd also love to have you join us on all of our adventures by "liking" our facebook page and following us on twitter! If you enjoyed this post, please "like it", "tweet it" or "pin it"!