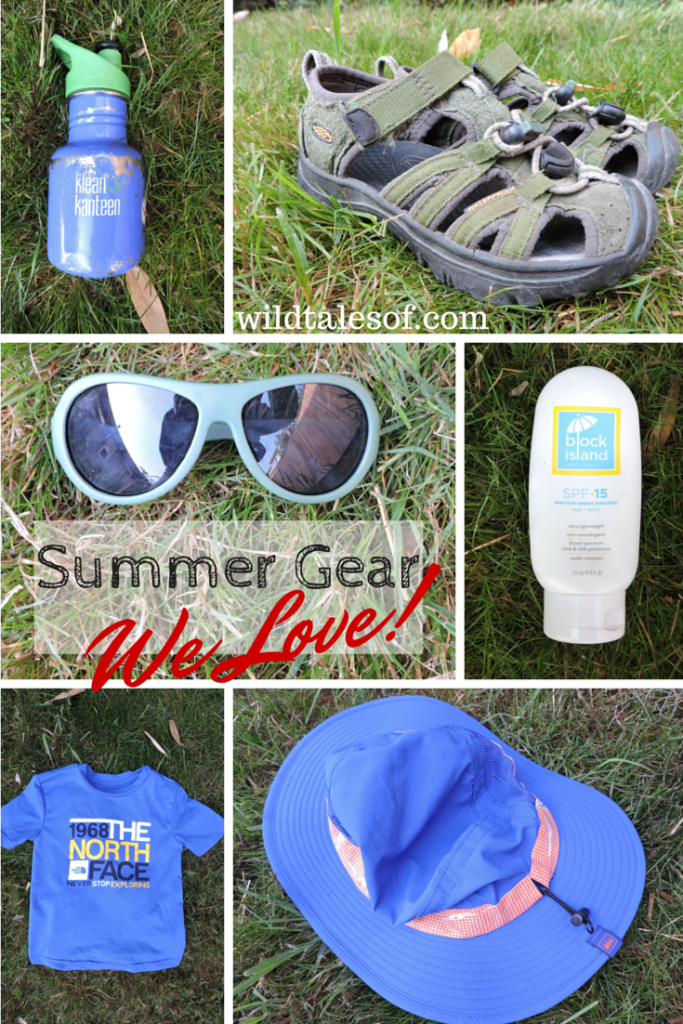 1. Klean Kanteen Water Bottle.
Bergen uses this water bottle all year long (he's had it since he was about 1.5 years), but we find it especially essential during the hot summer months.  Klean Kanteen bottles (I have one too) are easy to clean, BPA-free, and extremely durable.
Both Slaed and Bergen "live" in their Keen Sandals in the summer.  Open enough to keep feet cool, but structured (and closed-toed) enough to hike, walk, ride bikes, wade, stroll the beach…you get the idea!
Super stylish, durable, and 100% UVA & UVB production for sensitive little eyes.  Plus, if they are lost or broken within a year of purchase, Babiator will replace the glasses for free!
We tested out this sunscreen during our trip to Oahu last fall, and found it to be a reliable sunscreen–no burns, no sensitivities, just happy skin! The bottle is still going strong this summer, and I've found that I love it even more.  Since its chemical free, its safe for the whole family–even little Georgia, and we've found that a little goes a long way.   We're actually using less of the Block Island Sunscreen to cover our skin compared to some of the more mainstream brands.
With Bergen attending forest school this summer (and for the upcoming school year) and for as much time as we spend outdoors in general, not to mention the unusually hot summer we've had this year, I love that we found this moisture wicking tee while shopping the North Face sales recently. It even has a pocket on the back of the neck that you can pack the entire t-shirt into!  We think it'll be his go-to summer shirt.
6. REI Sunhat
We are fair people, and need as much sun protection as we can get, so I love how much coverage this hat provides for Bergen's face and neck.  There's a bungee on the back for adjustments, it's made of moisture-wicking material, it's lightweight, & dries quickly.
Do you have a favorite summer-specific item for travel and outdoor adventure? Do share!
This post contains affiliate links to our Wild Tales of…Travel and Adventure store on Amazon.  If you purchase through link, we receive a very small percentage to help maintain and update the blog.  Thanks for taking a look!
Come join the conversation! We'd love to have you join us on all of our adventures by "liking" our facebook page and following us on twitter! You can also keep up to date with each and every post by subscribing to the blog via email.