Just before the Diamond Celebration (60th Anniversary) hullabaloo at Disneyland got started, Slaed and Bergen (3.5 years old) squeaked in a visit to the park for the little guy's first Disney experience.  While I was somewhat bummed that I wouldn't be present for Bergen's introduction to the happiest place on earth, there's definitely something to be said about a solo-parent and child trip.  Bergen got the one-on-one attention that he craves, and the whole weekend was able to be focused around him and his preferences and needs making it all a huge success.
Parents have to do what's best for their particular family, but we believe that 3 years is the best age for a first time visit.  The child is old enough to understand and navigate on their own, there are plenty of rides for them to go on, and the experience for them is positively magical and awe inspiring.  Slaed reported that our normally rambunctious little boy spent the majority of his time sitting, wide eyed with his mouth open captivated by the all of the action happening around him.
After months of preparation and research, combined with his own knowledge from numerous visits to the park prior, Slaed put together an amazing itinerary. Their experience, one day in Disneyland and one day in California adventure was nothing but positive.  I picked his brain, and we've put together 9 tips to help parents plan and prepare for a trip that is just as successful.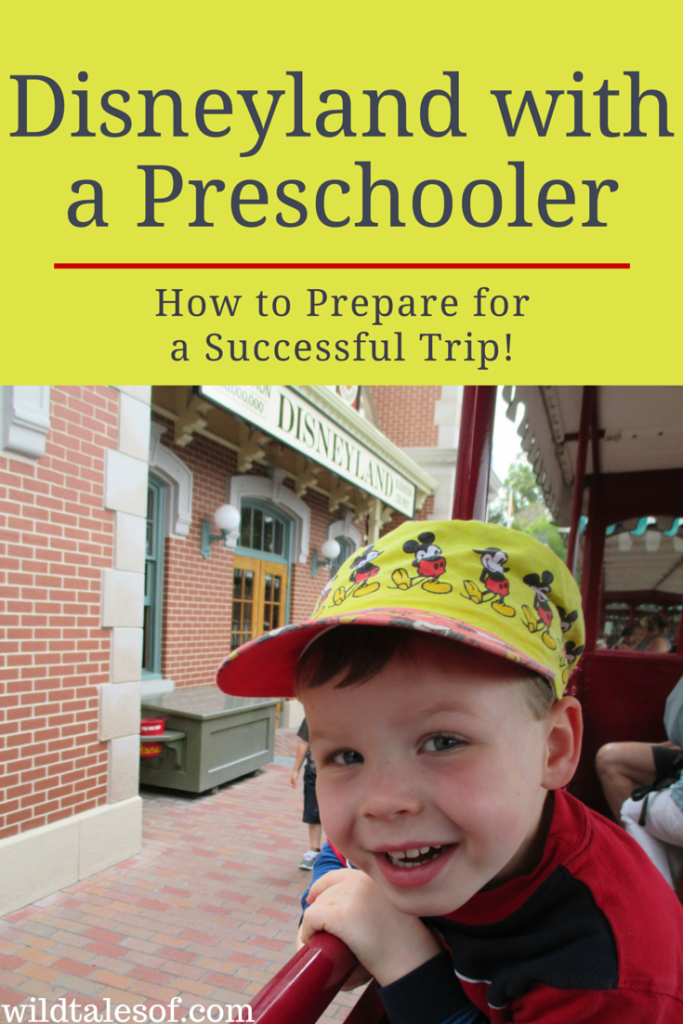 Soon after Slaed decided to take Bergen to Disneyland, he purchased the Tear-Free in Disneyland book.  He read it cover to cover, studying up almost every night during the months prior to their trip.  The book is filled with practical tips and ideas for making the whole Disney experience positive and stress free.  He learned a ton, and gained the confidence and bravery needed to tackle it all on his own.  Many (but not all!) of the the tips that follow come from or are adapted from the book.
2. Buy Your Tickets
Make sure to purchase tickets directly through Disneyland.  Doing so ahead of time will give you peace of mind, and save you from waiting in one more line! In our opinion, there is no need for park hopper passes when you are visiting Disney with little kids.  Focus on one park per day.  Slaed and Bergen spent one day in Disneyland, and one day in California Adventure.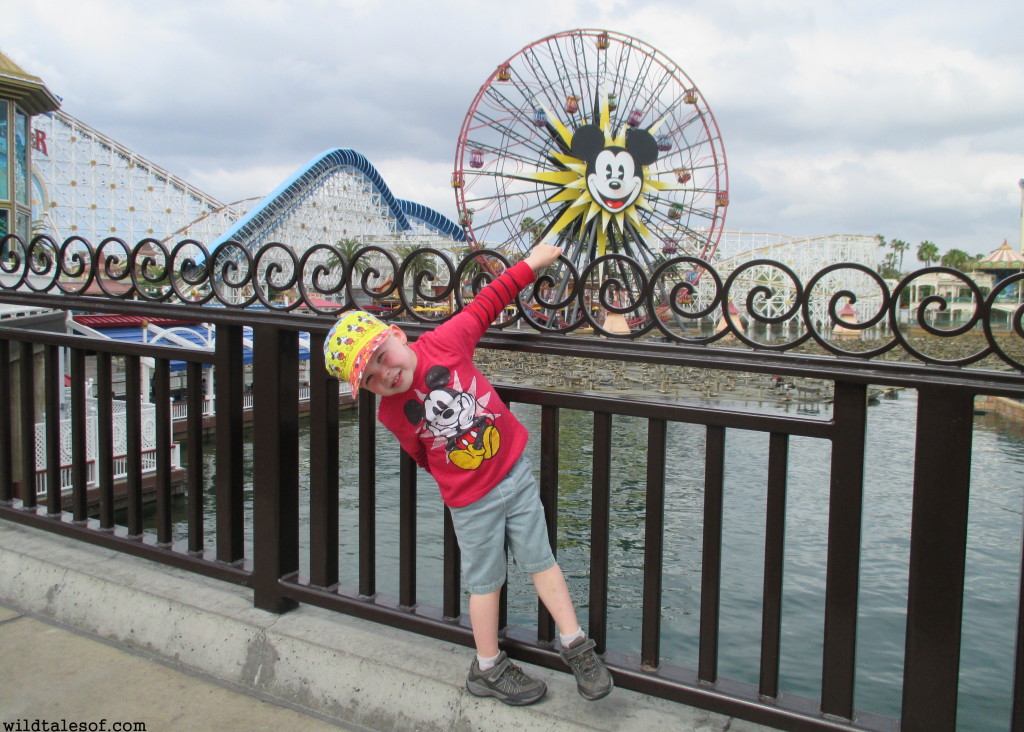 3. Get Your Kid(s) Excited!
You may know all about Disneyland, but mostly likely, and certainly in Bergen's case, your kids have little to no idea what the park is really all about.  Even if they visited as a baby or toddler, they are unlikely to remember much.  Just like we build background knowledge before visiting a new destination, we worked to make sure he had an understanding of what the experience would be like.  Our suggestions:
Watch Videos

: Poke around and find shows, programs, music videos, etc. that feature the park itself.  We recommend, Sing Along Songs Disneyland Fun.  It's just 30 minutes long, and takes you on a tour of the park while singing classic Disney songs ("It's A Small World", "Zip-A-Dee-Doo-Dah", "Whistle While You Work"…).

Coloring Books with Characters

: Bergen received a Disneyland coloring book from the flight attendants during a couple of our Alaska Airlines flights prior to the trip.  This worked out perfectly to teach him about the classic characters (Mickey, Minnie, Donald, Goofy, etc.).

Picture Books

: Check your library for books that show the park experience. D is for Disneyland is a great example as it has pictures showing the rides, quick facts about rides, and fun historical information.
4. Purchase Gifts and Gear
Plan ahead so you can shop sales and consignment stores for shirts, hats, and maybe even underwear for your big trip.  Buying at the park (and in Downtown Disney) is very expensive and wastes precious park time.  Slaed also bought a few small gifts (Tow Mater & Lightning McQueen hot wheel type cars & a small doddle board) to give Bergen once they arrived.   This prevented Bergen from asking to buy things in the gift shops, and also gave him something to do while waiting in line.
5. Ride Research
Know the following about all the rides and attractions:
Height limits–measure your child!
Fear Factors–dark, heights, pirates, thunder…can all be scary to kids.  Know what your kid can handle.
Closed rides–some rides are closed for various reasons.  Know this ahead of time so that no one is disappointed!
Make a priority list of what rides your kid wants to do.  Slaed and Bergen had about 10 on their list (for 1 day in Disneyland), so anything additional was a bonus!
Bonus tip: Mickey's Toontown (a top attraction for preschoolers) opens one hour after the park opens, so choose rides close to this area for your first hour or so in the park.  Bergen and Slaed checked It's a Small World, Dumbo, & the Teacups off their list, and were right at the entrance to Toon Town when it opened.  They were immediately greeted by all the characters & met 4 or 5 in a matter of just 10-15 minutes!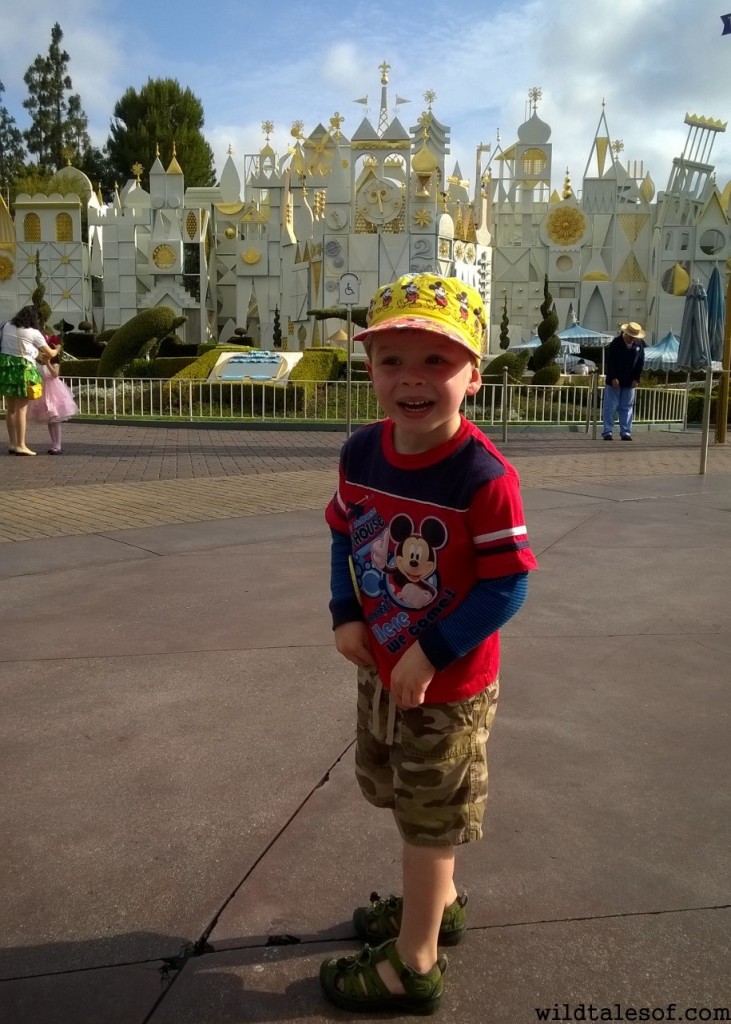 6. Get Restaurant Reservations
If you are interested in dining at any of the popular restaurants throughout the park, we highly recommend that you secure reservations ahead of time.  Disney allows you to do this up to 60 days in advance.  You can find a list of the restaurants here, but Slaed suggests the Blue Bayou, and recommends lunch over dinner to save money.  Not only is the food tasty, but the atmosphere prepared Bergen for the Pirates of the Caribbean—a ride that was definitely a stretch for him as far as fear factor.
7. Don't Bring a Stroller!
Contrary to popular belief, the stroller will actually just slow you down rather than making travel throughout the park quicker. Disneyland is crowded.  You'll constantly be running into people, will always have to worry about parking the stroller, and your child won't really engage in the full experience.  Go on walks frequently (everyday!) prior to your visit to Disneyland to build stamina.  Overall, you and your child will do a lot of walking at Disneyland, but it's never that much all at once since you just pop from ride to ride, attraction to attraction, etc.
8. Character Alert!
Know whether or not your child is afraid of people in costumes, mascots, and dressed up characters.  We were lucky enough to get to test this out during our trip to Oahu when we attended Aulani's character breakfast, and we also attend plenty of sporting events to get an idea of how Bergen reacts to the mascots like the Seattle Mariner Moose.  When he met Mickey for the first time, he was surprised at how big he was compared to the Mickey that he is used to watching on TV! If your child is too afraid, you can just avoid that whole aspect of the park experience.  My friend Keryn from WalkingonTravels.com has an excellent post about tackling your child's mascot/character fears.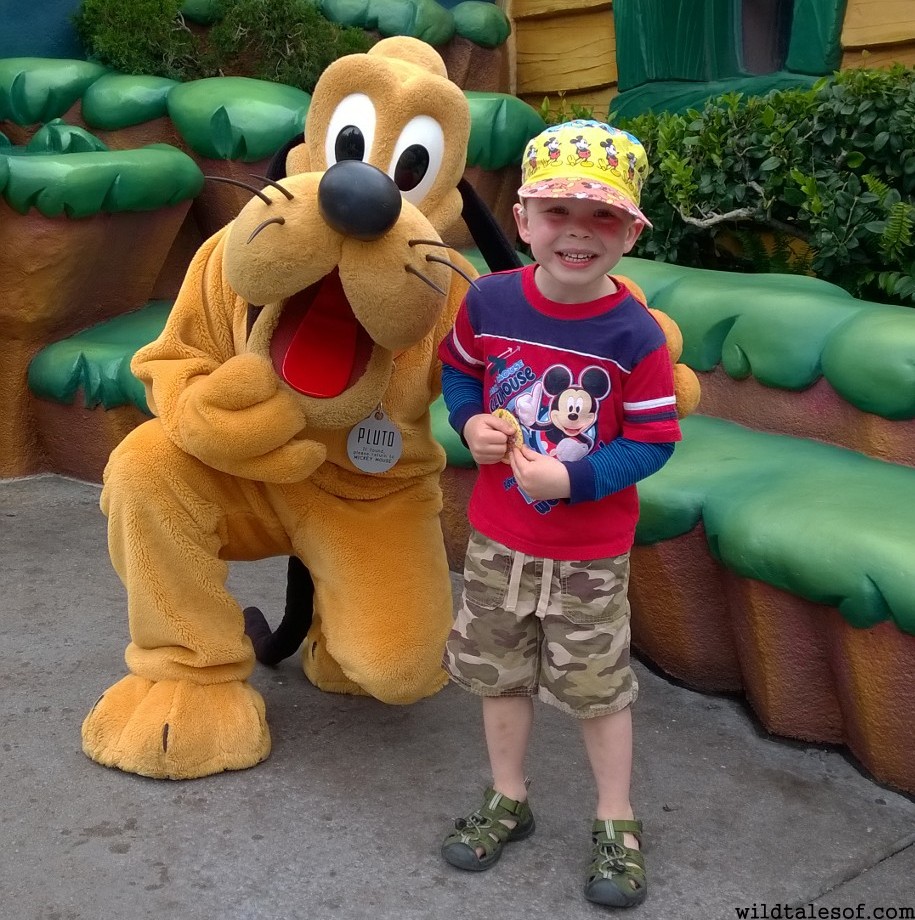 9. Day Before/Day of Tips
Makes sure EVERYONE gets a good night's sleep.
Eat breakfast before entering the park (saves money & time).  Bring snacks along.  As long as you are not bringing an entire picnic meal, Disney is okay with you bringing in small food items.  Hungry kids get cranky, so be prepared!
Talk to your child(ren) about the plan for the day so that they know what to expect.  Show them a map & circle the priority rides on your list.
Arrive 10-15 minutes before the gates open.  No need to arrive SUPER early.  You'll just end up waiting in yet another line.  If you can time it perfectly, just arrive exactly when the gates open–you'll get right in, the lines go quickly at that point.
Plan to leave the park for rest/nap time.  If you build this into your day, to your kid, it'll just be part of the experience.  It's essential to recharge EVERYONE's batteries.  It's just not worth it to try to "do it all" and run you and your kids ragged.  Leave when it's fun, NOT when your kids are completely exhausted, and you're dragging them out of the place kicking and screaming.
Wondering about fireworks? We say, don't worry about it.  You're better off getting back "home" so your preschooler can get to bed fairly close to their bedtime.  Plus, you'll avoid the crazy crowd exiting right as the fireworks show is over.
Have you been to any of the Disney Parks? We'd love to hear about one of your highlights! Or…share your own tip for how to prepare for a successful trip.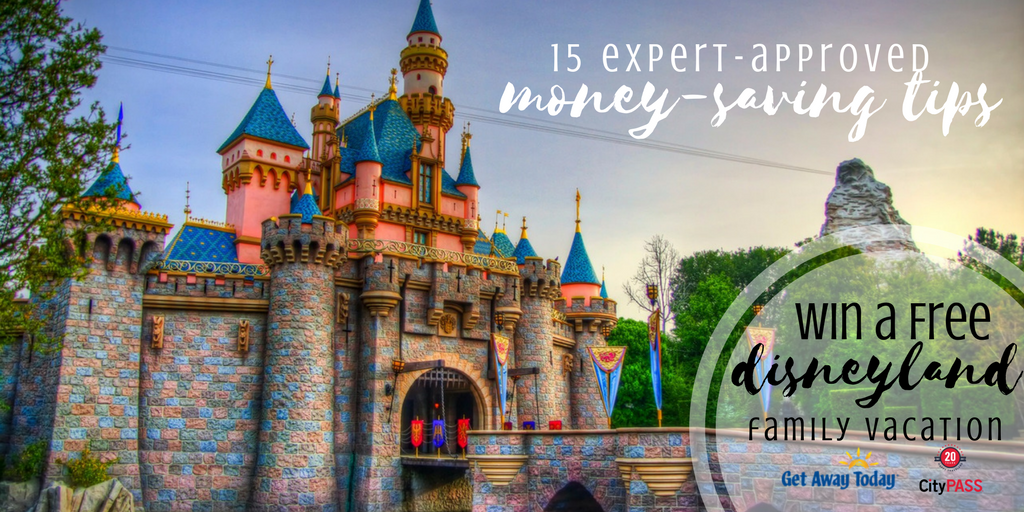 This post contains affiliate links to our Wild Tales of…Travel and Adventure store on Amazon.  If you purchase through link, we receive a very small percentage to help maintain and update the blog.  Thanks for taking a look!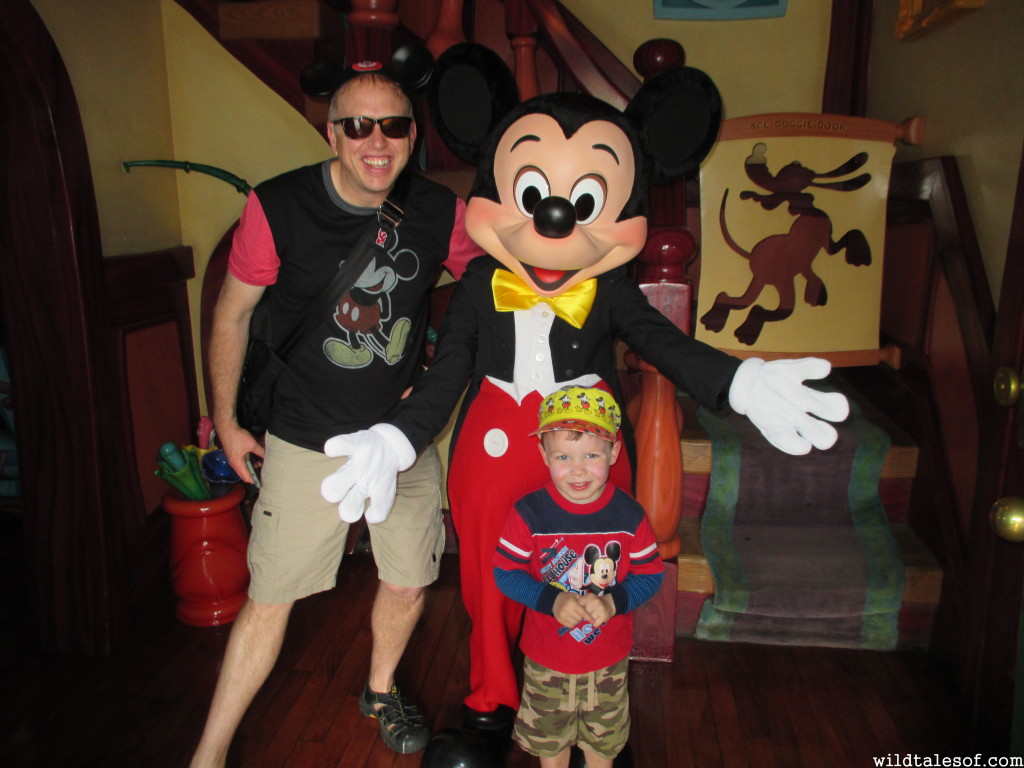 Come join the conversation! We'd love to have you join us on all of our adventures by "liking" our facebook page and following us on twitter! You can also keep up to date with each and every post by subscribing to the blog via email.