I'm not a skier, unless you consider slogging down the bunny hill inch by inch actually skiing, BUT I sure do love a mountain town.  One of my favorites? Truckee, California.
Truckee is located in the Sierras northwest of Lake Tahoe.  To my delight, we get to visit Truckee fairly regularly as my brother and his family call the little alpine village home.
This spring, as you might have read, we spent about 2 and 1/2 days in Truckee and as usual had a blast exploring and breathing in the fresh clean air at 5800 feet.  To give you an idea of what we were up to and a bit of what Truckee has to offer aside from the obvious snow-related activities, here's where to play (aside from the ski slopes), where to eat, and where to stay in this mountain escape.
Where to Play in Truckee
Truckee River Legacy Trail
This multi-use path currently covers a little over 5 miles and roughly follows the Truckee River's south side.  While Bergen (3.5 years) and his cousin rode their balance bikes, the adults and my niece followed on foot.  We enjoyed beautiful views of the river, especially at the Glenshire entrance while the kids enjoyed crossing bridges and climbing on large boulders.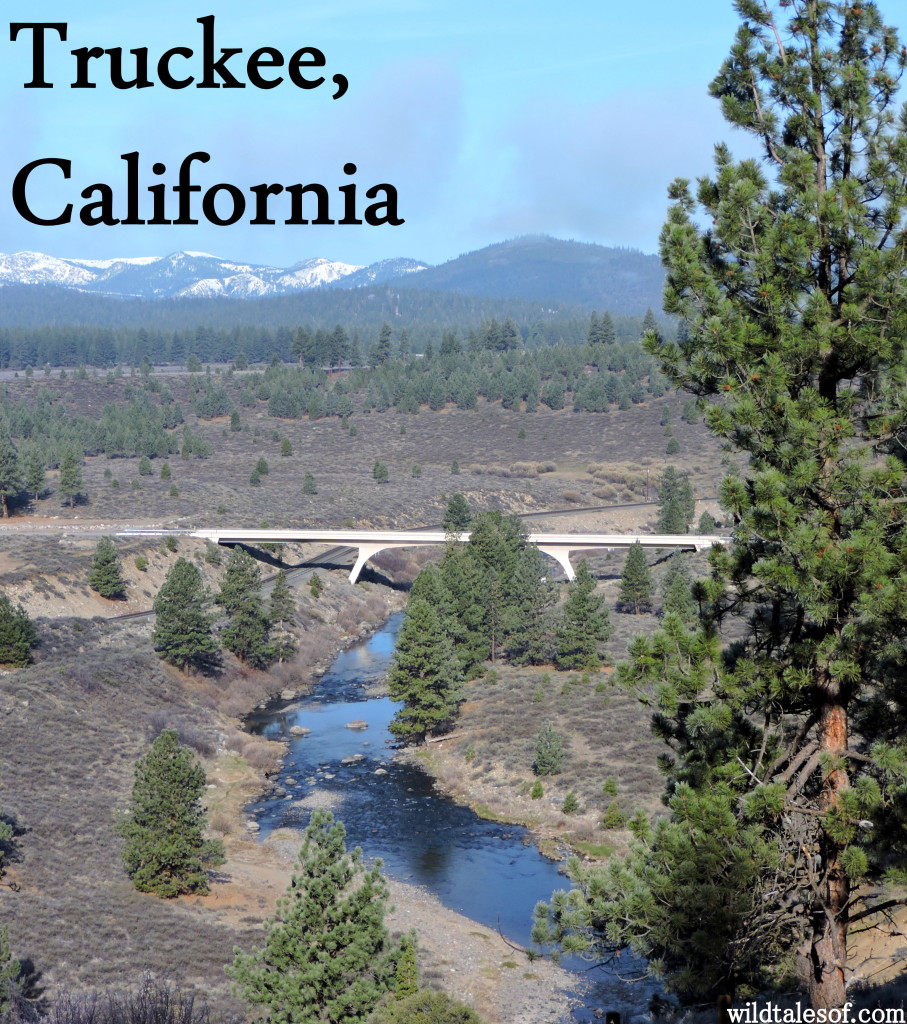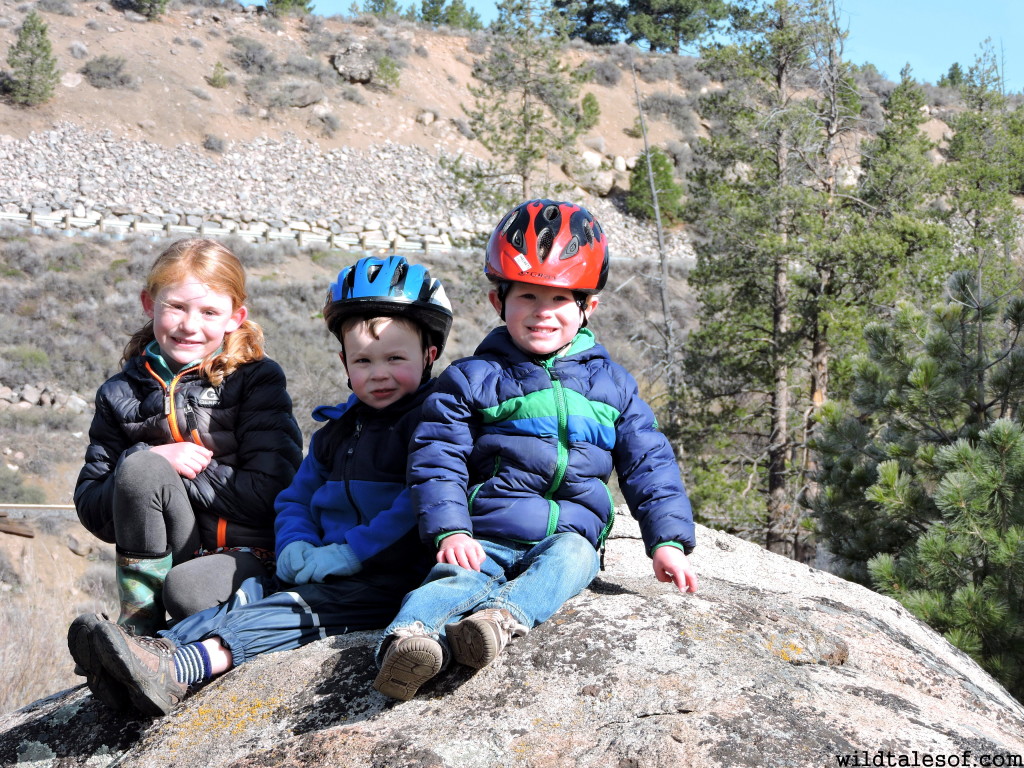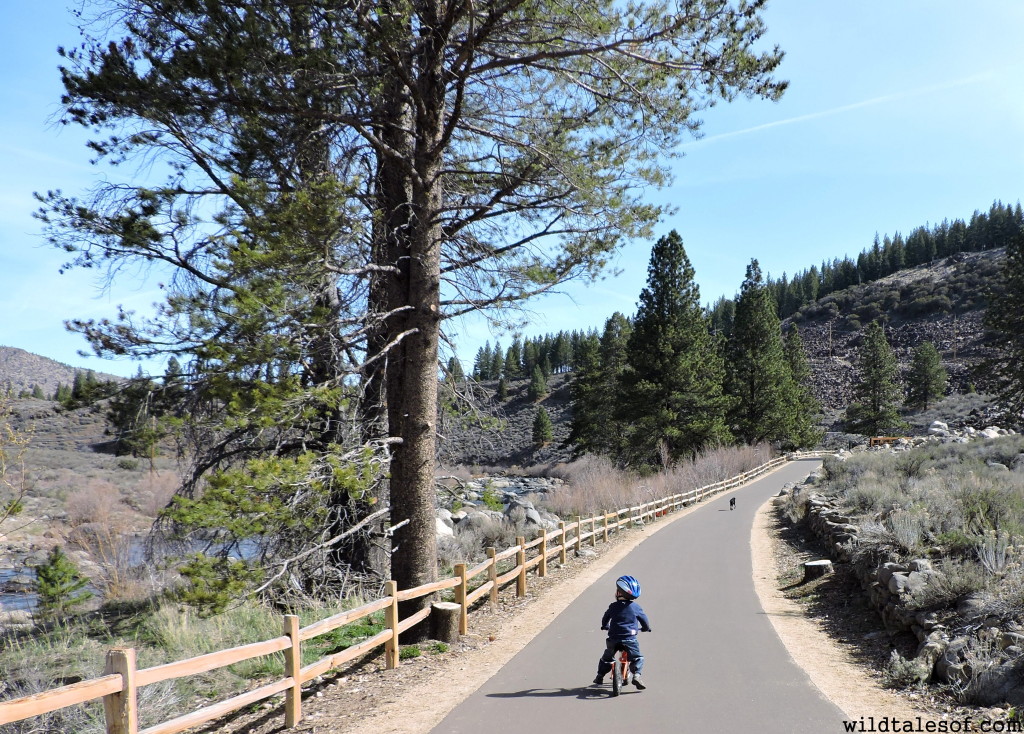 Stroll & Shop Downtown
Truckee's downtown is charming and full of locally owned shops, cafes, and restaurants to explore.  With little kids in tow, I never have enough time to peruse, but if I had my way, I'd get to poke around High Camp Home dreaming about how we could turn our home into a cozy rustic retreat.  The Truckee Variety Store is a hit with little ones. Bergen even picked up a couple of new sticker books that kept him entertained for the remainder of our trip.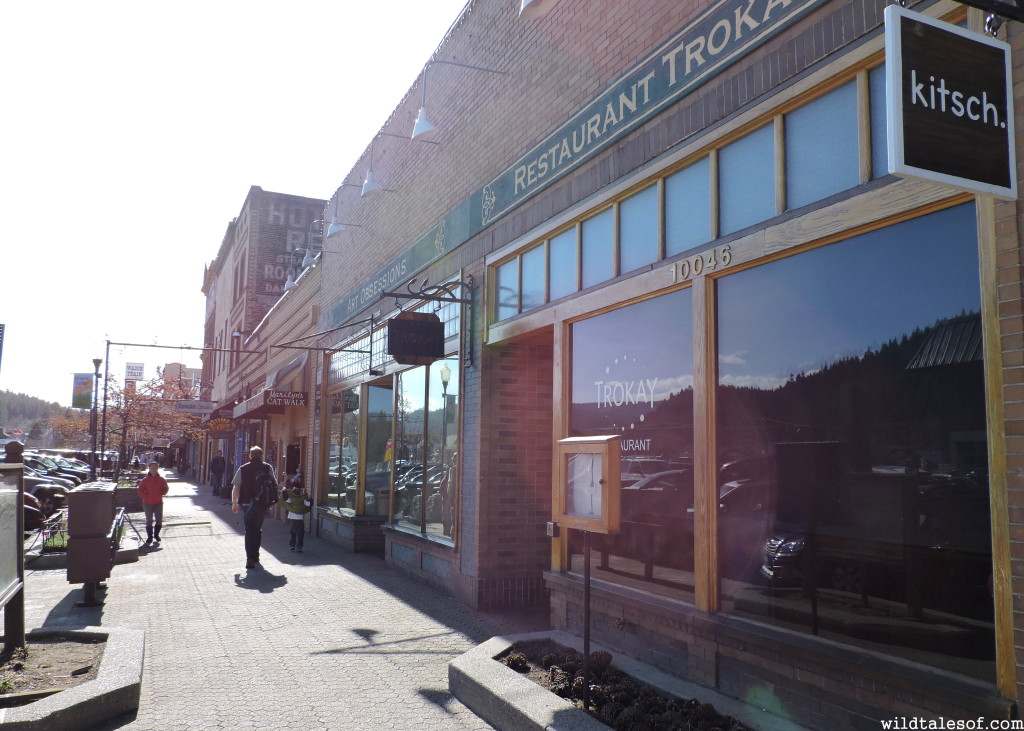 Truckee Bike Park
The highlight of the trip for Bergen was Truckee's new bike park or "pump track".  The bike park is part of the Truckee-Donner Recreation Center and consists of dirt trails, jumps & special skills areas.  What I love about the experience is that its perfect for almost all ages and abilities, from toddlers on balance bikes to highly accomplished BMX riders.  I just wish Slaed and I had planned a bit better and brought our own bikes along!  Although, there are plenty of good spots to rent bikes–my brother (the local expert) recommends The BackCountry.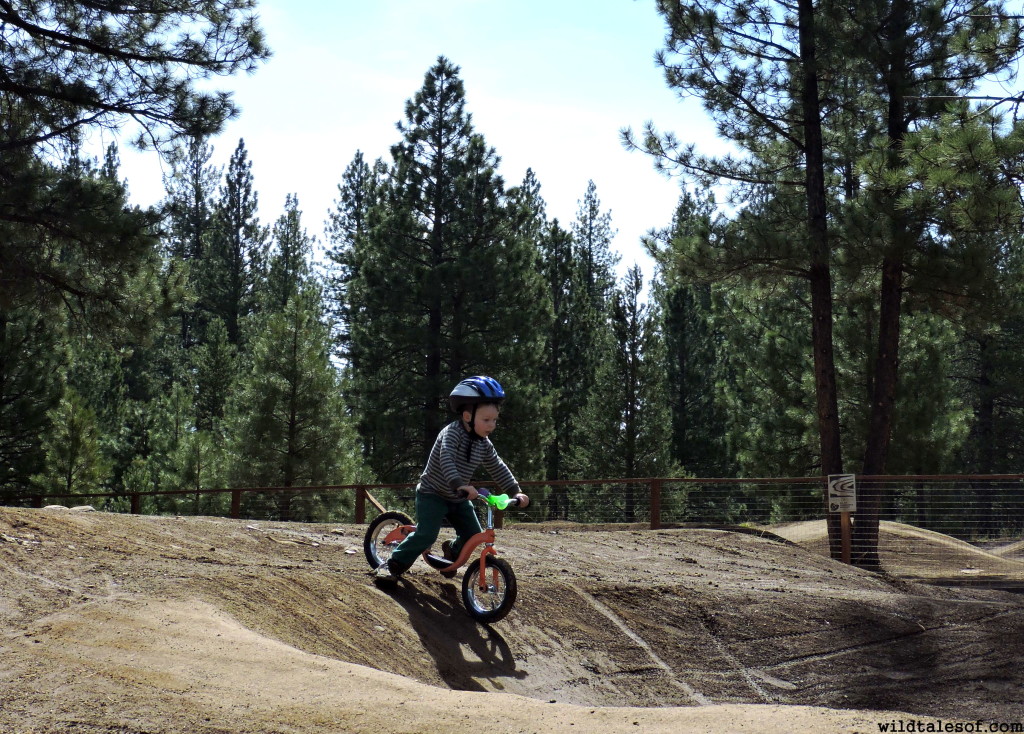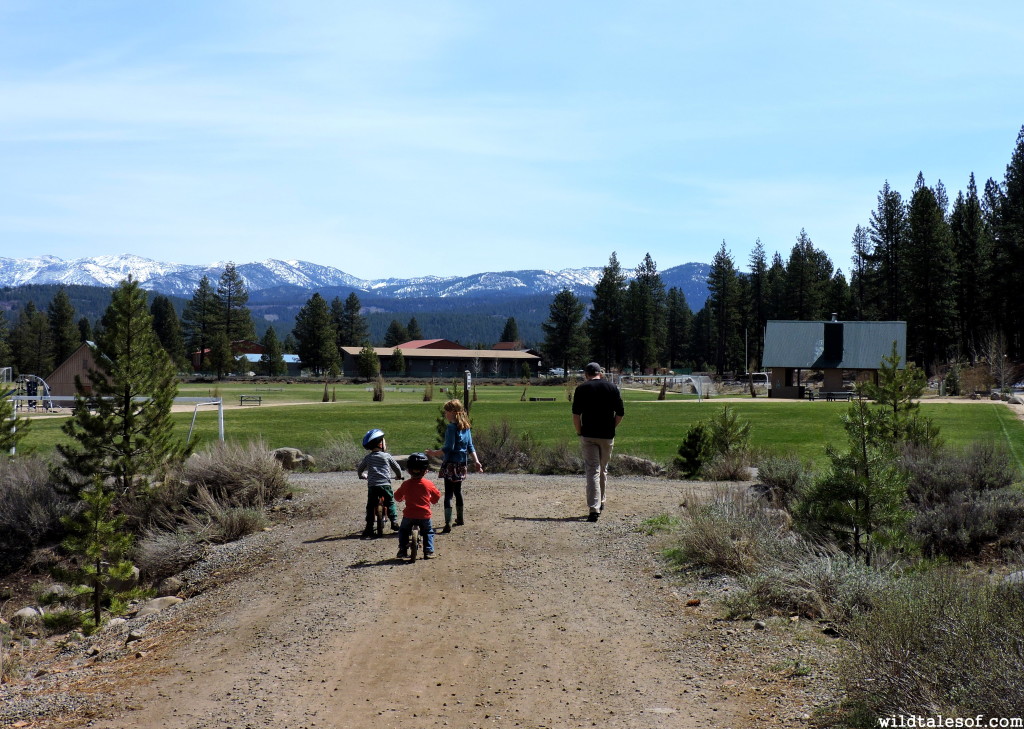 Donner Memorial State Park
Gorgeous spot to explore trails, sparkling Donner Lake, and learn a bit more about the historic events that took place here.  One of the most significant (and eye-opening) features of the park is the Pioneer Monument.  It honors the individuals who traveled here from Illinois in the 1840s.  The monument stands at 22 feet tall, which depicts the depth of the snow at their arrival!
Rainbow Bridge
By far the best viewpoint in Truckee is the Rainbow Bridge located along Old Highway 40.  The bridge overlooks Donner Lake and was completed in 1926.  Makes for a great drive, and a nice way to get the lay of the land.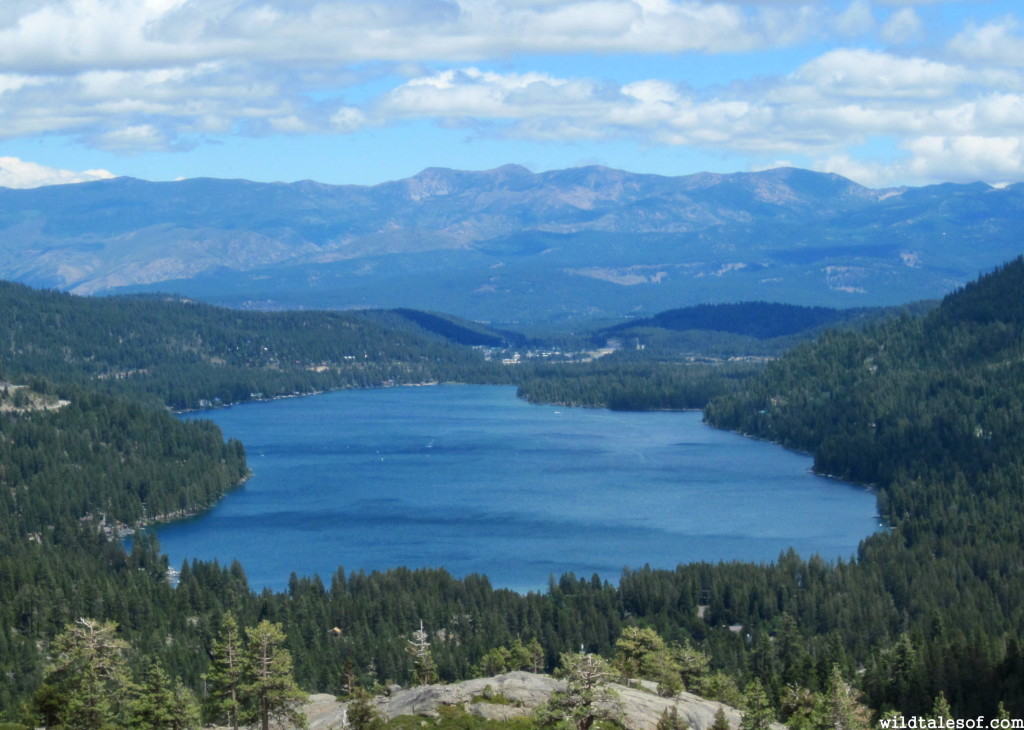 *Bonus: Picnic Rock Hike
A bonus spot since it's not technically located in Truckee. The trailhead for this amazing hike is located about 15 minutes out of town, and follows the Tahoe Rim Trail.  At 3.6 miles round trip with a perfect picnic spot at the top, it makes for a fun morning and can be appropriate for almost all ages.  Our crew of 9, plus 2 dogs, ranged in ages from 4 months to 65 years! Expansive views of Lake Tahoe await you at the top!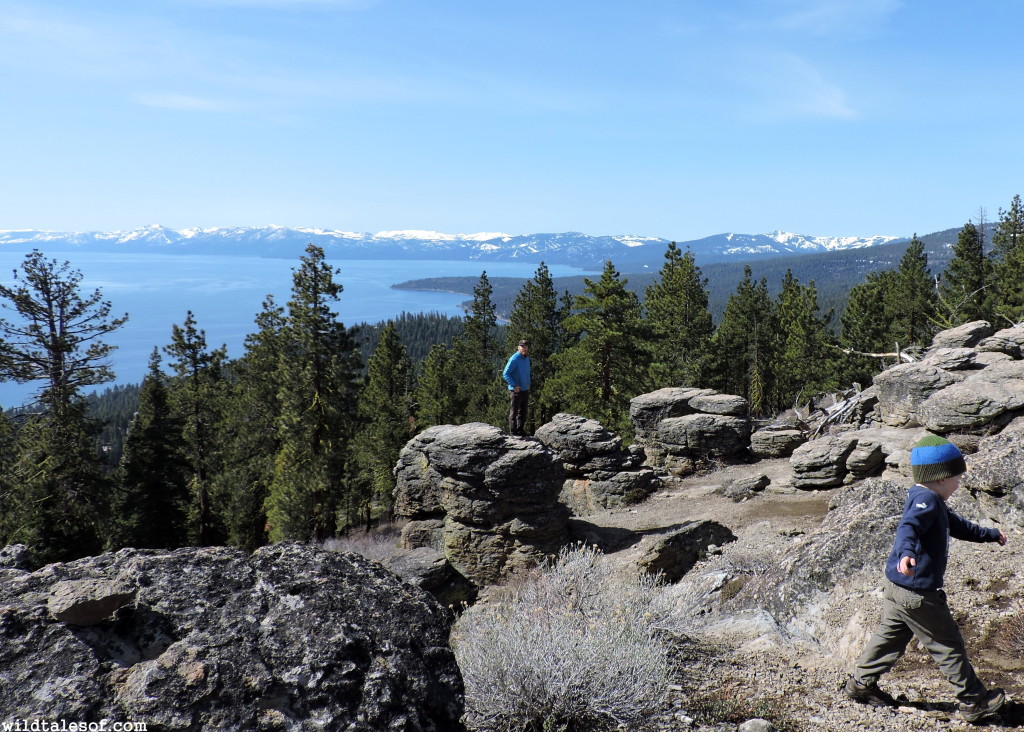 Where to Eat in Truckee
Breakfast & Coffee:
Squeeze In-Perfect breakfast/brunch spot located right in downtown Truckee.  More omelet choices than you could ever imagine.  As the name implies, this spot is "cozy", but still appropriate for kids.  Staff is always friendly and accommodating.
Wild Cherries Coffee House-Great coffee and delicious breakfast sandwiches.  Good for eat-in as well as take-away.
Coffee Bar-Great coffee and more of a hip atmosphere.  Located downtown with plenty of space to spread out inside and out.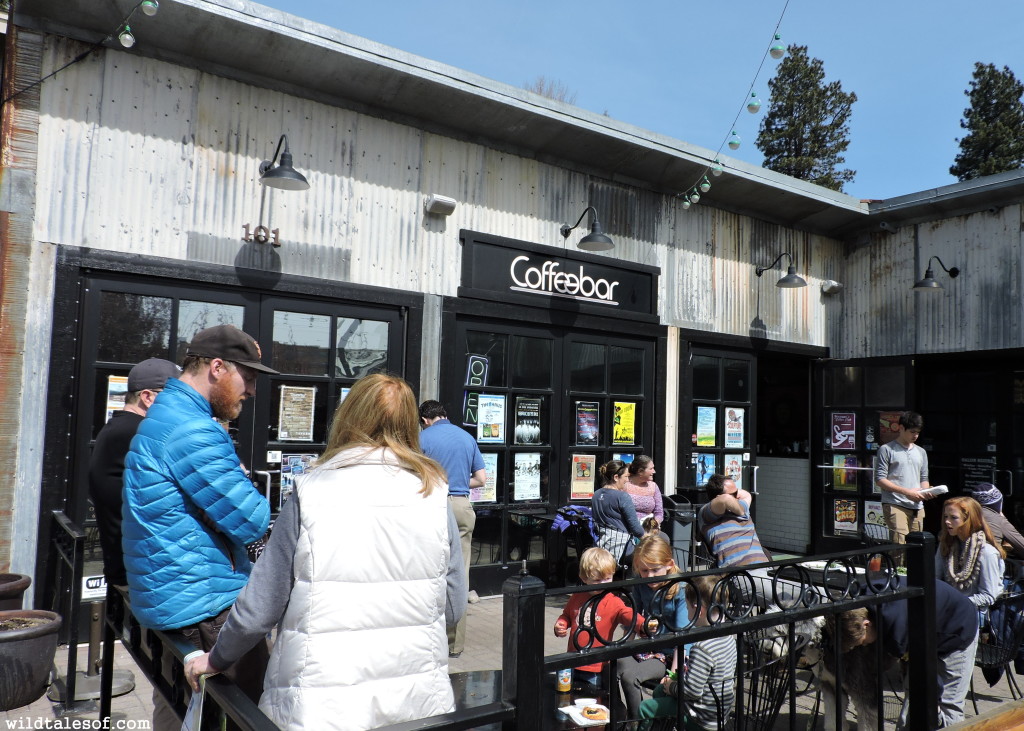 Lunch:
Full Belly Deli-HUGE sandwiches.  Perfect for that post (or pre!) hike lunch, but I see that they also serve breakfast.  Hard to choose as all of their menu items all seem so well thought out, but I went with the reuben and was blown away.  Tasty & unique with the added kick of jalapeno coleslaw!
Burger Me-Classic burger joint that prides themselves in serving the freshest ingredients void of chemicals and growth hormones.  I'll never forget our first experience here where we got a taste of what dining with a toddler is like! Slaed and I (before we were parents ourselves) were taking care of my niece who was 2 years old at the time, and didn't think placing a full glass of root beer in front of her would be a big deal.  Needless to say, the root beer ended up all over the table and floor, and we learned our lesson!
Dinner:
Best Pies Pizzeria-New York style pizza that really is the best in town! We dined here with a party of about 10 (including 4 kids), and the staff was super accommodating. Great beer on tap as well.
Blue Coyote Bar & Grill-Fun sports bar with the typical sports bar food choices, but super tasty.  Another good spot for kids as the atmosphere is fairly loud & can drown out any unpleasant "kid sounds".
Cottonwood Restaurant-Definitely more of a fancier spot for fine dining, but still rustic and comfortable.  Delicious award winning food & awesome view of downtown Truckee and the surrounding area. Also accommodating of larger groups.
Where to Stay in Truckee
Hampton Inn & Suites-Beautiful hotel close downtown, recreation areas (including skiing), and restaurants.  We love that free hot breakfast is provided, and appreciate the suite options that accommodate families.
VRBO-Now that we've found a rental home just a few houses away from my brother and his family, we prefer to go this route.  The Truckee Treasure has 3 bedrooms and 2 bathrooms, and is the perfect cozy mountain cabin. Just thinking about the place has me longing for chilly nights nestled under blankets in front of the fire.  We'd stayed in the house twice now, and look forward to many more mountain getaways here!
Tell us about your favorite mountain towns! Where do you like to getaway? Wondering what Truckee is like in the winter? You can read about our Christmas adventure.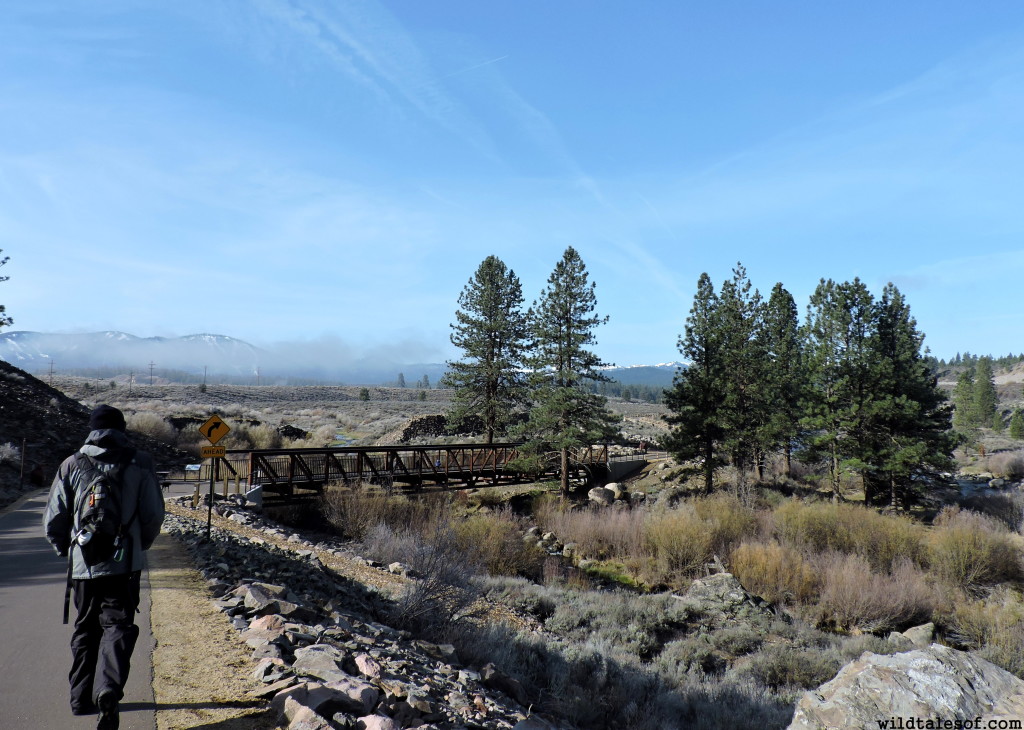 Come join the conversation! We'd love to have you join us on all of our adventures by "liking" our facebook page and following us on twitter! You can also keep up to date with each and every post by subscribing to the blog via email.