The sand dunes at Jockey's Ridge State Park in North Carolina's Outer Banks are the tallest on the east coast.  Of all the places I wanted my family to see on their first trip to the Outer Banks this was it.  From the multiple times that I got to visit as a child (we vacationed and traveled to the area at least once a year growing up), I remember running down the dunes as fast as I could, log rolling until I was dizzy & covered head to toe, burning my feet on the hot sand in summer, and feeling the horrible sting of wind blown sand on my legs on a windy spring day.   Jockey's Ridge is often referred to as, "The Living Dune".  It's always changing, always shifting, so really every visit to the place will be a little different from the next.
Mostly I just want to share the beauty of the park, and how you quickly depart the busyness of the bypass with all its shops and restaurants (and box stores, and houses, and strip malls…), and soon feel like you are in the middle of the desert with nothing but sand, and on this particular day, clear blue skies.  However, I also put together a few quick tips that might help if you decide to visit!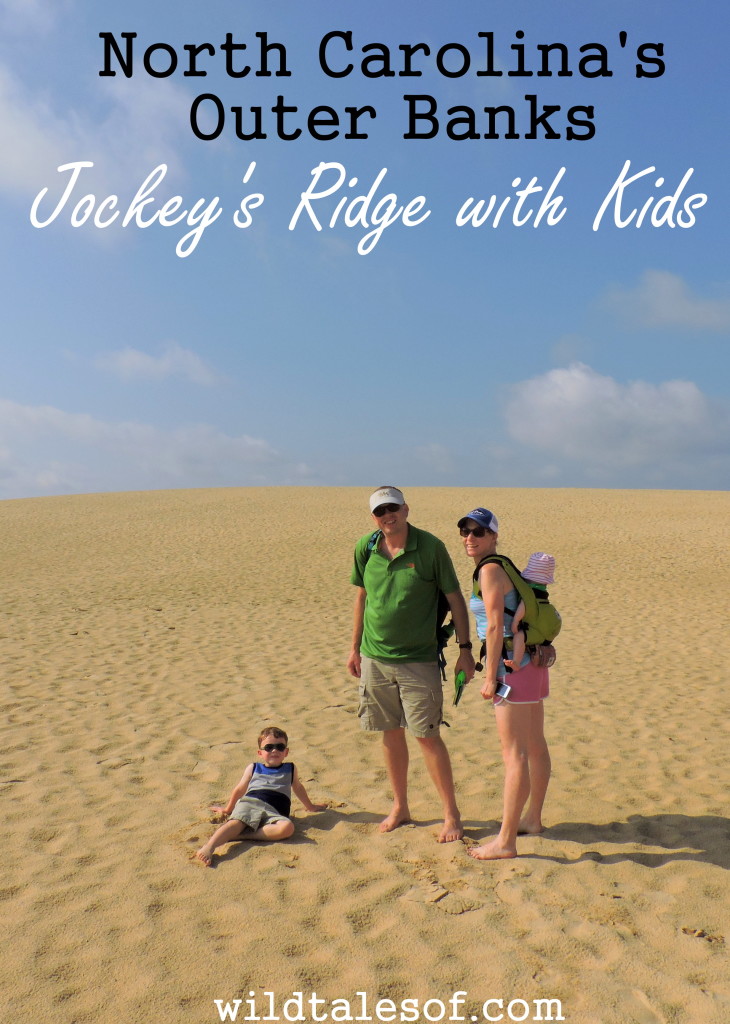 Visiting Jockey's Ridge State Park with Kids
1. Especially during the hot months (always opens at 8am, only closed on Christmas Day), plan to visit the park as early as possible.  There are fewer crowds, and the sand won't burn your feet since it hasn't been baking in the sun all day.  Arriving at 9 am, even with temperatures averaging in the 90s we were fine to walk around without our shoes, something I don't think would be possible later in the day.
2.  As we were leaving, I overheard the ranger talking with some other visitors.  His biggest tip, was to visit the park after a rainy night.  Of course that's not always possible to plan, but if it works out, you'll find the sand much cooler, and much easier to walk and navigate.
3. Bring a kite! It just makes the experience so much more fun, and the wind is perfect for it.  We brought a kite from home (a single line kite like this), but you can also purchase kites just across the street at the famous Kitty Hawk Kites.  Climb to the top of the ridge, let go, and watch your kite soar.
4. I wouldn't suggest bringing a stroller along, I carried Georgia (8 months at the time) in the ergo, but if you aren't looking to go too far, there is a 360 foot boardwalk that will take you to an overlook that will give you a nice view of the dunes that's stroller and wheelchair accessible.  There are also interpretive signs along the way to learn more about the history and ecology of the park.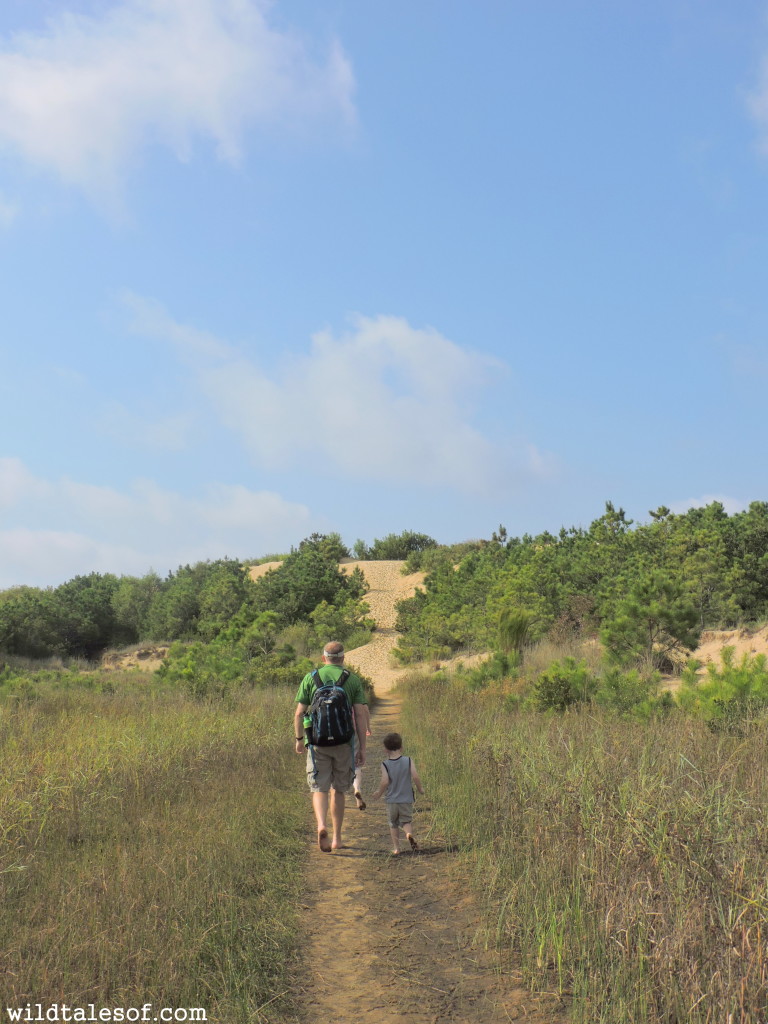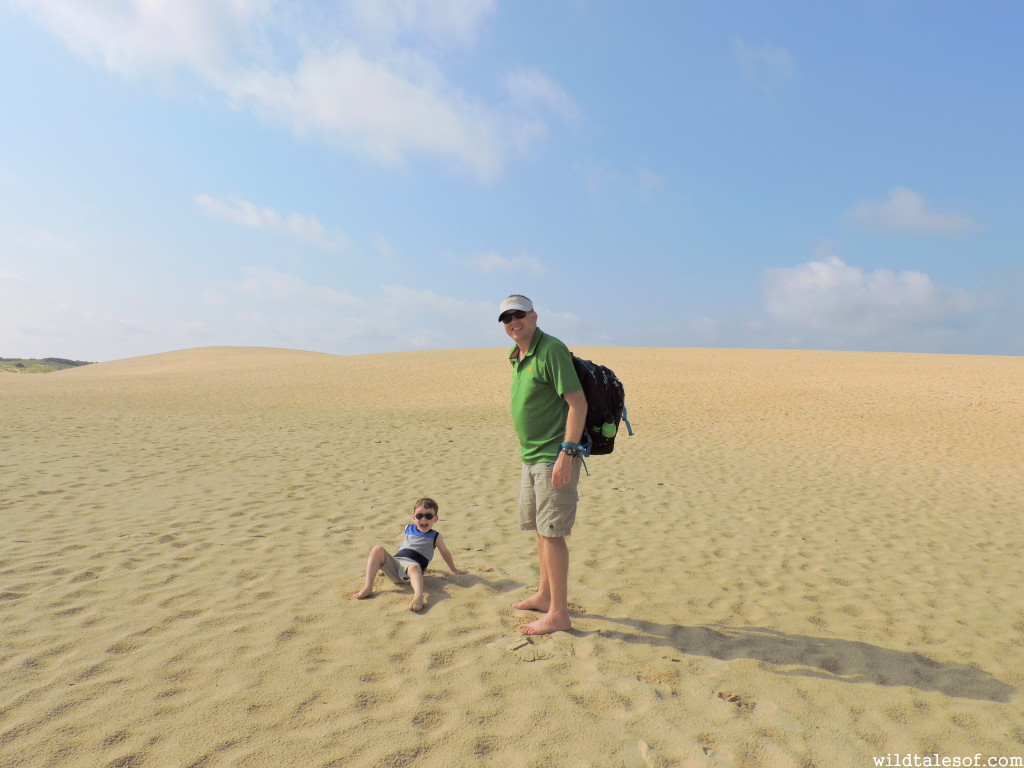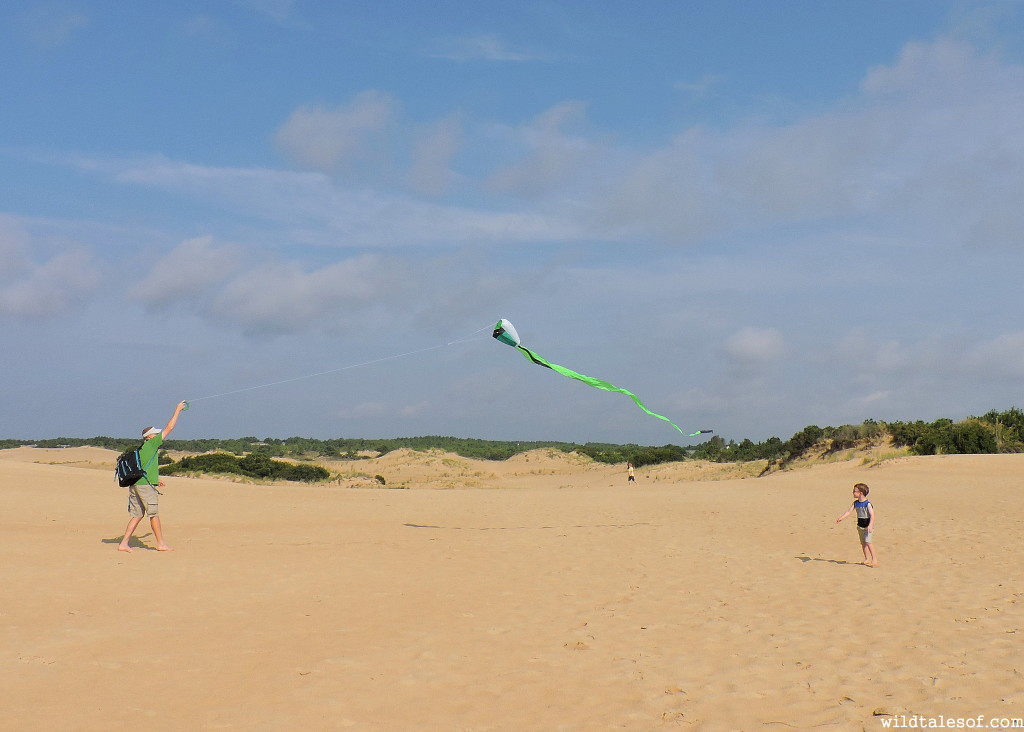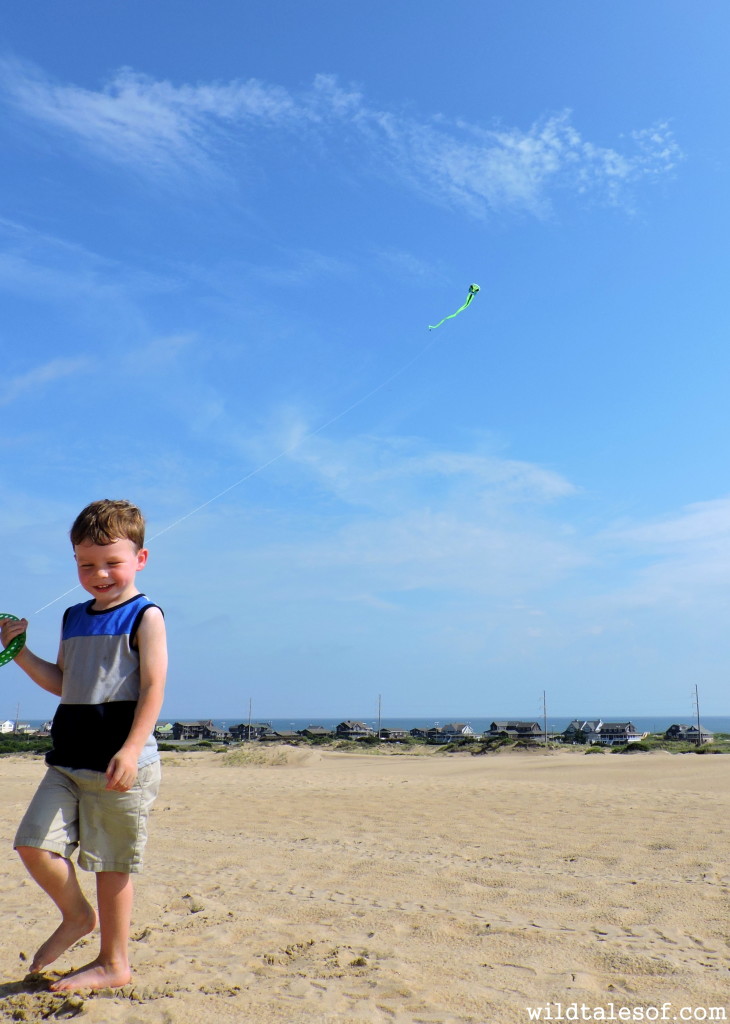 We only got to visit for an hour or so since we also had the Wright Brothers Memorial on our itinerary for the morning, but I wish we could have had more time to explore.  There are a couple of short hikes that I hope to do when we return that provide more views and access to the sound.  One of them emphasizes looking for animal tracks in the sand–how fun!
Have you explored large sand dunes? We'd love to hear about your experience!
Please note: Some affiliate links to our Wild Tales of…Travel and Adventure Store (via Amazon) are used to indicate some of the gear we used to aid in our experience.  If you purchase through our links, we receive a small commission.  Thanks for taking a look! 
Come join the conversation! You can keep up to date with each and every post by subscribing to the blog via email. We'd also love to have you join us on all of our adventures by "liking" our facebook page and following us on twitter! If you enjoyed this post, please "like it", "tweet it" or "pin it"!