I'm so excited to begin our first full week of 2016 with a Chinook Book giveaway! The Chinook Book continues to play a huge part in helping us get out, experience, and explore our city and region.  I knew that we used "the book" (as we refer to it) quite a bit throughout 2015, but it wasn't until I actually sat down, and started jotting down all the coupons we used that I realized just how much!
A Quick Review of our Chinook Book 2015 Highlights
Between the Chinook Book app and the print edition (yes, we often get both), we accomplished a ton, and saved a bunch.  I've highlighted just some of our favorites below:
New Restaurants

Big Chickie–Peruvian-style rotisserie chicken.
Schooner Exact–Kid-friendly brewery with an amazing menu that's a big step-up from typical pub food.

Old Favorite Restaurants

Seattle Salads
Hales Ales Pub
Elliott Bay Brewery

Treats and Coffee

Zoka, Cafe Ladro & Tougos
Cupcake Royale, Bluebird Microcreamery & Parfait Ice Cream

Shopping

Bartell Drugs-We shop here almost weekly anyway, so it's awesome to save just on "regular" everyday items (several coupons including $5 off your purchase of $25 or more).
Mud Bay Pet Store–wonderful pet store with locations through the Puget Sound region. Staff at every location we've been to is always friendly & helpful.  They ALWAYS help me lug the huge bag of Norman's dog food to the car.
Whole Foods–Tons of coupons to use on products here, but my favorite is just the FREE (huge) slice of pizza. No purchase necessary!

Places & Activities

Seattle Children's Museum
Burke Museum
Bloedel Reserve
Seattle Children's Theater
Note! Just like last year, you can access coupons in ALL regions and cities that Chinook Book is available.  My app always defaults to Seattle since that's where we are located, but if we travel to any of the other locations including Portland, Denver/Boulder, Minneapolis/St.Paul, Sacramento, San Francisco/Bay Area, & Willamette Valley, those coupons will be available (I can also search ahead of time by just typing the city into the location search)! And of course if you live in any of those areas, the app will sync to your particular city.
What's new for Chinook Book 2016?
The Chinook Book app was completely redone, and relaunched in July 2015.  New features were added making access to coupons even easier.  Note: To use the Chinook Book 2016 app, first download the app from itunes or googleplay.  From there, there will be a spot to enter your subscription code. 
Dashboard: The addition of the dashboard makes it easy to see what coupons are available, and also organize them into categories. I love the "expiring" coupon and "new" coupon sections as well as the "favorites" (designated by a heart).  With so many coupons available, it can be easy to forget ones that you  meant to use, so these features are really helpful!
Map Feature: Just as before, merchants with coupons "nearby" will pop-up first, but you can also select the map feature.  Any merchant with a coupon will show up on the map with a blue dot–so handy!
Network Connectivity: Unfortunately, access to the entire app is no longer available when you are offline, EXCEPT for those coupons that you've "favorited".  So it's a good idea to go through and "favorite" any coupons that you might think you'll use. That way, they are always there just in case your phone's data is not cooperating or available.
Grocery Store Setting: You can select your favorite local grocery store, and then add coupons to a list for an easy time at the checkout.  This is especially helpful for going to Whole Foods since there A LOT of grocery coupons available (ice cream, coffee, dry goods, etc.) there.
Enter to Win a Chinook Book 2016 app code!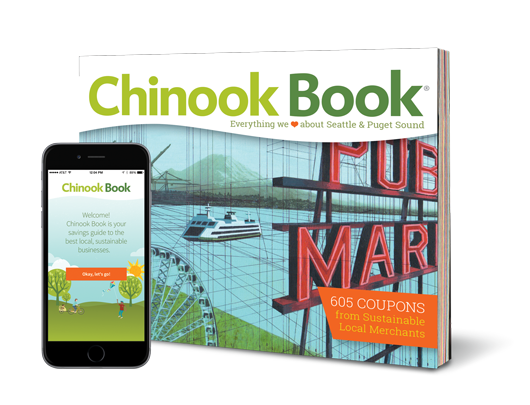 We're giving away 5 codes! Complete the giveaway widget below! Don't hesitate to contact us if you have any questions.
Need more info on the Chinook Book?
Read our 2014 Chinook Book post to learn why we love this resource.
Read out 2015 Chinook Book post to learn more about the mobile app & how it works.
And in case you're not convinced, here's a quick video on why we think it's a great resource for families:
Come join the conversation! You can keep up to date with each and every post by subscribing to the blog via email. We'd also love to have you join us on all of our adventures by "liking" our facebook page and following us on twitter! If you enjoyed this post, please "like it", "tweet it" or "pin it"!