Thule.  You know, that Swedish company that makes those racks for your car? From skis to bikes to cargo boxes, they take transporting gear seriously, so we are super excited to get to be a part of their latest project, "Active with Kids"! Included in this line are carriers, bike seats, bike trailers, and today's review: The Thule Urban Glide Stroller.
If you are a regular reader of the blog, you probably know that we are quite active.  We are outdoors everyday, and long walks are a part of our daily routine.  Thule contacted us just when Georgia (6 months) was ready to to transition from the carseat+bar system in the stroller to actually sitting in the seat of the stroller, and since it's arrival, we've put the Urban Glide through the ringer!
The stroller has traveled with us on the rough Seattle city sidewalks, down gravel trails of parks, and even along the forested paths of the Washington Park Arboretum.  In addition, we've tested the suspension down short flights of stairs, and through it all, our little adventurer has remained content in her cushy ride.

What is the Thule Urban Glide?
The Thule Urban Glide is a sports utility stroller designed for active families.  The Urban Glide is intended to be used for strolling and jogging sidewalks and smooth paths.  It's suitable for children 6 months and older, and has a weight capacity of 75 pounds.
How does the Thule Urban Glide work?
First, assemble the Urban Glide.  Once everything is out of the box, this process will take less than 5 minutes and is just a matter of putting the wheels and handle bar into place.  Then, engage the parking brake!
Next, simply seat the child inside and adjust the harness to fit:
Harness should be snug.  Check for looseness around the shoulders and waist, and adjust accordingly.
Shoulder pads should be positioned on top of the child's shoulders and next to their neck.
And finally, pull up on the parking brake, and head out on a strolling adventure!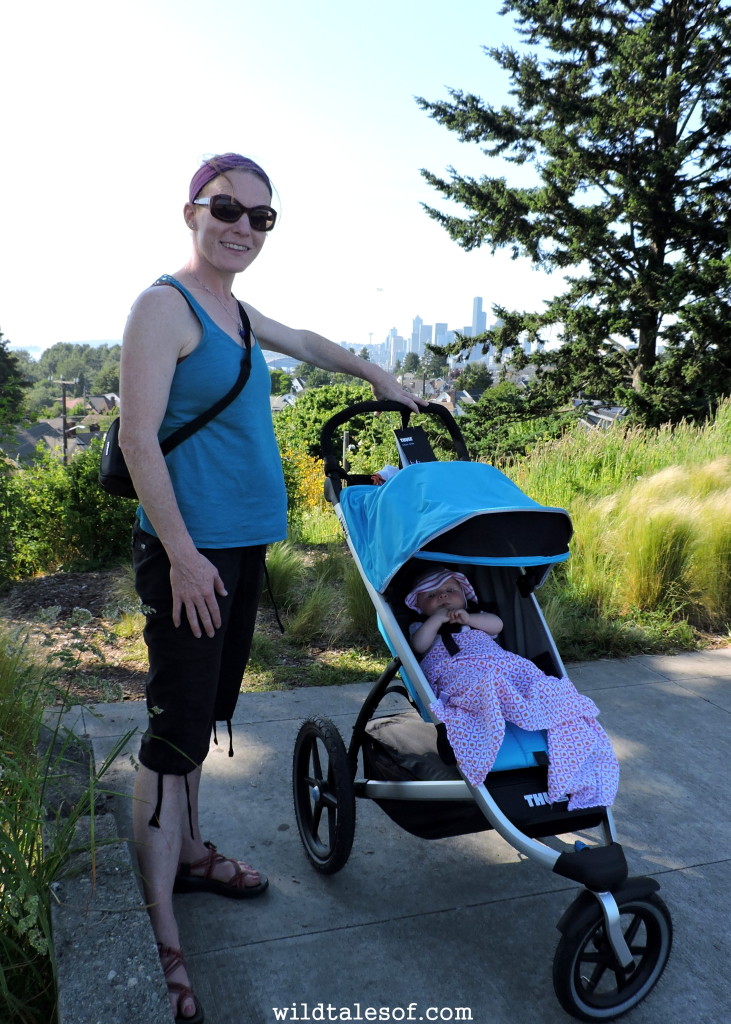 What's to Love?
The stroller's harness is comfortable and supportive, especially for young babies.  Georgia's transition from carseat+bar set-up to sitting right in the main seat of the stroller went very smoothly due to the cushy harness that supports her well.
Like many babies her age, she prefers to sleep in her crib, but when we are on the go, the Urban Glide provides a comfortable place for her to nap.  The padded seat adjusts back to a nearly flat position and the rear suspension ensures a smooth journey while she snoozes.
The handle bar adjusts for multiple users, which has been a huge plus for the varying heights and preferences of Slaed and me. The bar also folds flat for more streamlined storage.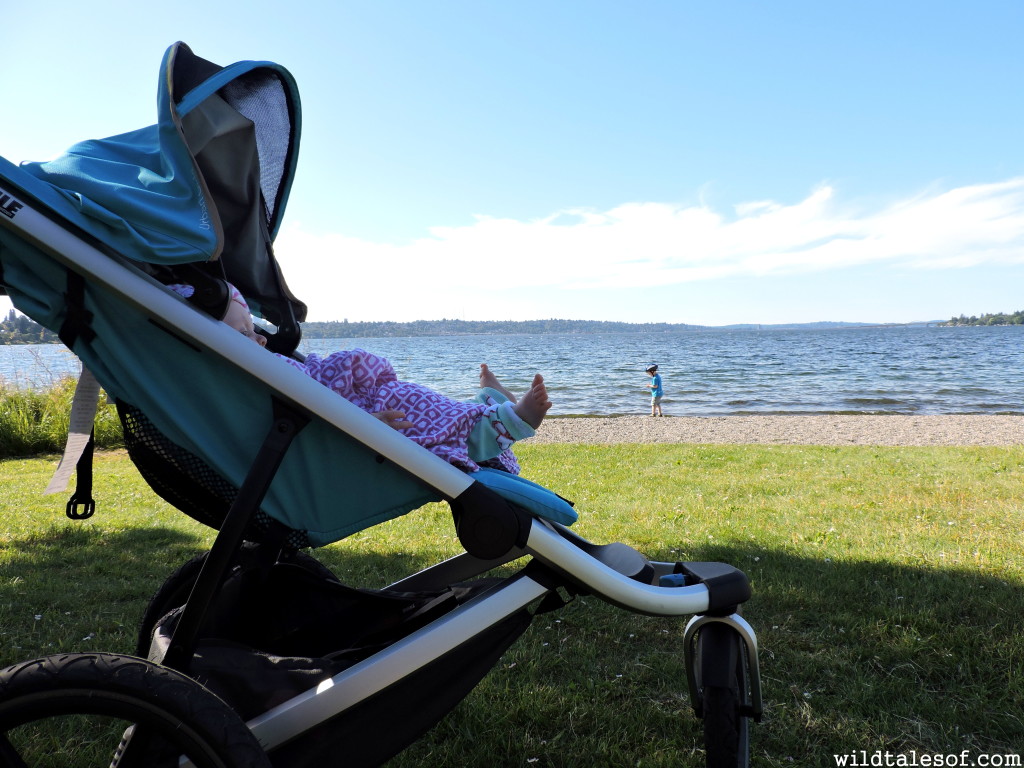 The canopy provides great coverage for shading from sun and providing a "private" place for napping.  Also a plus, the canopy is attached at the sides allowing you to adjust from the top to bottom giving lots of options for sun and precipitation coverage.
The wheels are easy to remove for storing the stroller in smaller spaces. When we travel with the stroller and the dog in his kennel, the wheel removal allows us to fit both the kennel and stroller in our trunk (works with our Toyota Matrix & Subaru Forester).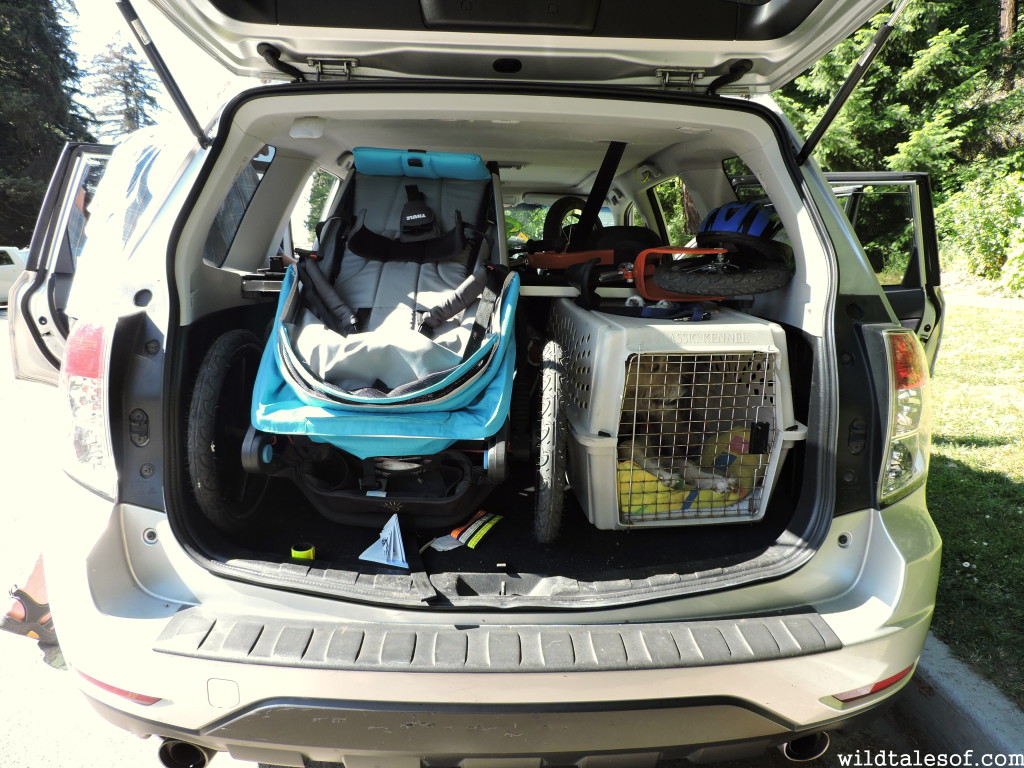 We appreciate that the under stroller compartment has a waterproof zipper closure and cover.  This keeps everything nice and tidy (& dry) AND detracts the pesky crow bandits that plague our city.
At 23 pounds, the Urban Glide is sturdy enough to handle our bumpy Seattle sidewalks, and weighs less than most jogging strollers on the market.  The stroller holds up well to well-maintained smooth trails of both dirt and gravel, but also has a lightness to it making it easier (and less of a burden) to move around.
What's to be Desired?
We have little to complain about with the Urban Glide, but our vigorous testing did result in one "wish" or aspect we'd change:
The brake bar (located at your feet at the bottom front of the stroller) is thin and even though it's held up just fine to almost daily use for the past month and a half or so, it feels as if it could easily break.  Some added material might give it a bit more sturdiness and piece of mind for us.
We also wish the Urban Glide had an additional hand-brake.  In many locations this would be completely unnecessary, but in hilly environments (like Seattle), it would provide a little more assistance and control, especially when jogging.
Notes:
The Urban Glide's seat is not as deep and accommodating for bigger kids, and a little smaller than the other sport strollers that we've tested.  Our nearly 4-year old (about 40 pounds) gave the stroller a try & it proved to be a bit too small for him.  This actually worked out perfectly–when the stroller arrived his riding days ended, and his sister's began! Bergen now walks (or rides his bike) along side us as we adventure around.  All kids and families are different though, and as I noted above, the stroller still accommodates the weight (75 pound capacity) of older kids.
While we haven't tested any of the added accessories, the following stroller add-ons are also available from Thule: car seat adapter, console, snack tray, mesh cover, & rain cover.
To purchase the Thule Urban Glide (appox $399):
We're big fans of the Thule Urban Glide & highly recommend it for families on the go!
A very special thanks to the folks at Thule for providing us with an Urban Glide Stroller for purposes of review.  All opinions expressed in this post are my own.