The baby was crying off and on.  More on than off.  Knowing she was fed, changed, and seemed to have filled her sleep tank earlier, I couldn't do much but press on.
Bergen, Georgia, and our dear friend, who didn't quite know what she had gotten into, and I were hiking in Cougar Mountain Regional Park.  Happily shaded and cooled by the forest's canopy, but equally annoyed with the flies that wouldn't leave us alone, we tried to make quick work of the loop trail that we had decided to tackle.
We passed the time by counting the snails and slugs we spotted along the way, something that Bergen never grew tired of.  Each and every critter deserved to be counted, and most needed to be moved to a "safer" place beside the trail.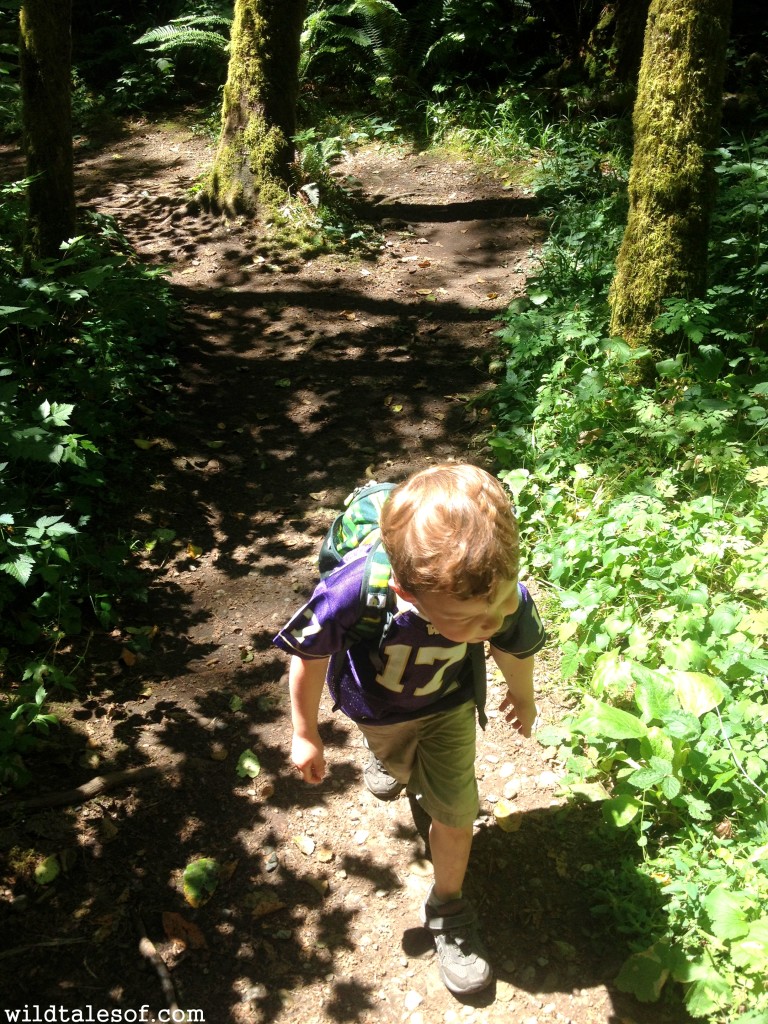 The high point, the De Leo Wall for those who are familiar with the park, was supposed to provide us with a nice view of the nearby town of Renton and if clear enough, Mount Rainier, so our anticipation grew as we climbed closer and closer to the top.  At the same time, the trail itself grew narrower and narrower.
The foliage lining the sides of our path closed in on us and we caught drops of rain from the previous night's shower on our legs and feet.  Bergen complained that he was "getting all wet". Being lower to the ground, he was bearing the brunt of the precipitation falling from the bushes and scrubs.
More and more, it felt like we were bushwhacking, blazing our own trail with Bergen out in front, so I pulled out my phone and snapped a few shots of our fearless tot of a leader to document this crazy journey.  And then since we'd already reached the peak, unfortunately missing the supposed view, our path got a bit technical as we started to descend.  I needed to concentrate on my balance and keep an eye on the little guy, so away went the phone in one of the zippered pockets of my backpack.
Except.  Did I bother to zip the pouch closed as I went on my way? Of course not. So when I'd reached a comfortable and more level hiking surface and spotted something else that deserved a quick shot, I was coming up empty handed.
Over and over again, I went through all of the usual spots in my backpack and ergo carrier.  I should also mention that lunch time was quickly approaching and the already irritable baby was growing more impatient.  The phone wasn't turning up in any of my pockets.  I would like to say that I didn't panic, but really I was quite flustered, and sick to my stomach.
How could I let this happen? Why wasn't I paying attention more? Of course this would have to happen today.  On this hike. When things were already rocky.  Good to have a friend around to help, but how embarrassing.
I turned around and started to retrace my steps, scanning the ground for my lost phone.  Bergen and our friend were still up ahead, unaware of my little dilemma.  I dreamed that the phone would just suddenly appear, all would be well, and we could get back to our hike, maybe break for lunch, maybe not even mention the mishap. No such luck. I raced back and broke the news to them.  I needed their help.
We decided to do another retracing, and as we searched my friend called the phone repeatedly in hopes that we might catch the ring and be able to locate it more easily.  At the same time, I talked through the steps leading up to the incident and we determined the stretch of trail that the phone would have landed.
Once we'd reached the end of that stretch with no rescued phone in hand, my friend hatched a plan.  One of us would stay with the kids and start lunch while the other went off again and searched.  Since I was the fool who had lost her phone and put us in this mess, I decided that I should go.  I looked on the ground for the phone trying to be as attentive, aware, careful, and positive, as possible, but I kept losing hope.
There were steep drop-offs just beside the trail in many areas.  I couldn't discount the possibility of the phone sliding down, never to be found. I returned to my little crew as Georgia's cries seemed to echo throughout the forest.  She needed her lunch too.
My friend and I switched places, and I hoped (and prayed) for the best as I scarfed down my peanut butter and jelly sandwich and fed the baby. In my mind, I tried to figure out how I'd tell Slaed.  I imagined myself coming back the park later that night without the kids and thought about whether or not that would be a complete waste of time.  I thought about the phone numbers, photos, and other information stored on that little device.  Had I taken the right steps to insure that all this data could be recovered?
I also questioned my abilities and decision making as a mother.  Why did I think taking my preschooler and unpredictable baby out on hike longer than just a couple of miles was a good idea?
I could put those worries aside though because as I heard footsteps coming closer and closer, I also heard, "Kate! I found your phone! I found it!"
Relief. And so much gratitude.
However, the whole incident has been a much needed lesson on mindfulness.  When people are relying on me (as little kids do), I must take appropriate measures to be organized mentally.  Maybe a photo isn't necessary, and probably won't turn out well anyway, during such a critical point in the hike.  Maybe hurrying along and making careless decisions in favor of getting something done more quickly actually wastes more time in the long run.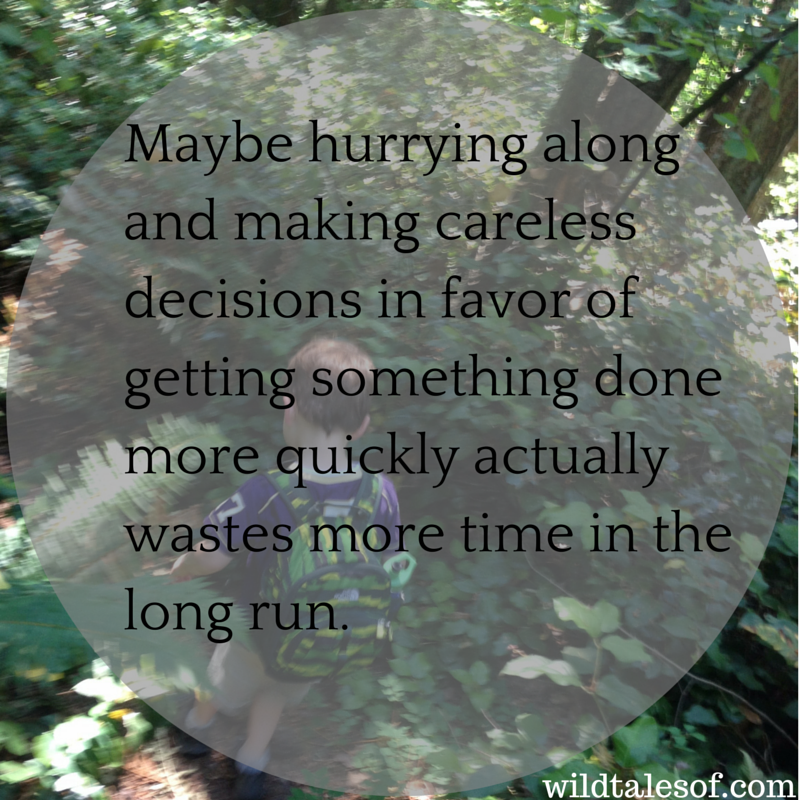 I can also just accept.  Accept that babies aren't always content.  Hiking trails are not always straight forward.  Friends are more understanding than we realize.  And flies really aren't all that harmful in the grand scheme of things.
Maybe you've already gleaned some of this from my story, but here's what helped in recovering my lost item:
Think positively.

 Amongst all that negative talk about mothering and decision-making, I also just kept telling myself that we would find it.  I envisioned it. I actually pictured my friend running back with the rescued phone before it was reality.

Narrow your search.

We thought carefully, and were able to be almost 100% certain that the phone had fallen in one particular stretch of trail.  I thought about when I'd last used the phone, and when I realized it was actually gone.

Call the phone.

 Even if the ringer is off or low, calling the phone can help.  My friend actually spotted the phone because the screen was lighting up from having an incoming call.

Create a plan

. Once my friend had the idea for just one person to look, and one person to stay with the kids, I was actually able to calm a bit. Just knowing we had a steps to accomplish this mission (whatever those steps may be) helped to get through the initial panic.
Do you lose things often? Ever lost an item while hiking? Ever have self doubt?
Come join the conversation! We'd love to have you join us on all of our adventures by "liking" our facebook page and following us on twitter! You can also keep up to date with each and every post by subscribing to the blog via email.