Not that we ever need an excuse to head out on an outdoor adventure, but with Slaed out of town on a recent weekend, I knew that the kids and I could not sit idle.  When solo-parenting, I find it's a lot more fun and manageable to get out and be active rather than dwell on my lack of partnership!
Gold Creek Pond has been on our list of places to visit for several years now.  As the kids and I headed down I-90, I must admit that I second guessed myself several times.  It was pouring rain.  Blinding, hard to see the car in front of me, worried about driving too fast and too close to other cars, RAIN.  Where was the friendly, misty Seattle area rain that we are used to?
I started going over alternatives in my head, and how I was going to break it to the kids that we wouldn't actually be making it to this hiking spot.  And as those alternatives churned in mind, I just kept driving. I talked myself through the overwhelm, and convinced myself not to abandon our plans.  Eventually those intermittent downpours subsided and we found ourselves at the trail head! I'm so glad that I didn't chicken out.
Here you'll see some quick highlights of our visit, and hopefully you'll see why we think Gold Creek Pond is such a great outdoor destination for kids!
Fall Visit to Gold Creek Pond with Kids
Fall Colors!
We visited on the first day of October, so the fall colors were not out in their full glory, but the peeks that we saw were gorgeous! I imagine at by mid October, the oranges, reds, and yellows are out in their full glory.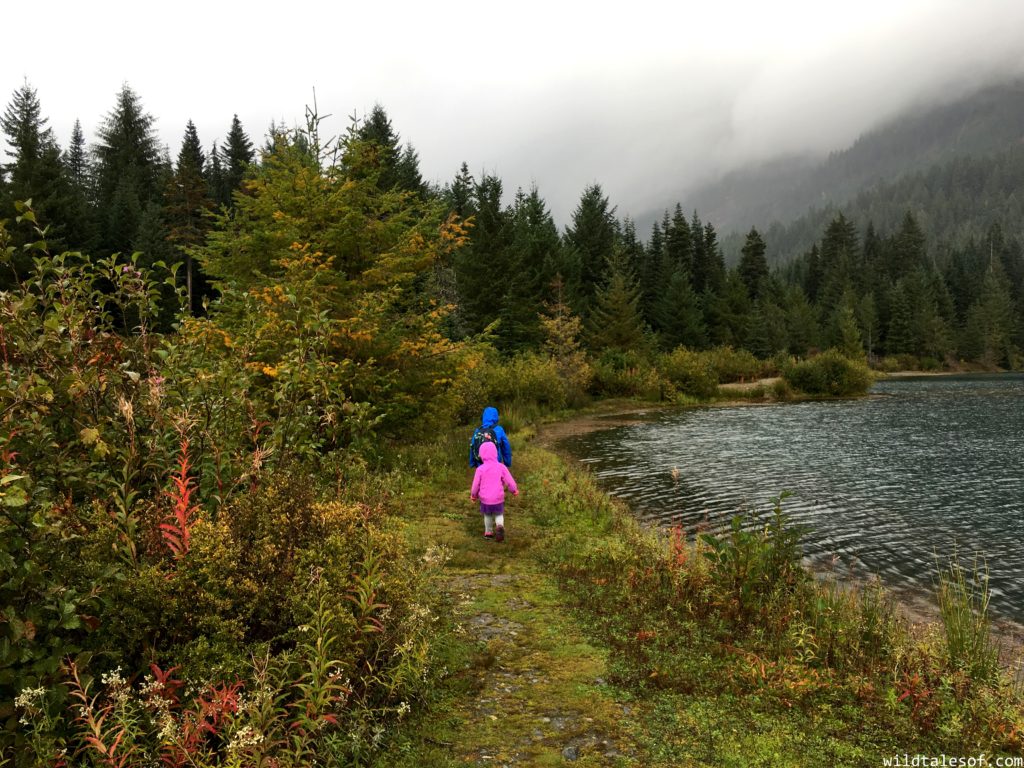 Length
At just a mile in length, the short loop made it so that the kids could explore more as we were not so focused on finishing.  We were able to veer off the main path, spend time exploring the pond's shore, and took a break for a laid back picnic lunch.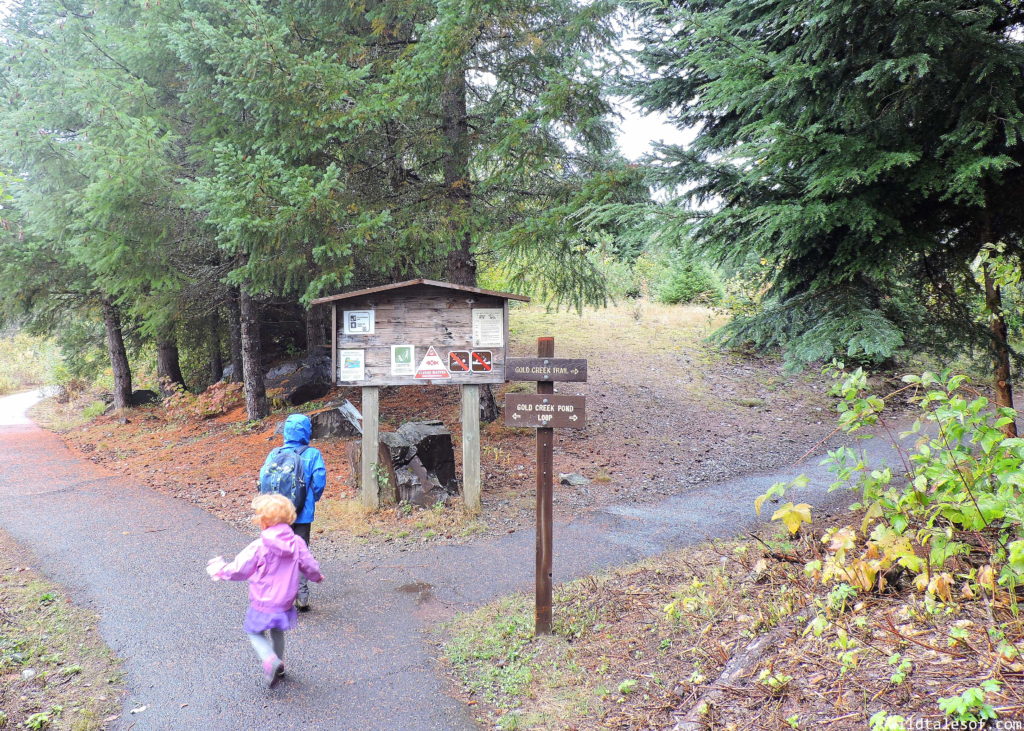 Easy Terrain
In addition to being short, the loop is also completely flat! My "hill hating" 6-year old had nothing to complain about, and the kids could still wear themselves out running up and down the paved path.  Moreover, the trail is actually ADA-accessible and stroller friendly.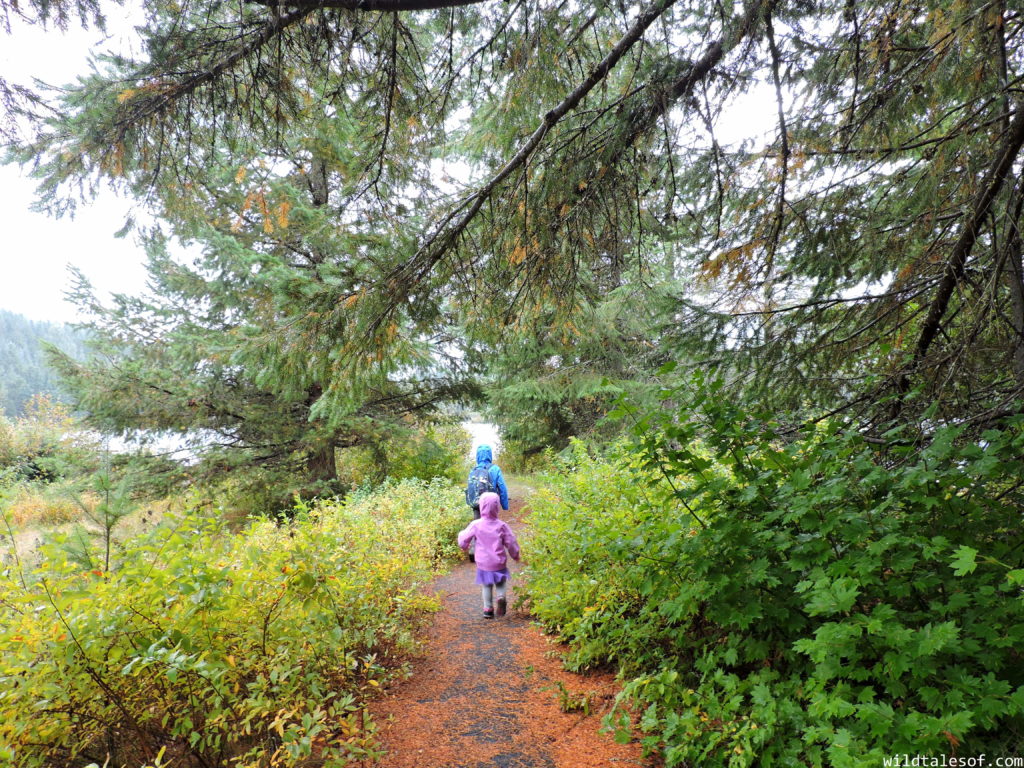 Geocache
Since our camping trip with friends on Whidbey Island, Bergen has become geocache obsessed.  It has actually worked out very well since whenever we hike, I can entice him with the promise of one of those beloved treasure hunts.  The find was a little tricky, and we nearly gave up, but with a little help, Georgia was able to locate a fun geocache.  The kids loved getting to exchange prizes, and the whole hike ended on such a positive note.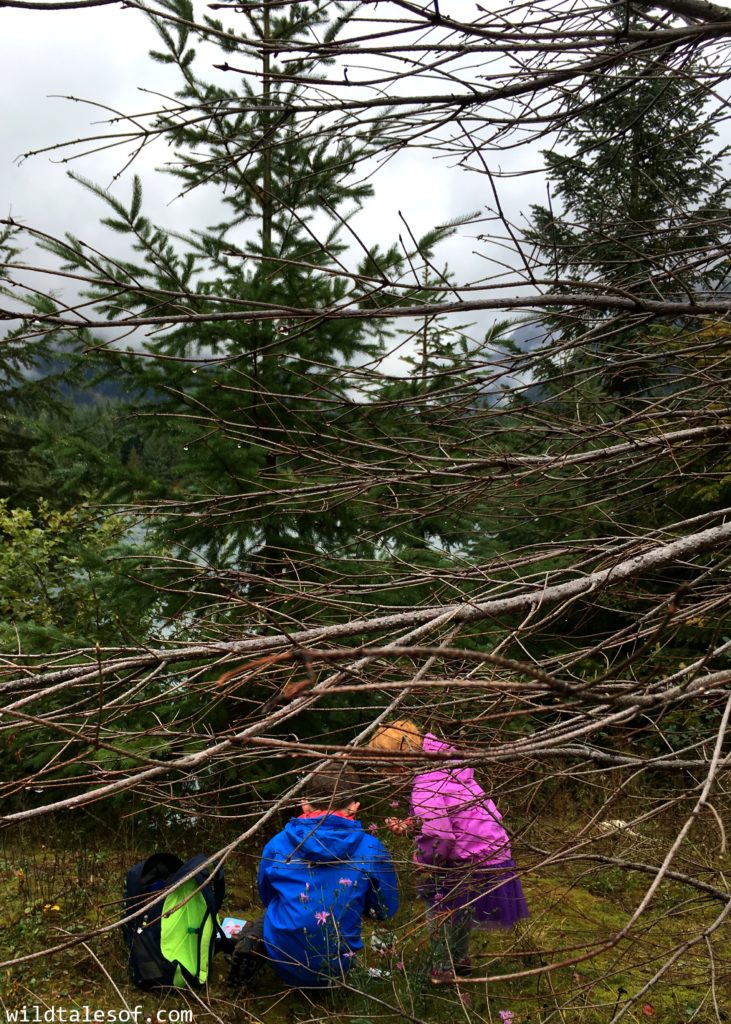 Beautiful Rain or Shine!
Like most outings in the rain, if you can look past a little precipitation, and outfit yourself with the right gear, you are bound to find some beauty.  Gold Creek Pond was no exception, and the fog and cloud cover actually framed in the loveliness of the pond and helped us appreciate the setting even more.  Of course, I'd love to visit during other times of the year, and look forward to possibly doing some snoeshoeing this winter!
Info to Know:
Gold Creek Pond is an ADA accessible loop located near Snoqualmie Pass in Western Washington:

For complete driving directions, visit the Washington Trails Association posting on Gold Creek Pond. Here you'll also likely find recent trip reports to give you an idea of the driving and trail conditions.

Northwest Forest Pass is required for parking and entry: $30 for an annual pass, $5 for the day.
Picnic tables are located at the south end of the pond, and pit toilets are located at the trailhead.
This paved path is STROLLER FRIENDLY!
Have you visited Gold Creek Pond? What time of year? We'd love to hear about your experience!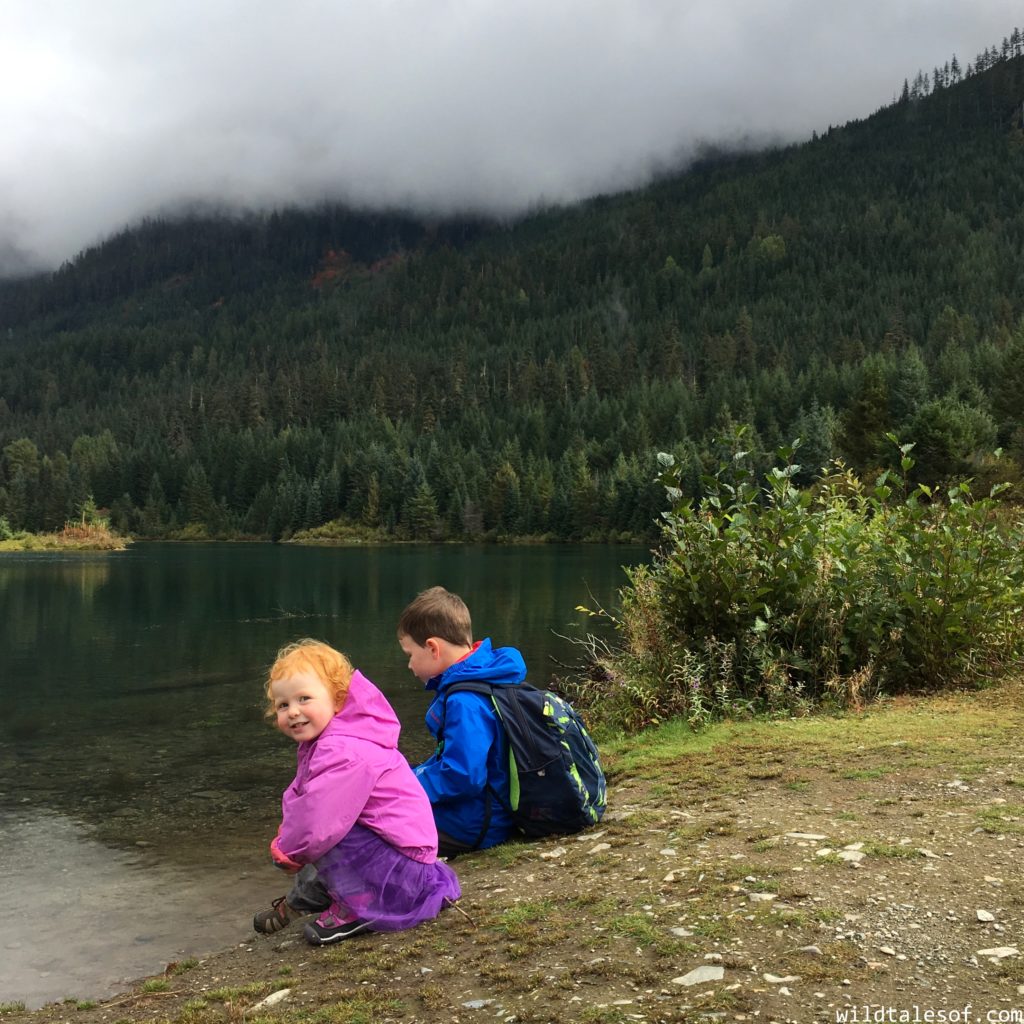 Come join the conversation! You can keep up to date with each and every post by subscribing to the blog via email. We'd also love to have you join us on all of our adventures by "liking" our facebook page and following us on twitter! If you enjoyed this post, please "like it", "tweet it" or "pin it"!