Bergen and I have been busy on the hiking trails this summer! Not only are we exploring, discovering, and enjoying the great outdoors (per usual), but we've also been testing hiking shoes and boots from Hi-Tec.  Hi-Tec Sports is a hiking and walking shoe and boot company out of Modesto, California.  I'm starting with a review of the women's V-Lite Altitude Pro Lite hiking boots, but stay tuned for a follow-up review of Bergen's Aitana Low waterproof hiking shoes (also mentioned in our kid's summer hiking guide).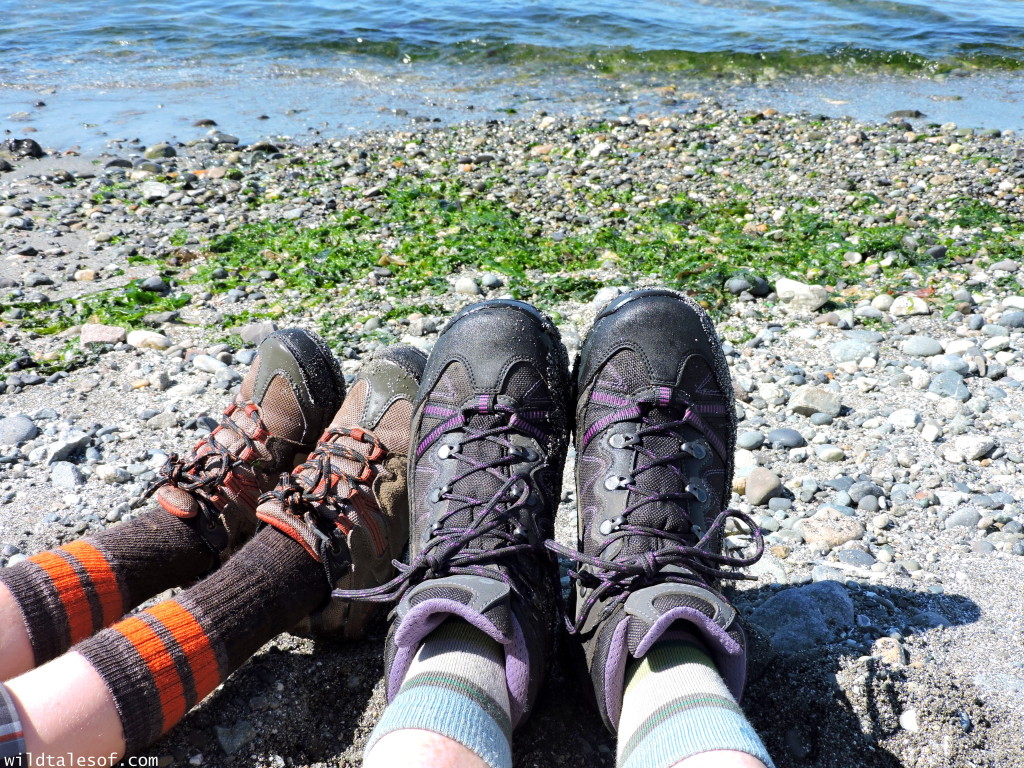 To give you an idea of our testing process, here are a few details:
Testing Time:

2 months
Testing Conditions: dirt and gravel paths, some flat, some steep, some smooth, some rocky and root-filled, also included a few rocky beach walks
Other Notes: almost always have a 25 pound toddler/baby on my back in the hiking carrier, not yet tested in rainy, muddy conditions, but will update when the weather allows.
What are the Hi-Tec V-Lite Altitude Pro Lite Hiking Boots?
The Hi-Tec V-Lite Altitude Pro Lite are a comprehensive pair of hiking boots featuring:
Waterproof suede & mesh upper
Vibram Rolling Gait System midsole
Vibram rubber outsole
They are designed for hiking all types of trails from easy dirt and gravel walkways to rocky, root-filled paths with steep inclines.  The waterproof membrane works to keep moisture out, but also allows for air to come through making it a comfortable boot for all seasons.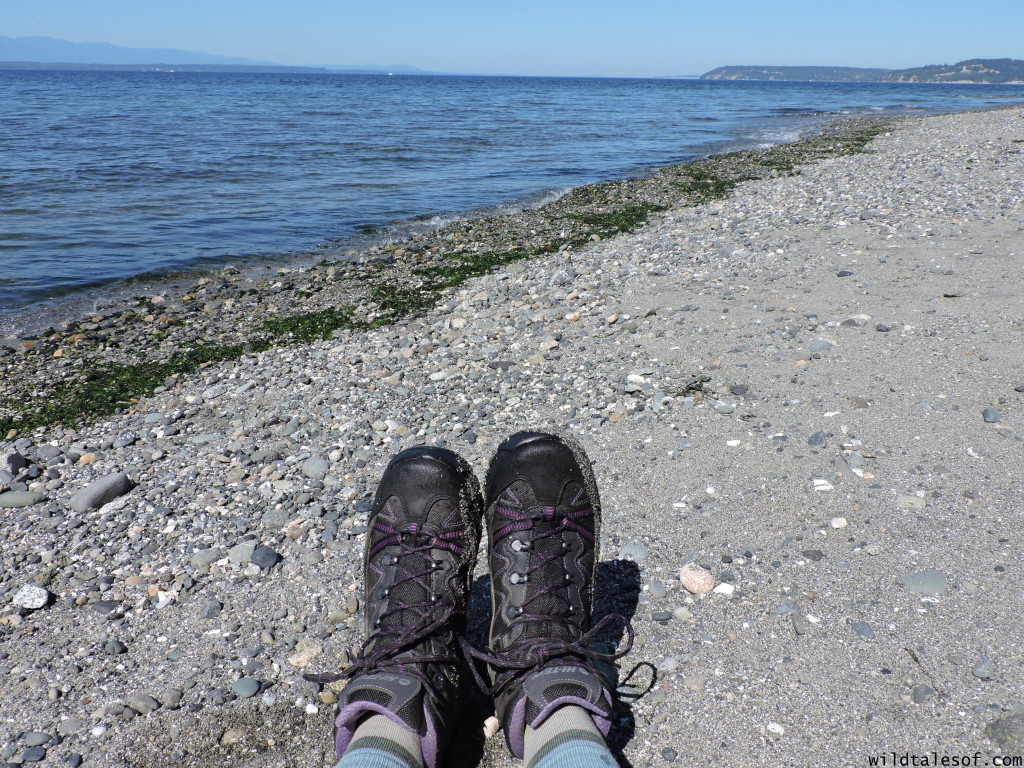 What's to Love?
I find the V-Lite Altitude Pro Lite hiking boots to be extremely comfortable to wear.  Unlike other hiking boots I've worn, although I anticipated it and feared it, I never had a "breaking-in" period.  The boots just fit comfortably from the beginning! Cushioning on the sides provides a soft yet secure feeling as I walk.
I worried about testing these boots in the summer since they almost felt like overkill to my normal Chaco, sandal wearing feet, but even on 90 degree days, my feet have stayed cool.  Sure I was happy to ditch the boots at the end of a long hike, but along the journey, I was never aching to break free.  This is thanks to that Dri-Tec waterproof membrane that I referenced earlier.
On roots and rocky terrain, the boots gripped well, and I rarely lost my footing.  I did take a fall once when gazing up at a big leaf maple, but I think that was more due to a lack of balance carrying a 25 pound baby on my back while trying to snap a photo! I also took several walks on rocky beaches & really prefer the controlled and steady "ride" in the Hi-Tec boots to slipping and sliding in flip flops, sandals, or even running shoes.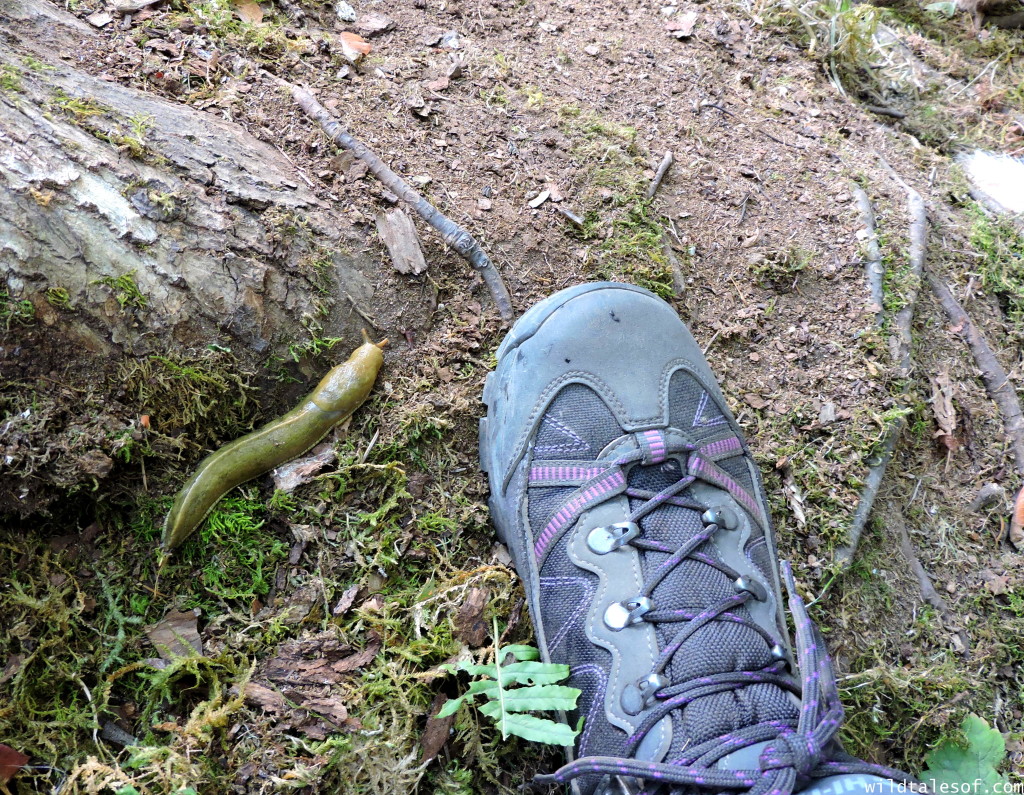 Of all of the strengths that I've observed after wearing these Hi-Tec hiking boots for the past 2+months, the stability has to be my favorite, and the one I'm most impressed with.  I can't get over how much better I feel hiking in these boots as compared past hiking boots, chaco sandals, and trail running shoes.  I feel more confident hiking while carrying a child on my back, and my ankles are thankful for the extra support.  And in fact, the boots have really made me shift my thinking in my footwear decision making.  More hikes than I thought previously really do call for a supportive hiking boot (such as these from Hi-Tec), especially when carrying a heavy load such as a child or large backpack.
While I haven't tested the boots in soggy wet terrain or puddles, we've had a dry couple of months here in Western Washington, the boots have been caught by a few waves at the shores of the Puget Sound and have trampled through a few streams.  Through these trials, my feet have stayed dry, and I haven't noticed any sogginess or need to dry the boots out after hiking.  And speaking of sogginess, my socks aren't even all that wet from sweat after a long hike as it seems that the breathable, waterproof membrane is doing its job.  Note: I will update this part of the review after trying the boots out in rainier weather this fall.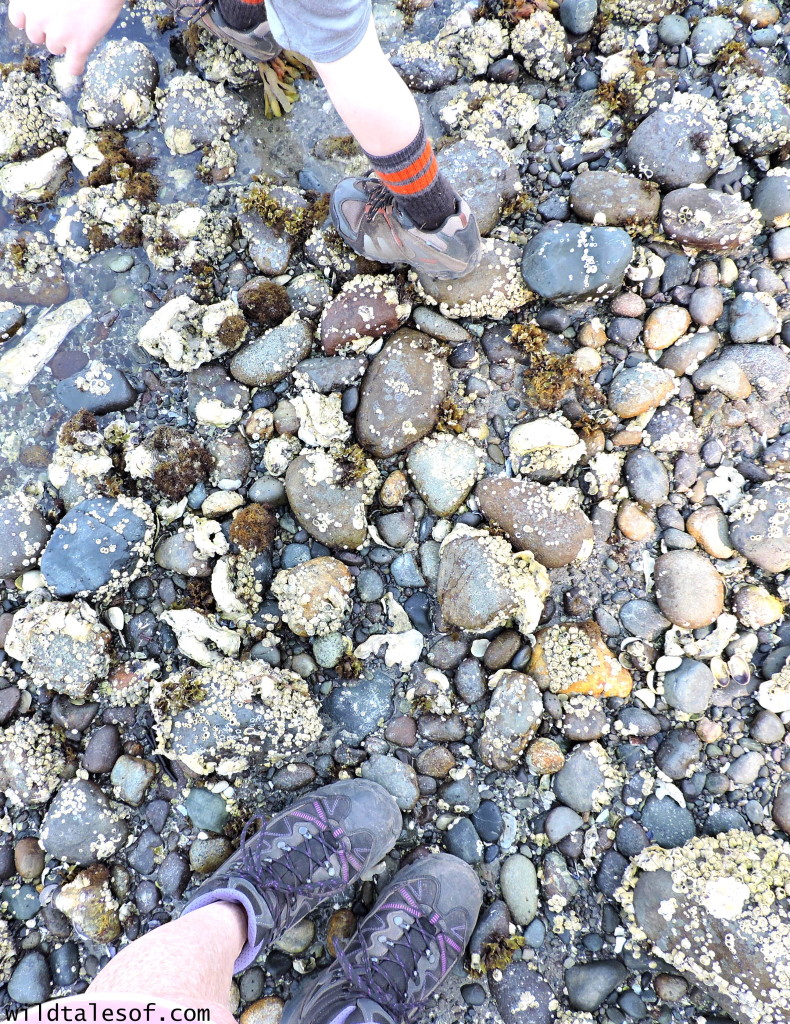 What's to be desired?
While it obviously seems to be working out fine, I was concerned at first that the boots were a tad too big.  As a true 8.5 (US) wearing woman, I've never found that I can go down a size as size 8 is always too small.  Accordingly, I continued with testing, and it turns out that they are a great fit for my feet! However, if you tend to vary with sizing, you might want to take this into consideration, and be sure to test a few sizes, or make sure there's a good return/exchange policy, if you can. If you buy directly from Hi-Tec there is a 60 day comfort guarantee.
Notes:
I tend to wear these boots with merino wool hiking socks. They add a little extra padding to my feet creating a fit that's more snug, and also work with the waterproof membrane to help regulate my foot temperature.
These boots are also available for men (same name).
To purchase the Hi-Tec V-Lite Altitude Pro Lite Hiking Boots:
Last word: I highly recommend the V-Lite Altitude Pro Lite Hiking Boots from Hi-Tec, and feel that are a great affordable option for women looking for a supportive hiking boot.
Thanks to the folks at Hi-Tec for providing us with hiking boots to test and review. Affiliate links are included in this post to direct readers to products from our affiliate partners (Amazon, Sierra Trading Post, REI, etc).  We receive a small commission from purchases made through these links, which helps to keep the blog up and running! Thank you for your consideration!  
Come join the conversation! You can keep up to date with each and every post by subscribing to the blog via email. We'd also love to have you join us on all of our adventures by "liking" our facebook page and following us on twitter! If you enjoyed this post, please "like it", "tweet it" or "pin it"!