I recently decided to take a break from coffee.  I haven't decided yet if I'll go back to drinking the delicious black nectar.  Admittedly it's only been two weeks, but by replacing my morning brew with tea, I must say, I don't miss it.  Much.
I feel like coffee was making me too jittery and anxious, and I also felt too dependent on it to wake up, and be a functioning and productive human.  Yes, tea contains caffeine too, but since it contains a lot less than coffee, it felt like I could make a gradual shift without a lot of side effects.
Cutting out coffee is all an experiment, and for what it's worth, I'm happy with the change.  I'm sure I'll share more in the coming months, but to start, one of the helping factors of my recent detox from coffee is Cusa Tea.  I've been testing out Cusa Tea for the past 2 months (yes, starting before I made the full switch), and I'm excited to share this innovative product!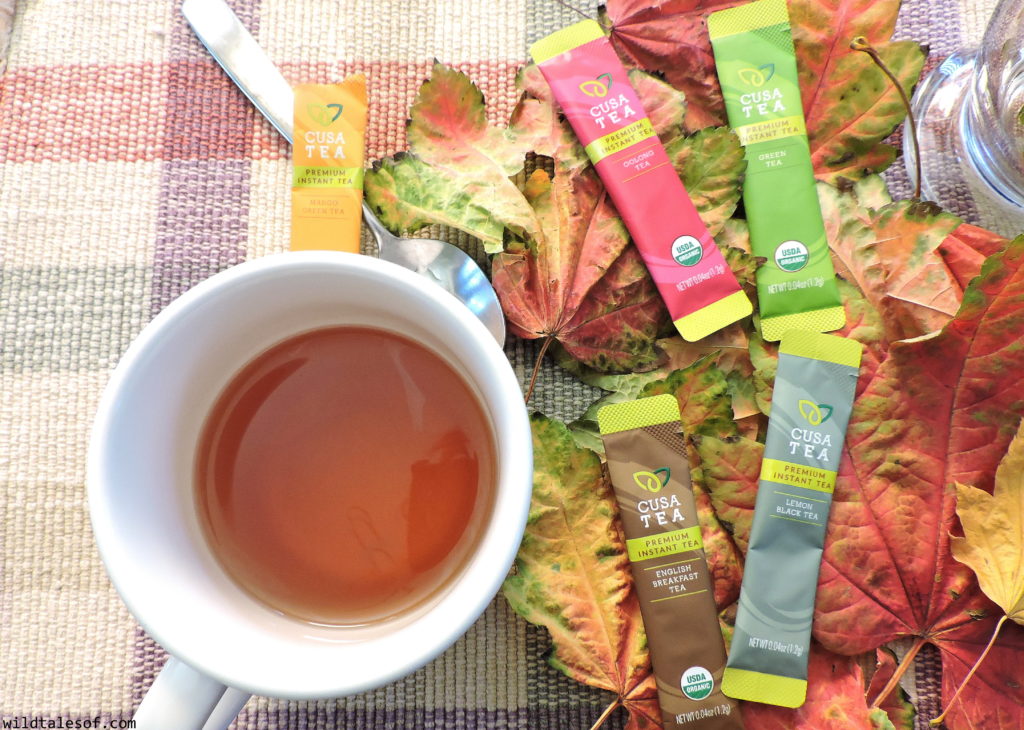 What is Cusa Tea?
Cusa Tea is an organic premium instant tea that can be served iced or hot.  Currently, Cusa Tea is available in the following flavors: English Breakfast Tea, Oolong Tea, Lemon Black Tea, Green Tea, and Mango Green Tea.  Each serving comes in a small convenient packet.  The tea dissolves instantly in water, providing a cup of freshly brewed tea in seconds.  Cusa uses a "Cold Steep Technology" and vacuum dehydration to concentrate the tea into dissolvable crystals.  You can read more about the process on their website!
*Disclosure: We received compensation from Cusa Tea in order to facilitate this honest review. We test each of the products we review thoroughly, and are committed to sharing both the good (what we love) and the bad (disappointments or improvement suggestions).  All opinions expressed here are our own.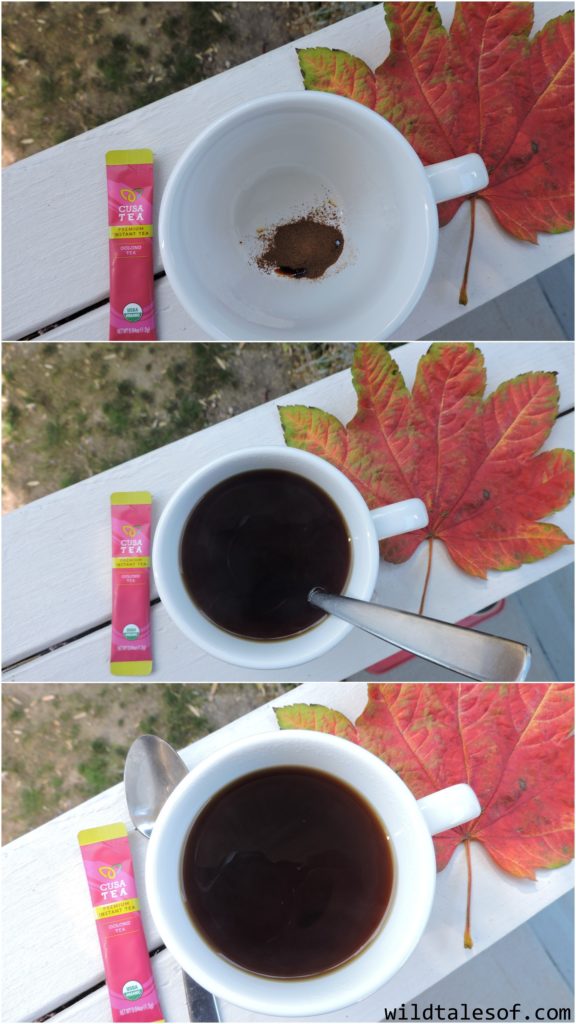 Before I get into what I specifically love, I thought I'd share my favorite way to make a cup of Cusa Tea.  There are so many ways, as you'll see below, but here's my choice method:
Add a packet of Cusa Tea to my Capresso frother, pour in about 6 ounces luke warm water, and begin heating (the tea instantly dissolves).
Pour prepared tea into my mug of choice.
Froth 1 or 2% milk, and pour on top: A delightful tea latte at home in just minutes!
What's to Love?
Quality Tasting Tea
Despite the fact that Cusa Tea is an instant tea without the need to steep, the product tastes just as delicious as traditionally brewed tea.  There is no artificial after taste or lessening of flavor that you might expect from something "instant".
Quick
With full days, and children at my feet, I love that a hot or refreshing (if brewed cold) cup of tea will be ready in a flash.  Steeping tea can be an incredibly relaxing, almost therapeutic experience, but I'll admit that sometimes I forget all about the tea I just made, come back, and find it cold! With Cusa, my tea is ready to drink right away!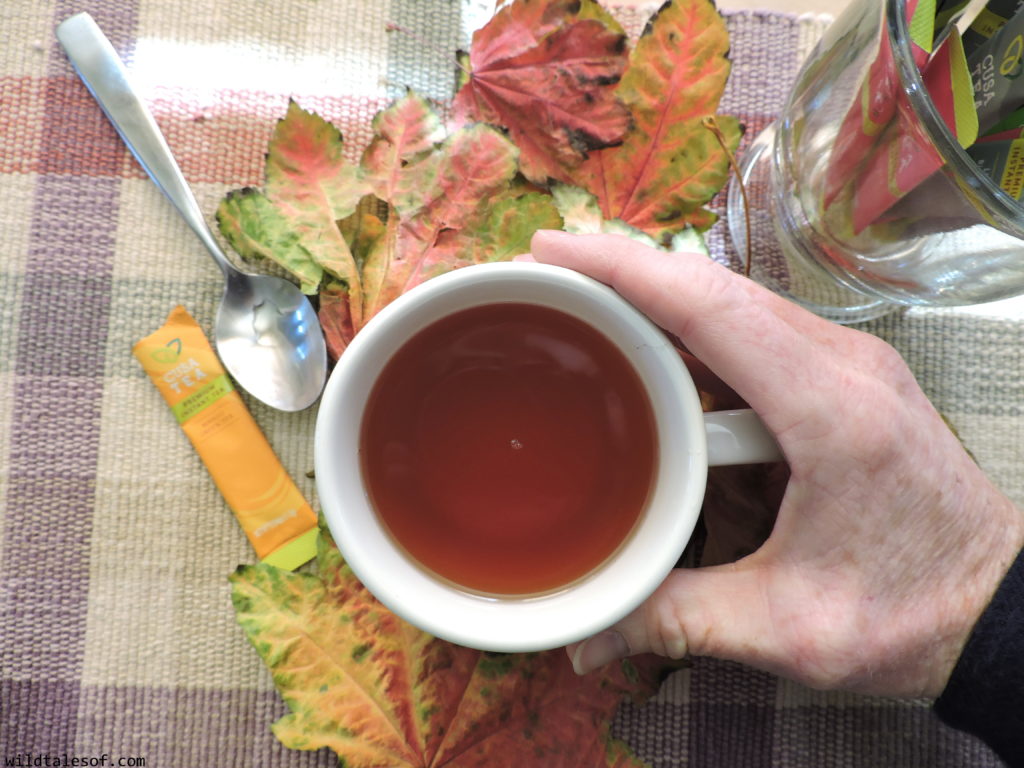 Portable
The little sleeves/tea packets that Cusa Tea is packaged in are perfect for travel and on-the-go.  I've brought them along on camping trips, road trips, and day hikes, and there is no worry of the contents getting crushed or torn open.  I look forward to bringing Cusa Tea along on our upcoming visit to the Carolinas–great for enjoying a cup of tea at the airport or on the plane, as well as our destination!
It's only Tea!
All Cusa Tea is organic, and 100% TEA (no additives, sugar, preservatives, etc.)! With the exception of the lemon black tea and the mango green tea, which of course include fruit in the ingredients, the only ingredients are tea.
Flavor Varieties
I love switching things up, and enjoying the benefits of a variety of different drinks, so I appreciate the 5 awesome flavors that Cusa offers.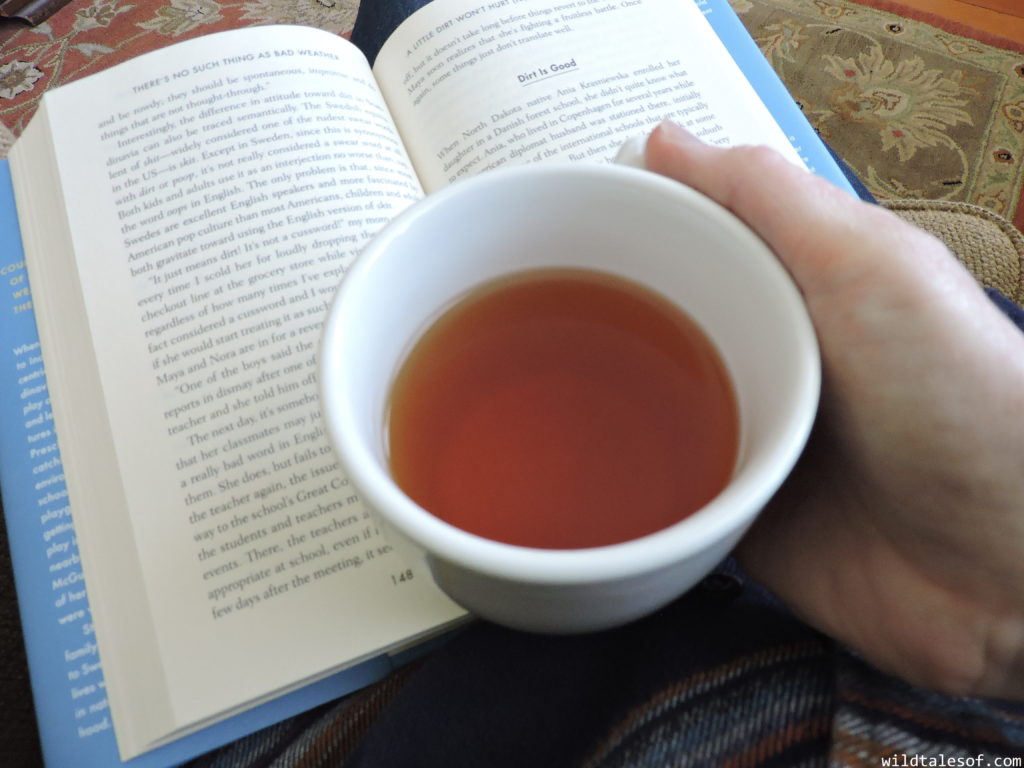 Cusa Tea Superlatives
To help you get to know Cusa's tea flavors a little better, I've given each an award based on my favorite ways to enjoy them!
Best Iced Tea: Lemon Black Tea
The lemon flavoring comes through so well, and really tastes as if I've actually squeezed a lemon into my drink.  Serving the lemon black tea iced is so thirst quenching and refreshing!
Best Wake-up Tea: English Breakfast
I started drinking Cusa's English Breakfast Tea in the morning after giving up coffee, and it's been a lovely replacement as I still crave a warm, soothing drink to slowly ease into the day.
Best Tea for Vacation Dreaming: Mango Green Tea
Cusa Mango Green Tea takes me away to a tropical place whenever I drink it! Mix a little coconut oil infused milk in, and it's downright heavenly.
Best Post-Hike Tea: Oolong Tea
Cusa's oolong tea has a lovely earthy taste and aroma that just feels fitting for a post-hike pick me up.  In preparation for a recent hike, I filled my thermal travel mug with hot water and left it in the car as we hiked.  After the hike, I was able to prepare a fresh cup of hot tea instantly–so perfect for a rainy day!
Best Tea Feel Good Tea: Green Tea
Considering Green Tea arguably has the most health benefits of anything else you could drink, I just feel good when enjoying a cup of Cusa Green Tea.  The flavor is light and not overpowering, but I will admit to adding a bit of honey to my cup every once in a while!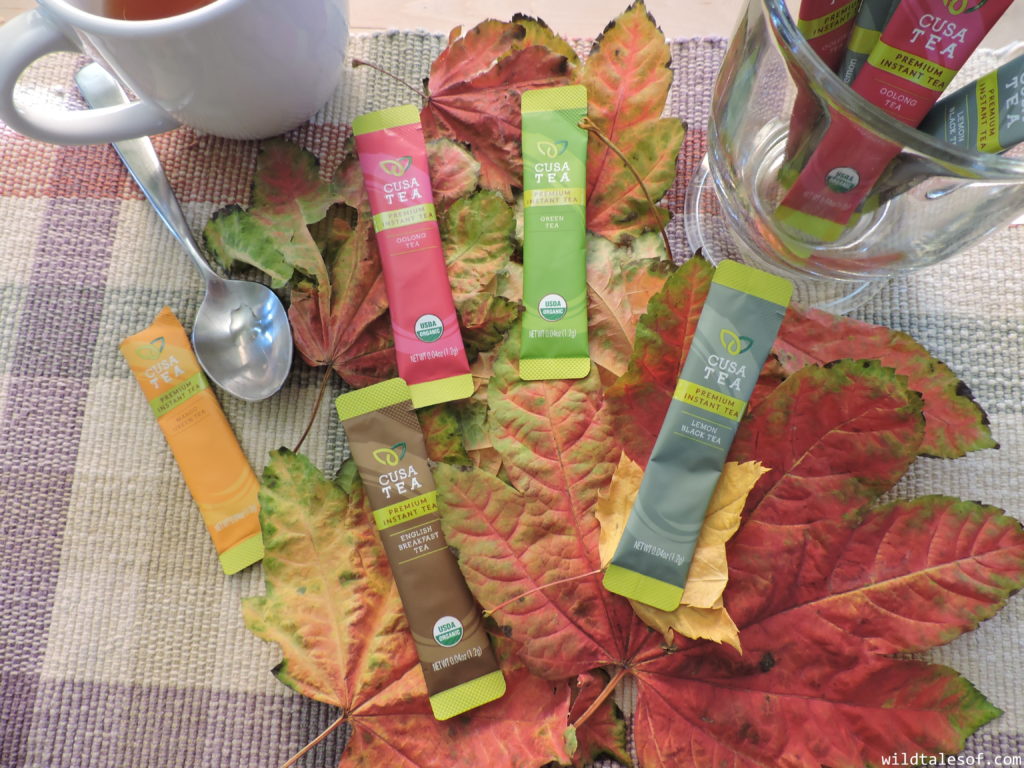 What's to be desired?
Since I'm working on curbing my caffeine habit, I'd love to see Cusa Tea offer varieties of decaffeinated herbal teas.
In addition to enjoying Cusa Tea on the go, I also just love grabbing a quick cup of tea at home, so a "loose leaf" packaging option might help to cut down on packaging waste.
To purchase Cusa Tea:
What's your favorite flavor of tea? Have you ever tried instant tea?

This post also contains affiliate links.  If you purchase through our unique links, we'll receive a small commission (at no cost to you) to help us keep the blog up and running. 
Come join the conversation! You can keep up to date with each and every post by subscribing to the blog via email. We'd also love to have you join us on all of our adventures by "liking" our facebook page and following us on twitter! If you enjoyed this post, please "like it", "tweet it" or "pin it"!