When we traveled to Olympia, Washington this past spring, we thought of the trip almost as a staycation.  At just over an hour's drive from our home in Seattle, we could easily visit Olympia as a day trip.  Side note: With the exception of stopping at the capitol for just 30 minutes or so on our way home from an Oregon trip, I'd never been to the Olympia! However, with so much to offer families from their amazing children's museum to the charming downtown with shops and restaurants for everyone to enjoy, we really wanted to spend some quality time in Washington's capital city.
Luckily we were provided with accommodations that did make us feel at home.  The Marriott TownPlace Suites in Olympia is an extended-stay style hotel where all of the rooms have separate living and sleeping areas, and fully equipped kitchens.  We only stayed one night at the hotel, but all of the extended-stay amenties makes it such a great option for families, no matter how long you're there!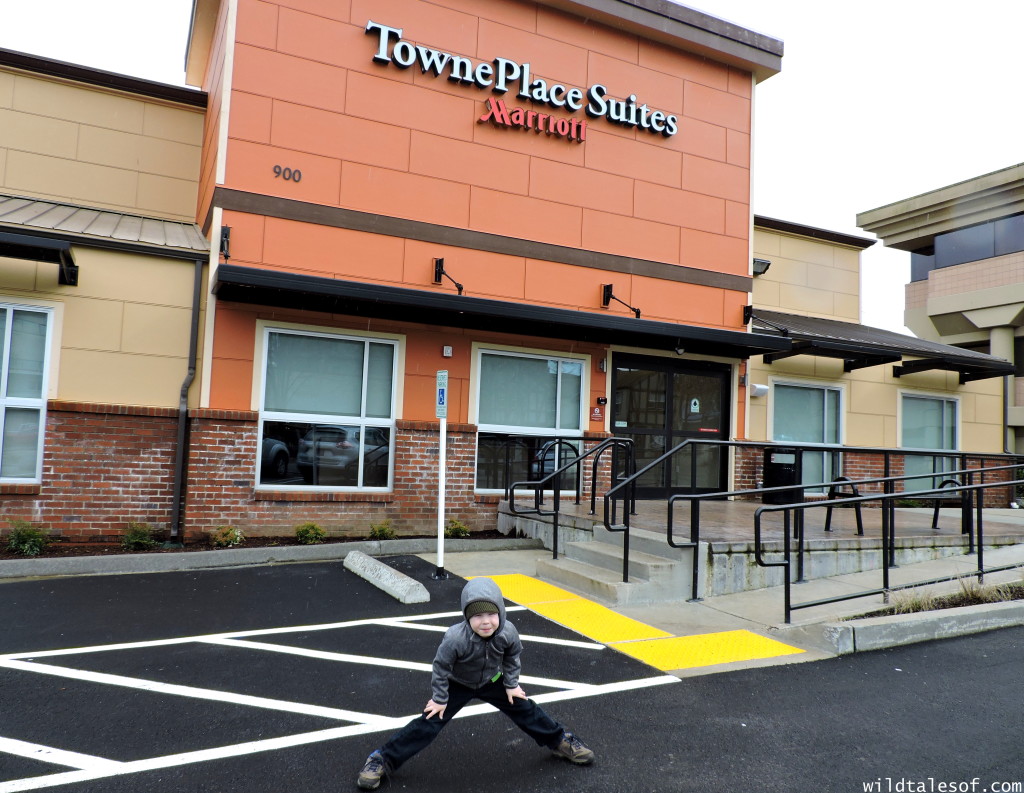 The Marriott TownPlace Suites is situated between, and within walking distance, of the Washington State Capitol building and downtown Olympia.  I loved that we could get to attractions and activities quickly, and mostly being on foot means we didn't have to worry about parking, and all the ins and outs with carseats.
Upon entering the hotel, we were given such a warm greeting from the staff, and I was very impressed with the user-friendliness of the lobby and dining areas.  The layout just made us feel comfortable instantly!  Right away, staff chatted with us about restaurant and activitiy recommendations, and pointed us to the large map that highlights major landmarks giving us a quick orientation of the city.  They even have the weather posted!
With the TownePlace Suites being one of Olympia's newest hotels, opened early 2016, all the the decor is fresh and modern. Complimentary fresh fruit and coffee is always available in the lobby, and I adored the large United States map that stretched across the back wall.
We were so thankful that the staff allowed us to arrive and get settled earlier than the standard 3pm check-in time so that we could put Georgia (15 months at the time) down for her nap. We were also lucky to be provided with one of the TownPlace's two-bedroom suites, which really allowed our family of 4 to spread out!
This particular room had the the kitchen, desk area, and living room open to us as we walked in.  Bedrooms, complete with elaborate closet systems for organizing clothes and other belongings, were on either side of the living room.  The kitchen was helpful as we were able to store fresh food (and leftovers), and Georgia was especially pleased to get to dig into the popcorn Slaed prepared for her after her afternoon nap.
The large bathroom was just off of the kitchen, and was so spacious that I felt comfortable getting some work done in there after the kids were down for the night and while Slaed watched movie!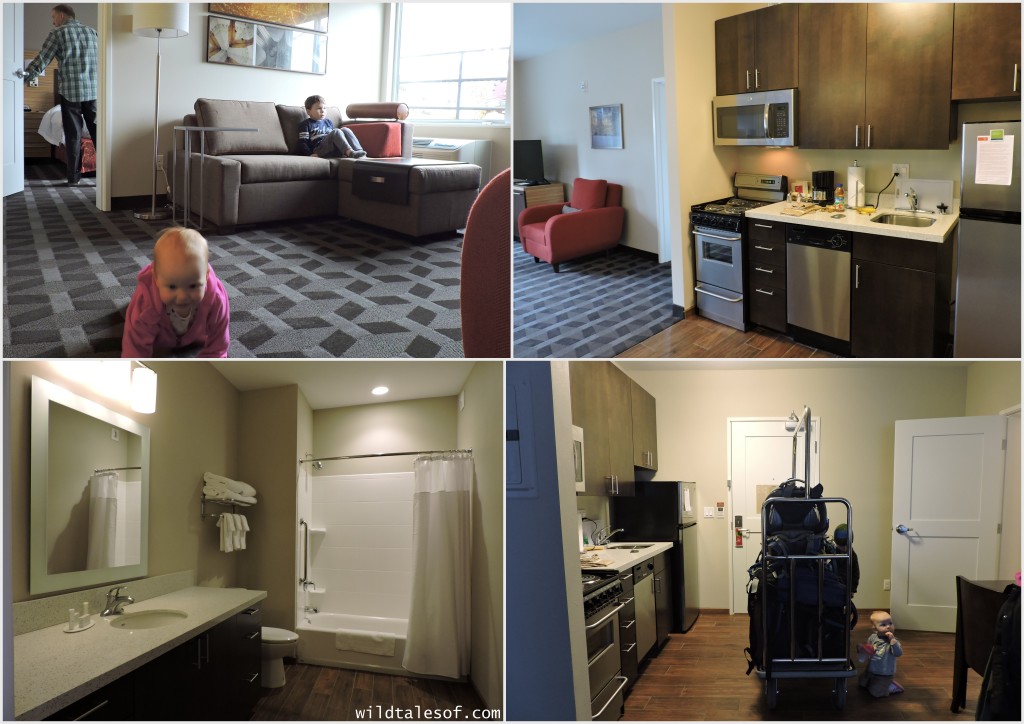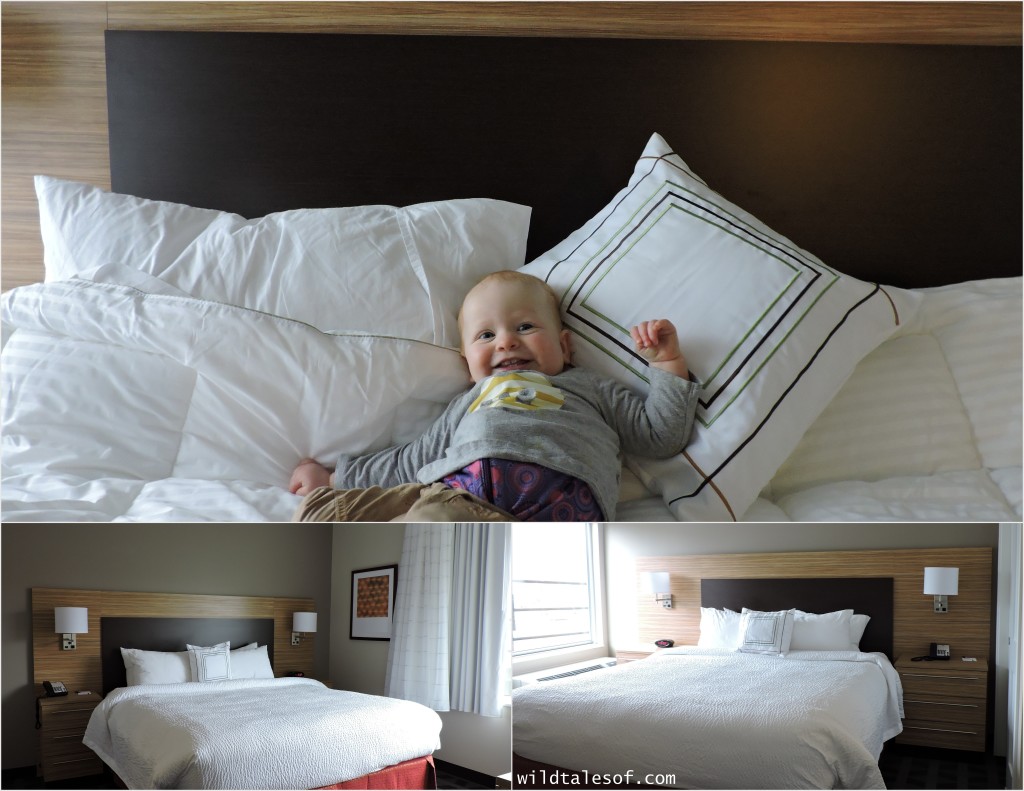 After a great night sleep, Bergen rose earlier than usual, so he and I took advantage of this "free time" while Slaed and Georgia got to doze a bit more.  We grabbed a quick bite to eat at the complimentary breakfast in the lobby, and then explored the outside of the capitol building more (I wanted to see the cherry blossoms & daffodils), and grabbed coffee from one of Olympia's local roasters.  When we needed a break from the rain, we joined back up, and we all had a proper meal together!  While not gourmet (standard hot items like scambled eggs and bacon, waffle making station, cereals, and pastries), the breakfast hit the spot for our family, and was just the thing we needed before heading back out for a full morning of exploring.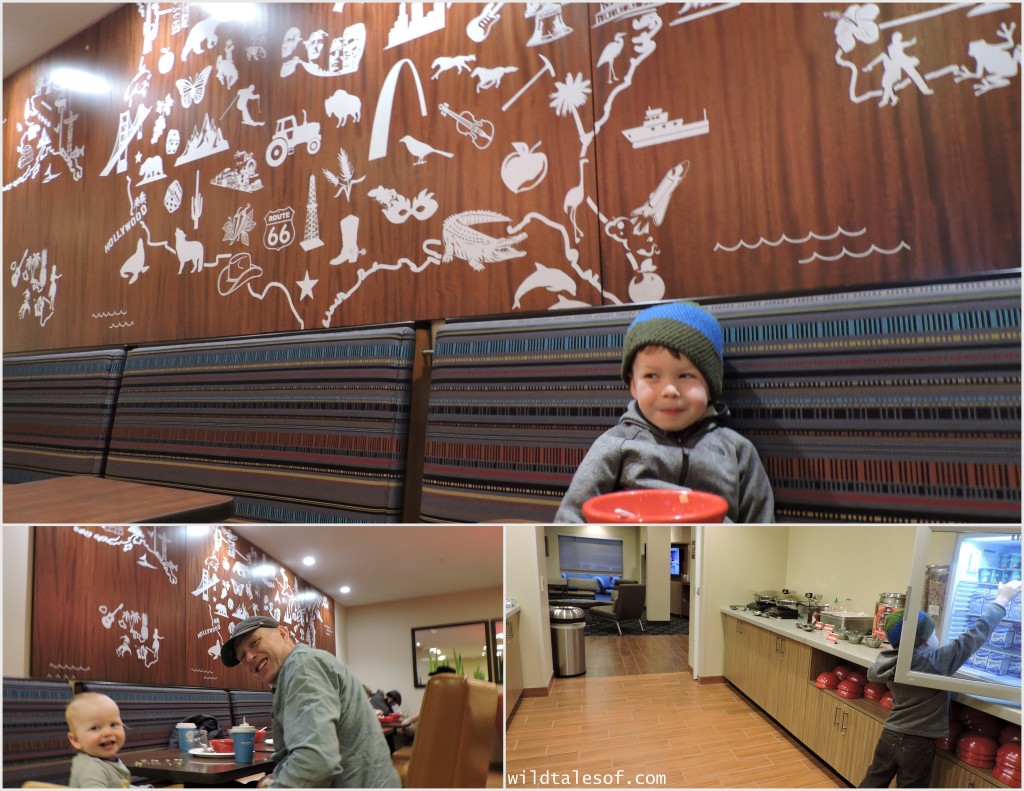 Amenities
On-site laundry facilities (coin operated)
Fitness Room
Spacious business center/meeting room
Complimentary Breakfast
Complimentary On-site parking
Coffee and fresh fruit always available in the lobby
Free High Speed Internet
Market/Snack Bar
Info to Know:
Our only wish–a pool! Slaed and Bergen love visiting hotel pools when we travel, often for a swim before bedtime.  Nevertheless, we still highly recommend the Marriott's TownePlace Suites for families visiting Olympia, Washington!
Have you lodged in an extended-stay style hotel? Tell us about your experience!
A very special thank you to Visit Olympia-Lacey-Tumwater and the TownPlace Suites in Olympia  for hosting us and providing us with a complimentary night at the hotel. As always, all opinions expressed here are my own.
Come join the conversation! You can keep up to date with each and every post by subscribing to the blog via email. We'd also love to have you join us on all of our adventures by "liking" our facebook page and following us on twitter! If you enjoyed this post, please "like it", "tweet it" or "pin it"!