One of the many reasons I love hiking as an outdoor activity is because of it's simplicity.  If you can put one foot in front of the other, relatively speaking, you can hike! Passing along this love to our kids has come naturally, and it seems to work particularly well because there really isn't a lot of stuff involved.  We can figure out where we want to go, toss a few things into a daypack, and we're set for a fun adventure in nature.
Each season brings it's own unique characteristics, and thus changes what we might need to brave the elements, though summer is probably the simplest of all.  And since there are still plenty of summer days left this year, here's our round-up of some of the best, and most useful items for kids to explore the outdoors on these hot, sunny days.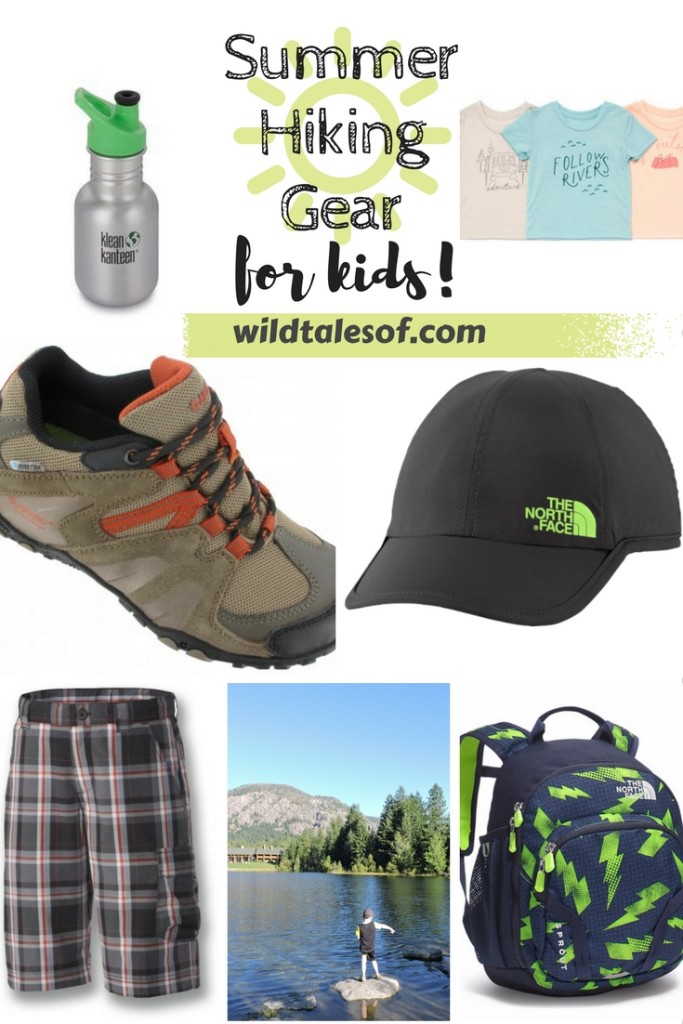 Summer Hiking Gear for Kids!
Water Bottle
A good, easy to clean water bottle is invaluable.  Kids need to stay hydrated on the trail! Bergen uses the Klean Kanteen, and for the even younger set, the camelback works well since the child doesn't have to worry about tipping the water bottle back to take a sip.
Breathable t-shirts
Bergen either sports a performance-type shirt that wicks away mosture and dries quickly, or his merino wool shirt from Chasing Windmills.  Both are great, but I prefer the wool because of it's temperature regulating ability, and he also loves the softness of the fabric.
Hiking Shoes
On sidewalks and flat paths, a pair of sneakers will really do the trick, but once things get more technical with roots, rocks, and inclines, a good hiking shoe or boot is necessary for traction and stability.  We've been impressed with the quality and affordability of the shoes from Hi-Tec.  We also really love these hiking shoes from Teva (no laces to tie!).  Both have waterproof versions.
Hat
I don't always remember to wear a hat myself, but they make such a difference in terms of shading us and helping to keep us cool.  I love this ball cap style hat from the North Face (it's breathable), and also this sun hat from REI for days when more coverage is necessary.
Performance Shorts
Shorts in a breathable performance fabric are also super important for summer hiking.  Chasing Windmills makes great merino wool shorts, and we also like these from Columbia that have wicking properties and UPF prodection.  I love that both shorts dry quickly since wading in creeks or taking a quick swim in a lake just might be a part of our summer time hike or two!
Daypack
Little hikers can start carrying some of their own snacks and water with the help of a mini backpack! Bergen started wearing the sprout pack from the North Face when he was 2 years old, and just graduated to the Recon Squash pack (thanks gramma!) since he's now 5! The sprout has held up really well these past 3 years (and Bergen will pass it along to his little sister), and now I love that the bigger one has a chest buckle.
We'd love to hear your summer hiking gear suggestions! Also, tell us about a hike you are excited to take this summer!
Come join the conversation! You can keep up to date with each and every post by subscribing to the blog via email. We'd also love to have you join us on all of our adventures by "liking" our facebook page, following us on twitter, and exploring with us on Instagram! If you enjoyed this post, please "like it", "tweet it" or "pin it"! **Affiliate links are used in this post to direct readers some of our blog partners (Amazon & REI).