Home or away from home, sleep is extremely important to us as parents.  The downtime that occurs between our kids' bedtime, and when we turn in for the night recharges us, and nap time is as much of a restful, restorative break for us parents as it is for our kids.
Since we have a good sleep routine at home, we do our best to replicate that dreamy environment when we travel.  We've shared our routines and tips for getting babies to sleep when traveling, so I thought I'd share the specific gear we bring along to help create the perfect snooze situation.  Make sure to reference our packing lists as well to help prepare you for your next trip!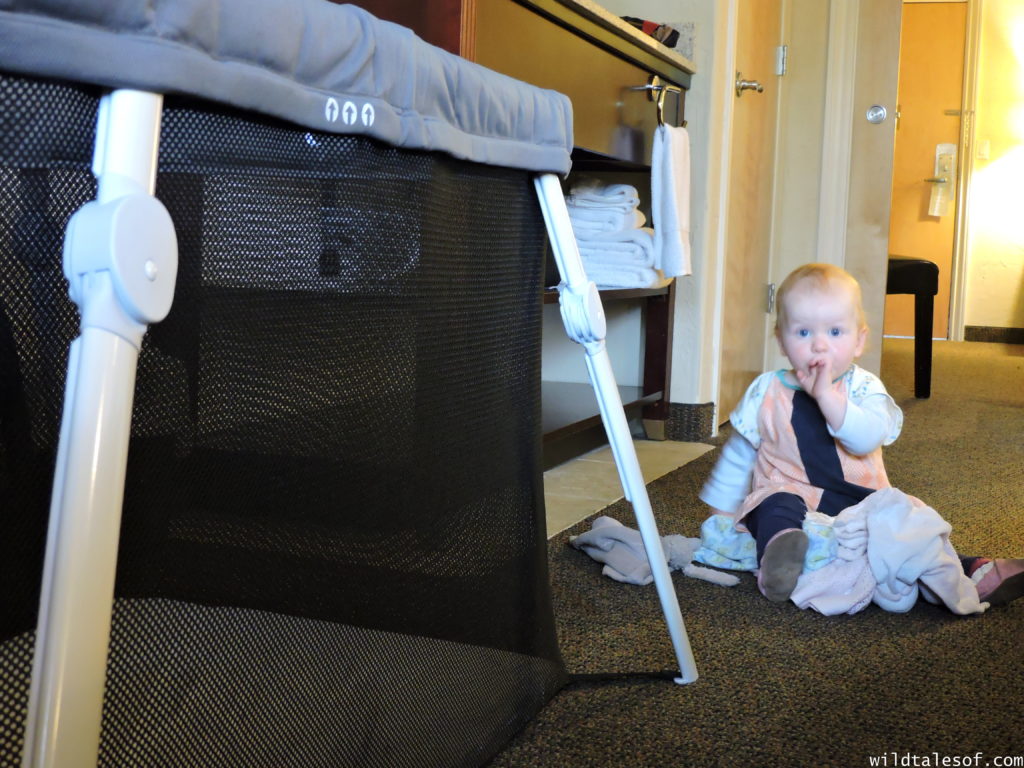 Sleep for the Traveling Baby: 5 Must-Have Items
1. Travel Crib and Sheets
We have big feelings about travel cribs.  Travel cribs should be light, AND super easy to set-up and breakdown.  The last thing you want to do when arriving at a destination is spend 30 minutes trying to figure out/remembering how to put a crib together, and when all you want to do is pack-up and get organized for your departure, you don't want to be fiddling with a clumsy piece of gear that never seems to fit properly in it's case.
Having tested quite a few cribs, we recommend the Lotus Crib by Guava Family (more about how it works here), and the Baby Bjorn Travel Crib.  I DO NOT recommend the Pack and Play by Graco.  They are heavy, complicated to set-up, and a chore to breakdown–try as I might, when I've borrowed them I never seem to be able to get all the parts and pieces packed up correctly!
And don't forget crib sheets! They make the sleep environment so much more cozy and comfortable for the baby.
2. White Noise
Since our kids sleep with white noise at home,  we bring our Sound Spas along with us when we travel.  It provides a familiar sleep environment, and also helps reduce the background noise from a busy hotel or whatever might be going on at our accommodation.  Since we are often in closer quarters when traveling than at home, it's important to try to reduce the noise that might wake or disturb the baby. We often bring multiple machines, and recommend the homedics sound spa and the Marsona Sound Conditioner.  You can also just download an app from your phone!
3. Security Items
As I've mentioned before, fostering a healthy relationship with a security item such as a blanket or stuff animal/lovey, has been invaluable for our sleeping babies at home and on the road.  We have a rule that the lovey is only for sleep, so it's really become a cue for bed and nap time.  We introduced a small stuffed animal/blanket at about 3 months for both of our kids, and believe they help ease the uneasiness or discomfort of a new sleep environment.
4. Sleepsack and Pajamas
The more sleep cues the better.  Not only does a nice cozy sleep sack provide our little traveler with warmth throughout the night, but just the act of putting it on her tells her it's time for sleep.  The right pajamas are also extremely important, and we have learned the hard way! Pay attention to how the temperature will be in your accommodations, and plan accordingly.  We recommend merino wool since it's temperature regulating properties will always keep baby comfortable.
5. Blackout Supplies
With tons of light streaming into the baby's room at home, we decided to install blackout curtains, and boy do they help with getting Georgia to sleep later in the morning! In turn, we try to cut down on the light in her sleep space when we travel.  Painter's Tape, a dark sheet, and even black trash bags have aided us in making the room darker in order to have her sleep longer–really helps with nap time too!  We also will just hang extra comforters or blankets from the window coverings and have utilized spaces without windows like a large closet or bathroom.
What would you add to our must-have baby sleep gear list? Anything else that makes a big difference in ensuring your little one gets a good night sleep while traveling?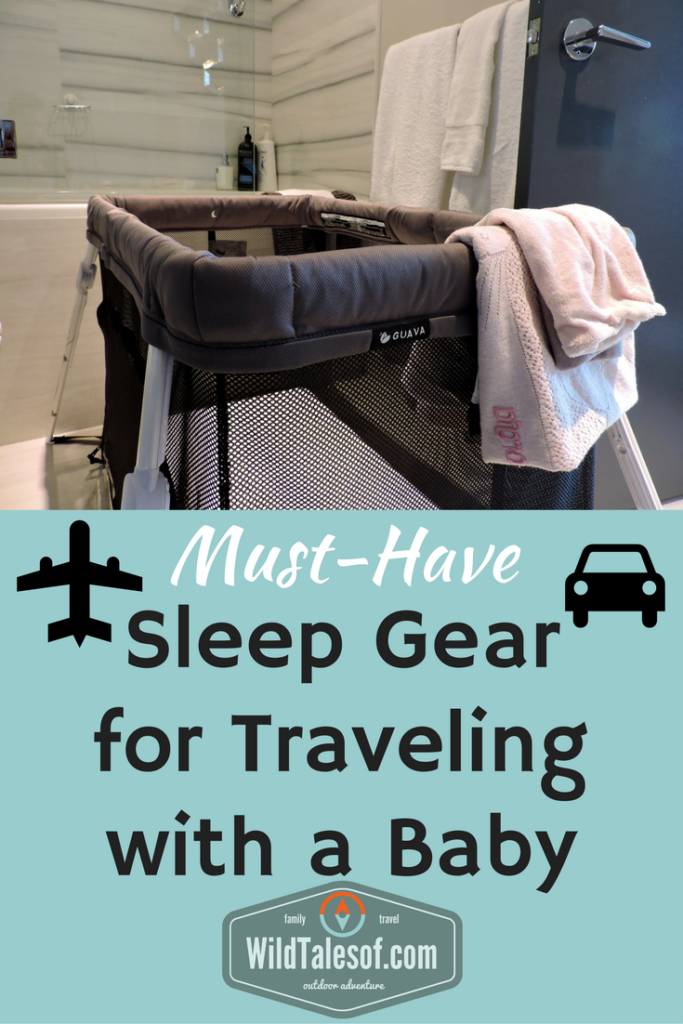 P.S. We've got more sleep times here, and if you happen to be going camping, check out our camping routine/set-up for sleep!
Come join the conversation! You can keep up to date with each and every post by subscribing to the blog via email. We'd also love to have you join us on all of our adventures by "liking" our facebook page, following us on twitter, and exploring with us on Instagram! If you enjoyed this post, please "like it", "tweet it" or "pin it"! **Affiliate links are used in this post to direct readers some of our blog partners.