Our kids are at the ages (17 months and 4.5 years) where children's museums are a big deal to us.  Children's museums provide us with the opportunity to entertain, occupy and delight both of our children, each in their own unique ways.
Slaed and I are embracing this season of life rather than rolling our eyes and wishing we could be doing something that "the whole family" can enjoy.  With both of our children engaged and engrossed (and learning!) in activity, we can actually take a breath, and even have a little fun.
We recently got to visit the Hands-on Children's Museum in Olympia, Washington as part of a weekend visit to our capitol city, and we were more than impressed! Below, I'll go into more detail in regards to everything we loved about the place, but just know that if you have young children, and live or will be visiting anywhere close to Olympia, get yourself to the Hands-on Children's Museum!
1. The Space
Even though the museum was packed with happy children, I didn't get the feeling of overwhelm and claustrophobia because of the building's design.  Tall ceilings and floor to ceiling windows allow plenty of light to stream through even on a gloomy, rainy day.  It's just a beautiful place to be!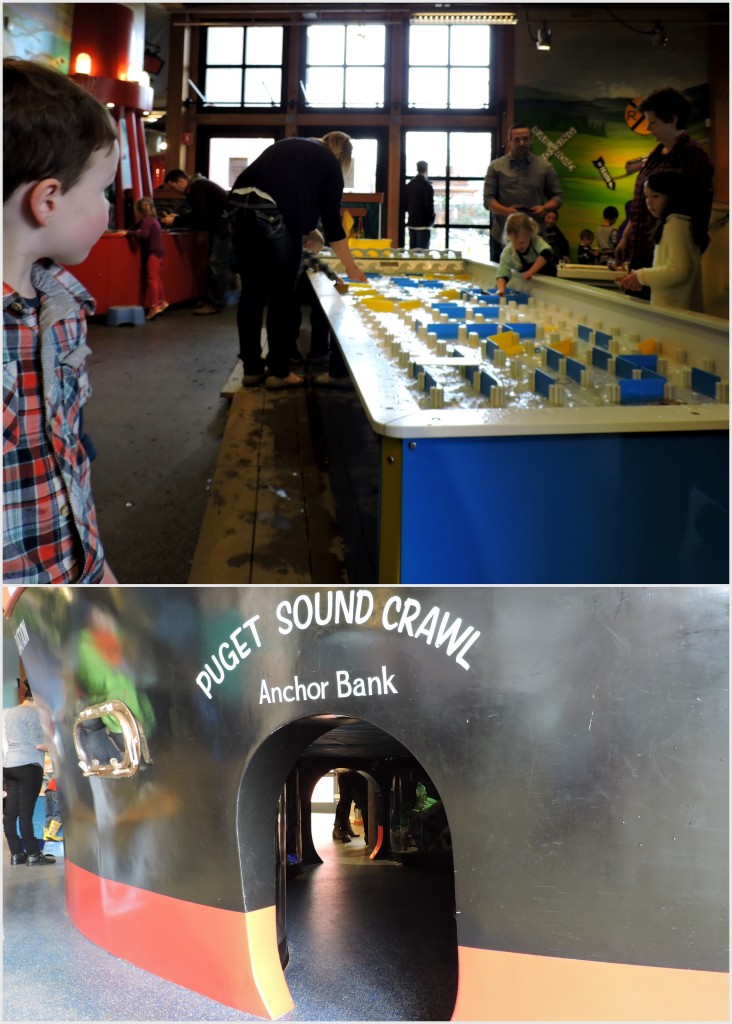 2. Regional Focus
Exhibits have tie-ins to culture, life, and nature here in the Pacific Northwest, so as residents we are gaining knowledge of our area as we explore each gallery.  Visitors to the region get the chance to dive deeper into our customs, values, and backdrop in a hands-on, playful way.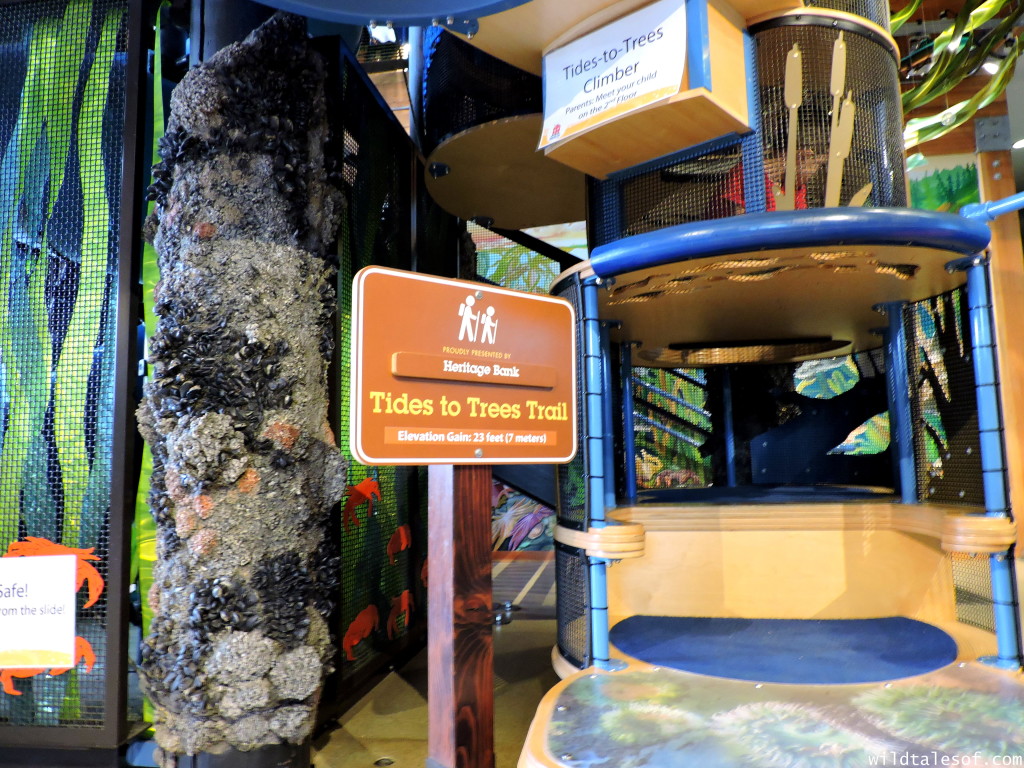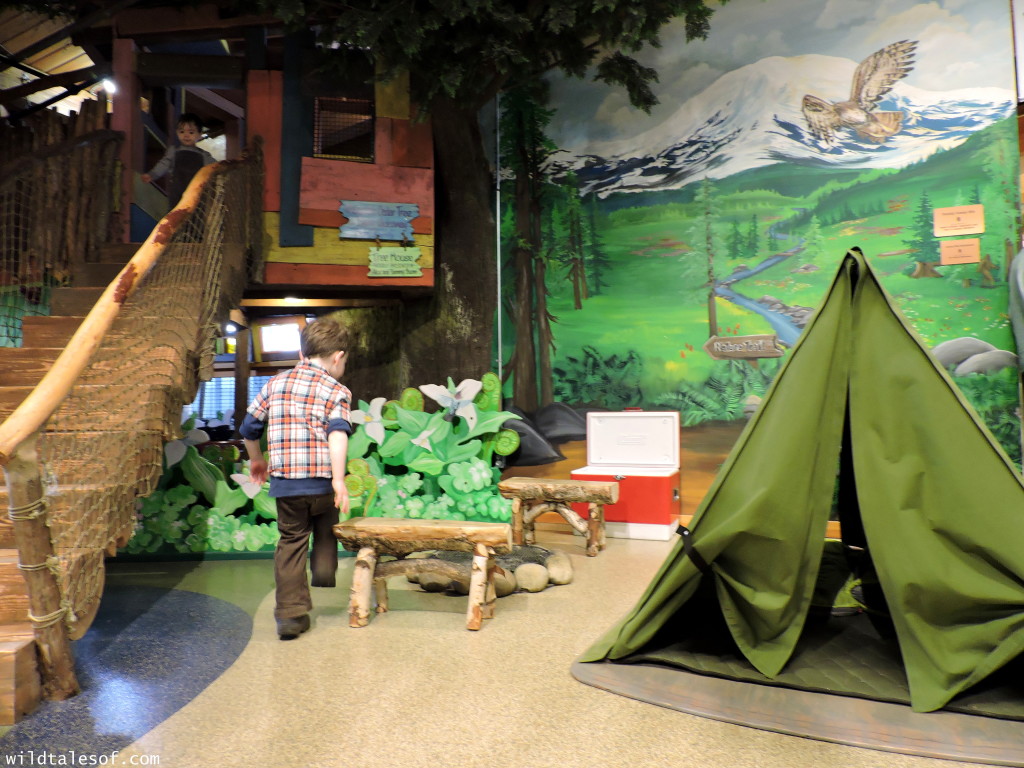 3. Fresh and Clean
Exhibits are refreshed and updated regularly and accessories and supplies are organized well.  Instead of tethering objects so that they don't get lost, props are able to move about the museum for more freedom of play and creativity.
You might think all these moving parts would create a disaster of a space, but with staff in each of the galleries keeping track of items and interacting with families, things stay tidy.  There are also special places to put "mouthed" toys (think babies and toddlers) so that staff knows right away when items need cleaning.
4. So Much to Explore
Each gallery and each exhibit has so much to offer kids and their families.  There are spaces for kids to release big amounts of energy and use their gross motor muscles, and spaces to get focused and create.  I quickly noticed that you could spend an entire visit in just one gallery (total of 10 galleries including the Outdoor Discovery Center).  I can imagine if we lived closer and became members, we would often just stop in for an hour or so with a specific purpose such as creating a masterpiece in the Arts and Parts Studio or digging into some fun water play in the Puget Sound gallery.  Also, the museum is screen-free, so you can be sure that your kid will be engaging in the 3-D world for their entire visit!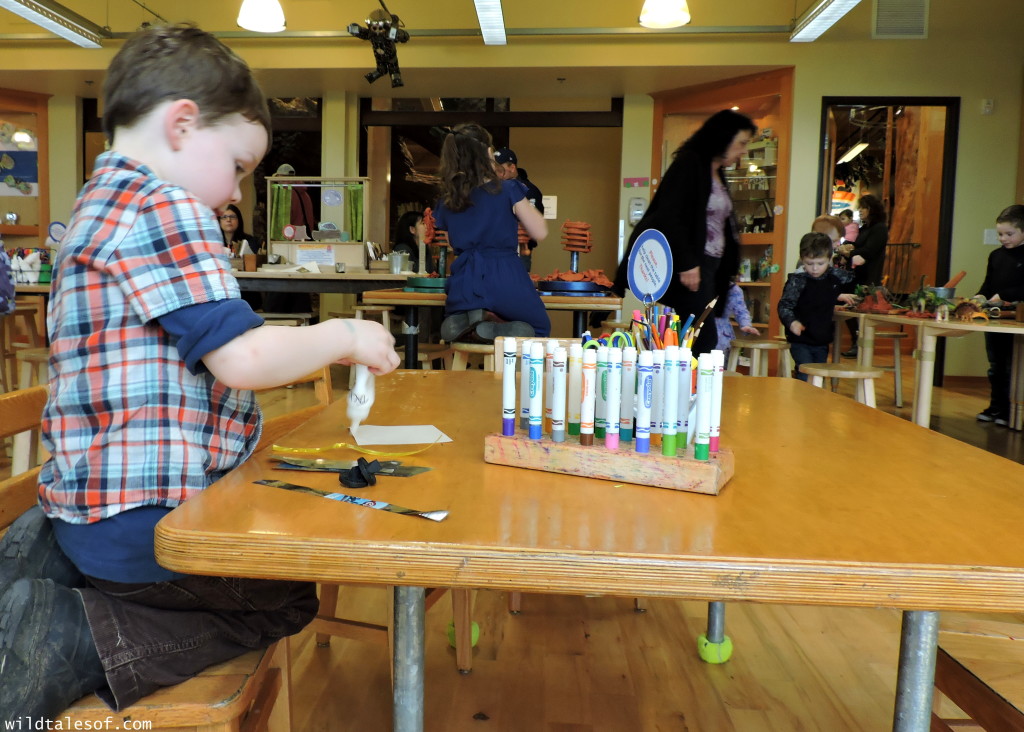 Kids ages 4 and under even have a dedicated space in an area called Snug Harbor where it's quieter and calmer (and cozier) than the rest of the museum.  Perfect for little ones and their caregivers.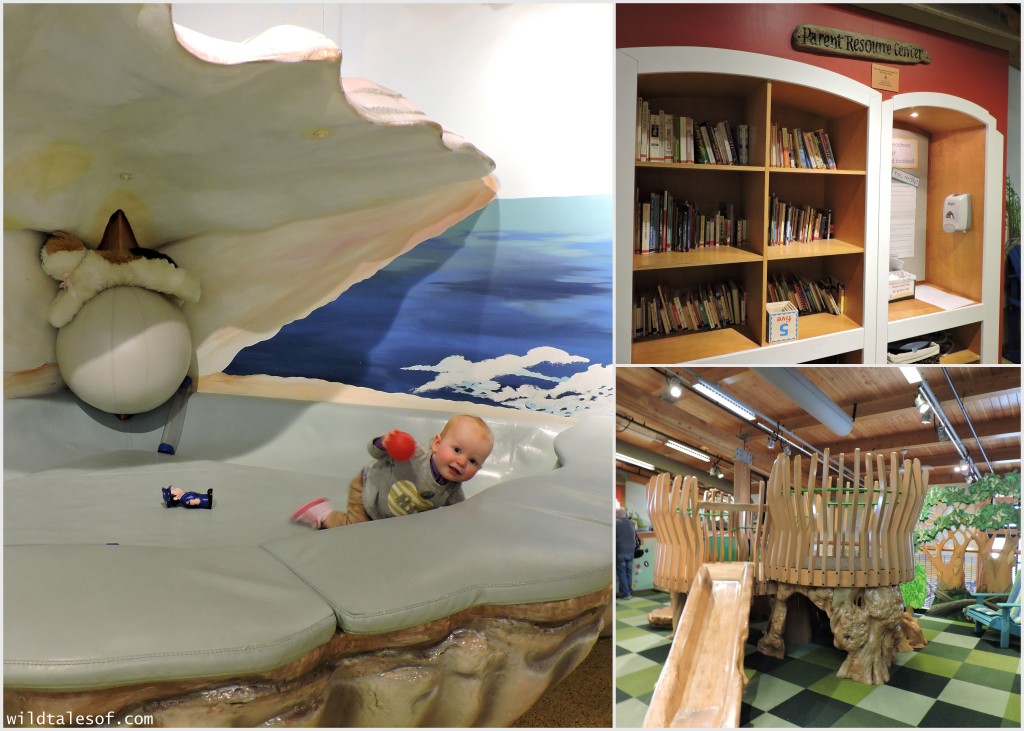 Tips for Visitors to Olympia, WA's Hands-on Children's Museum
The quietest days for visiting the museum are Mondays and Tuesdays.
As you might have gathered, the Hands-on Children's Museum is a large busy space! Staff suggests that families set a meeting spot in case members get separated.
Food is only allowed in the cafe (located on the main floor just as you walk in).  Visitors are welcome to bring their own meals and snacks, and there are also amazing grilled sandwiches and healthy snack options available for purchase.
The museum regularly puts out $5 off groupon deals, so be sure to check groupon before you visit!
If you become a member, there are many benefits including special "member-only" hours.  Currently those hours are Mondays 10am-11am, and Saturdays 9am-10am.
Info to Know:
Olympia, WA's Hands on Children's Museum is located on Olympia's watefront:

414 Jefferson St. NE

Olympia, WA 98501

(360) 956-0818

Museum Hours:

Tuesdays – Saturdays: 10 a.m.-5 p.m.
Sundays & Mondays: 11 a.m.-5 p.m.
Outdoor Discovery Center closes at 4:30 p.m.

Museum Admission:

General Admission (ages 2-64): $11.95
Seniors (65+): $9.95
Military with ID: $9.95
Babies (0-23 months) are free but a ticket is still required.

Parking in the museum's lot (fills up quickly) costs $1 per hour, and there is also metered street parking close by.  Metered street parking is free on the weekends!
There's always something extra special going on at the Hands-on Children's Museum, check their events calendar before you plan your trip.
What do you think is the perfect age for a Children's Museum Visit? Do you have a favorite children's museum? We'd love to chat in the comments!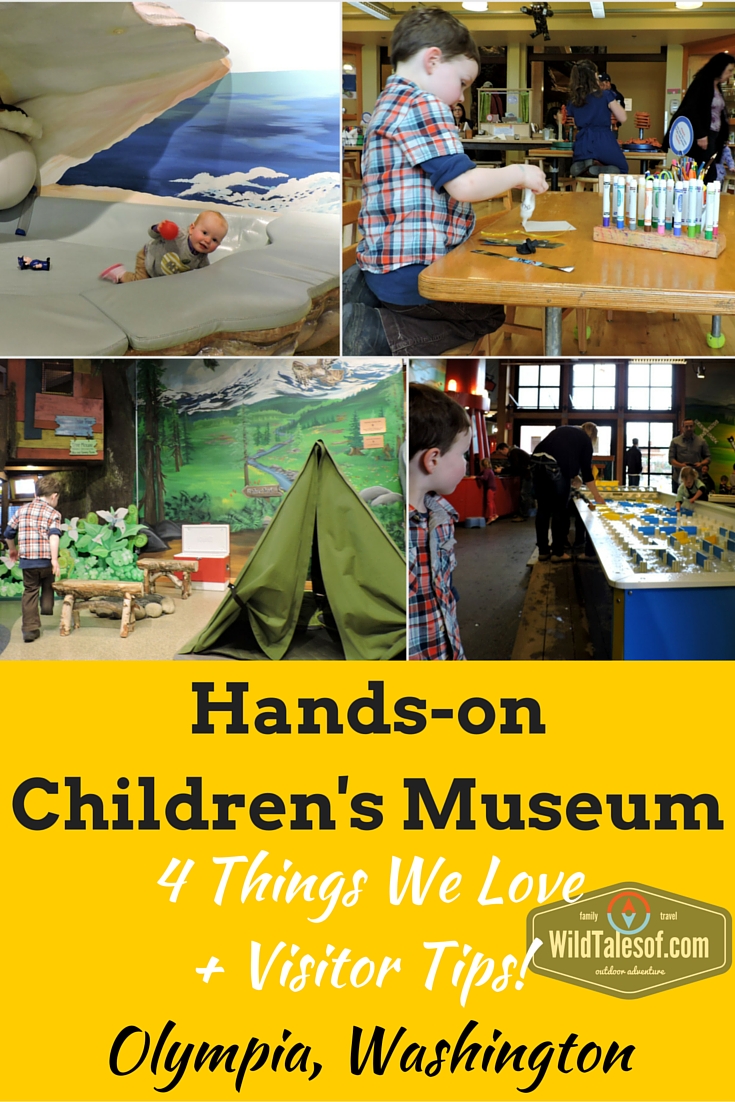 Special thanks to the Olympia-Lacey-Tumwater Visitor and Convention Bureau for organizing our visit to Olympia, and sponsoring our guided visit to the Hands-on Children's Museum.  As always, all opinions expressed here in this post are my own! 
Come join the conversation! You can keep up to date with each and every post by subscribing to the blog via email. We'd also love to have you join us on all of our adventures by "liking" our facebook page and following us on twitter! If you enjoyed this post, please "like it", "tweet it" or "pin it"!