We are coming up on our sixth year of traveling down to Arizona for Major League Baseball's Spring Training.  Since Slaed's mom moved to the Phoenix area, we've made it a tradition to visit her every March.  We get a much needed break from the cold and rainy Seattle weather, and we get to spend some time living the desert life.
One of the highlights, aside from catching up with family of course, is getting to see our Seattle Mariners baseball team prepare for the regular season via the Cactus League.  Most of the time we watch a game or two at the Peoria Sports Complex, their home field shared with the San Diego Padres, but we've also visited several other ballparks around the Phoenix area, and love the whole experience.
Even though we catch a game every year, last year was the first time we really made a day of it with our oldest, Bergen.  While Georgia relaxed with Slaed's mom back at her house, we spent the morning and afternoon watching baseball. I thought I'd share a few tips and takeaways to make a Spring Training adventure with kids a big success!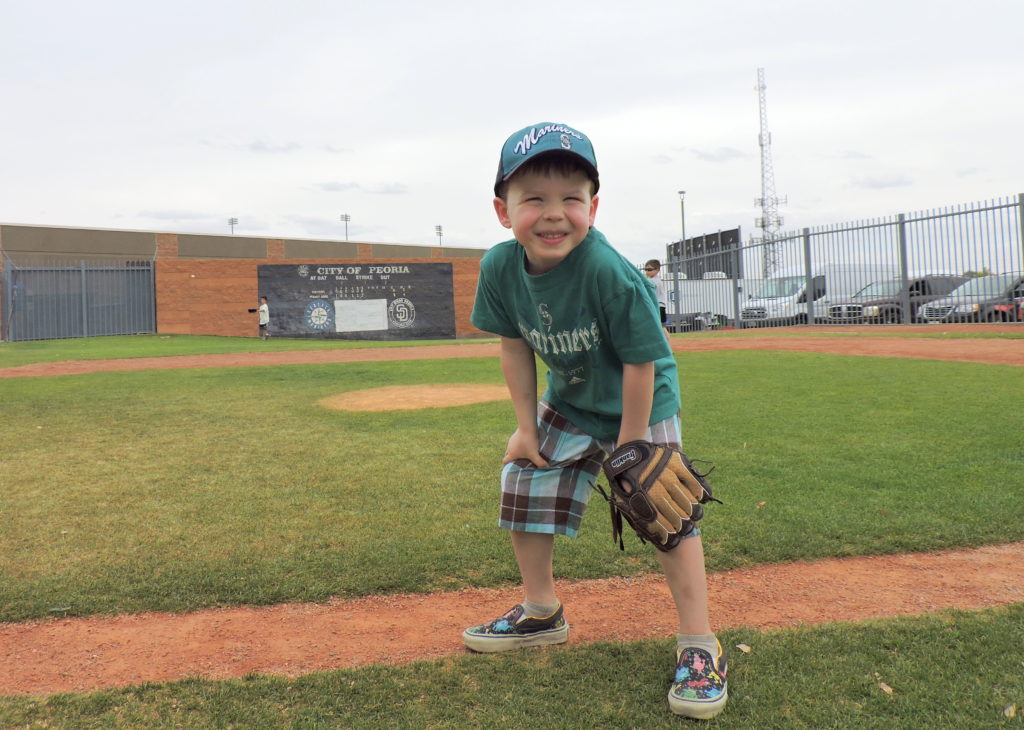 What to Bring to a Spring Training Game
Baseball and Glove:

There are lots places for an impromptu game of catch, so make sure your kids are prepared with the right equipment!

Hat:

Whether it's a true baseball cap or sunhat, any hat will do! Kids will need something to shade their heads as the desert sun is powerful, and there is not a lot of shade at most fields.
Sunscreen: Lather it on before venturing outside, and also bring some along to reapply.
Autograph Material: Make sure your little one has something that the players can autograph as there are often opportunities to interact and collect signatures.  Since Spring Training is so laid back, players are very gracious and patient! A special ball, book, or baseball cards are all great for autographs.  Also, encourage your kids to just scooch up past a crowd of adults–players love signing for kids! And don't discount a minor league player or someone who is trying out for the team.  You never know who the next big star will be, and plus, you'll make their day asking for an autograph!
Pen: Players don't always have a pen handy, so kids need to have a

good

pen or sharpie at the ready for autographs!
Water and Snacks: It's okay to bring your own water (sealed or empty container) and snacks to the ballpark.  Prices are not nearly as high as regular season games, but you'll still save money, and might make healthier choices!
Tips for Attending a Spring Training Game with Kids
Come Early! Even if the game doesn't start until the afternoon, arrive at the ballpark early to watch warm-ups and practice.  At the Peoria Sports Complex, where we watch the Mariners, practice goes from approximately 9:30 to 11:30 on afternoon games days (night & away games are different).  Check your team's schedule for more details.  You don't need a ticket to attend practice–it's free!

Wander the practice facility!

 While we attended the practice session, we got to watch pitchers warming up (and witnessed Felix Hernandez razz Hisashi Iwakuma), batting practice (Nelson Cruz signed Bergen's ball!), and just caught players as they walked to different areas of the facility.  Bergen was also inspired to play a game of catch with Slaed, which just added to the spirit of the whole thing!  
Don't just stay in your seats. Yes, of course, watch the game, but also remember that there is a lot more to do, especially if kids get antsy.  Bring a blanket or towel so you can take advantage of sitting on the lawn (it's open seating).  At Peoria Sports Complex, there is a mini baseball diamond where kids can play catch and practice running around the bases.
Souvenirs.  Looking for a way to commemorate your child's Spring Training experience? Rather than a hat or t-shirt that he will grow out of eventually, Bergen purchases the special pin for that Cactus League season–he's collected one every year! They are fairly inexpensive, light weight, and won't take up a lot of space in your suitcase!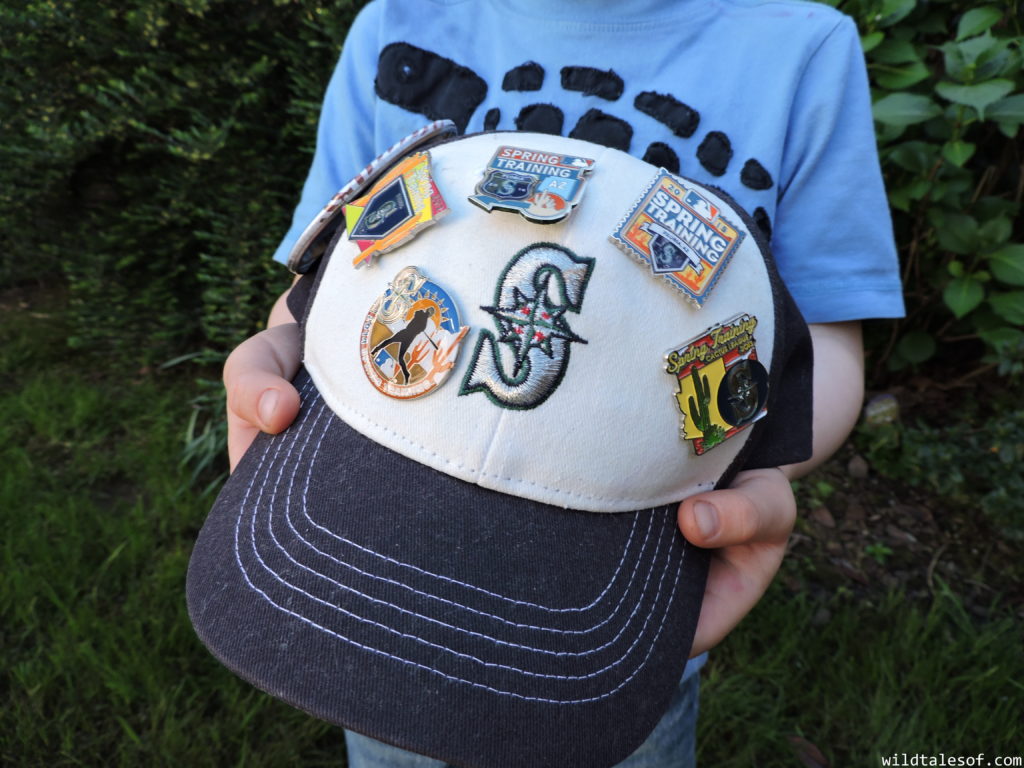 Have you attended Spring Training in Arizona? Which MLB team do you root for? Attending a game with a baby? Here's a post about our Spring Training experience in Scottsdale, AZ.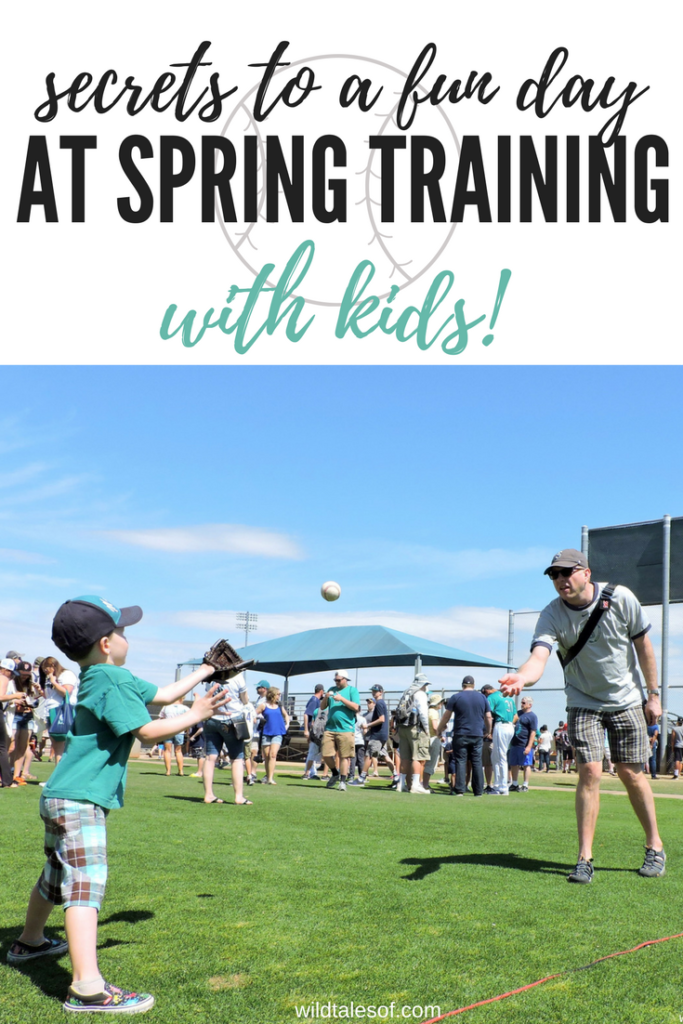 Come join the conversation! We'd love to have you join us on all of our adventures by "liking" our facebook page and following us on twitter! You can also keep up to date with each and every post by subscribing to the blog via email.