With winter recently coming to a close, you might not be interested in cold weather gear.  However, if you live in a region still experiencing chilly temperatures or want to plan ahead for next fall and winter, you'll want to consider Stonz Wear.
Stonz Wear is a children's outerwear brand featuring cold (wet and snowy) weather accessories.  They specialize in boots and mittens, and we particularly love the story of their origin.  Try as she might,  Stonz' founder Lisa Will, could not keep her young son's feet warm. She wanted to shoe or boot that would protect those tiny feet from the cold AND stay on, so she got to work designing and creating her own.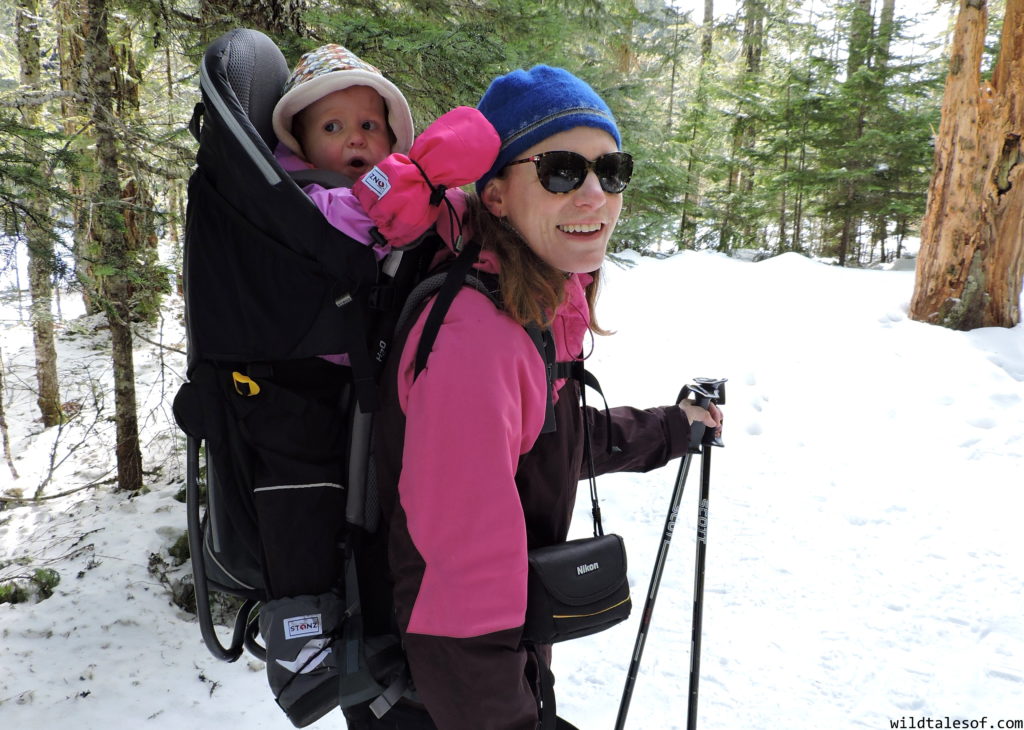 Late in the season, to coincide with our trip to Mount Rainier National Park, we had the chance to test several of the Stonz products.  Particularly for this trip, because I knew we would be dealing with very cold and snowy conditions, we needed boots and mittens that would keep our 2-year old cozy and content.  She is especially sensitive to chilly temperatures and keeping her warm was our top priority.  You can read more about how I learned my lesson on her cold weather sensitivity the hard way in our post on how to dress baby for cold weather.
Here's the scoop and our thoughts on four of their products–the Toddler Booties, the Linerz for the toddler booties, the Winter Bootz for kids, and the mittz for infants and youth:
These booties are so versatile! I love that they are completely waterproof and feature a warm fleece lining.  Plus, the booties cinch at two points (around the ankle & calf) to ensure that cold stays out, and the booties stay on! The soles of the booties are skid resistant.  Not only are they great for when Georgia rides in the stroller and carrier, but when she wants a break to walk and explore on her own, she's protected and supported.
The Stonz Toddler Booties can be worn over bare feet, socks, slippers, or shoes, hence their versatility.  I find that most of the time, we are putting them over Georgia's sneakers to add a warm and waterproof layer to her feet when we are strolling or carrying her.  It's not completely effortless to get the booties on over her shoes, there is some tugging and sliding to get the perfect fit, but we make it work! Thanks to the waterproof outer layer and PLUSfoam sole, the booties are easy to clean off after a nice rainy day play session.  For not-yet-walking children, make sure to check out the Stonz Baby Booties.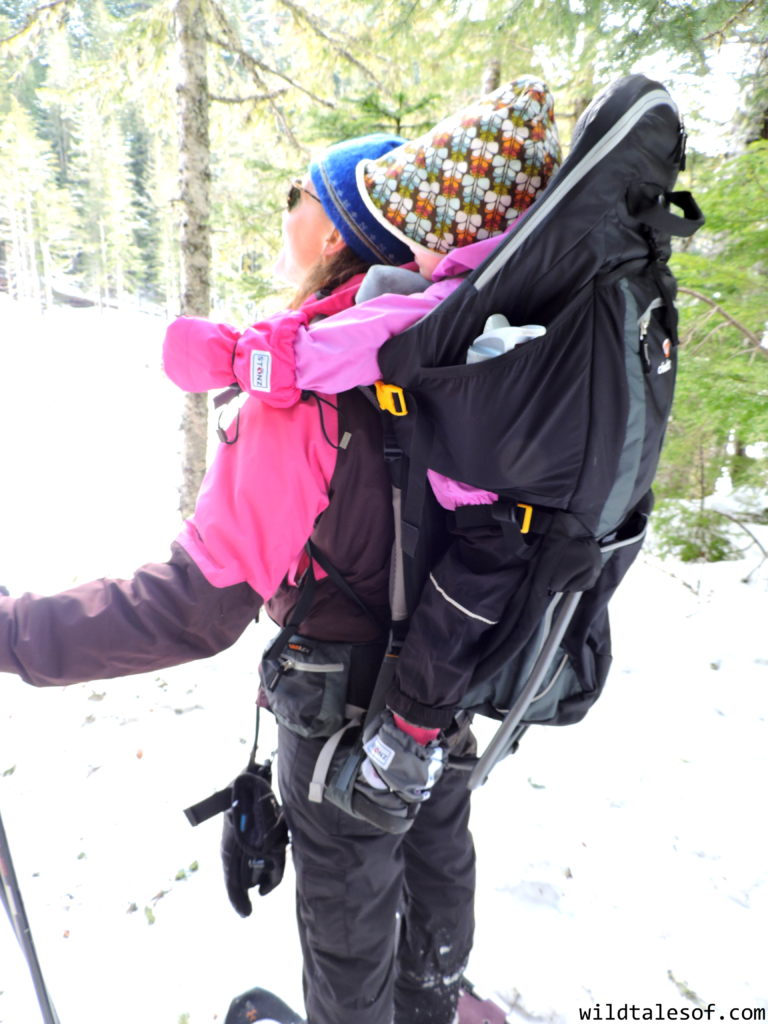 For those experiencing extremely cold conditions, the linerz for the toddler booties provide one more layer of warmth.  With the added layer of the linerz, I wouldn't try pairing them with regular soled shoes, but socks, slippers and soft-soled shoes  would all work well.  I found that the linerz are easy to slip into the toddler booties, but when choosing a size for your child, keep in mind that the linerz make the booties that much smaller.  Since the booties stay on so well with the toggle system, better to size-up than be stuck with not enough room for growth. I love this added COZY layer, and I know Georgia (poor circulation and all) does too!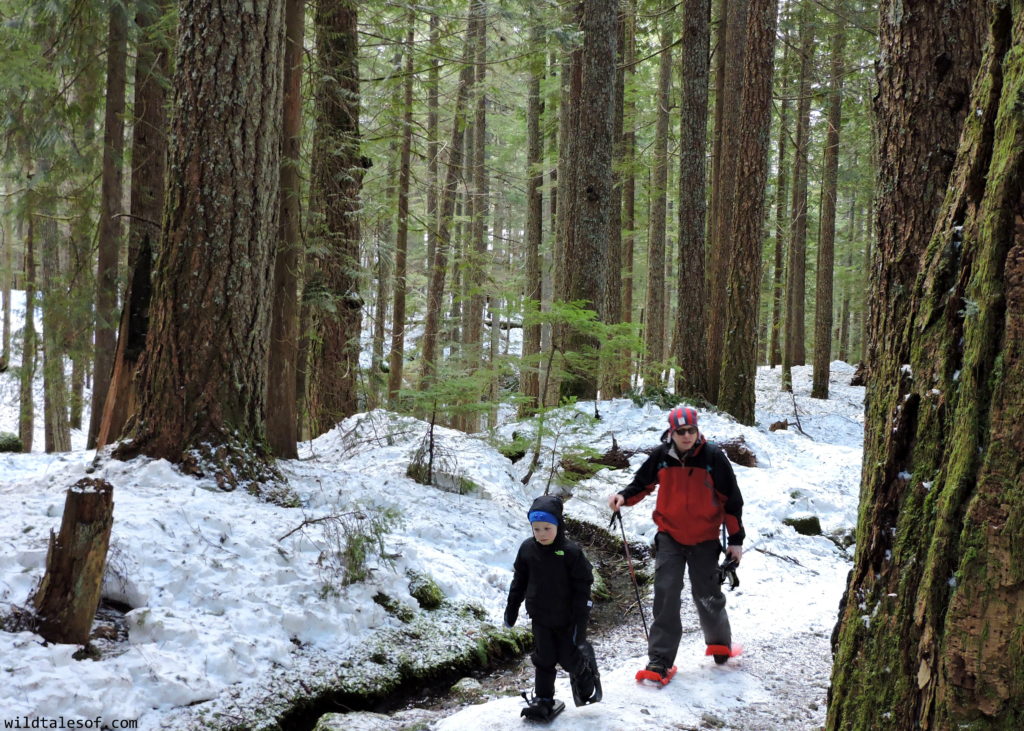 Bergen, our 5-year old, has been testing out the Trek Winter Bootz, and we've been blown away by their performance. Growing up in Seattle, attending forest school, and just being an all-around active, outdoor loving kid, he's worn A LOT of boots in his short 5 years.  The Trek Winter Bootz are the lightest we've seen!  The bootz are waterproof, feature a slip resistant sole, and protect feet from cold temperatures up to -58 degrees F.
Bergen has worn them for cold forest school days, and most notably on our snowshoeing adventure in Mount Rainier National Park.  He picked up snoeshoeing quickly, and we credit some of that success to the fact that he didn't have to deal with a lot of extra weight on his feet.  The added clumsiness of snowshoes is enough! After hiking several miles on snowy trails and trekking through deep snow to get to the top of the sledding hill, he feet stayed warm and dry.  The buckle at the ankle and the velcro closure at the calf also make these bootz super easy to get on and off.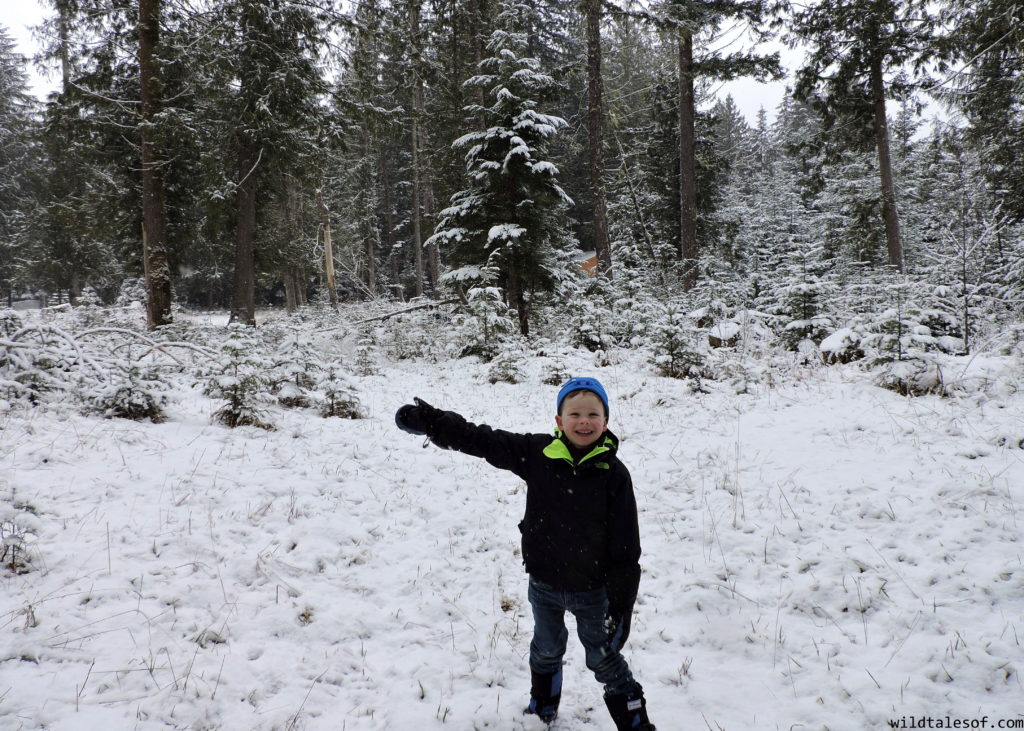 Both Bergen and Georgia tested the Stonz Mittz (mittens), in youth and infant sizes respectively.  The youth sizes (available in 2-4 years & 4-8 years) include a place for the child's thumb while the infant sizes (0-12 months & 12-24 months) just slip right over the full hand.  Mittz are waterproof and feature a thinsulate lining.
In addition to the fact that these mittens keep both of our children's hands warm, I think what I love most is how EASY they are to get on.  Especially with Georgia, I feel like we are fighting to get mittens on her hands, but with the Stonz Mittz, they slide onto her hands effortlessly.  Similar to the booties, the mittz also cinch at two places: around the wrist and around forearm.  I also appreciate how much coverage (finger tip to forearm!) our kids get with these mittens.
To Purchase Stonz Wear Gear:
At the time of this review (March 2017), many items in the Stonz wear shop are on sale! Check out their End of Season sale–many items are perfect for spring (depending on where you live) or you can just prepare for next fall!
Last Word: After testing in cold, snowy, and rainy conditions with our active children, we highly recommend Stonz Wear outdoor gear for kids! Note that most gear is appropriate for 3 seasons (fall, winter & spring), so climate-pending, you'll likely get a lot of use out of your purchase.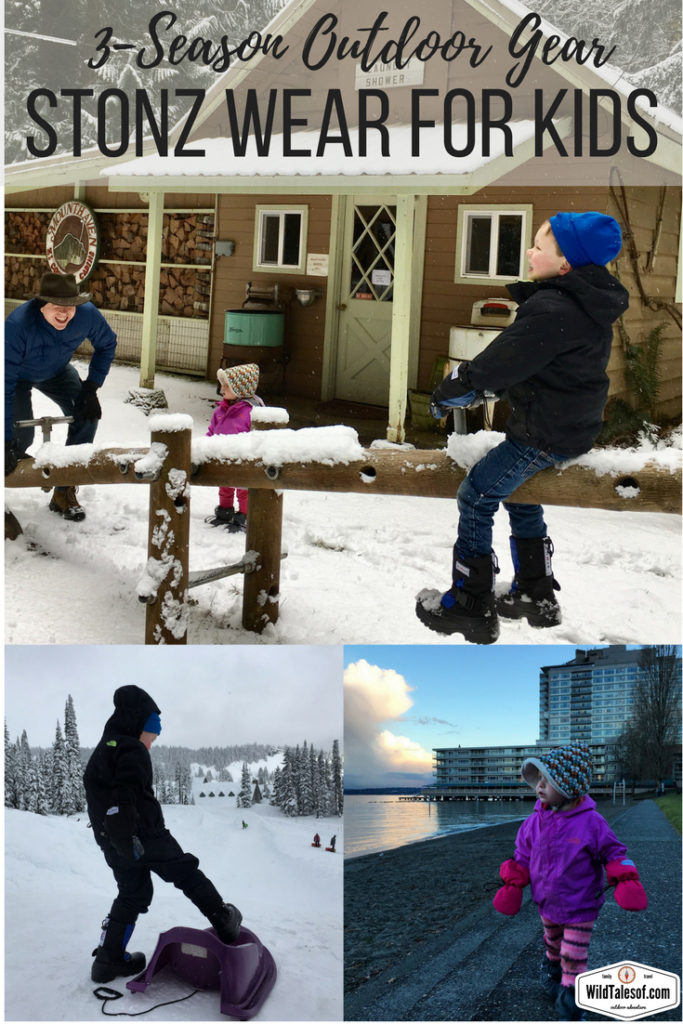 Thanks to the folks at Stonz for providing us with gear to test and review. Affiliate links are included in this post to direct readers to products from our affiliate partners.  We receive a small commission from purchases made through these links, which helps to keep the blog up and running! Thank you for your consideration!  
Come join the conversation! You can keep up to date with each and every post by subscribing to the blog via email. We'd also love to have you join us on all of our adventures by "liking" our facebook page and following us on twitter! If you enjoyed this post, please "like it", "tweet it" or "pin it"!