With a toddler not keen on snow and cold weather, and a preschooler who's never strapped on snowshoes, I wasn't sure what to expect for our first family snowshoe adventure.  Bergen, our 5-year old, loves hiking, and has been climbing mountains with me since he learned to walk.  But snowshoeing?
I foresaw him getting frustrated with the plastic clodhoppers and throwing them off in disgust.  Then after being relieved of the clumsy feeling, he'd end up sinking in three feet of accumulated snow.  All the while, our 2-year old would grow tired of being carried in the backpack.  I envisioned  her whining, screaming, or worse throwing a complete tantrum no snack, treat, or lollipop could pacify.
No, that's not exactly how our first family snowshoe adventure transpired.  It ended up being a whole lot of fun for most of us, but it wasn't without a few bumps! To give you an idea of our set-up, here are a few nitty-gritty details:   Slaed has his own snowshoes, I borrowed a pair from a friend, and we rented a pair from REI for Bergen.  Georgia was carried in our Deuter Kid Comfort 3 for the 3-mile trek.  We chose to hike along the Wonderland Trail (Longmire to Cougar Rock Campground) for it's easy terrain, pretty views along the Nisqually River, and easy accessibility from Mount Rainier National Park's south entrance.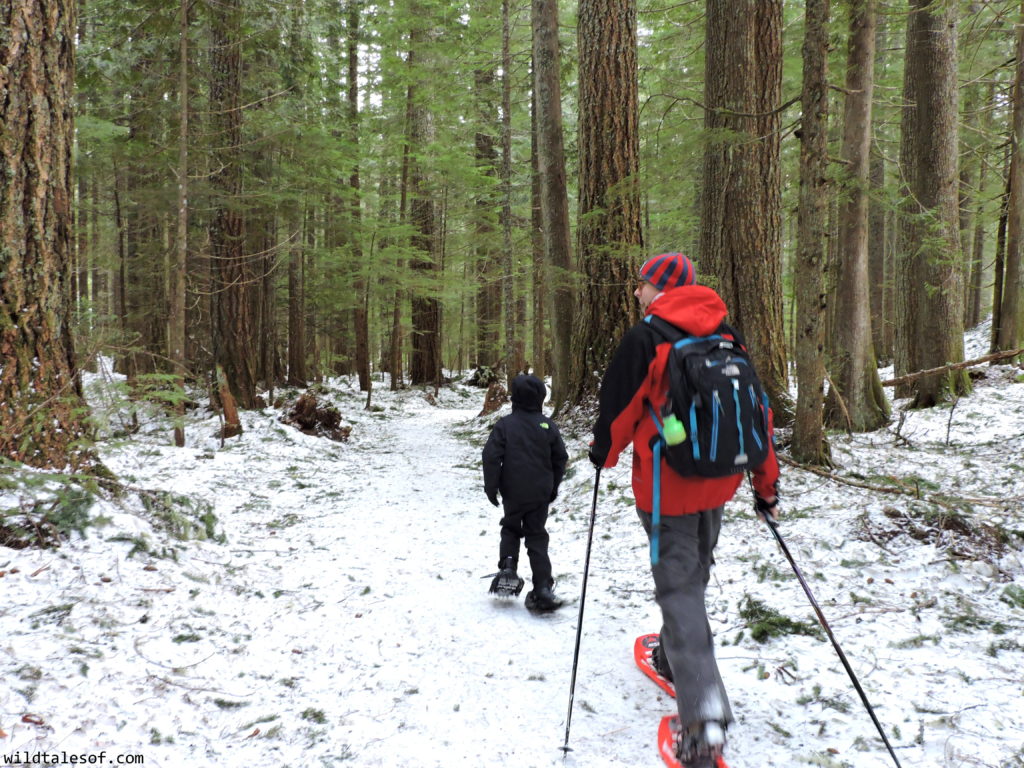 After chatting with the ranger and poking around the Longmire Museum, we suited up, just a minor 30 minute process, to ensure that no child was left COLD! Bergen being our coordinated pretty athletic little guy took to snowshoeing right away.  Even though I know that he is pretty good at picking up new skills, I was still so amazed to see him blaze down the trail with Slaed.  It was a delight to watch.  I loved pointing out the deep holes that other hikers (without snowshoes) had made, and showing him that because of the handy footwear we were all sporting, we wouldn't sink!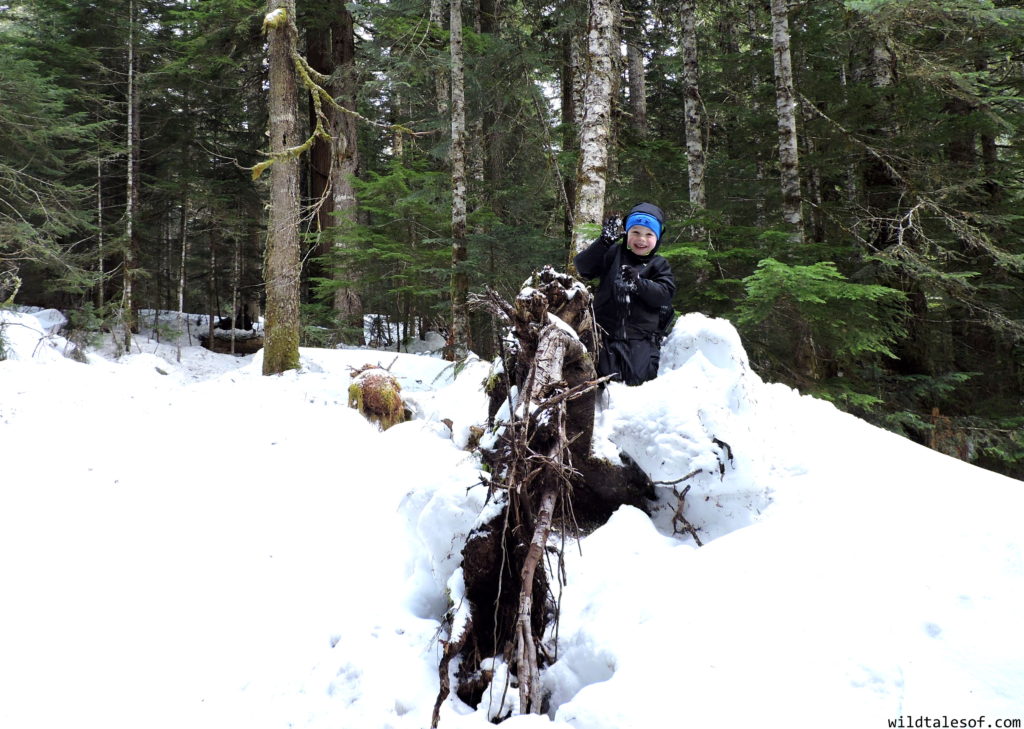 Unfortunately, Georgia wasn't as big of a fan of the experience as her older brother.  She was content for a few minutes, but even though we got an early start to the day, the drive, check-in to our cabin, and logistics of setting-up made it so that we were creeping into her beloved nap time.  We tried our usual tricks (singing, snacks, even candy). However, it wasn't until she conked out in exhaustion after I picked up the pace and hiked ahead of Bergen and Slaed that we could enjoy the true beauty and wonderment of the experience.
She nodded in and out of consciousness as the boys and I marveled at the our surroundings.  Huge icicles dripping from creeks as we shuffled across bridges, the icy cold Nisqually River flowing beside us, and fresh snow for Bergen to shovel in his mouth.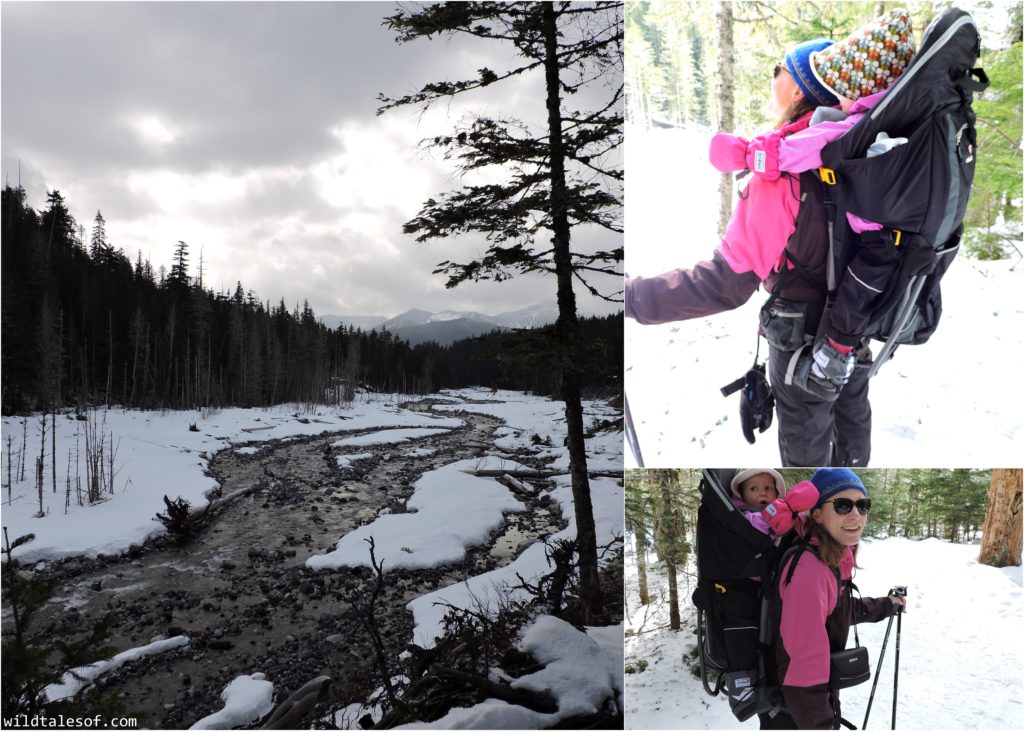 As we were going about organizing for the kid's first snowshoeing adventure, Slaed and I realized that it had been 10 YEARS since WE last snowshoed.  Slaed had just returned from living abroad in Barcelona, Spain, and we were in the early stages of our relationship.  As we explored the Mount Baker area a decade ago, I'm pretty sure we weren't thinking we would have such a long break from the sport.  And I also don't think we expected that our next snowshoe trek would be with one kid in a backpack carrier, and another leading the way!
Our first family snowshoe certainly wasn't perfect, but I know we won't be waiting until Bergen is 15 & Georgia is 12 to get out there again.  I can't wait for next winter!  Here are a few quick takeaways from our first experience:
Rent or borrow snowshoes if possible.  If you and/or your children are trying snowshoeing for the first time, we suggest renting or borrowing equipment.  Here in Seattle, our flagship REI store rents snowshoes for about $15 per weekend, and there are also shops closer to the mountains that offer rentals.
Choose a fairly flat trail.  There were a few short hills here and there on the Wonderland trail, but for the most part, the terrain was flat allowing Bergen to easily get the hang of hiking with snowshoes.  Anything harder, and I think he would have been frustrated.
Go for short and sweet with opportunities to add-on if possible.  It's always nice when you can "quit" when spirits are high, so make sure not to over extend yourself or your kids.  If Georgia hadn't been so touch-and-go, I think we would have added on to our trek with another easy trail from the Longmire area.
Stay the night! It was such a good feeling knowing we were just a quick drive away from our cabin at Mounthaven Resort (less than a 1/2 mile from the park's south entrance). It added to the adventure as a whole, and allowed us to enjoy the area so much more.
Extend the snow fun. If you are already doing some snowshoeing, there's bound to be other opportunities such as sledding, tubing, or maybe just an impromptu snow ball fight! After snowshoeing, we headed up to Mount Rainier's Paradise area, and Bergen got a few runs in on the sledding hills.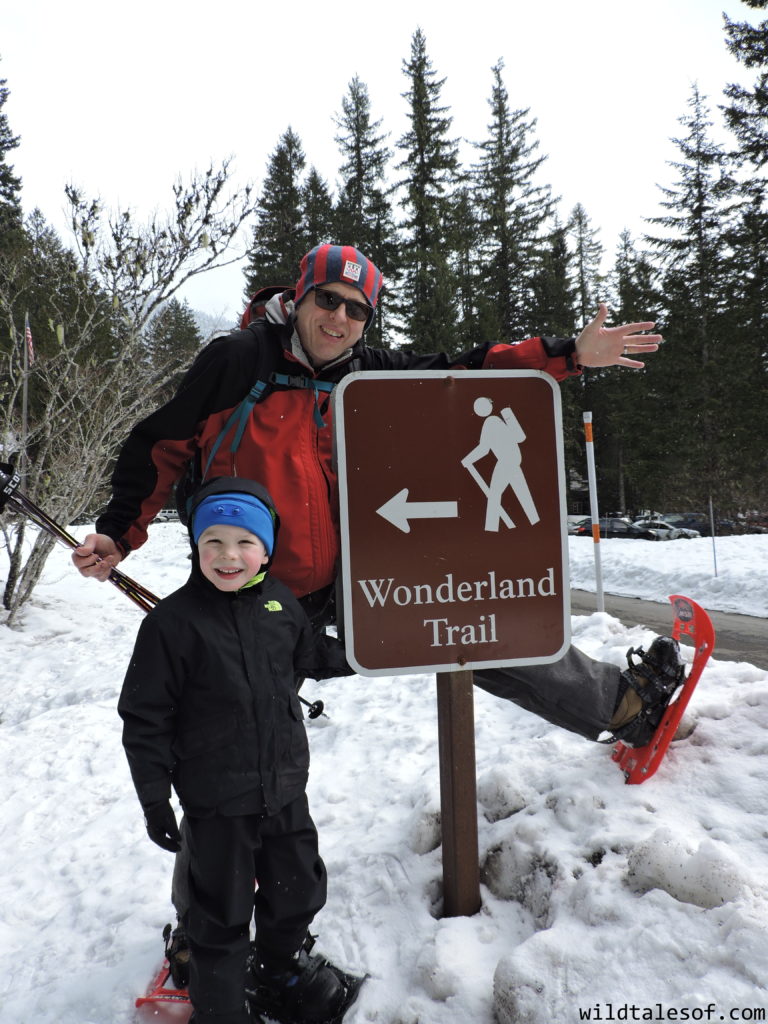 Info to Know:
The Longmire Area of Mount Rainier National Park is located 6.5 miles from the park's Nisqually (south) entrance.  We snowshoed the Wonderland Trail to Cougar Rock Campground (about 3 miles round trip)

Make sure to inquire about the Junior Ranger program! Bergen completed it & learned a lot!
Take some time to explore the Longmire Museum–it's small, but there are some fun interactive exhibits that Bergen and I really enjoyed.

Entrance to Mount Rainier National Park (1 vehicle with up to 15 capacity) is $25. To visit the park at no cost, check out National Park FEE FREE Days post.
We rented snowshoes for Bergen from our local REI.  Check REI's rental equipment page for more information.
When was the last time you snowshoed? Is it something you'd like to try? Make sure to check out our cold weather vacation/trip packing list!
More family snowshoe inspiration:
I'm so inspired by other families heading out on the trails! 
Earlier this winter, Jessie from Two Kids in Tow shared her family's first snowshoe in Colorado.
Last month, Andrea was featured on the Family Trails website, sharing her family's snowshoe adventure on Hurricane Ridge in Olympic National Park.