The other day as Bergen (4 years), Georgia (10 months), and I walked/strolled/scootered/ran to school, Bergen started to hem and haw about walking up a steep hill.
"Yes, it's a little bit hard Bergen, but we can still do it!"
Not convinced, he said, "But maybe we could just drive our car.  Then it would be easier."
Surprised as I thought we'd gone over this, I asked him, "Why do we walk to school instead of drive our car?"
He was at a loss.  Or at least his answer of, "because we don't want to be late…" didn't exactly make sense.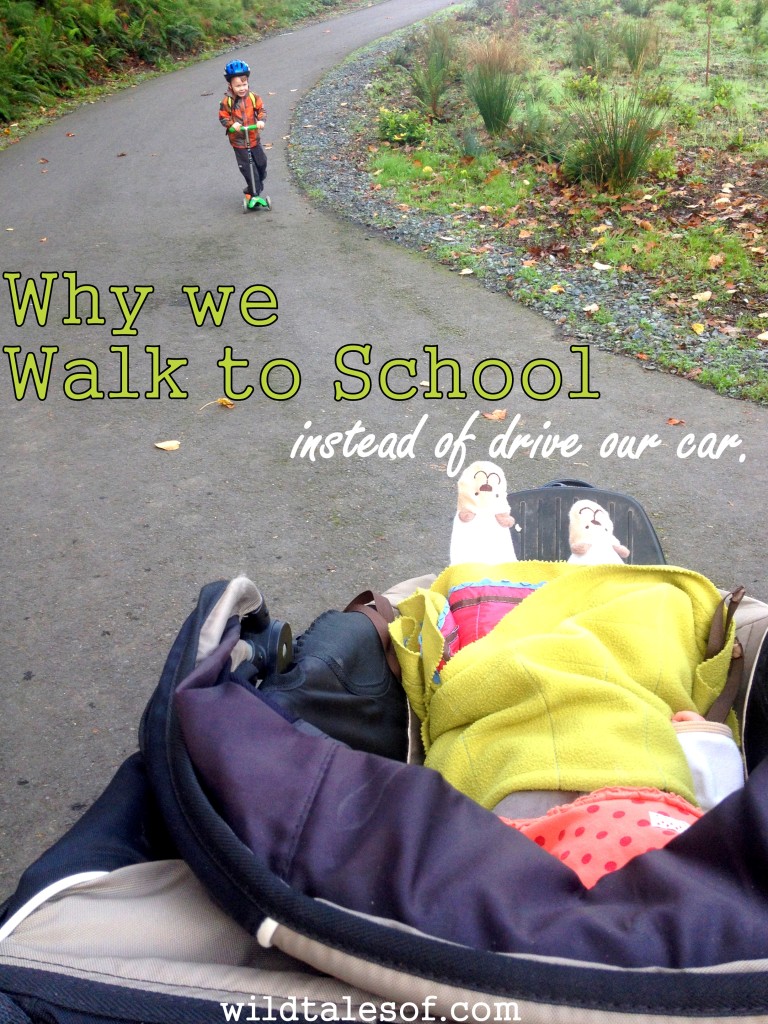 Here, Bergen, is why we walk to school:
Starting our day with some heart pumping running and scootering (or just walking, of course), is good for our bodies.
When we're outside together, we're bonding, we're getting a little vitamin D, we're breathing in fresh air.
Opportunity to observe the changes in nature around us.
How fun to observe all the seasonal changes occurring in the natural world! Currently, we're noticing leaf color changes as we crunch over fallen acorns, nuts, and pine cones, sometimes collecting as we go.
Because it's only a mile!
Yup, it's just a mile, and we can handle that. A mile means it really only takes a couple more minutes on foot (or self-powered wheels) than it would in the car.
I despise traffic, and it's only getting worse where we live.  Earlier in the school year, as we sat in the car waiting for our turn to go through an intersection as green lights cycled through with little to no progress, I said to Bergen, "NEVER AGAIN!"  I felt guilty, foolish, frustrated, and unproductive sitting in traffic while I could have been outside enjoying the fresh air and exercising.
More connection to our place in the world.
It may sound silly, but I find that we gain a greater sense of place when we walk to where we need to go rather than drive. We're more aware of our surroundings, and I feel that I'm helping to foster skills like navigation and spacial reasoning in my children.
Because I can't tell you how much I hate lugging the baby's car seat in and out of the house.
All the ins and outs, and loading and unloading, and buckling and unbuckling can just be avoided! Getting the baby in the stroller, and the helmet on Bergen so that he can scoot or ride his bike is a bit of a task, but those steps aren't nearly as excruciating as the whole car production for some reason.
It just makes more sense.
Getting to school by our own power just seems like the right thing to do!
More inspiring School Commuters
Do your kids ever walk to school? Did you walk to school as a kid?
Come join the conversation! You can keep up to date with each and every post by subscribing to the blog via email. We'd also love to have you join us on all of our adventures by "liking" our facebook page and following us on twitter! If you enjoyed this post, please "like it", "tweet it" or "pin it"!