As you may have learned from our post on transitioning from balance bike to pedal bike, our 4.5 year old son has been confidently riding his Woom 3 bike for several months now. It's opened up a whole new world for our family. On our daily afternoon walks, instead of dragging him along on our 2 to 4 mile treks, we're chasing after him as he races ahead on his bike.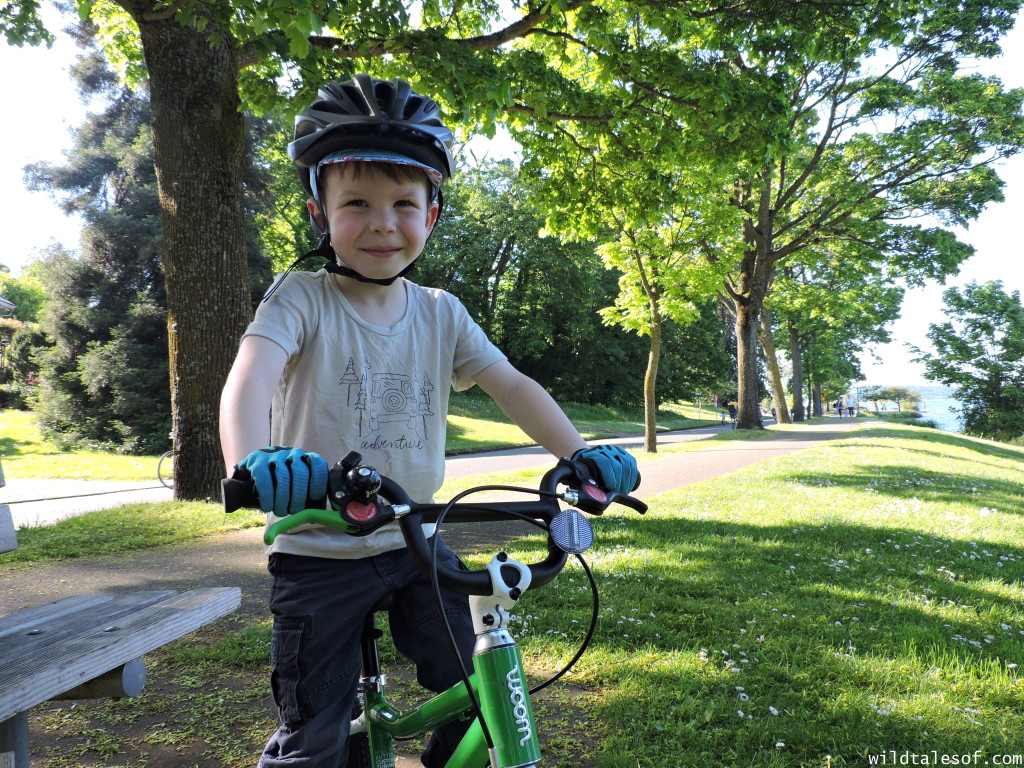 It's amazing how his skills have picked up in just a short amount of time.  He's tackling more challenging hills, riding for longer distances, and when a portion of our route is to steep (up or down), he can just walk his bike without us having to carry it for him. His next goal and one of the things he's always talking about is getting into bike racing.  We'll see about that! If you have any recommendations, let me know!
We know that the smooth transition from balance bike to pedal bike (without training wheels) was thanks to a lot of practice and determination, but the quality of the bike also played a huge factor.  Here you'll find our review of the Woom 3, which the company generously provided for us at a discounted price in exchange for our honest feedback.
What is the Woom 3 Bike?
The Woom 3 Bike is a 16 inch bike designed for kids ages 4 to 6 years old and 41 to 47″ tall.    The Woom 3 features overview:
Total Weight: 13 pounds (5.9 kg)
Child-specific hand brakes (no coaster/foot brakes) for front and rear.
Aluminum frame
Steering delimiter
Wide BMX-style handlebar
Kickstand and bell included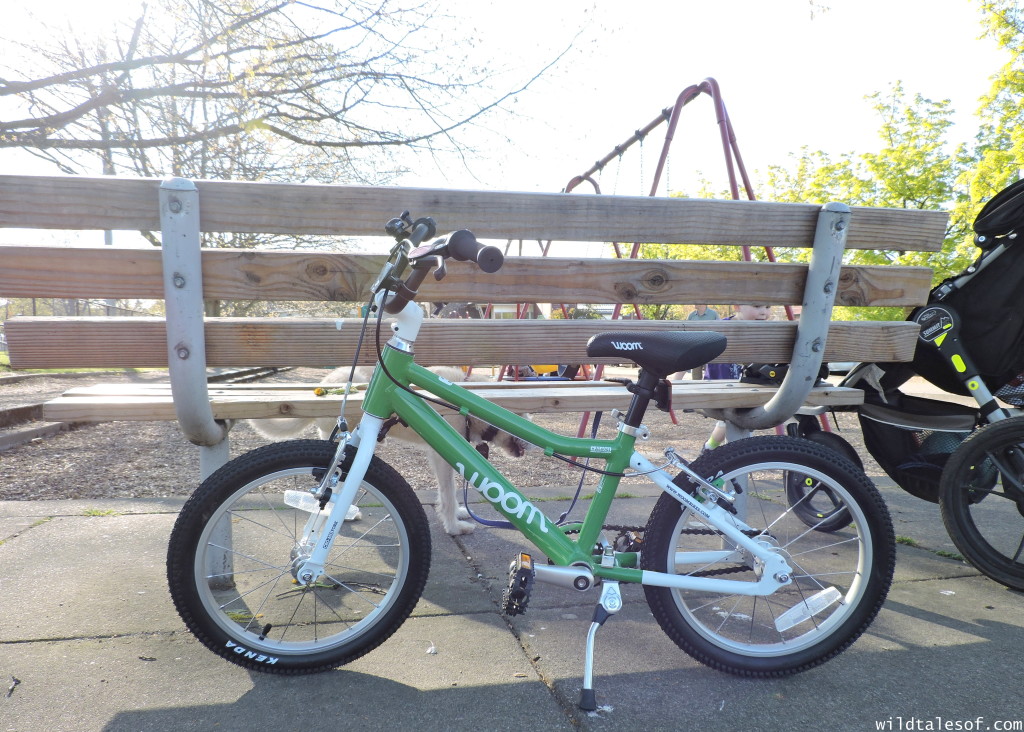 How does the Woom 3 Bike work?
For nitty-gitty specifics, visit the Woom 3 product page, where the company provides lots of information on the bike's design, make-up, and specifications, but here we wanted to give you an idea of what to expect when the bike is shipped to your home.
In the video below, you'll see my husband Slaed unboxing and putting together the Woom 3.  We needed to unwrap the contents, flip up the handle bars, attach the pedals, pump up the tires, and adjust his seat.  It was just a matter of a few minutes, and then Bergen was off to try out his new wheels.  All tools necessary (with the exception of a pump) are provided in the box.
As I mentioned above, the Woom 3 bike, unlike most kid bikes on the market, features two hand brakes, so from the beginning, Bergen learned to control his speed and stop by gently pressing on the levers.  Pedals and steering work just like any other bike, although a lot his put into the design to make the bike ideal for kids.
What's to Love?
This is not just a cool bike that an adult bike company made in a kid size, the Woom 3 (and all the other Woom bikes) are specifically designed for kids.  There is so much to love:
In our research of children learning to ride pedal bikes after mastering the balance bike, we found that kids make a easier transition if the bike is outfitted with hand brakes as opposed to coaster/foot brakes.  Hand brakes give kids better control as they are ride, and prevent the sudden stopping that happens when they pedal "backwards", something that kids tend to do when first learning to ride a bike.
This bike is only 13 pounds! That's less weight for us to carry as we're helping him out on steep hills, and less weight for him to have to handle as he rides and climbs the hills on his own.  At 13 pounds, it's the lightest bike of it's kind, at least as far as we know!
Woom has so many bright and fun colors to choose from in their inventory.  This may not seem like a big deal to us parents, but to a kid, choosing the color and seeing what you chose come out of that box is SO exciting! As you can see from our photos, Bergen went with a bright green model.
A bell and kickstand were included in our order, and already came assembled on the bike.  When I asked Bergen what he liked about his bike, he said the bell was his favorite part! It's handy for teaching Bergen bicycle etiquette, and truly is an important safety feature.  We also appreciate that we can easy prop the bike up with the kickstand for easy storage in our basement and when we make stops at playgrounds, shops, and restaurants along our routes.
Woom also sells gloves, hats, helmets, and more.  Check out their accessories page–they've got some fantastic stuff on there!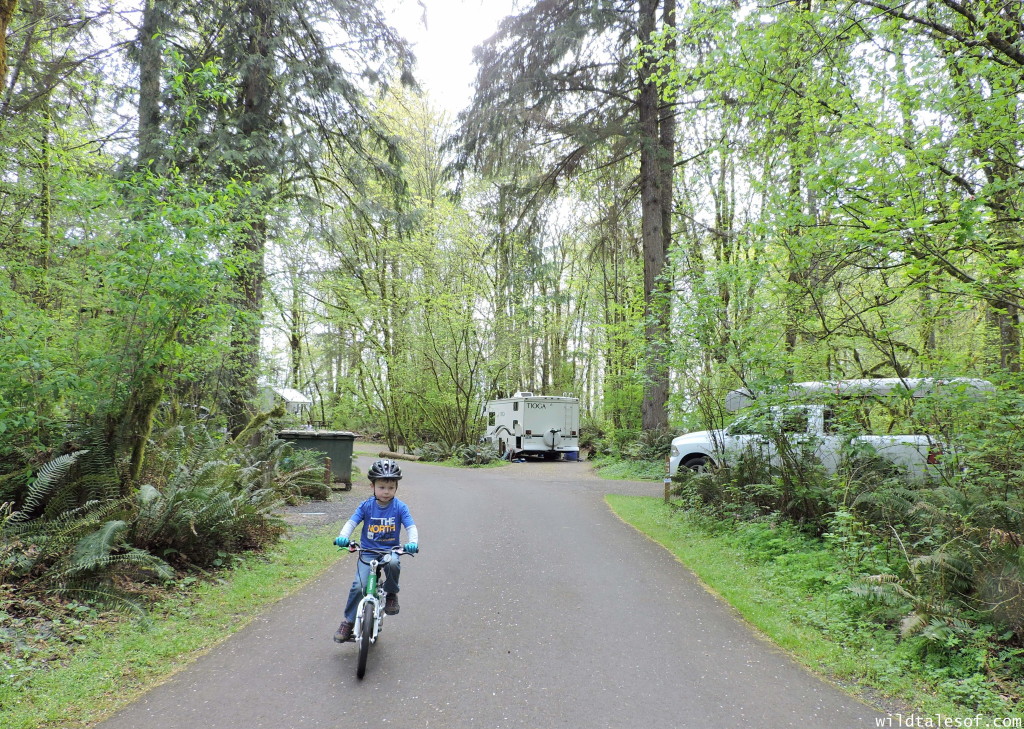 As you can see from our video above, we love how easy it was to set-up the Woom 3 Bike.  Just a few quick adjustments and installations, and our little rider was ready to go.  Without having to do much waiting, Bergen got to transfer all that new package/surprise excitement and energy right into learning how to use the bike!
Ergonomic/Kid-friendly design
I'm no expert, but I know enough to understand that the Woom 3 bike is specifically designed with a kid's body and safety in mind.  Compared to other bikes, the Woom 3 allows riders to have a lower center of gravity, thus making it easier to learn to ride.  I also feel that Bergen is situated on the bike in such a way that he is more comfortable.  This allows him to ride for longer distances, which we love!
I'd never heard of a steering delimiter before Bergen's Woom 3 bike arrived on our door step, but now I know it's an awesome feature in ensuring the handle bars stay put and provide kids with more control.  It's basically a small rubber ring that prevents the handle bars from spinning all the way around (supporting good stable steering).
What's to be desired?
We are over the moon the performance and quality of the Woom 3 Bike, and really can't think of anything to complain about after rigorous testing.  We do want to note that while the price tag of the Woom 3 bike might seem hefty, you are receiving a top-notch product that, because of it's kid-friendly functioning, your child will actually use! The bike id also built so well that we know we'll be able to pass the Woom 3 along to Bergen's younger sister when he outgrows it.  You might also look into Woom's Upcycle program!
Notes:
As Bergen got more and more independent and comfortable with riding, we talked with him more about how to control his brakes, and encouraged him to use both, rather than relying on his front (left hand) brake.  Balanced braking allows for safer stopping, and can prevent the child from flipping over the handle bars at a sudden stop.
We also wanted to note that Bergen's Woom 3 Bike was tested on many surfaces including sidewalks, roads, gravel, and hiking path. The bike performed well on all surfaces, though kids need to be careful when turning on gravel!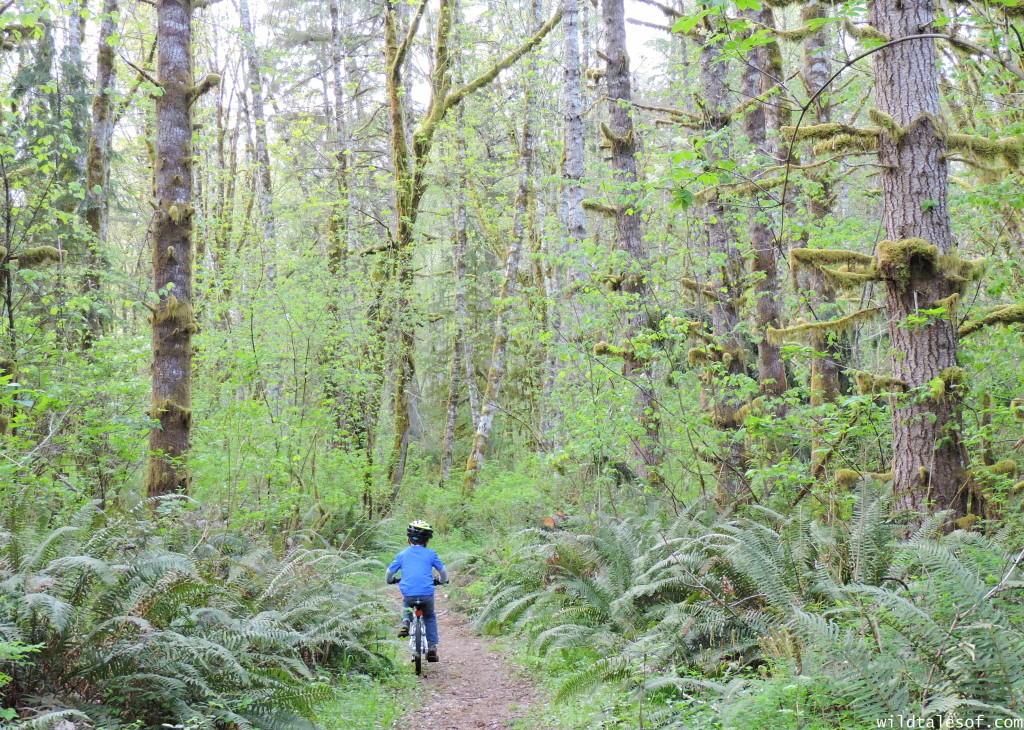 To purchase the Woom 3 Bike (approx $369):
We're big fans of the Woom 3 Bike and highly recommend it for new riders and kids ready to graduate from the balance bike.
A very special thanks to Woom Bikes USA for providing Bergen with a Woom 3 Bike at a discount in exchange for our honest review.