We introduced you to the new kids bike company, Prevelo, a few weeks ago with our post on teaching kids how to change gears.  Bergen, our 5.5 year old has been riding Prevelo's Alpha Three for about 2 months now.  He transitioned from a 16 inch bike, his first bike with pedals, this April to the 20″ Alpha Three.
The opportunity to partner with Prevelo came at the perfect time:  Just when Bergen's riding was starting to pick up again (after the rainy winter), and just when we realized he was looking over-sized and hunched over on his 16″ bike!
You'll learn more in the sections to follow, but Bergen's transition to a 20″ inch bike brought on a lot of new milestones.  Because of his new riding capabilities, he started riding on streets with us, joined us on longer riding adventures, and even participated in an 11-mile ride with our city's cycling club!
What is the Alpha Three?
The Prevelo Alpha Three is a 20 inch 8-speed bike designed for kids ages (approximately) 5 to 9 years.  Other features of Prevelo's Alpha Three include an aluminum frame, Tektro front and rear v-brakes, and a lightweight aluminum alloy fork with chromoly steerer.  Like all of Prevelo's bikes, the Alpha Three is designed to keep the rider low, and thus improve balance and control.
What's to Love?
Designed SPECIFICALLY for Kids
Bergen was comfortable on his Alpha Three right from the start.  Prevelo exclusively engineers bikes FOR KIDS. It's not a bike company that happens to have a kids line.  Because of this commitment, care and attention has been given to all those little details, and it really makes a difference! A few things to note:
low and narrow geometry
lightweight
easy to use shift levers & hand brakes
I think this is a good spot to add that kids (and grown-ups) LOVE Bergen's bike.  When he arrives at school or t-ball practice, he's always flooded with compliments.  The bike is attractive and smart-looking.
Lightweight
As parents of a young child, of course we appreciate that the Alpha Three has been designed to be as light as possible. More importantly though, that lightness makes it easier for Bergen to ride.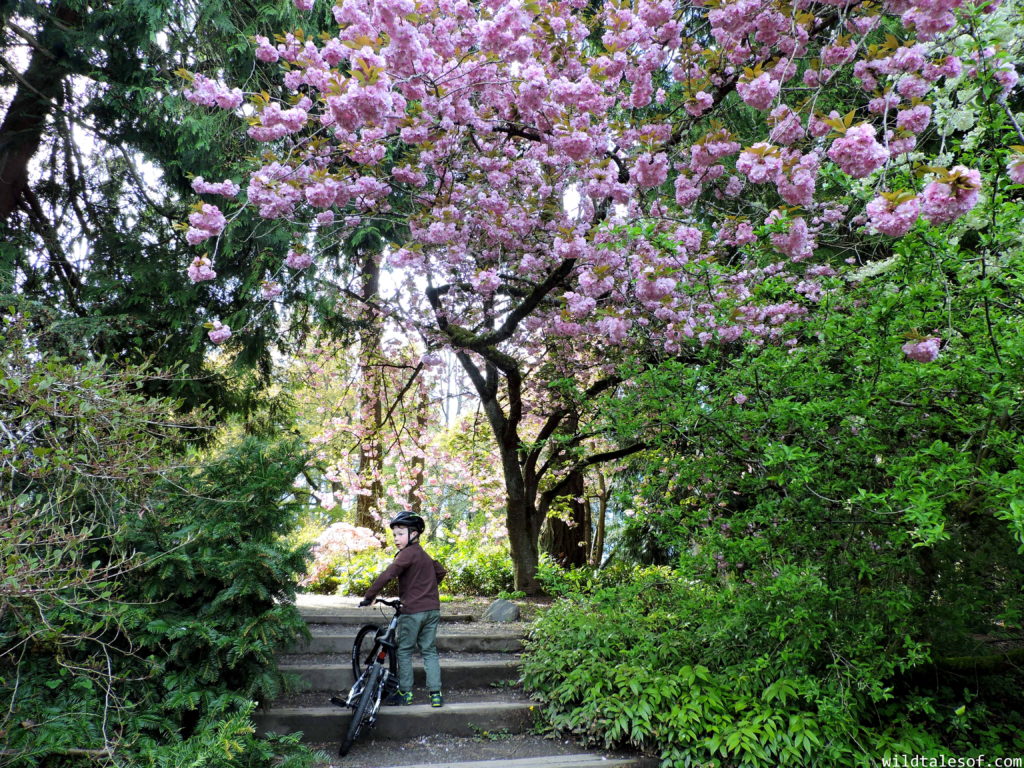 8 Gears
We weren't sure what to think when presented with gear options for our 5-year old at first.  Regardless, it turns out that gears open up a world of possibility! Because Bergen can make pedaling easier (by switching gears), he's able to stay on the bike more (as opposed to walking the bike up hills), and has better overall control. The levers are also easy for him to reach with his fingers, which made the learning process smooth. To learn more about the learning process, you can read our post on teaching kids to change gears.
Basic Assembly
According to Prevelo's website, the Alpha Three comes 95% assembled when it arrives in the box on your doorstep.  We might tack off a few more of those percentage points (maybe 90%?), but overall it was easy to assemble.  We needed to install the handle bars, attach the front wheel, and screw the pedals into place.  All the necessary tools are provided!  You can find detailed assembly instructions on Prevelo's website.
Along with being easy to assemble, the bike has also been easy to fix! Bergen's chain came off at one point, and it wasn't a big deal put it back on.  He also bent the front brake attachment, and our bike shop technician was able to get it back into alignment in a matter of minutes.
Hand Brakes
We love that all Prevelo Bikes feature easy to reach lever brakes.  Hand brakes, as opposed to back pedaling coaster brakes, are easier and safer to use for kids. Especially as young kids are learning to ride and gaining confidence in their cycling abilities, coaster brakes actually inhibit progress.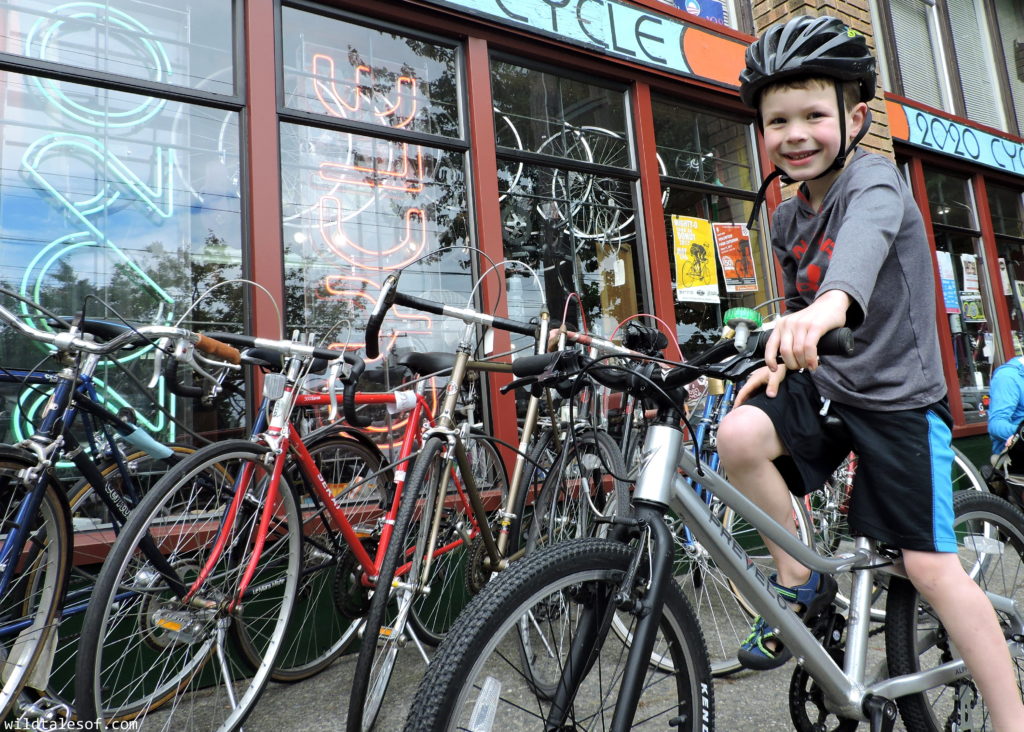 Tough and Durable
Despite how many times you teach and remind most kids to handle their bike with care, they are still kids & tend to be hard on their belongings! Just as the Alpha Three is designed just for kids and their unique physical structure, a lot of consideration has been taken to create a bike that is "forgiving" to young riders.  In addition to a tough body, the Alpha Three's tires are also solid, and suitable for more than just sidewalks and roads.  When Bergen has biked on gravel paths, and made sudden turns, the bike has handled really well.
What's to be desired?
We are extremely satisfied (and impressed!) with Prevelo's Alpha Three, and would highly recommend families consider this brand and model when looking into a 20″ bike for their young riders. While we wouldn't consider the following cons or disadvantages, we wanted to make sure we noted a few things:
As I mentioned in the "basic assembly" section, we found the bike to be a little more complicated to put together than we expected.  Just make sure to leave about 30 minutes for unpacking and putting the bike together.  Don't have your kid expecting to get right on the bike when it arrives! Unless you are a bike/engineering expert, we suggest just bringing it in to your local bike shop.  They can either assemble the bike for you, or at least check your work to make sure everything is safe!
At $499, the Alpha Three is absolutely an investment, but as I hope it's clear in my "What's to Love" section, you are purchasing a top notch product that is built to last (multiple riders).  Bergen rides several miles up and down hills(almost) everyday with ease.  Yes, he has a lot of energy and stamina, but it's also due to the fact that he has a solid set of wheels supporting him.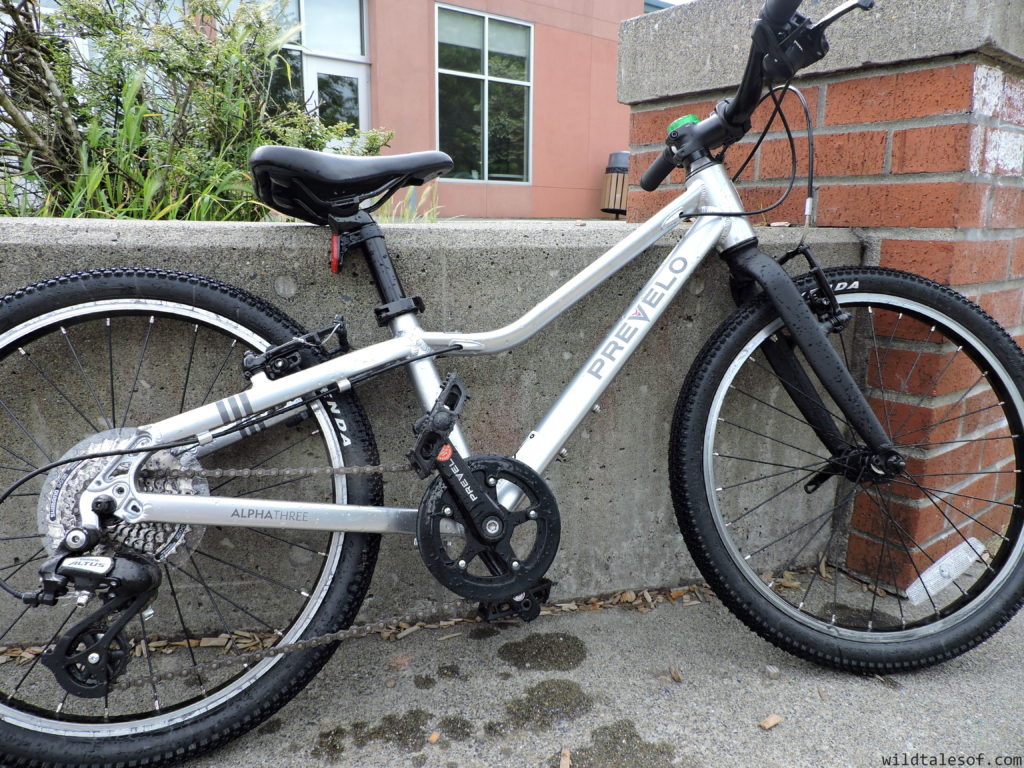 Notes on the Alpha Three:
Bergen rides on a variety of surfaces, including sidewalk, street, gravel paths, and dirt trails, with his Alpha Three, and it has performed very well on all.
The bike is still small enough to easily fit in the back of both of our cars (Toyota Matrix & Subaru Forester), and can also easily be secured in a roof mounted bike rack.
To purchase Prevelo's Alpha Three ($499):
Bottom line: We're big fans of Prevelo's Alpha Three, and highly recommend it for riders ready to step up to a 20″ bike! Questions? Email us, or let's chat in the comments!
A very special thanks Jacob from Prevelo Bikes for providing us with an Alpha Three in exchange for our honest review.  This post also contains affiliate links.  If you purchase through our unique links, we'll receive a small commission (at no cost to you) to help us keep the blog up and running.