Mondays are turning out to be our day for hiking and adventure. Bergen goes to school 4-days a week (Tuesday-Friday), so Monday is our one full day together.  In the new year and partially thanks to our winter bucketlist, I've been more motivated to be intentional with our "free day". Last Monday, we explored St. Edwards State Park in Kenmore, Washington.
This week, I decided we'd tackle a hike, Cougar Mountain's Wildside-De Leo Wall loop, that didn't go so well the first time.  You can read about that misadventure here, but I'm happy to share that things went a whole lot better the second time around! I didn't lose my phone, we managed to find the viewpoint, and everyone was in good spirits.  Life allows for do-overs, and I'm so grateful for that!
I love the varied terrain of this hike.  We were up high with views, down low with rushing creeks, jumping over puddles, crossing bridges, and checking out horse tracks.  So much interest, especially for my 4-year old companion.  To get an idea of exactly what I'm talking about, we documented the journey with a video:

About Cougar Mountain's Wildside-De Leo Wall Loop
Our Route

: You can hike more of a lollipop route by taking the Wildside Trail to Marshall's Hill Trail to De Leo Wall, and travel back to the trailhead on the Wildside Trail, but we opted to (and recommend to) take the Red Town trail back as it makes for a true loop.  Plus, you'll get to see the Meadow restoration project and walk along Coal Creek.

Length

: About 4 miles

Elevation

: Highest Point-1122ft, Gain-489 ft

Location

: We accessed the hike from the Red Town Trailhead located off of Lakemont Blvd SE (exit 13 off of I-90) near Bellevue, Washington.  For more information, visit the WTA website.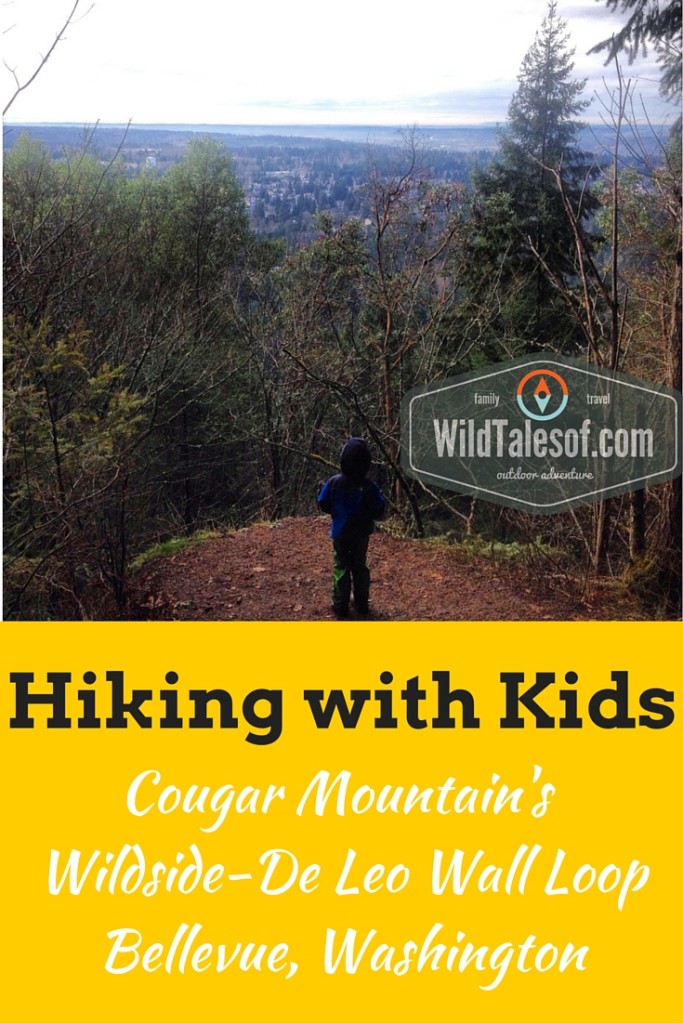 What's your favorite winter outdoor activity?
Come join the conversation! You can keep up to date with each and every post by subscribing to the blog via email. We'd also love to have you join us on all of our adventures by "liking" our facebook page and following us on twitter! If you enjoyed this post, please "like it", "tweet it" or "pin it"!