We're celebrating our days slowing getting longer and longer after the recent winter solstice.  It's a little hard to believe, but in less than a month's time, I can already tell a difference in the afternoon! We're getting just a little more out of that sun on our daily walks before dinner.
To help us appreciate all that the season has to offer, we've (yes, Bergen and Slaed had input) put together a list of 11 winter inspired activities for us to focus on, and hopefully accomplish! Depending on your location, you  might be able to gather some winter inspiration, and get into the fun right along side of us. Included in the list are nature and outdoor focused activities that we would like to get to this season.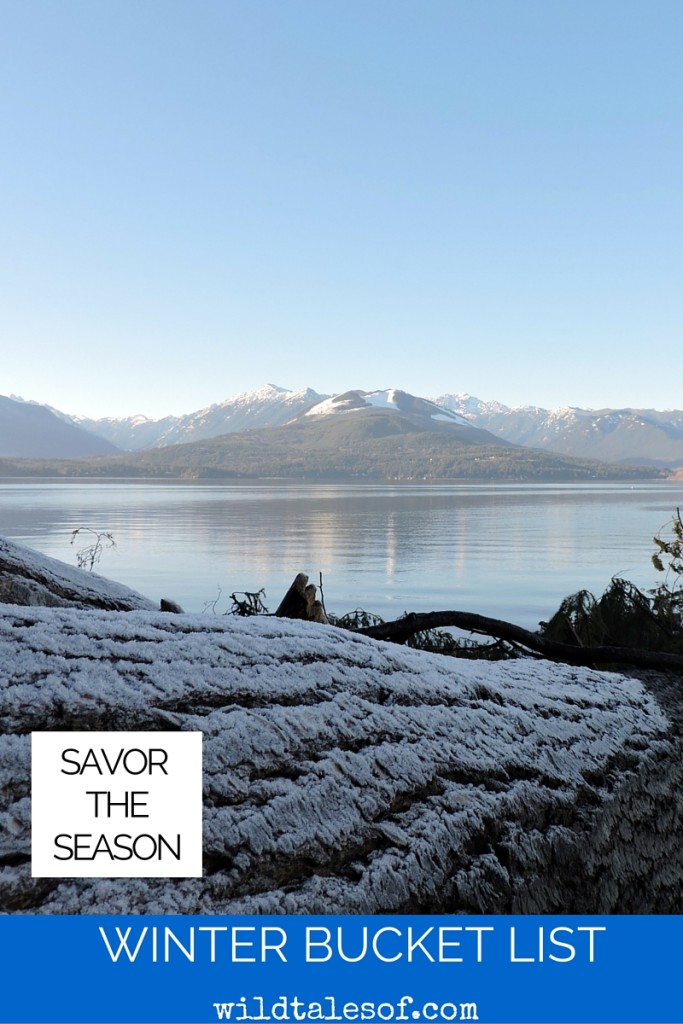 Conifer Search.
We plan to explore the Washington Park Arboretum with a focus on conifers (a tree that bears cones and evergreen needles/leaves).  We'll collect 5 or so conifer cones, and compare and contrast.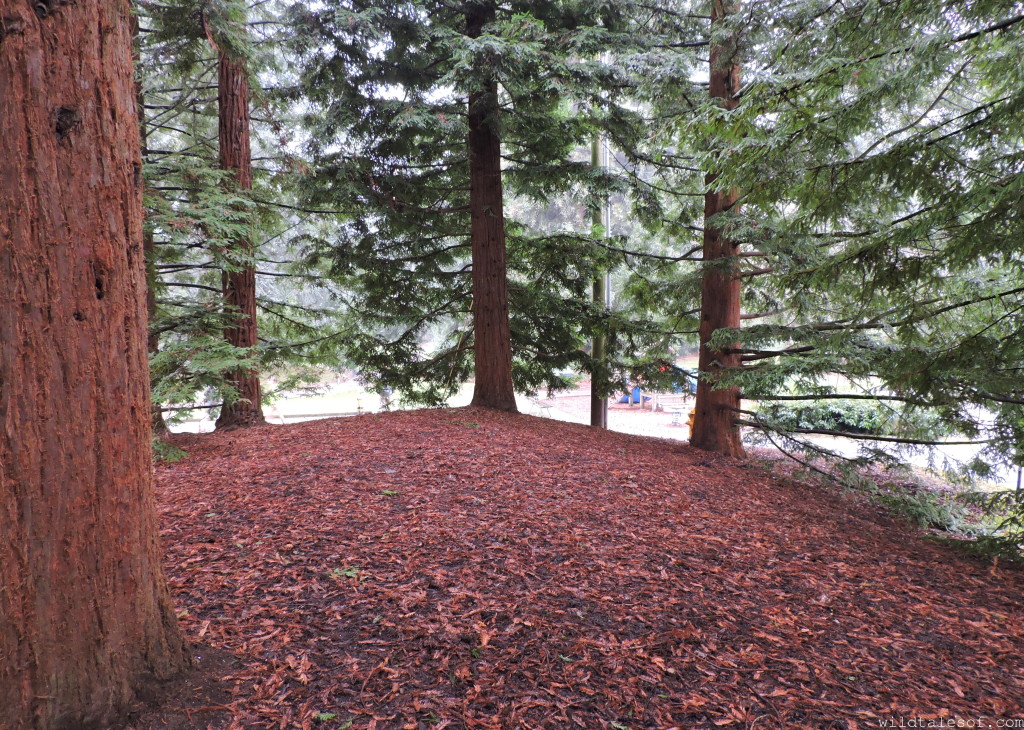 Look for and identify Winter Berries.
We've already seen several different colored berries including red, purple, and white, but we'll continue to look for more as we hike and explore outside.  I'd also like to work on my identification skills so that I can know and tell others exactly what we're looking at!
Visit the Volunteer Park Conservatory.
This small retreat from the elements is such a cozy place to spend some time on a rainy winter day, and it's located in one of my favorite Seattle parks.
Hand Print Mosaic.
Bergen caught a glimpse of this project in our Kids Outdoor Adventure Book, and was really interested in making one of his own. The concept seems easy enough, and it'll be fun to collect items out in nature to design the hand print.
Visit the Seattle Aquarium.
Another great way to explore nature without having to brave the elements, and I think it's time we brought Georgia along to experience the aquarium for the first time!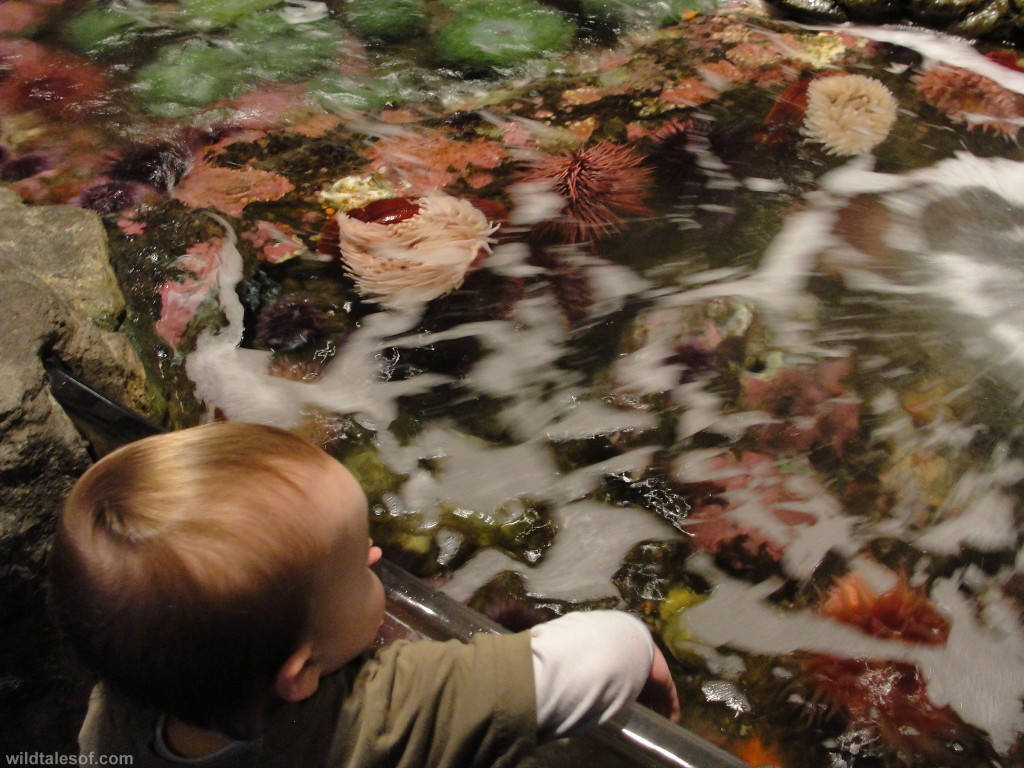 Visit the Pacific Science Center's Butterfly House.
I dream about this place regularly, but it's especially fun to think about on chilly wet days since the butterfly house is steamy and hot.
Create an Evergreen Wreath.
Can you believe be did not purchase a wreath for our door this year? The Kids Outdoor Adventure Book has some doable instructions for creating our own with a coat hanger, and some natural items. And I recently learned that wreaths aren't necessarily a symbol of Christmas, but winter in general–a way of adding evergreen color to homes in an otherwise (often) dreary season.
Make Bird Seed Necklaces.
Bergen found this idea in his Highlights magazine last week, and he's been talking about it daily.  The necklaces are easy to make with just yarn, cereal, peanut butter, and bird seed, AND they're ready to hang!
Go Animal Tracking.
We don't (usually) have snow here for easy animal track spotting, but we do have plenty of MUD! There's a great field guide for animal tracks that we can pick up from our arboretum's shop to help us identify what we find.
Since reading Up, I've wanted to tackle a mountain climb with Bergen, and with Little Si's lack of snow, and 4-mile (or so) round-trip distance, if we give ourselves enough time, pick the right day, and pack enough to eat, I think we can do it!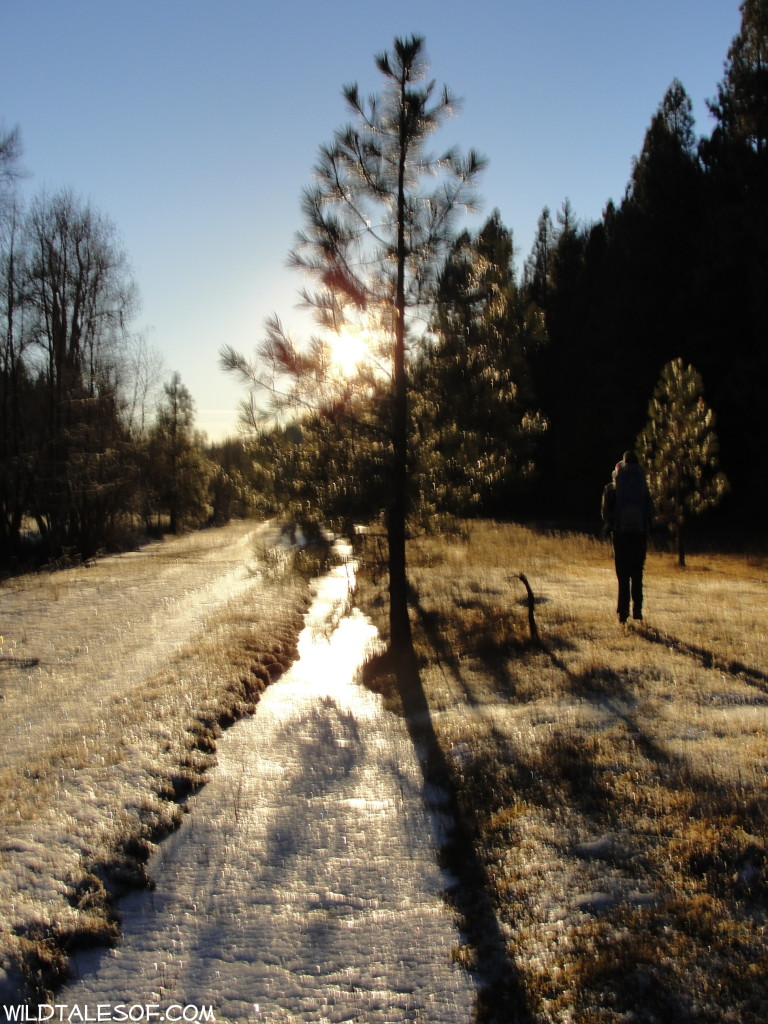 Visit Vancouver Island.
When I asked Slaed what he wanted to do this winter, he reminded me that we had a big trip planned, so I suppose I can include it in our winter bucket list! We'll be traveling to Vancouver Island to visit the towns of Victoria & Tofino in mid-February.  I haven't been to either, and couldn't be more excited to experience and explore all that they have to offer.
We'd love for you to join us in our quest to savor the season.  Tell us, what are you hoping to enjoy outdoors (or indoors) this winter?
Note: Links to our amazon affiliate store are included to give you an idea of some of the resources I've used to create and hopefully accomplish this list!
Come join the conversation! We'd love to have you join us on all of our adventures by "liking" our facebook page and following us on twitter! You can also keep up to date with each and every post by subscribing to the blog via email.