All of last winter, Georgia and I stayed warm and cozy using Kowalli's comfortable baby carrier cover.  We dealt with some pretty cold conditions here in Seattle, and I loved the simplicity of just throwing on the fleece cover over the ergo to protect us.
Brand-new this fall though is Kowalli's full babywearing coat called the Joey Jacket.  Since receiving the jacket from Kowalli, Georgia (now 9 months) and I have had the chance to test it out on walks around the neighborhood, chilly mornings dropping Bergen off at forest school, and at an evening soccer game cheering on our beloved Seattle Sounders.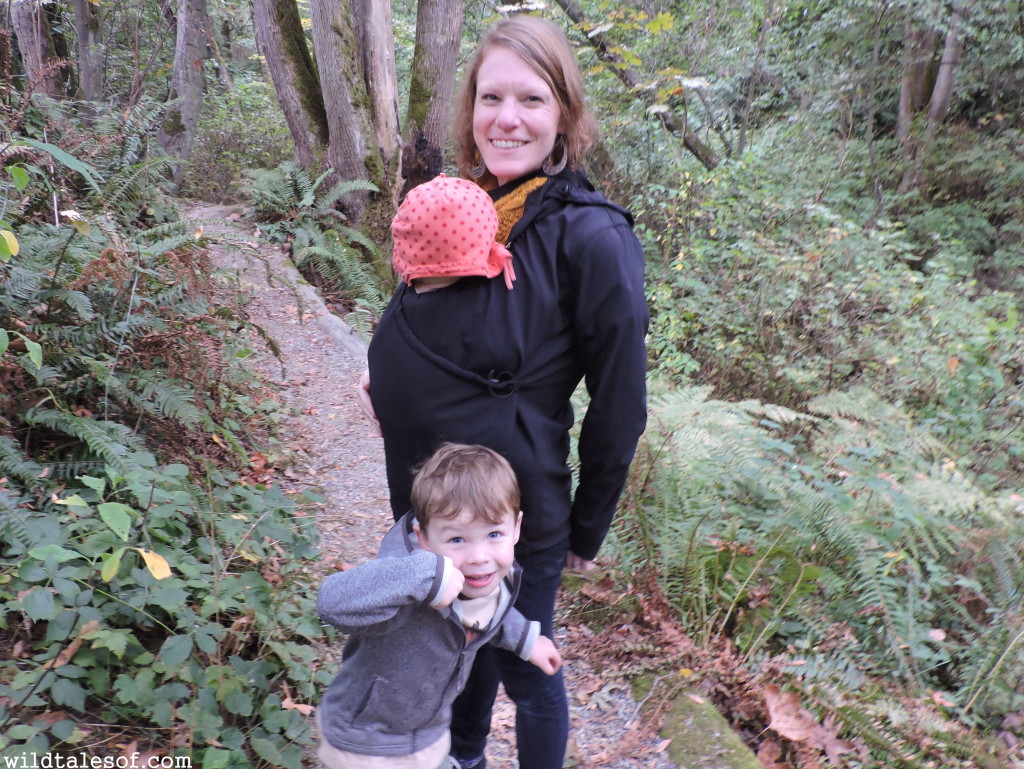 What is the Joey Jacket?
The Joey Jacket is a 3-in-1 lightweight coat made of nylon (97%) and lycra (3%) that is designed to fit:
A growing pregnant belly
Mom and baby in front carrier, sling or wrap
The solo mom/non/post-babywearing mom
How does the Joey Jacket work?
The Joey Jacket can be slipped on through the sleeves just like a typical jacket or coat.  Two panels snap together, and can be adjusted depending on the wearing situation.  When pregnant, the wearer simply snaps two closures on the inside of the jacket (top and bottom) and two closures on the outside of the jacket (top and bottom).  Adjustments can be made using the elastic cording to accommodate the growing belly.  When babywearing, the wearer first secures the baby in their soft carrier of choice, then slips the jacket on, snaps, and adjusts to fit.  Post-babywearing or when moms want to wear the coat without the baby, the elastic cords can be adjusted even more to create a streamlined, flattering silhouette.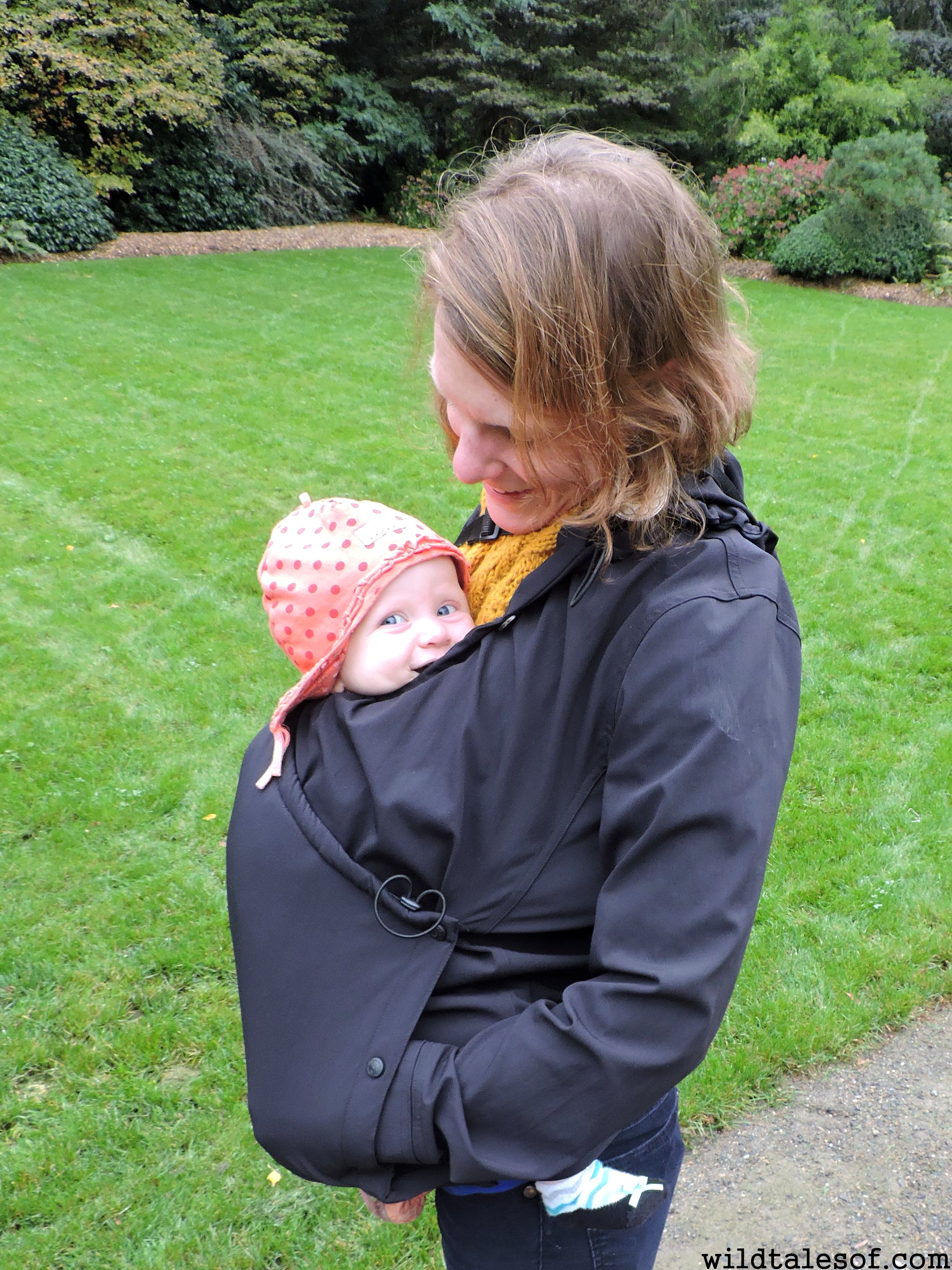 What's to Love?
Keeps Mom and Baby Warm
First of all and most importantly, I'm just so excited to have a coat that easily accommodates both Georgia and me as we venture outside.  Because we are often on the go, and Georgia prefers to be carried as opposed to riding in the stroller, it's wonderful to have a coat that I can slip on right over the ergo carrier.  The nylon/lycra + polartec microfleece combination make the jacket perfect for fall, and the fact the the material is very water resistant makes me happy to know we'll stay dry in our wet Seattle weather.
Dress-up and Dress-down
I love that the Joey Jacket can be worn with practically any type of outfit.  The simple black design allows me to feel comfortable wearing it on a hike or walk with more outdoorsy clothing choices as well as a more styled outfit for heading out on the town or to an event.  The Joey Jacket is versatile.
Hood
The Joey Jacket has an adjustable hood!  This was one of the things that I wish was a part of the the original Kowalli carrier cover design.  With our unpredictable Seattle weather and tendency for a lot of rain in the late fall, winter, and spring, hoods are pretty essential.  The Joey Jacket hood can also be concealed within the collar for a more streamlined look.
Fleece Cross-panel & Pocket
The entire cross-panel of the jacket is lined with cozy polartec micro fleece, which I think adds the perfect amount of warmth without creating a lot of bulk.  I'm a bit of a wimp when it comes to colder temperatures, so I love being able to slip my hands into the large front pocket to warm them up!
Storage
The Joey Jacket has a large front pocket that's been great for storing my phone and keys.  The coat also has a large back pocket that could easily store diapers, wipes, and any other smaller essentials moms and moms-to-be might need.  Since we often go on walks straight from the house, I love that I can take everything that I need without adding an extra bag or purse into the mix.
Easy to Layer
While it hasn't been quite cool enough yet here in the Seattle area to need more than just a light jacket, I love that the Joey Jacket is sleek enough to allow for layering.  I think it would look great with the addition of a scarf, and could also see adding a vest for some added warmth on colder days.
Designed AND Made in the USA
The Joey Jacket was designed in Rhode Island, and made right here in the USA in Oakland, California! Items that are truly designed and made in the USA are harder and harder to find these days, and I appreciate Kowalli's commitment to keeping the manufacturing stateside.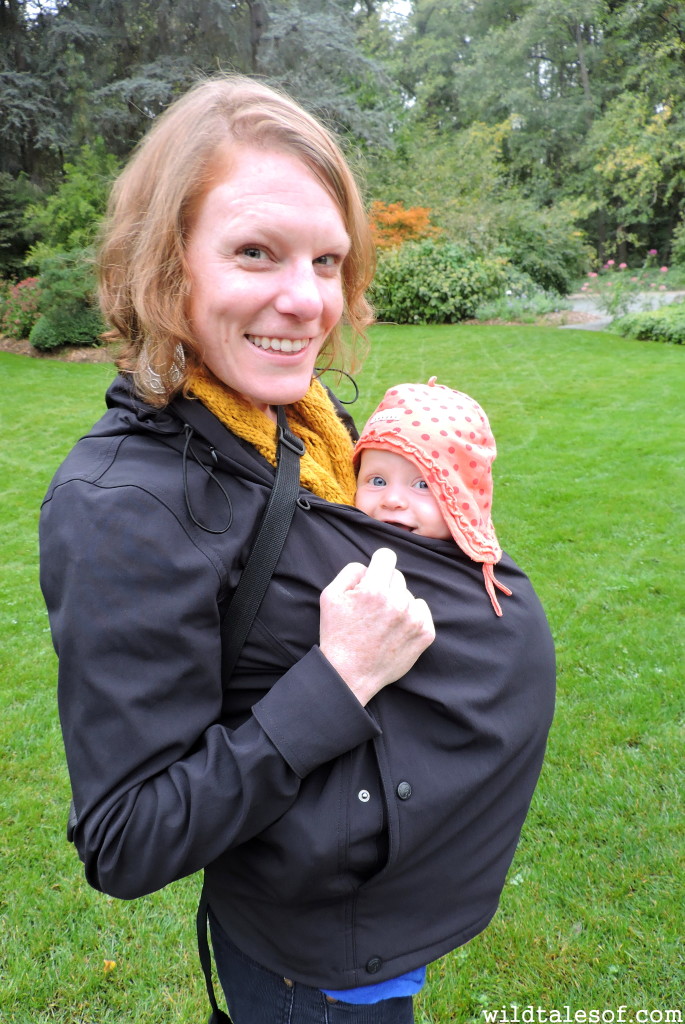 What's to be desired?
I'm so pleased with the design, fit, and practicality of the Joey Jacket, that I really wouldn't change a thing! Just like I mentioned when I reviewed the carrier cover, I wish I could have gotten my hands on the product sooner so that I could have used it when I was pregnant, and earlier on with Georgia.
One thing to be aware of is that while the jacket is very water repellent (and wind resistant), it is not designed to be waterproof, so in heavy rain, it may not be the best choice to keep mom and baby dry.
Notes:
I want to make sure that I mention that due the the extremely pleasant and dry Seattle conditions this fall, Georgia and I haven't yet had the chance to test the jacket out in more than just our typical Seattle mist.  Look for an update soon as we transition into late fall and winter.
To purchase the Joey Jacket (appox. $179)
Please note: The folks at Kowalli generously provided us with a Joey Jacket for review on the blog.  All opinions expressed are my own.  Affiliate links to our online Amazon shop are also used.  If you purchase through our links, we receive a small commission.  Thanks!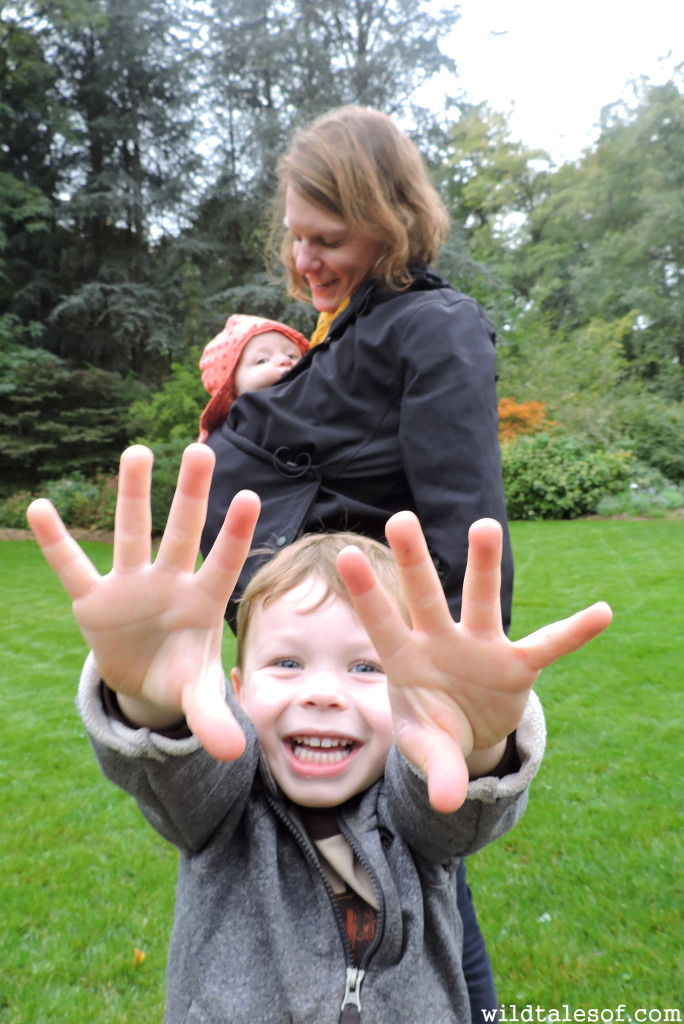 Come join the conversation! You can keep up to date with each and every post by subscribing to the blog via email. We'd also love to have you join us on all of our adventures by "liking" our facebook page and following us on twitter! If you enjoyed this post, please "like it", "tweet it" or "pin it"!