If you're still searching for just the right gift for that someone on your list, I have a few easy last minute gift ideas that just might help you complete your holiday shopping! Given the theme of our blog, I have categorized them as great for travelers and outdoor adventurers, but really they'd work for so many types of people.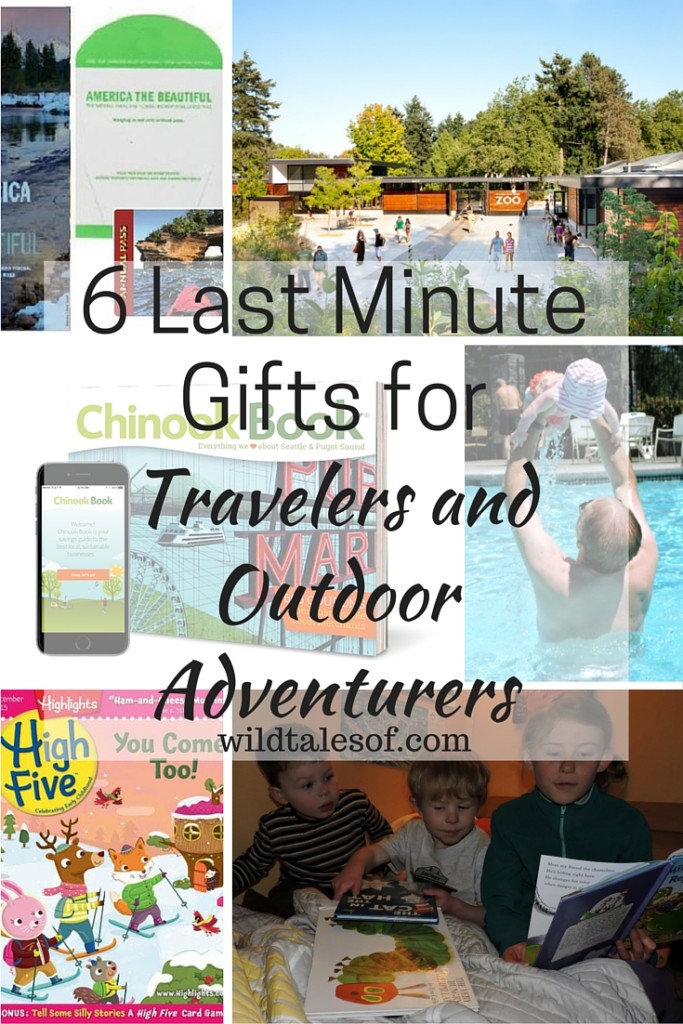 6 Easy Last Minute Gift Ideas for Travelers and Outdoor Adventurers
1. Park Pass.
Whether it's a pass to the all the National Parks in the country or a pass to the parks of your loved one's region or state, this gift will allow the recipient to get outdoors all year long.  They'll never have to worry about cost, and reluctant adventurers might even be more motivated to explore.  You can purchase the national park pass online, but it's (along with state park passes) also available in person at REI if you don't have time for shipping.
2. Memberships.
Our family receives a membership to our local zoo (Seattle's Woodland Park Zoo) every year thanks to one generous grandparent, and we are so appreciative! It gives us a go-to activity, that is always "free". Plus, most of the exhibits are outdoors, BUT at the same time there are plenty of covered areas, making the zoo a great rainy day option. In addition, zoos have reciprocity with other zoos so when we travel, we're often able to get into other zoos for "free" or at a discounted rate.  And zoos aren't the only memberships out there, of course! Other ideas: aquariums, children's museums, art museums, natural history museums, history museums, science museums, and more! 
3. Coupon Books
We're big fans of coupon books, and utilize discounts inside them at least once a week! In particular we love the restaurant and coffee shop coupons & coupons to attractions like the aquarium & science center.  Here in the Seattle area, we have the Chinook Book (you can see last year's review here & stay tuned for giveaway), but it's also available in at least a half a dozen other regions in the US.  The Entertainment Book is also a great coupon book, and it's available in almost every city/region of the US. Perfect for travelers too because it has discounts on car rentals, hotels, and airlines.
4. Classes & Lessons
Swim lessons are big thing that comes to mind when I think about what travelers and outdoor adventurers might need.  Water is such a big part of travel (as well as the outdoors), and water safety and instruction is so important! Swim Lessons for children makes a great gift! Other ideas for older kids or adults include fitness classes (yoga, cycling, etc), language lessons, or even something more intense like wilderness or survival training!
5. Magazine Subscriptions
Magazines are so much fun for kids (and adults) to bring along when traveling, and with most subscriptions, the recipient gets that gift almost every month! Bergen has been getting Highlights for several years now, and Slaed and I love Sunset.  I recently subscribed to AFAR, and can't wait for my first issue to come!
6. Books
Books are available everywhere making them such an easy gift to pick up last minute! Here are some of our book guides by category:
Do you have any last minute gift ideas to add to our list? Please share!
Please note: Affiliate links used to direct you toward some of our last minute gift idea options.  If you purchase through our links, we receive a small commission, which helps run the blog.  Thanks for taking a look!
Come join the conversation! You can keep up to date with each and every post by subscribing to the blog via email. We'd also love to have you join us on all of our adventures by "liking" our facebook page and following us on twitter! If you enjoyed this post, please "like it", "tweet it" or "pin it"!