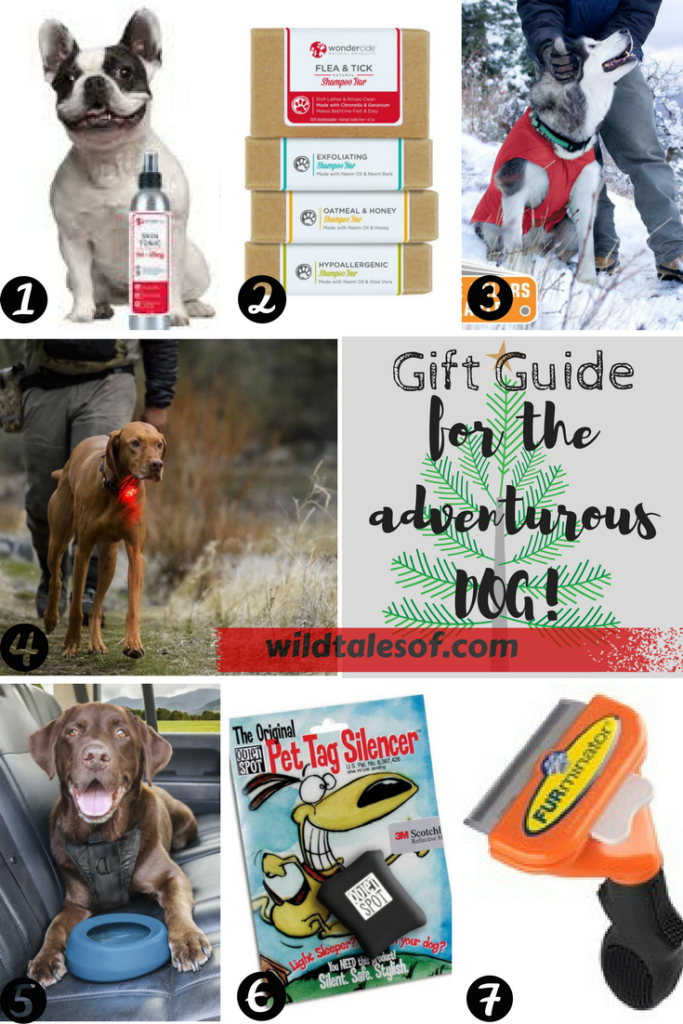 Gift Guide for the Adventurous Dog
I know I've said it before, but I don't think I say it enough: We owe our adventure dog, Norman a huge heap of gratitude because of how much he gets us outside.  I often think that because of him, and his obvious need to get outside and get exercise at least twice a day, we end spending a lot of time outdoors.
To honor him and all the other wonderful adventurous pups out there, I've put together a gift guide to help you brainstorm and gather holiday gift ideas for these special creatures. Even though they are for our pets, they really help us out in making them more comfortable, manageable, taken care of, and looking their best!
1. For dogs with sensitive skin, this Itch and Allergy spray from Wondercide will allow you to treat hot spots, and keep your dog from driving you crazy! They also have a flea and tick control spray that is natural and organic.
2. Regular dog shampoo dries Norman's skin out, so we are so happy to have found this hypoallergenic shampoo bar, also from Wondercide.  Easy to use since you can lather all over, and no plastic waste!
3. Norman has received so many compliments on his water repellent loft coat from Kurgo. It's reversible, and has special piping reflectors–great for increased visibility.
4. Now that winter is almost upon us, walking in the dark (and at dusk) is unavoidable.  The Beacon from Ruffwear increases visibility to cars and other pedestrians, and helps you better see pups in an off-leash situation too!
5. The Wander Bowl helps your dog stay hydrated while on the road, AND keep your car mess free.  Such a smart design from Kurgo.
6. You know that annoying jingle-jangle sound that all those tags on your dog's collar makes? You can silence them with the Quiet Spot! We are so grateful for this product, especially at night! Also helps keep tags organized and free from wear.
7. Help keep shedding at bay with the Furminator.  I'm amazed Norman has any hair left with the amount I'm able to pull off with this product! There are different tools based on your dog's size and length of fur/hair, so make sure to check!
We'd love to hear about the adventurous dog in your life! Share with us in the comments.
Any more ideas to add to our list? Please share!
Please note: Some affiliate links are used throughout the post.  If you purchase through our links, we receive a small commission.  Thanks for taking a look, and support our website! 
Come join the conversation! You can keep up to date with each and every post by subscribing to the blog via email. We'd also love to have you join us on all of our adventures by "liking" our facebook page and following us on twitter! If you enjoyed this post, please "like it", "tweet it" or "pin it"!