Georgia and I recently ventured back east to visit family in the Charlotte, North Carolina area.  Before I dive into the details of our trip, I thought I'd explain first how we got there.  Instead of flying directly to Charlotte, we opted to fly to the Raleigh-Durham airport.  We then rented a car, and drove the rest of the way, about 3 hours, to our ultimate destination just south of Charlotte.
I outline why we love this option when flying (especially with kids) in our "No Layovers!" post, but basically, we are loyal to Alaska Airlines, and our air carrier of choice does not yet have a direct flight to Charlotte.  Sure we could fly to another city and connect to Charlotte all through the Alaska Airlines interface, but when it comes down to it, another flight would add more time, more variables for delays, baggage issues, and other possible headaches. Especially when a car rental is necessary anyway, flying direct to an airport that isn't necessarily the closest is a great option.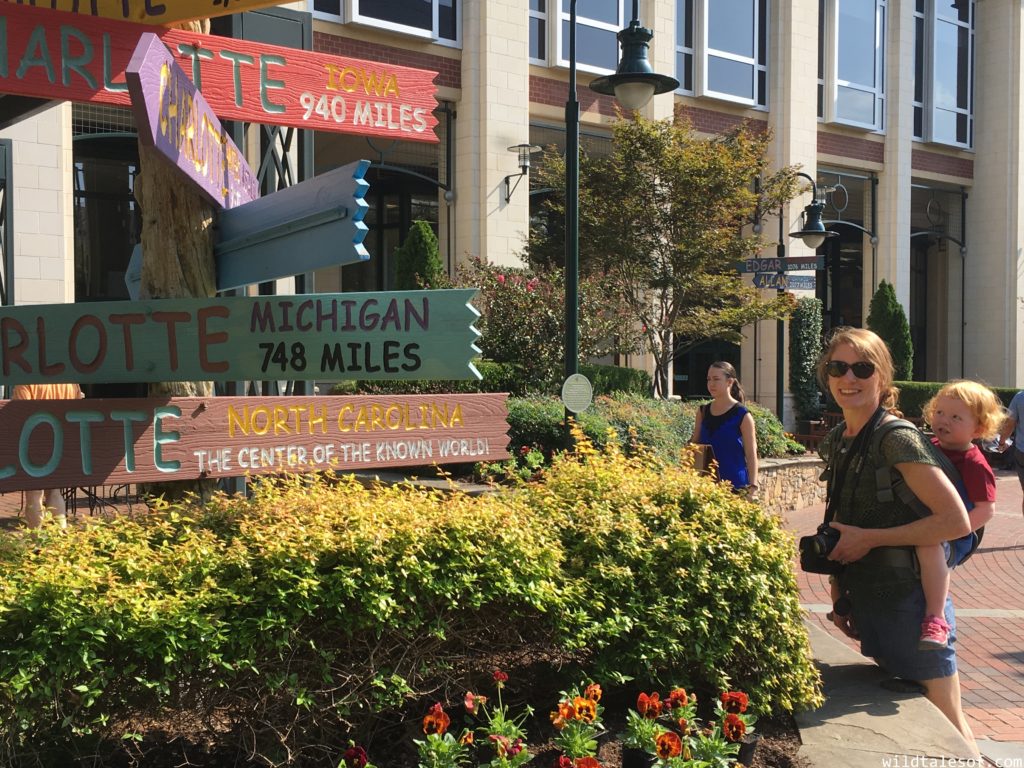 Charlotte Area Visit
Getting back to our itinerary and highlights, we spent 5 nights and roughly 4.5 days in the Charlotte area visiting family and taking in the unseasonably warm temperatures.  Here you'll find a quick overview, plus photo journey.  My hope is that if you find yourself in the Charlotte area, you might find some ideas for fun activities, restaurants, and destinations that the whole family can enjoy!
Day 1: Travel Day
Georgia and I spend the day flying to Raleigh, North Carolina where we then rented a car, and drove the rest of the way to my mom's home in Indian Land, South Carolina (just south of Charlotte, NC). We were blessed to be seated next to another (very sweet) mother and toddler daughter duo.  The girls played, shared toys, entertainment, and snacks, and the other mom and I got the chance to chat.  I must admit, I was skeptical at first, but the companionship turned out be the best thing for our long flight.
Day 2: Uptown Charlotte
Armed with maps and walking tour itineraries, we took the lightrail (called "Lynx") to Charlotte's Uptown area.  I was excited when my mom suggested this for our first full day in town.  I'd explored some parts of Uptown, but I hadn't done a formal walking tour, and just knew the area in bits and pieces.  Like me, you might be wondering, why is it called "Uptown"? And is there a downtown? No, there isn't a downtown Charlotte, though some may call the city center downtown anyway.  Here's what I found out from the Charlotte Observer:
"This was the highest elevation point, and the city grew around it. When people came to this point, they were going 'up,'" Charlotte historian Tom Hanchett says. "The second part is more recent. On Sept. 23, 1974, a City Council proclamation declared that the shopping and business district in the center city be officially named 'Uptown Charlotte.'"
From public art and historical sites to restaurants and museums, the Uptown area has so much to see and do.  Of course, with just a morning and a toddler in tow, we barely scratched the surface.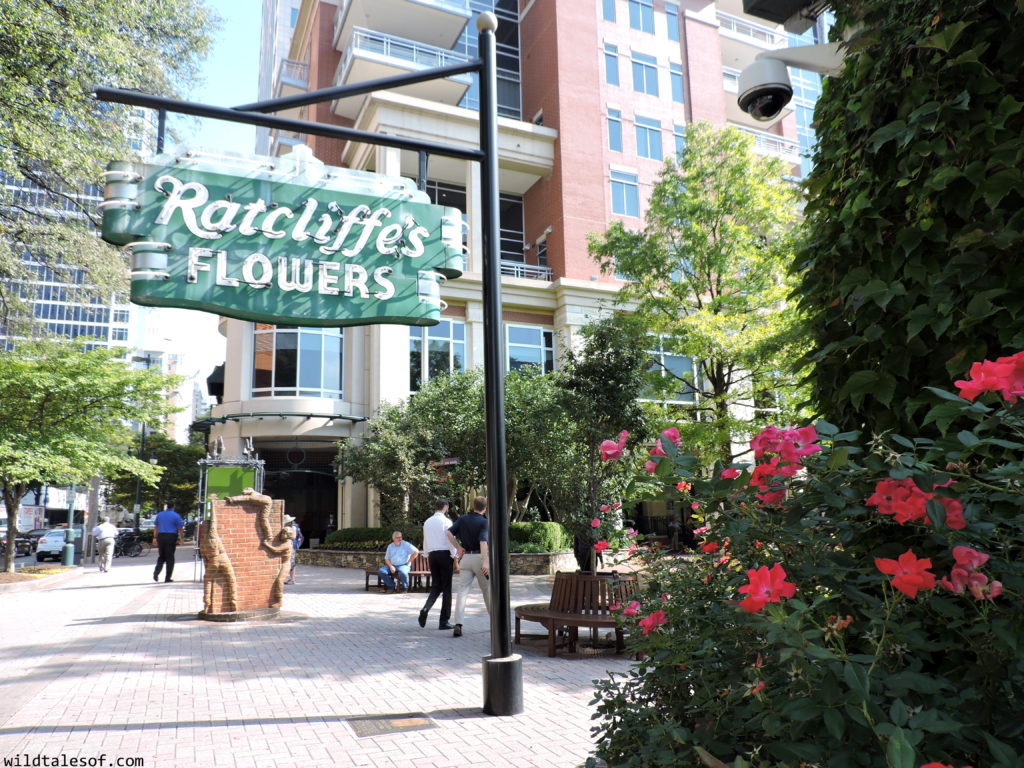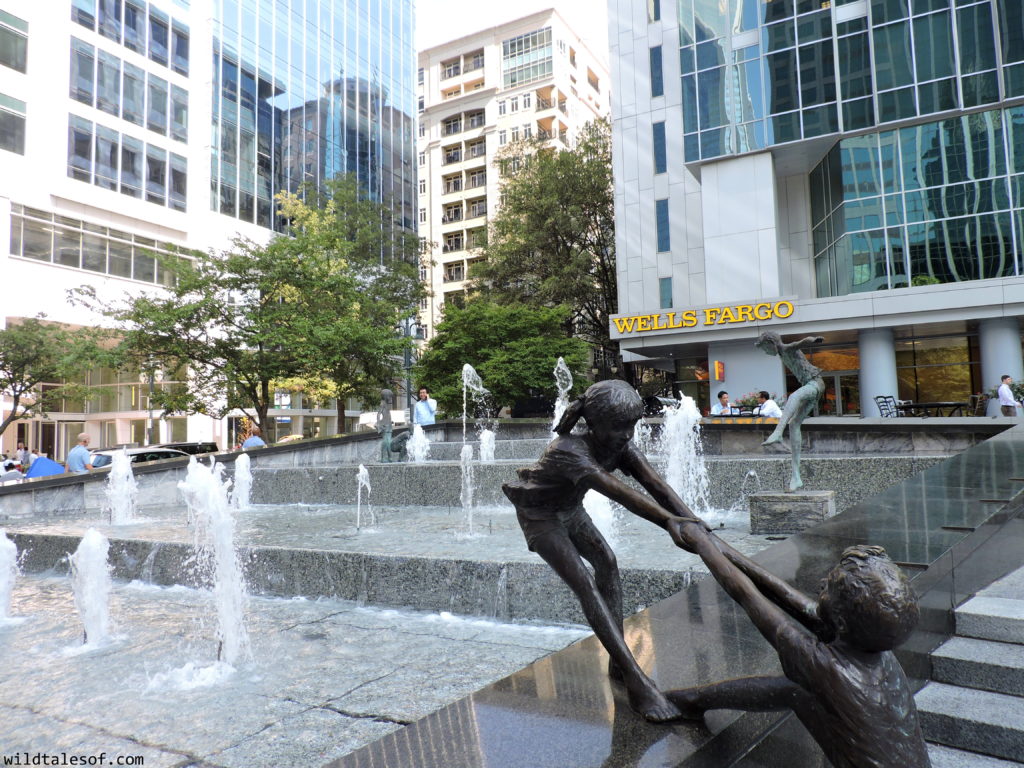 I was so impressed with Uptown Charlotte's public art.  The works add such beauty and playfulness to the bustling city.  After visiting several sites, we found ourselves in front of the Discovery Place, Charlotte's Science and Technology focused museum.  I was pleased to learn that our membership here at Seattle's Pacific Science Center was reciprocated, so it was a no-brainer to give Georgia a break from sightseeing to play and explore in their toddler area. Also, even though it was October, temperatures were quite high (in the mid-80s), so we were more than happy to borrow their air conditioning for a break!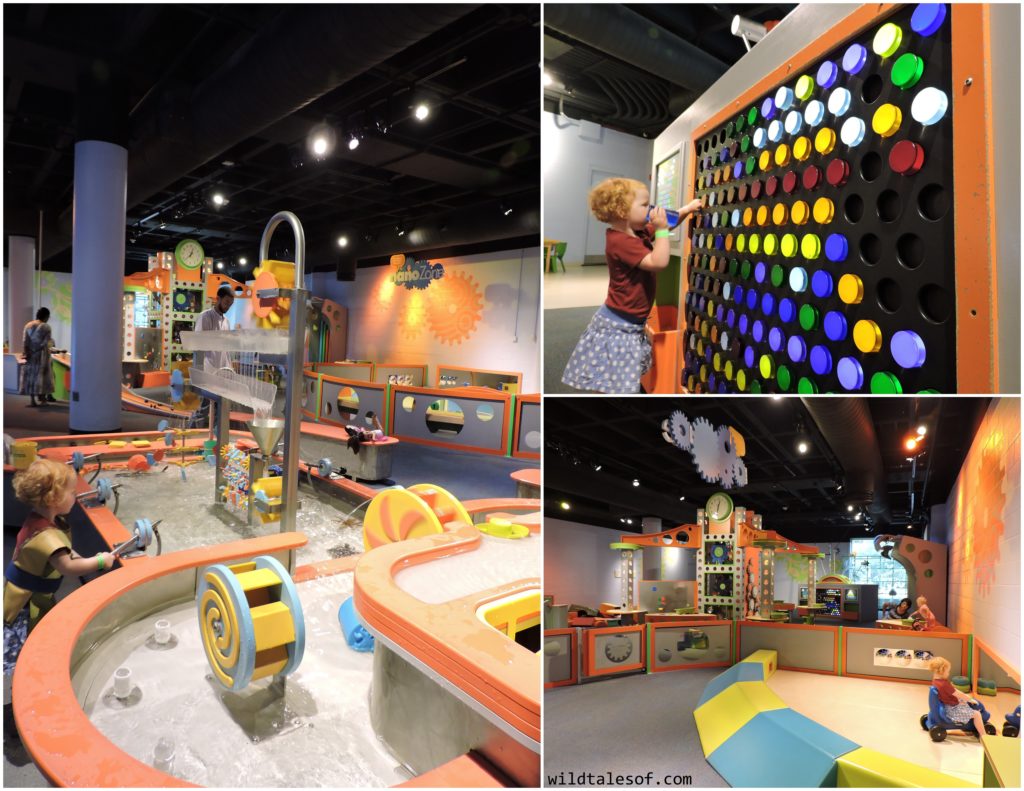 We spent 30 minutes or so in Discovery Place before heading to the 7th Street Public Market for lunch.  Opened in 2012, the 7th Street Public Market is home to eateries, shops, bars, and bakeries all centered around open seating.  What a gem! I love the liveliness of the market, and it's mix of both shopping, grocery, and dining options.  It reminded me of our visit to Wenatchee, Washington's Pybus Market. As you can imagine, it was tough deciding on a lunch spot with so many great choices, but Pure Pizza was the ultimate winner.  Georgia and I devoured one of their calzones, while my mom opted for one of their seasonal pizzas with mushrooms.  Both delicious!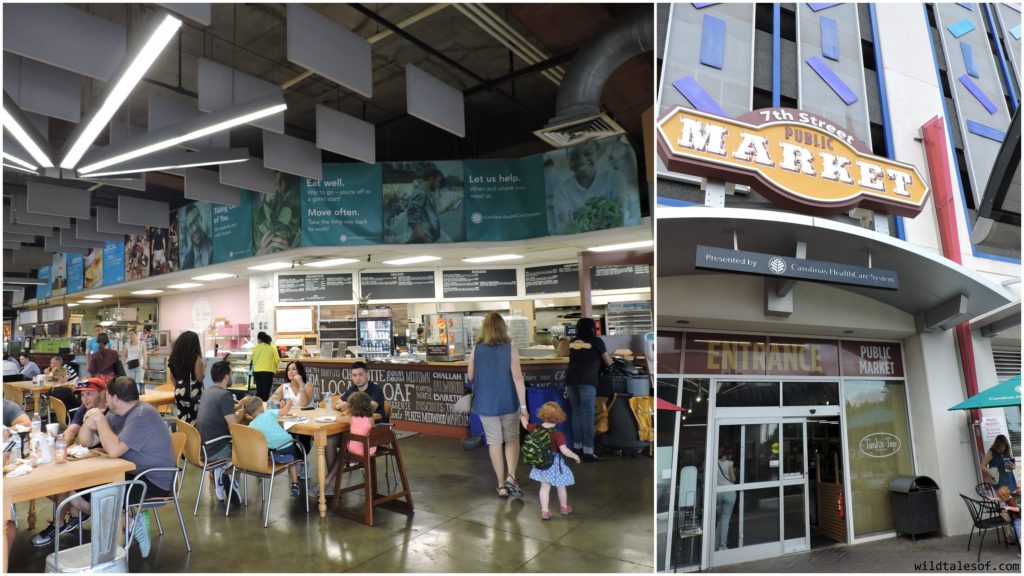 Day 2: Wise Acres Organic Farm: Indian Trail, NC
Georgia and I had so much fun with her cousins, aunt, and grandmother at Wise Acres Organic Farm.  Located in Indian Trail, North Carolina (just outside Charlotte), the farm specializes in pumpkins and strawberries, and offers u-pick options for both.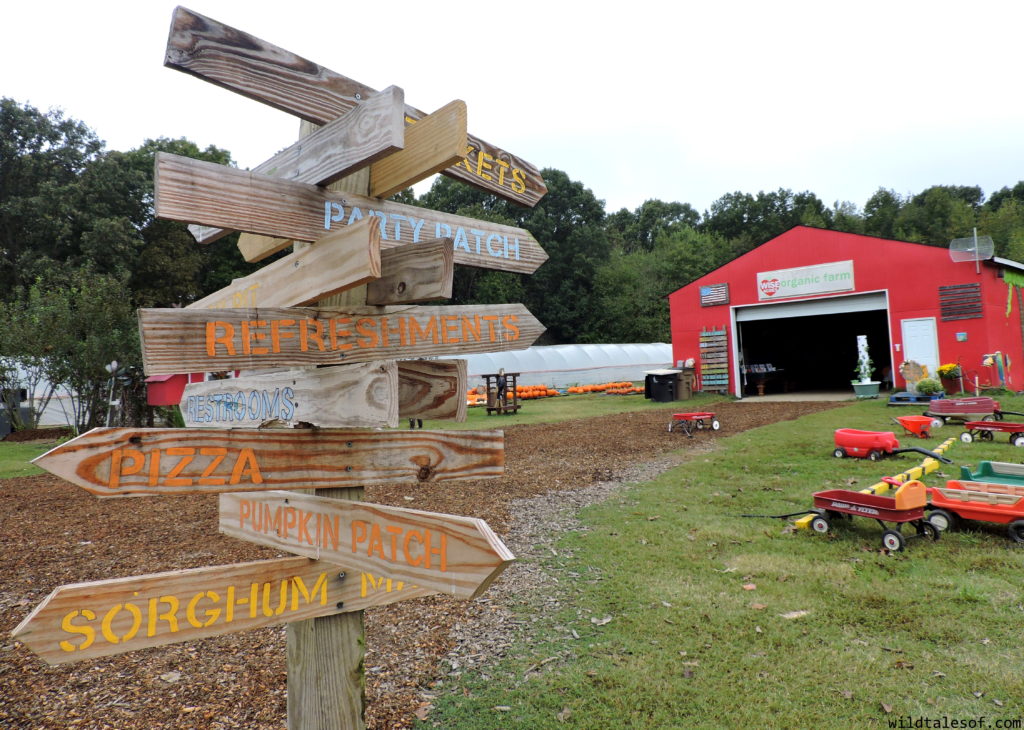 I love the story of this family-owned organic farm. Parents Robb and Cathy left their jobs in finance and business, and moved from Chicago to Indian Trail to live their dream—producing organic food and providing more outdoor time for their children!
We had a blast exploring the property.  We took a tractor ride, played in the corn box, mingled with their farm animals, and even treated ourselves to their wood-fired pizza (not to be missed–their crust is something special!) We learned so much in the process too! Instead of corn, which pulls nutrients from the soil, they chose to grow sorghum for their maze. It's mowed down at the end of the season and actually enriches the soil for their berries.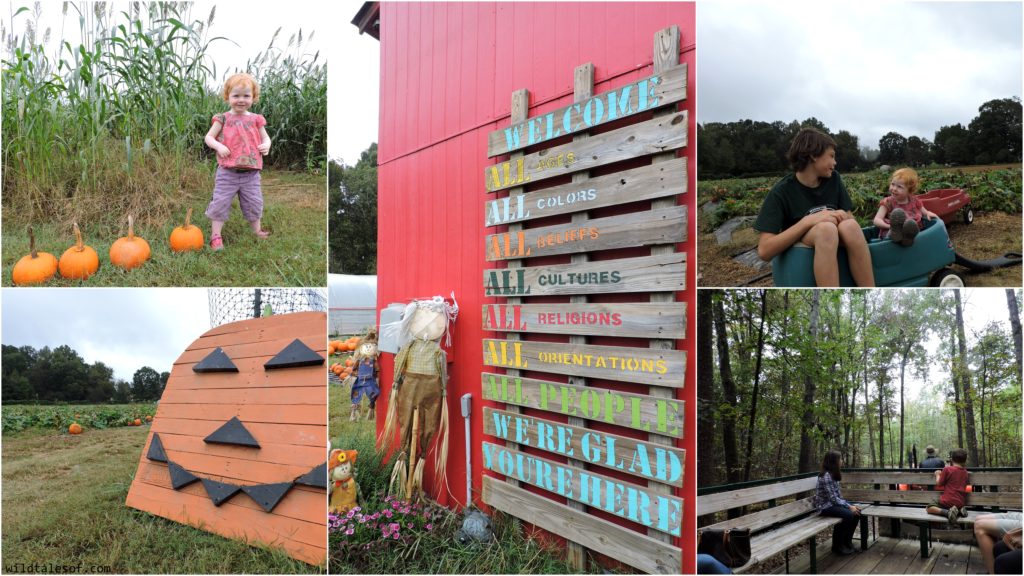 We also enjoyed a fun Oktoberfest celebration later on that evening.  If you are in the Charlotte area in the fall, be sure to check out the Waldhorn Restaurant in Pineville, NC.  Great food, dancing, and of course…beer! Fun for all ages.
Day 3: Discovery Place Nature Museum & Freedom Park
With a lake, several playgrounds (one featuring a Carolina Panthers themed obstacle course), and easy walking paths, my sister and I decided to gather the kids, and head to Charlotte's Freedom Park (located just a few miles from the Uptown area).  As a bonus, we also realized that an offshoot of the main Discovery Place museum in Uptown, the smaller Nature Museum is located adjacent to the Freedom Park.  Again, we were able to use our reciprocal membership, and Georgia explored the thoughtful exhibits with her oldest cousin.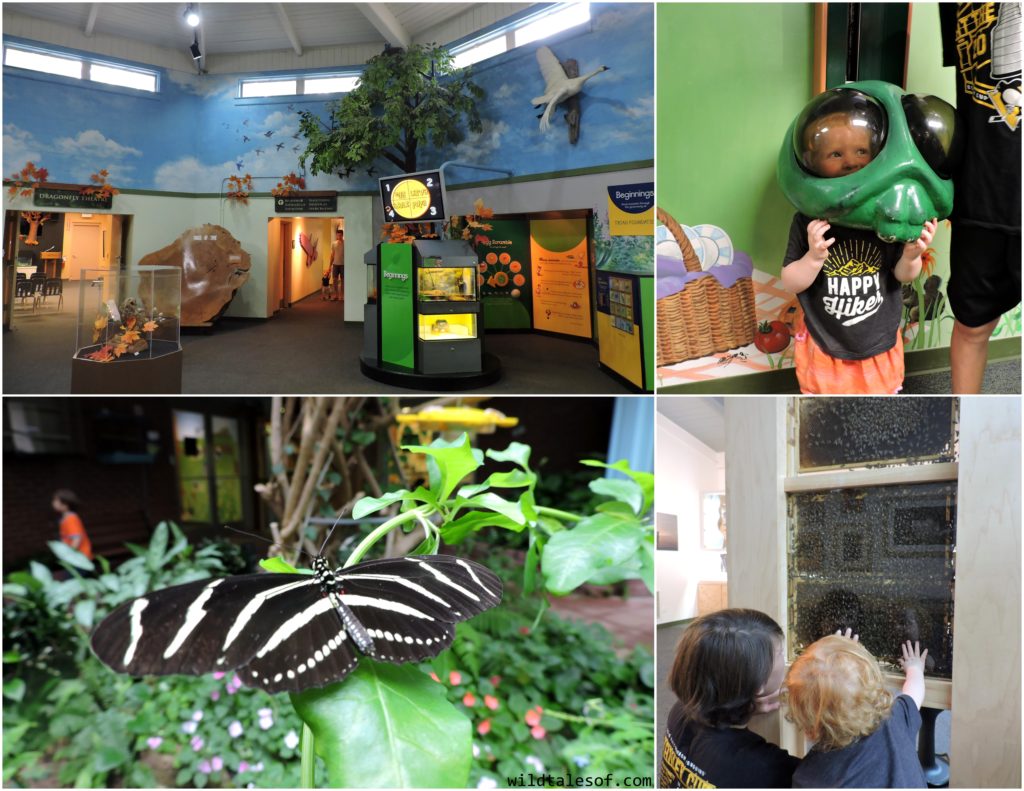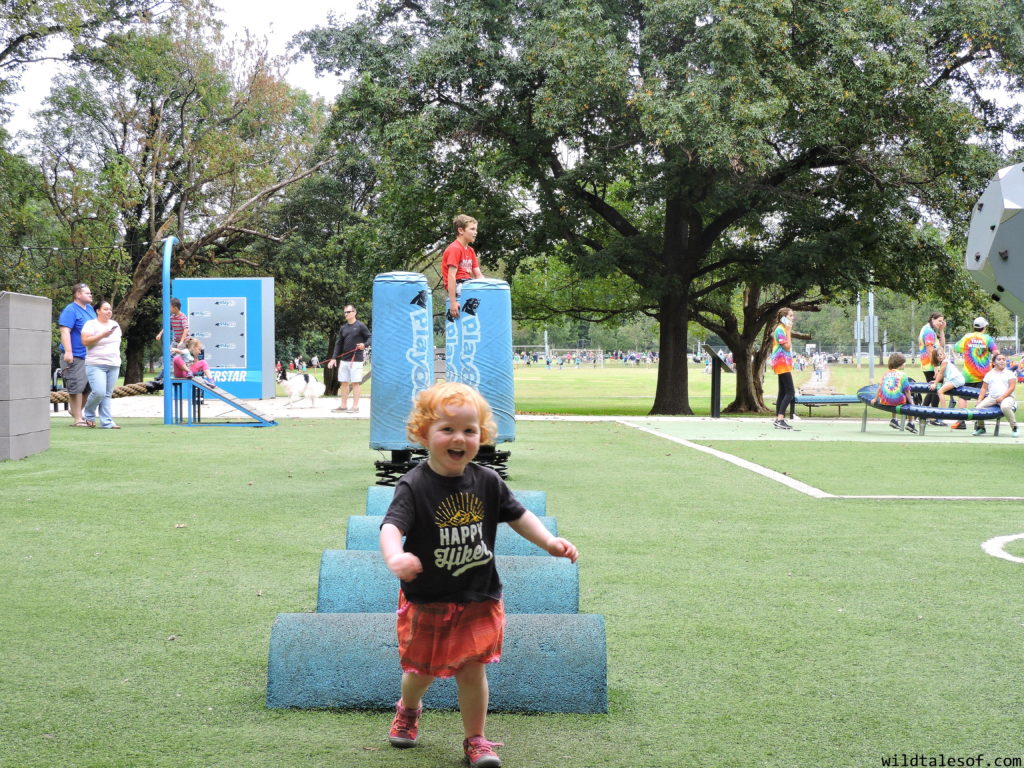 More food recommendations from the evening:
Sabor Latin Street Grill: Delicious fresh Latin American inspired food
Dollar Cone: Located in Monroe, NC, a soft-serve cone with 2 toppings (I went with Chocolate dip & peanuts) is just $1!
Day 4: Anne Close Springs Greenway
Fall was slowly making it's way to the Charlotte area, and Anne Close Springs Greenway was the perfect place enjoy it! This greenway was officially dedicated in 1995. Anne Close Springs didn't want to see her beloved town (Fort Mill,SC) get "swallowed up" by development and sprawl, so she ensured that 2100 acres of land was set aside and preserved. Now it's enjoyed by thousands of visitors each year! "It's habitat, it's history, it's beauty, it's everything."
There are several entrances to the greenway, but we opted to enter at the Dairy Barn, and then hiked to Haigler Lake.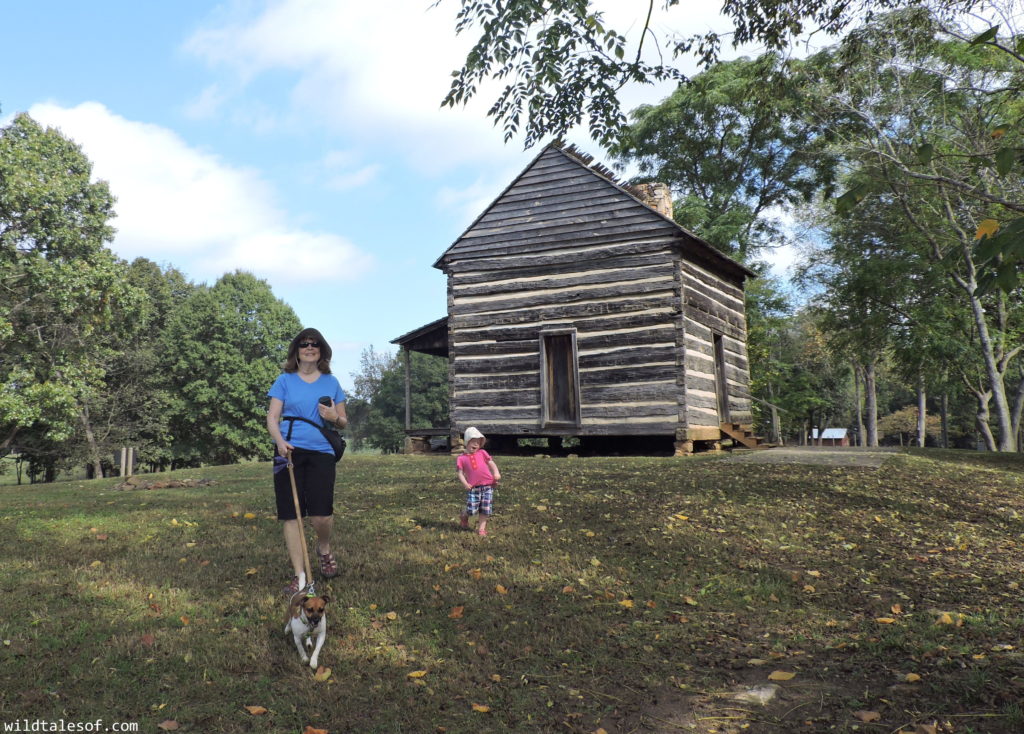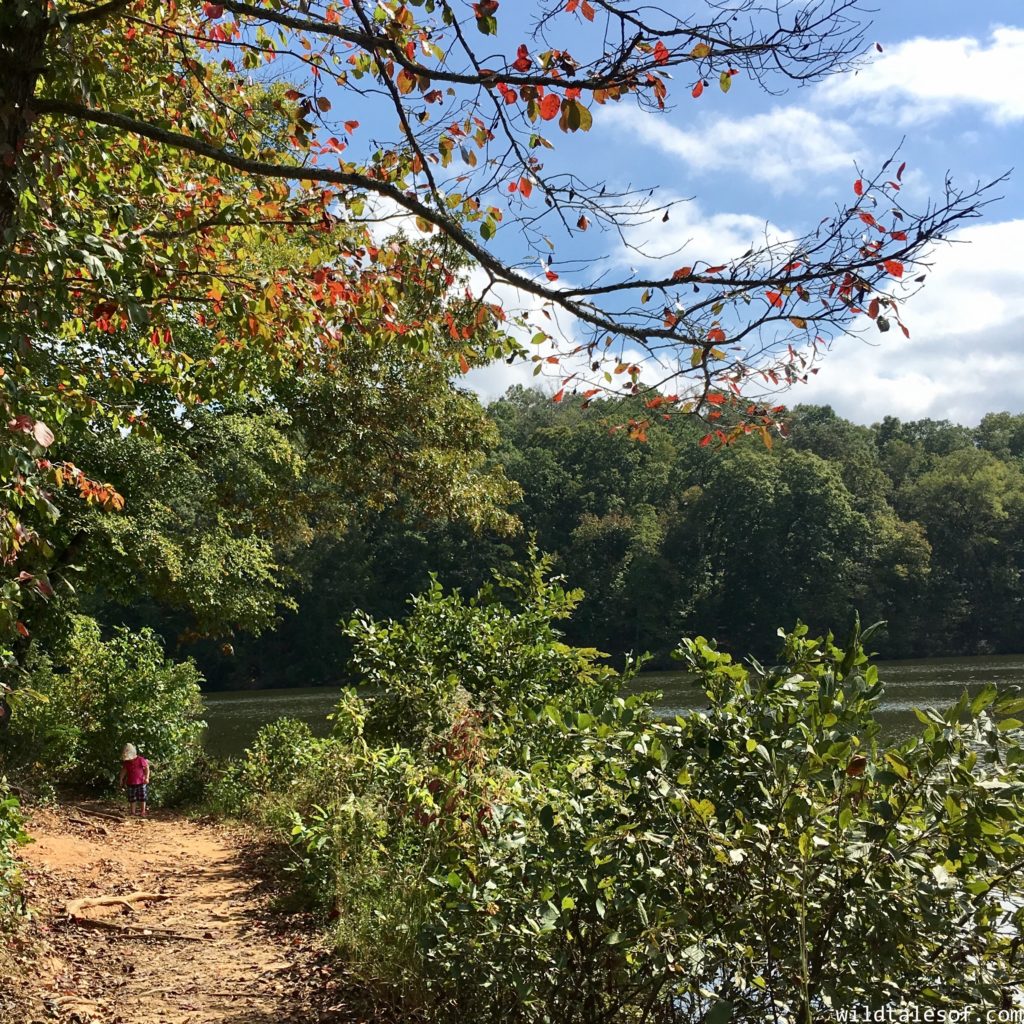 Day 5: Fort Mill, SC + Travel Day
Before we headed home, I wanted the chance to explore more of Fort Mill, South Carolina, located south of Charlotte, and not too far from my mom's home in Indian Land, SC.  Fort Mill's downtown is adorable, and was all dressed up for the fall season.  Each of the downtown businesses created their own scarecrows providing us with fun photo opportunities along the town's main street.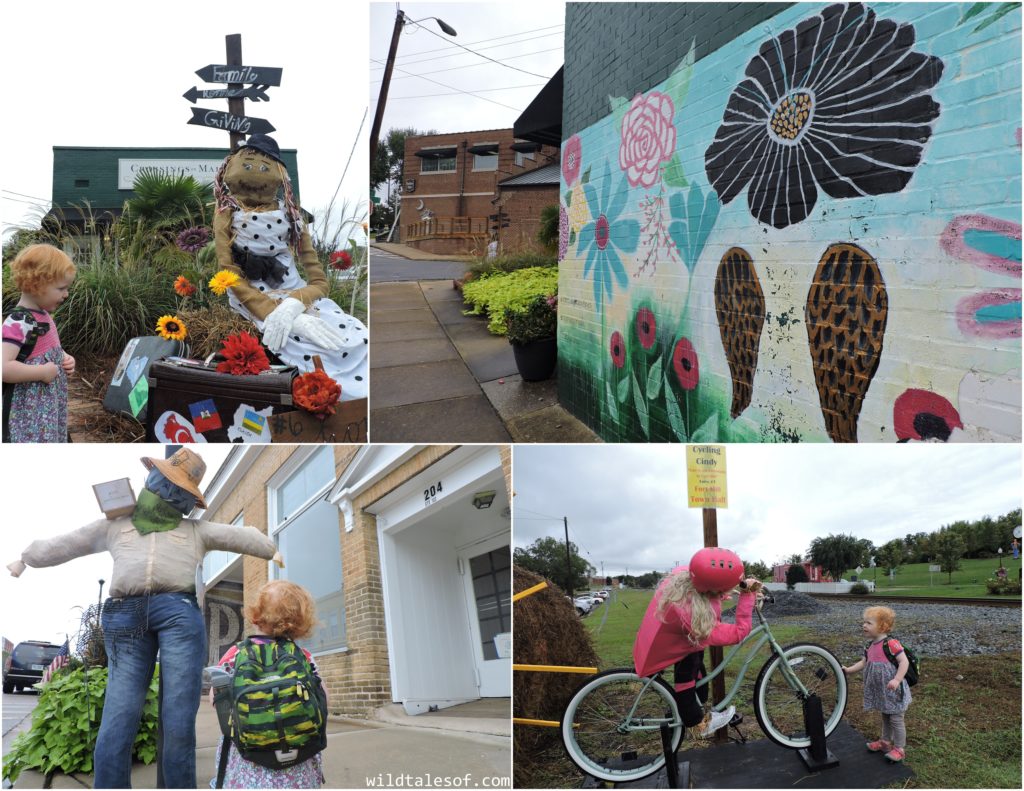 If you are looking for coffee in Fort Mill, SC, we recommend Mud Puddle @ Olive's.  They also serve a delicious chai tea latte, and offer art classes, but parents of young children beware, it's also an art gallery!
We concluded our Charlotte Area adventure with a long drive back to the Raleigh-Durham airport (luckily, Georgia napped!), and yet another surprisingly smooth flight home.  We sat next to a gentleman who couldn't have been nicer.  He didn't mind a bit that he was sitting next to a toddler, and chatted, played, and entertained Georgia like she was his own!
Wondering what's next on our travel calendar? For the Veteran's Day holiday weekend, we headed to Glacier, Washington (near Mount Baker).  We booked a cozy cabin through the unique outdoor accommodations site, Glamping Hub, and look forward to sharing more about our adventure soon!