When you are traveling from your city to another major city, of course it makes sense to fly direct. It's faster and more streamlined–that's no question. But what about (long haul) travel to a smaller area when a layover and 2nd flight is almost always necessary?
You might be surprised, for example that when we travel to the Carolinas to visit family, we often fly to the Atlanta airport.  And instead of catching a connecting flight to Charlotte, we drive over 4 hours to where our family lives.  We had a similar situation with our trip to the Outer Banks in September.  We flew into Washington, D.C. and drove 4.5 hours to our family's cottage in Duck, North Carolina instead of connecting to Norfolk.  Also, instead of flying directly to Wisconsin for a week-long vacation there a couple summers ago, we flew in and out of Chicago, and rented a car to travel to Madison and further north to a small town on Lake Michigan.
We have our reasons, and I thought they might provide some help or ideas in planning your holiday travel and vacations in the new year.  One important factor: These reasons are all based on the fact that we need a car at our destination, and would rent one regardless of how close our ultimate destination was to the airport.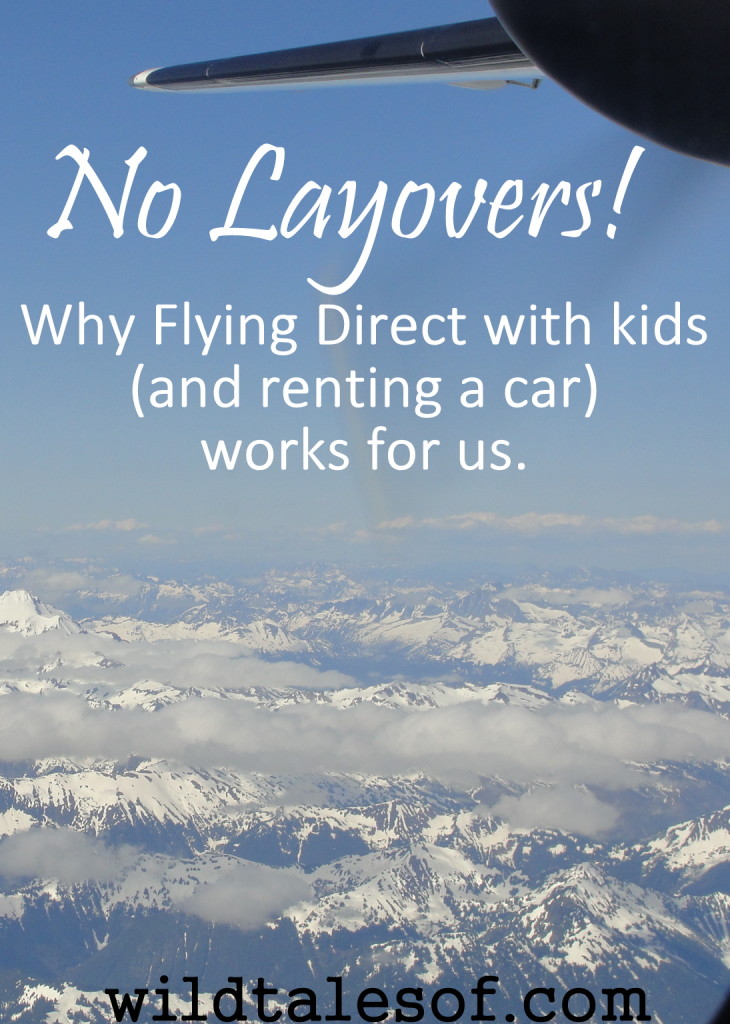 1. Airline Loyalty
As Seattleites, we love Alaska Airlines.  Their headquarters are here in the city, there are always plenty of options for flights out of SeaTac, and most importantly, they treat their customers well.  When we stay loyal, we also rack up frequent flyer miles, which not only equals free travel, but also status in the their MVP program.  Perks like waived baggage fees, upgrades, priority check-in, preferred seating, and so much more are why we make it a priority for at least one of us (usually Slaed) to make MVP.
2. Less Variables
One flight leg makes the entire travel itinerary so much simpler.  No connecting flight means we don't have to be concerned with a layover that is either too long or too short, and we don't have to fret about delays on either end, making that connection, etc.
3. Less time on a plane.
Especially with young children, and maybe even you adults too depending on how you feel about flying, the less time on the airplane the better. Being confined to one tiny airplane seat with just a narrow aisle to walk up and down (as long as their isn't too much turbulence) is hard, and we'd often much rather travel a little extra in the car than put up with another leg of air travel.
4. It's often not that much longer to drive.
By the time you factor in waiting for your connecting flight and flying time, if you are renting a car at your destination anyway, we've found that the time spent is similar.
5. Cost.
Fewer flights means less money spent, and when you factor in tickets for a family of four, the savings can really add up!
6. See more!
We are travelers through and through, and the added bonus of driving the rest of the way to our destination means that we get to see more of the region, and possibly throw in an extra visit somewhere.  With all the traveling we do to the Carolinas to see family, we've also been able to add in visits to Athens, Georgia, Augusta, Georgia, Lawrenceville, Georgia, Columbia, South Carolina, and more.  We often sneak in bonus visits with friends and other family members making the big trek across the country even more worthwhile.
Would you consider flying direct & driving the rest of the way?
Come join the conversation! You can keep up to date with each and every post by subscribing to the blog via email. We'd also love to have you join us on all of our adventures by "liking" our facebook page and following us on twitter! If you enjoyed this post, please "like it", "tweet it" or "pin it"!