We traveled to Wenatchee, Washington (located about 2.5 hours east of Seattle) this fall to escape the hustle and bustle of our busy city before the holidays, and get the chance to take in the beautiful autumn colors of North Central Washington.  However, Wenatchee, and the entire North Central Washington region is a destination that's fitting anytime of year! The area boasts almost 300 days of sunshine annually, yet 4 distinct seasons, making it great for families looking to enjoy the outdoors.
For this particular visit, we had 2 nights to enjoy the small city of about 33,000, also known as the Apple Capital of the World.  Based on our experience, I put together our recommendations for things to do, places to eat, and where to stay when visiting Wenatchee, Washington with kids!
Things to do when Visiting Wenatchee, Washington with Kids
Pybus Market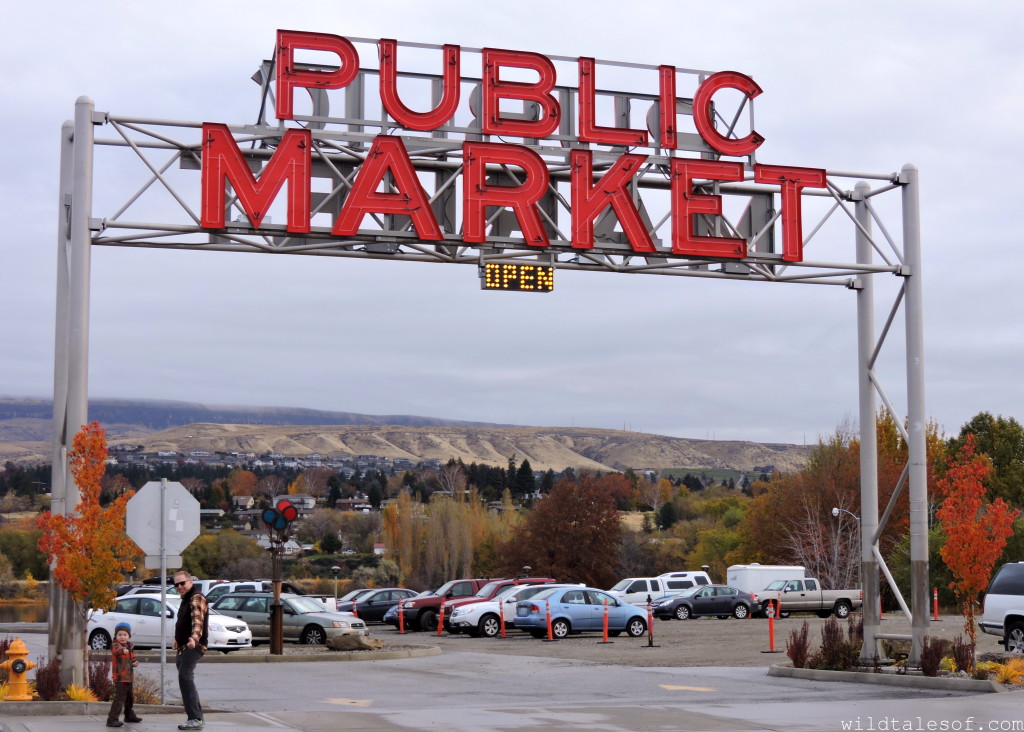 Pybus Market is one of the things that attracted me to the city in the first place.  When Slaed brought home their colorful brochure showcasing local shops, restaurants, farms, and craftsmen/women, I just had to see the place in person! The market has been around for just 2.5 years.  The founders felt that Wenatchee needed a destination for people to gather, and a place where local farmers, artisans, and business owners could sell their goods so they created a vision for a public market, and made it happen! The space is a refurbished steel warehouse (named after the original owner,  E.T. Pybus), and is located just 2 blocks from downtown Wenatchee right along the Columbia River.
Naturally, we spent quite a bit of time at Pybus throughout the weekend.  We toured the entire space, had lunch and dinner on Saturday, and just had to come back in the morning on Sunday for coffee.  We also easily entertained the kids via live music, samples, friendly shopkeepers, and fun little surprises like a piano begging to be played, a bright yellow chair made out of skis, and a giant statue of E.T. Pybus that practically says, "Climb on me!"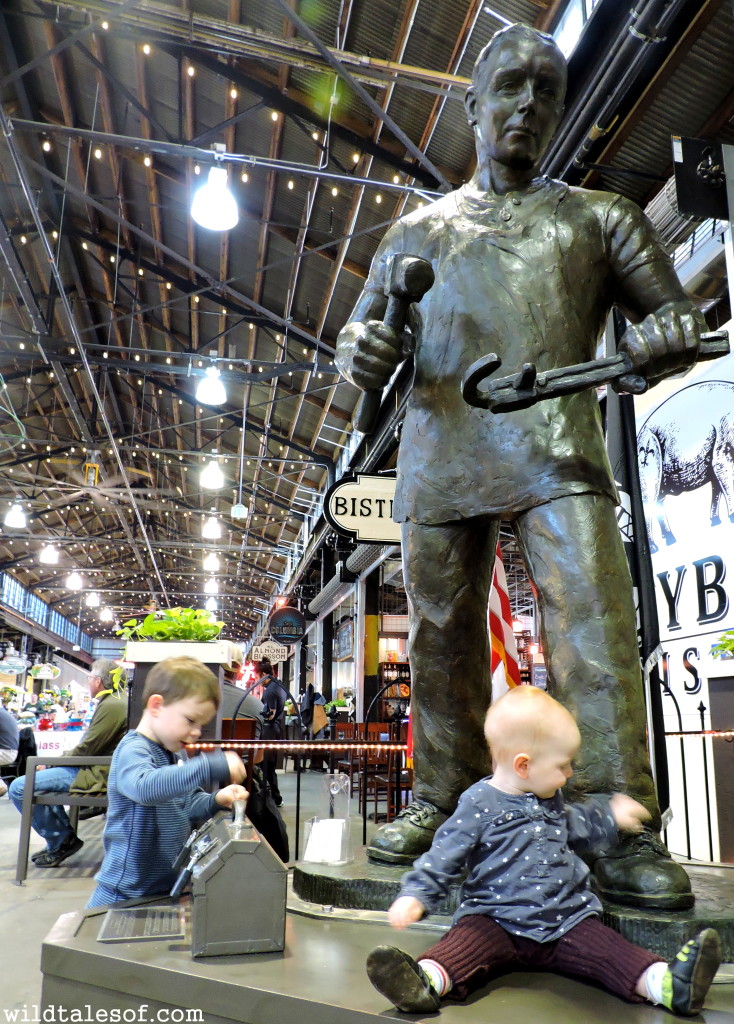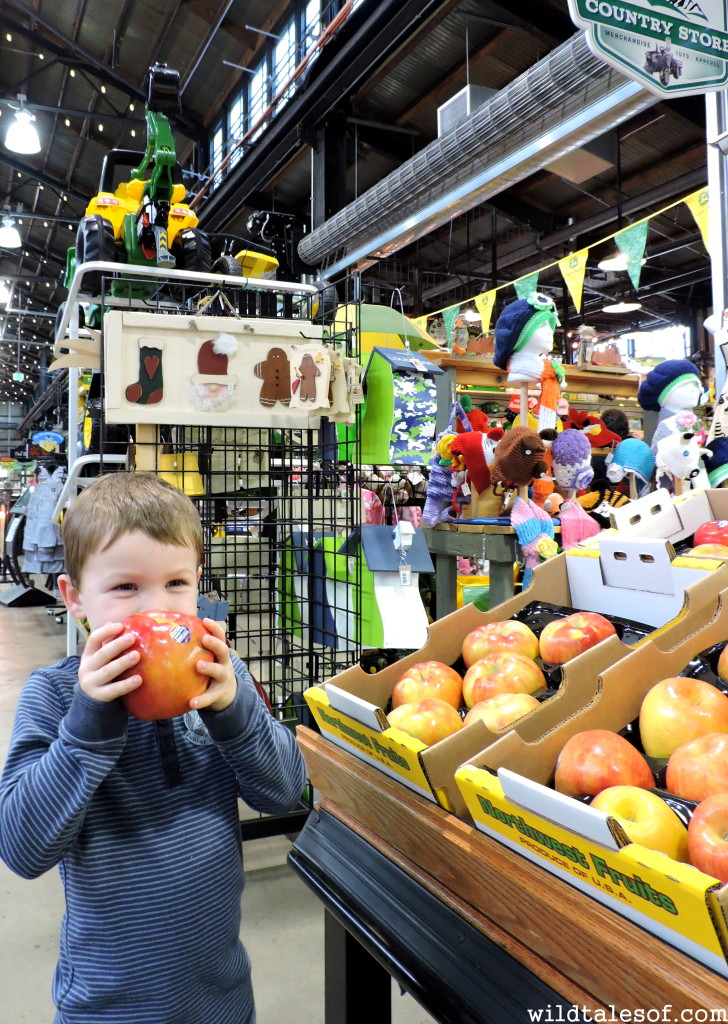 Apple Capital Loop Trail
The Apple Capital Loop Trail is a 10 mile multi-use trail that runs along either side of the Columbia River with crossings at two bridges.  It's a wonderful way to get to know the natural area a bit, and depending on where you access the trail there are various points of interest.  Close to downtown, there is a sculpture garden as well as a mini train station that is open during the summer months. Further out there are several parks; a few of which I'll talk about below.
As a family, we traveled south (starting at Pybus Market) along the trail and made it to the foot bridge before turning around.   Then later on during the day, while Georgia napped, Bergen and I wandered north and took some time to explore the sculpture garden.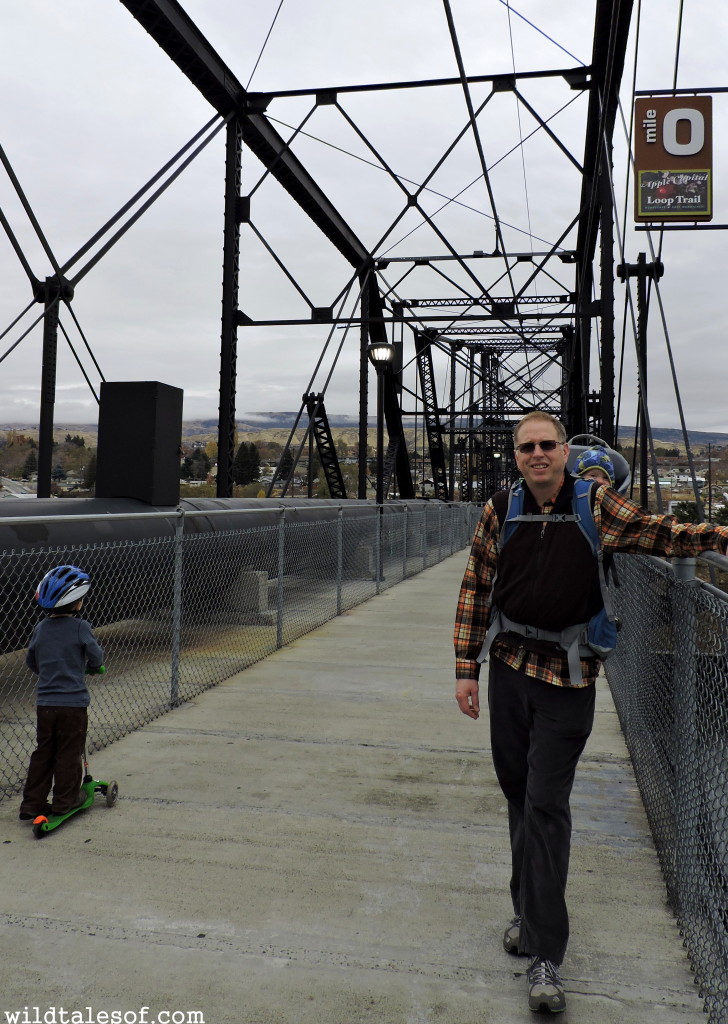 Walla Walla Point Park
Walla Walla Point Park is one of the parks that I mentioned above that can be accessed from the loop trail.  We stopped here on Sunday morning before heading out of town and despite the drizzly weather, we had a lovely time taking in the views.  We even got to talk with an expert Wenatchee resident who pointed out several cormorants to us.  Apparently they camp out on a a fallen log in the middle of the river waiting for salmon to be released from the Rocky Reach Dam (north of the park). Would have loved to see them dive in for a feast!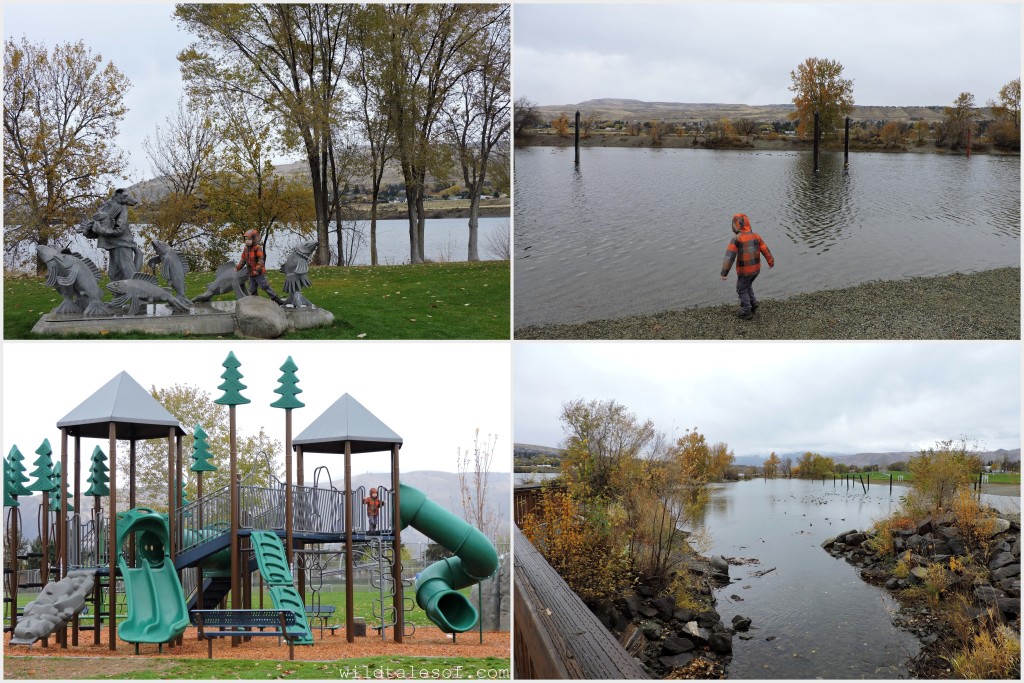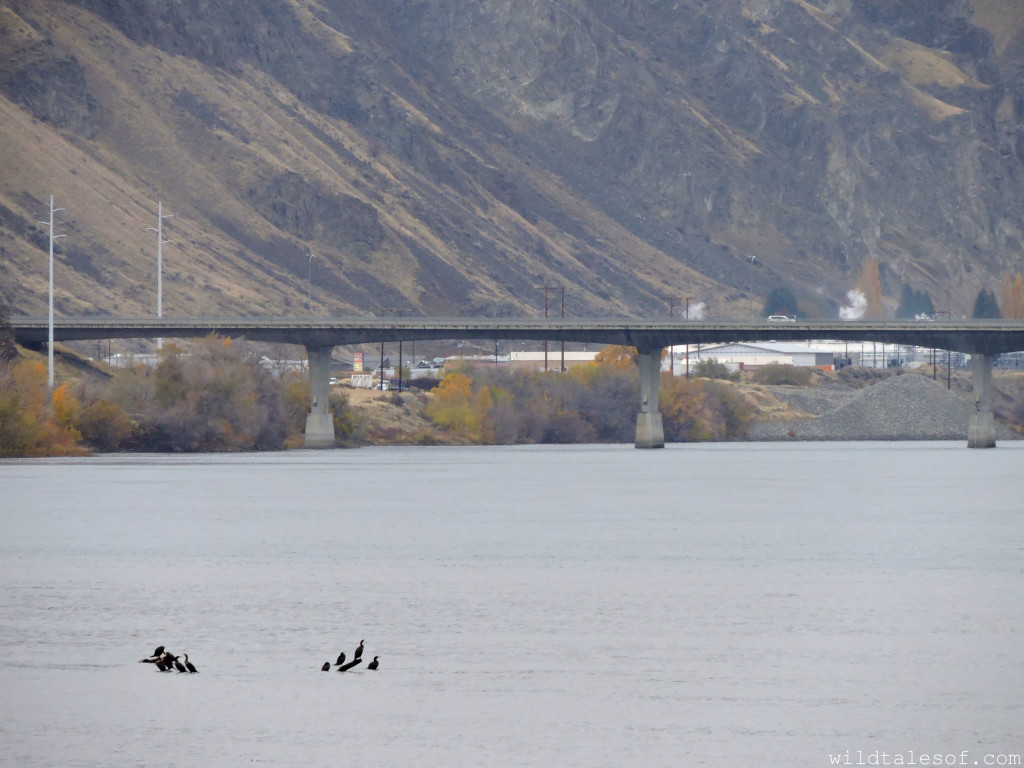 Wenatchee Confluence State Park
Just north of Walla Walla Point Park is the Confluence State Park where the Columbia and Wenatchee Rivers meet.  They are actually connected by the Apple Capital Loop Trail. The Horan Natural Area is also located inside the park making it a wonderful place to get some easy hiking in.  There's a ton of history that's involved in the park as well.  Native people from all over the region gathered here, Wenatchee's first business (a store selling dry goods) was established here in 1872, and it was right around this area where Wenatchee's first apple orchards started popping up in the early 1900s.
Since we had to hit the road and head back home that morning, we only had time to take in the views, but I hope to return to explore the wetlands, and maybe even do some camping!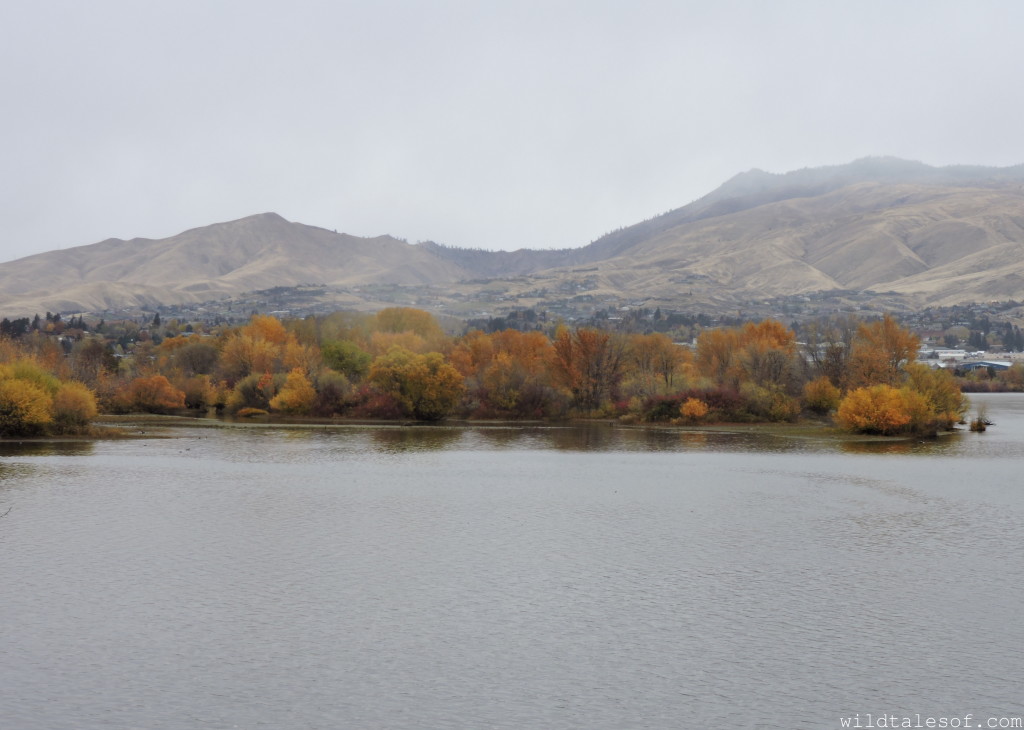 Explore Downtown
With its many charming local shops, Wentachee's downtown is a nice place to roam and shop.  Bergen particularly enjoyed looking at all the art sculptures that are installed all over the city's main streets thanks to Wenatchee's "Art on the Avenues" program.
We found several places that were so welcoming to our children including: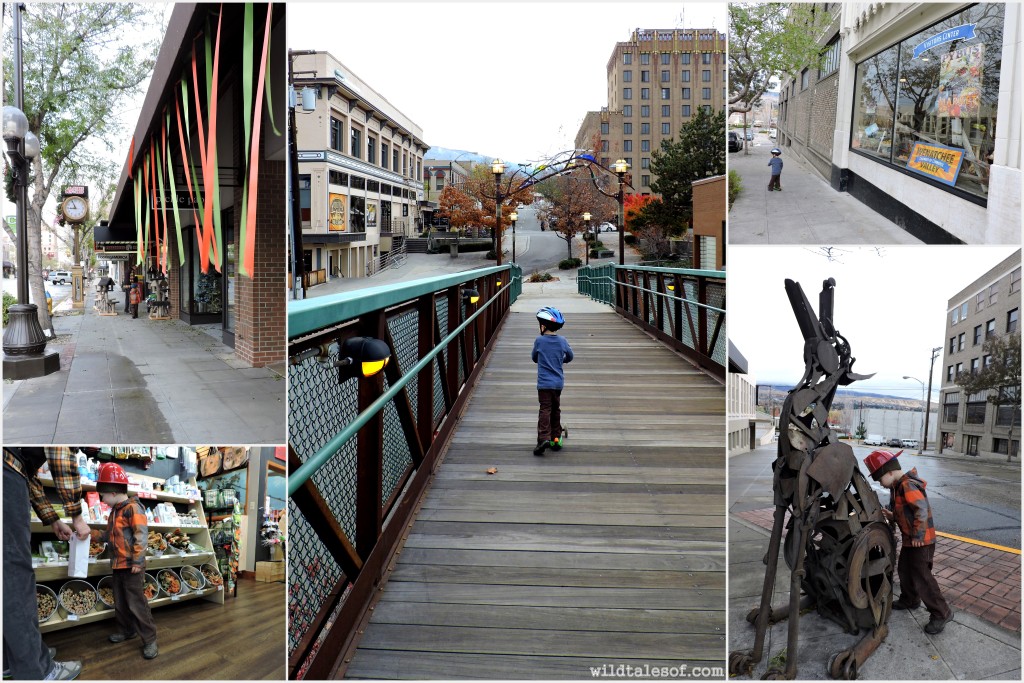 If you need a place to retreat from the weather, check to see if SPORT has an open gym happening.  Perfect place for kids (6 years and younger) to burn off some steam on their equipment! We just happened to be in town when our good friend's son (they live in Wenatchee) was having his birthday party here.  Bergen and Georgia had a blast, and it was a great way for them to take a break and have some true "kid time".
Places to Eat with kids in Wenatchee, Washington
Named after the well-known Wenatchee landmark, a rock formation (and overlook) that really does look like a horse's saddle, this new-to-town pub and brewery serves up some amazingly tasty pizza!
Once we settled into one of their cozy booths and had a look at the menu, we knew since we were in the Apple Capital, we had to try their "Wenatchee" pizza.  The Wenatchee is topped with thinly sliced apples and smoked bacon giving the pizza  a delightfully sweet and savory taste.  Since it's Bergen's favorite, we also ordered their "Crazy Hawaiian"—a delicious take on a classic favorite.  For some reason we worried that two large pizzas wouldn't be enough (our eyes get bigger than our stomachs when we're hungry), and also ordered a small of their pepperoni.  Honestly, it was the best pepperoni pizza Slaed and I have ever tasted, and we've had a lot of pizza in our day!
Service is excellent at Saddle Rock.  Seeing that Bergen was bored of the activity books we brought along for him, our server came by with a huge coloring book and more crayons for him.  We were so appreciative! They have a couple of their own beer offerings as well as lots of choices from other local breweries.  Saddle Rock has been in Wenatchee since October of 2011, but it has some rich history inside.  While dining, we learned that the booth we were sitting at was actually made from wood salvaged from an old dock that was home to the Lady of Lake (a boat that tours nearby Lake Chelan)!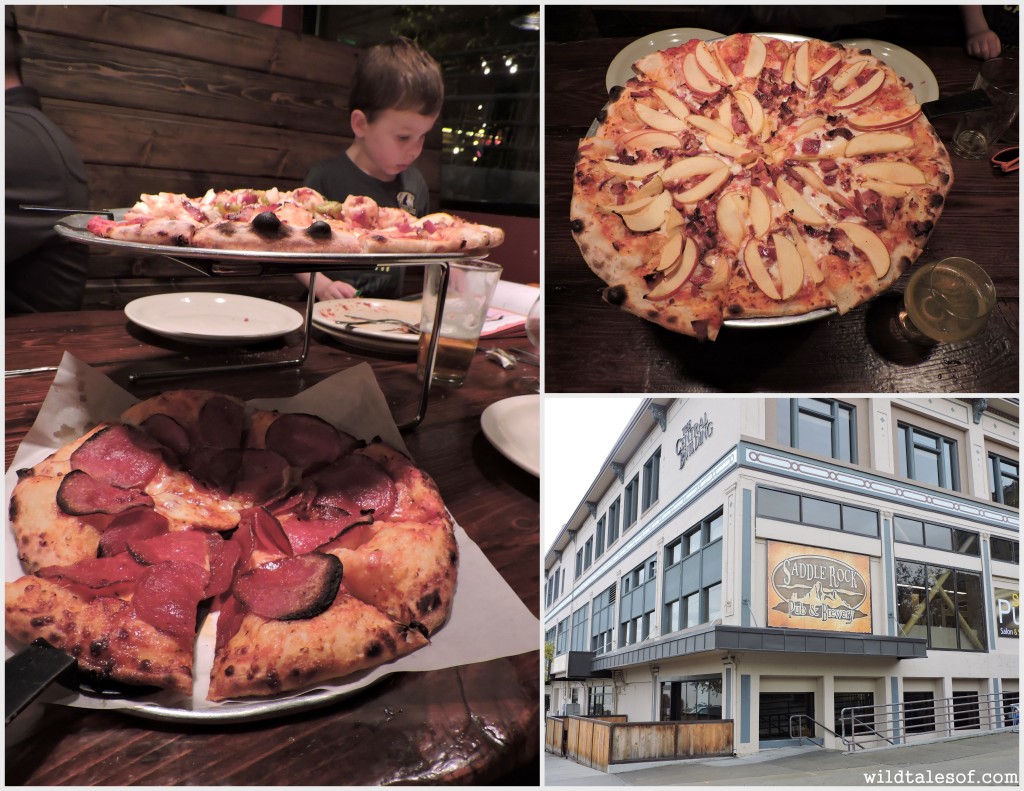 Pybus Market
Pybus Market has 7 restaurants/eateries with a great variety of options from bistro to pizza to crepes (and so much more).  During our stay in Wenatchee, we dined at two spots:
Since Georgia was too tired and had to return to our hotel with Slaed for a nap, Bergen and I got to dine here together, just the two of us, and we had a blast.  Spending one-on-one time with each of my kids is so important and special, and I love that I learned that lesson while traveling in Wenatchee!
South has what we like to call "Fancy Mexican".  Others might call it modern or fresh.  Whatever you call it, it's delicious, and the restaurant happens to have the best location in Pybus with their mezzanine jutting out to give us a full view of the bustling market below.  Bergen had his go-to Mexican dish from the kid's menu, a quesadilla, which they served with orange slices, and I went with carnitas tacos served with cilantro-lime rice.  The carnitas was tender, and paired well with my sweet and tart "Icicle Lemonade", which is made with white wine, tequila, lemon, and soda–so perfectly fresh!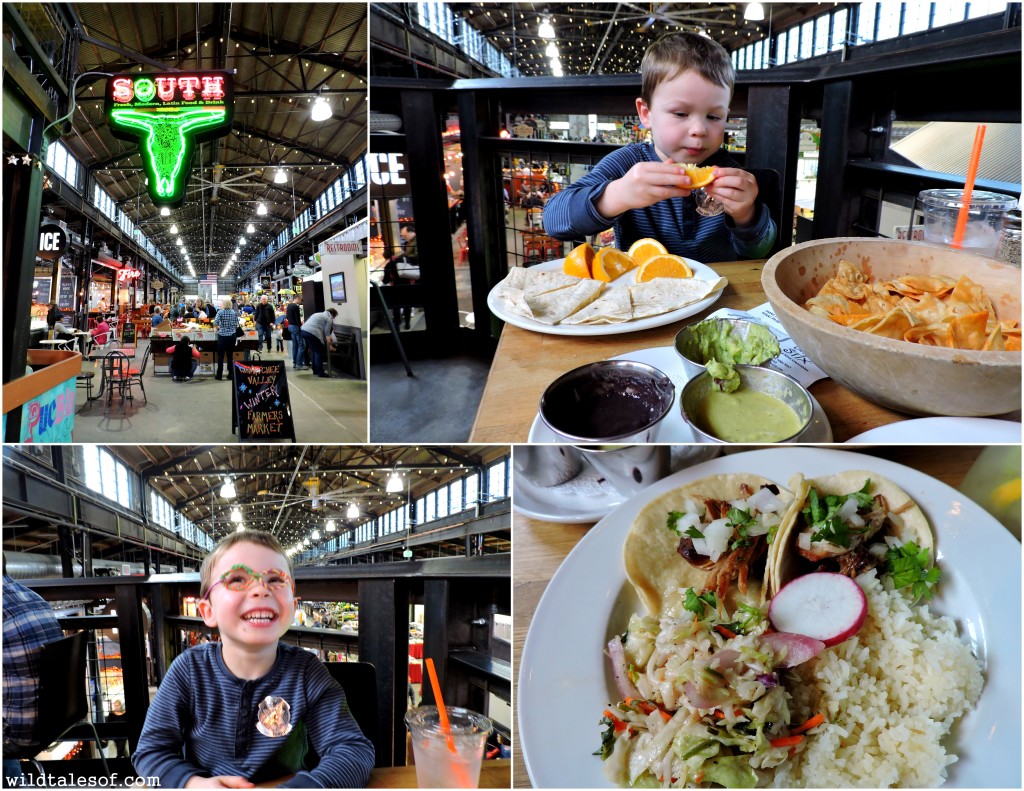 We didn't initially intend to dine here as we wanted to get a feel for the greater Wenatchee area, but I'm so glad the other restaurant we had in mind was too busy! The atmosphere (busy and loud) was exactly what we needed considering the kids were worn out and weary from the long day, and I love that we got to experience the market at night.  Open mic night was happening on the stage and the kids loved watching singers and musicians perform.
At Wenatchee Valley Brewery, we opted for a family-style meal sharing mac and cheese with dungeness crab, a barbecue sandwich, their bratwurst with amazing German potato salad, and a side of broccollini, which was made extra delicious with a balsamic reduction.  Our kids actually love just plain ol'broccoli, but this was extra special!  We hear the pizzas here are also excellent, but since we dined on pizza the night before, we opted to go in a different direction.  Also important to note, WVB is the new kid in town, and they haven't actually started brewing their own beer.  Nevertheless, their selection from other breweries is great with over 20 taps to choose from.
Lisa Bee's Market is located about 15 minutes outside of town in East Wenatchee.  We ventured out here in search of hot apple cider and to get a glimpse of the apple orchards that the Wenatchee Valley is so well known for.  The cider is pressed right on the property, and after Bergen took his first taste, he kept asking for more! While we didn't dine here, sandwiches and wraps are available along with a full drink menu including beer (on tap) and wine. We also got a ton of Christmas shopping accomplished in their retail shop!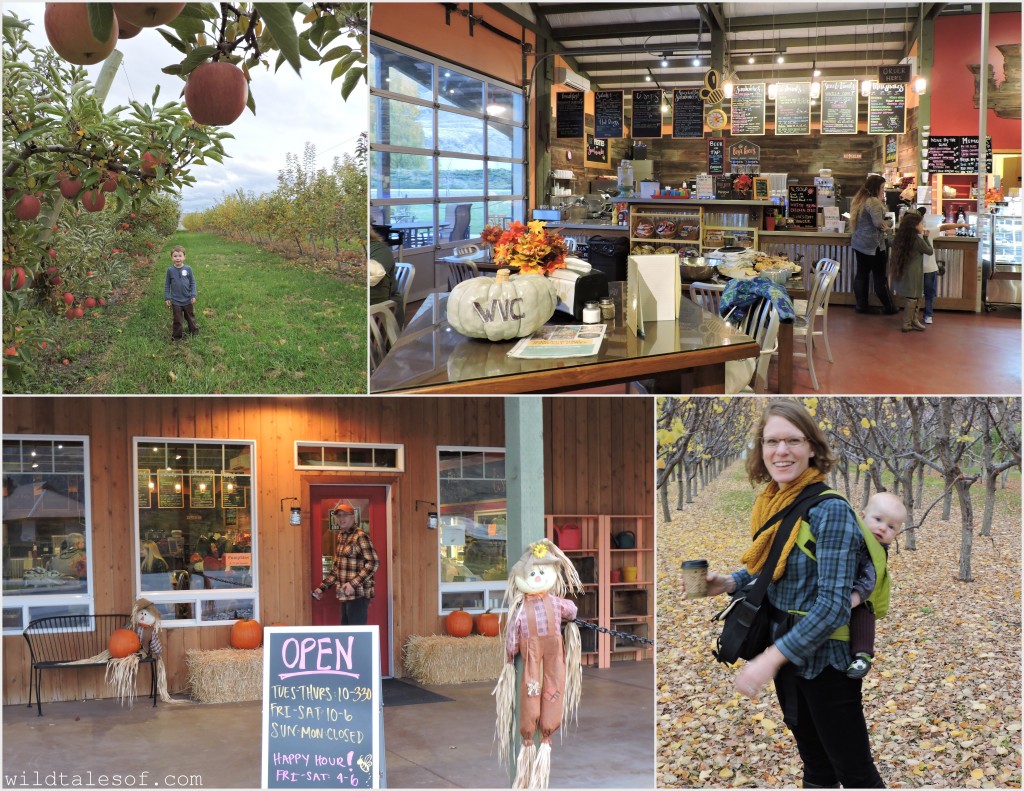 Bergen and I stopped by the soda fountain as we were exploring downtown while Georgia (and Slaed) napped, and I loved the feeling I got when we stepped inside; a sense of a slower paced life where sitting for an hour or two enjoying sweet creations wouldn't be unusual.  The place is warm and inviting, and Bergen was fascinated by the jukebox! Even though we had just come from a huge lunch, I couldn't leave without getting something, so I treated myself to a "real" cherry coke. Just the pick-me-up I needed to push through the rest of our afternoon.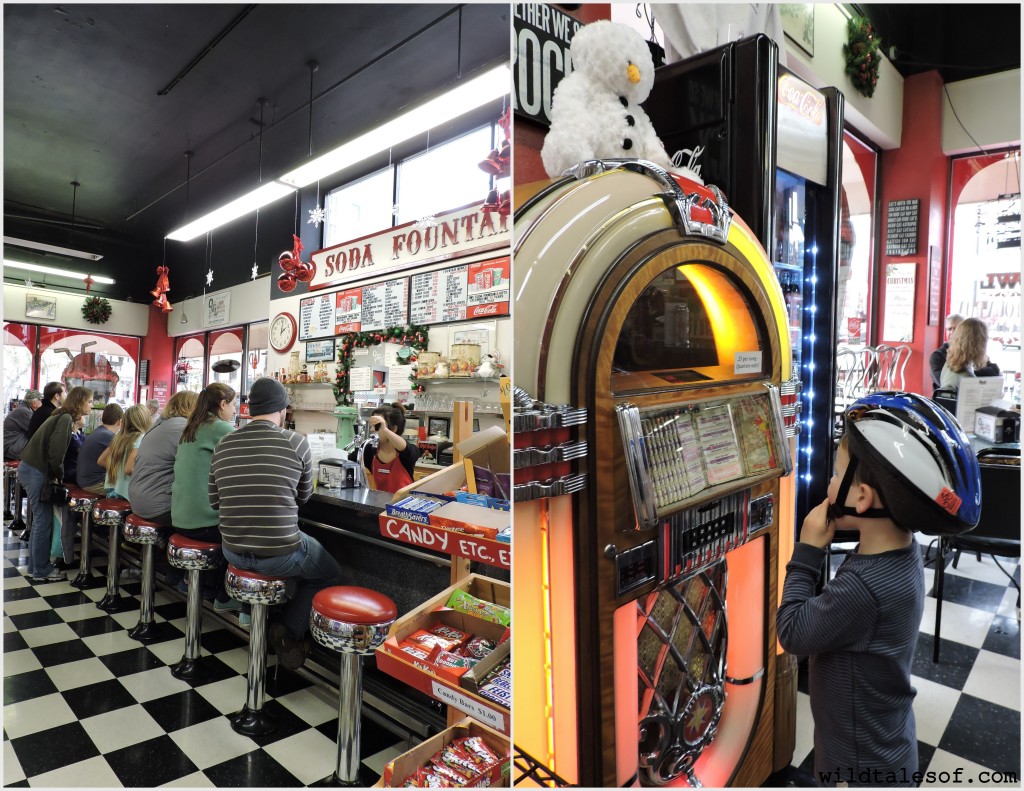 McGlinn's Public House gets an honorable mention since we didn't actually dine here during this particular visit (it was too busy), but our local friends love this family friendly spot, and Slaed has had some good meals here when he's passed through town on business.
Where to Stay in Wenatchee, Washington
We also have a full review of Springhill Suites Wenatchee, but here's a quick overview:
Opening in 2010 and located about 1.5 miles from downtown, Springhill Suites is one of Wenatchee's newest hotels, so it features a very modern layout and decor.  Since we like to spread out, and allow the kids to have sleeping spaces to mimic home, we were able to indulge ourselves with one of their adjoining room set-ups.
Our beds were cozy and comfortable, the hotel provides complimentary (easy to access) wireless internet, and we loved that the "bathroom" was divided into two spaces, with TWO separate sinks.  In other words, there was a shower room with a sink, and a toilet room with a sink.  This meant we could put Georgia (in the crib provided by the hotel) in the shower room, and still have bathroom access after she turned in for the night.  And for those without babies sleeping in the bathroom, it just means you have more overall space for you and your traveling companions to do what you need to do! 
A hot breakfast is also complimentary here.  We enjoyed the offerings (eggs, waffles, cereals, and pastries) each morning during our stay.  Bergen especially appreciated the milk and cookies that are put out every evening, and he and Slaed were happy to unwind in the indoor pool (hot tub & fitness room are also available) each night.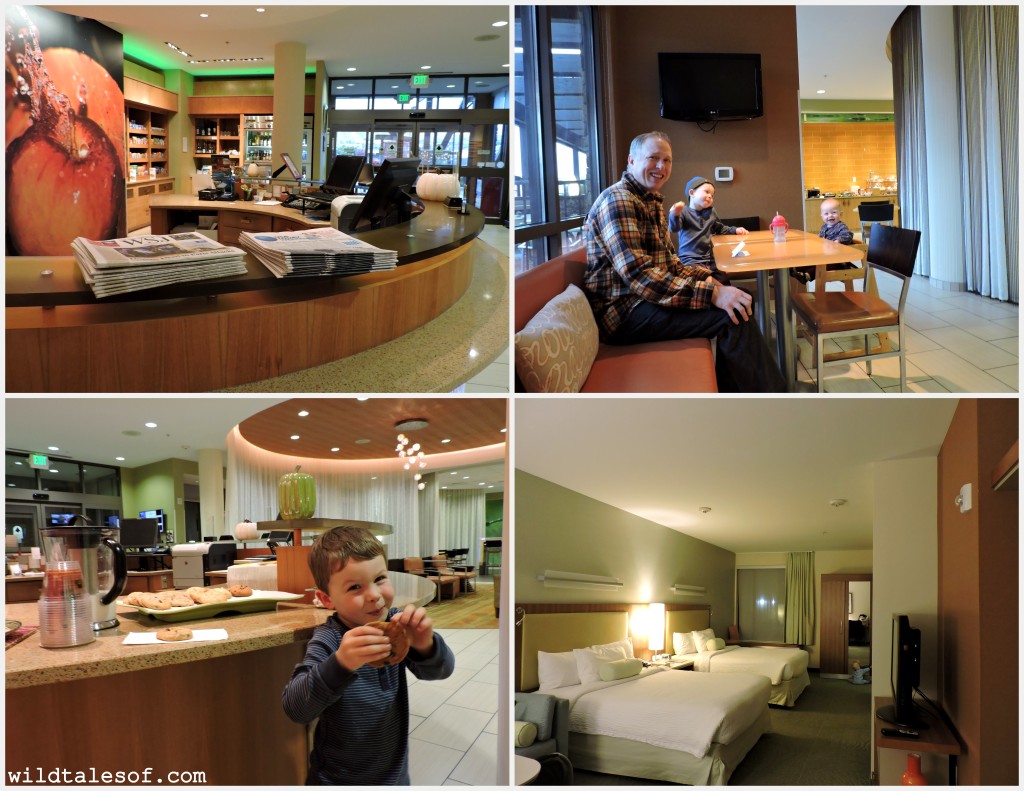 Have you visited Wenatchee, Washington? Let us
know what we need to add to our lists!
A very special thank you to the Wenatchee Valley Chamber of Commerce for hosting us (including hotel stay, meals at Saddle Rock & South, and activities) and arranging our itinerary during our stay in town. As always, all opinions expressed here are my own.
Come join the conversation! You can keep up to date with each and every post by subscribing to the blog via email. We'd also love to have you join us on all of our adventures by "liking" our facebook page and following us on twitter! If you enjoyed this post, please "like it", "tweet it" or "pin it"!