When is the last time you put together a jigsaw puzzle? We're not counting those under 100 pieces completed with your kids. After our experience renting a Mount Baker Chalet, the jigsaw puzzle (500 pieces or more) will forever be the reference upon which I measure our level of relaxation.  Opportunities to read entire books or take a certain amount of naps may come in close second or third.
We only stayed in the chalet for 2 nights, but the feeling of truly being able to getaway from the noise, busyness, and stress of our everyday life was remarkable.  There were several factors that led to this restful state:
Space–We had more than enough room (probably too much) for our family to spread out.
Small town–Friendly people with just the right amount of shops, restaurants, and services.
Adventure at our finger tips–Quick drives (or even just walking out the door) to amazing hikes and outdoor experiences.
No cell service–We appreciated the forced break from our phones and other electronic devices due to spotty service.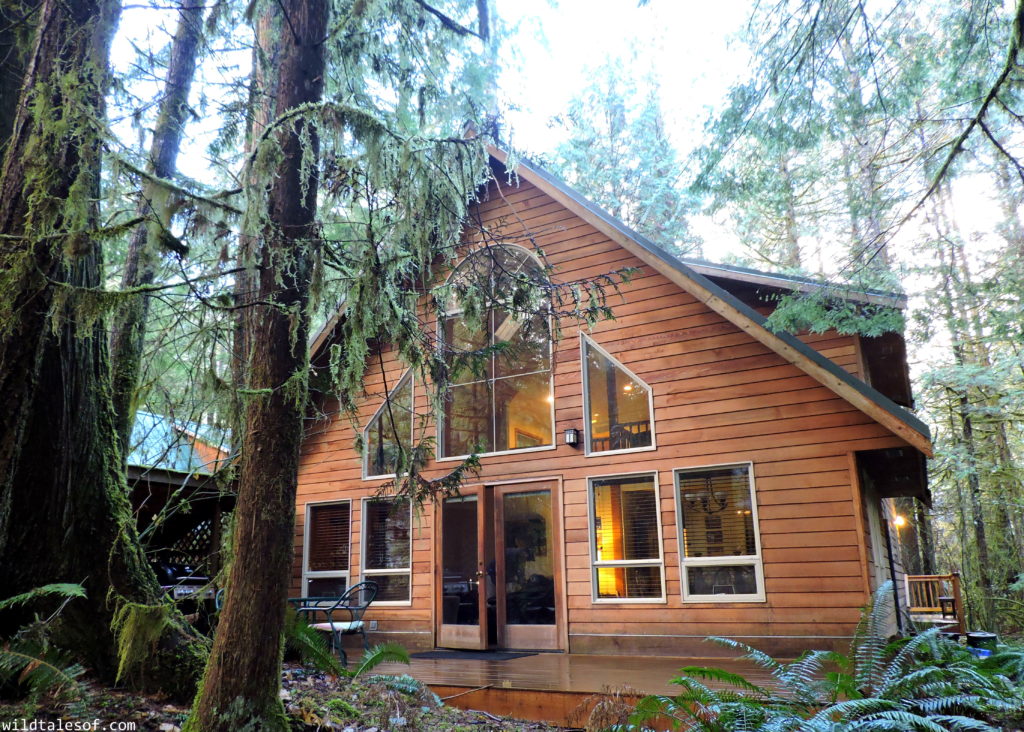 Location: Glacier, Washington (near Mount Baker)
The chalet we rented through the nature-based accommodation (think cabins, yurts, fancy tents) site, Glamping Hub is located in the town of Glacier, Washington.  Glacier is just over 2 hours from Seattle, and an hour northeast of Bellingham, Washington.  The home is part of the historic Snowline, which is a residential community (though many offer their properties for rent) of over 300 homes with year-round access and activities.  From Snowline, the Mount Baker ski area is just a 30 minute scenic drive.
Video Tour of the Chalet
A quick glimpse of the Mount Baker chalet room by room:
Lay-out of the Mount Baker Chalet
As I mentioned above, the chalet is very spacious, and provided more than enough room for our family of four.  Here's an overview of the home's layout:
First things first, the hot tub is located just outside the main door.  I didn't realize how much my family (with the exception of Georgia) would enjoy this feature.  We loved how easy it was just to tuck right outside, and have the chance to unwind and warm-up.  After the drive, and carrying Georgia on our hike, my back was unusually sore.  The hot tub just melted all that pain away.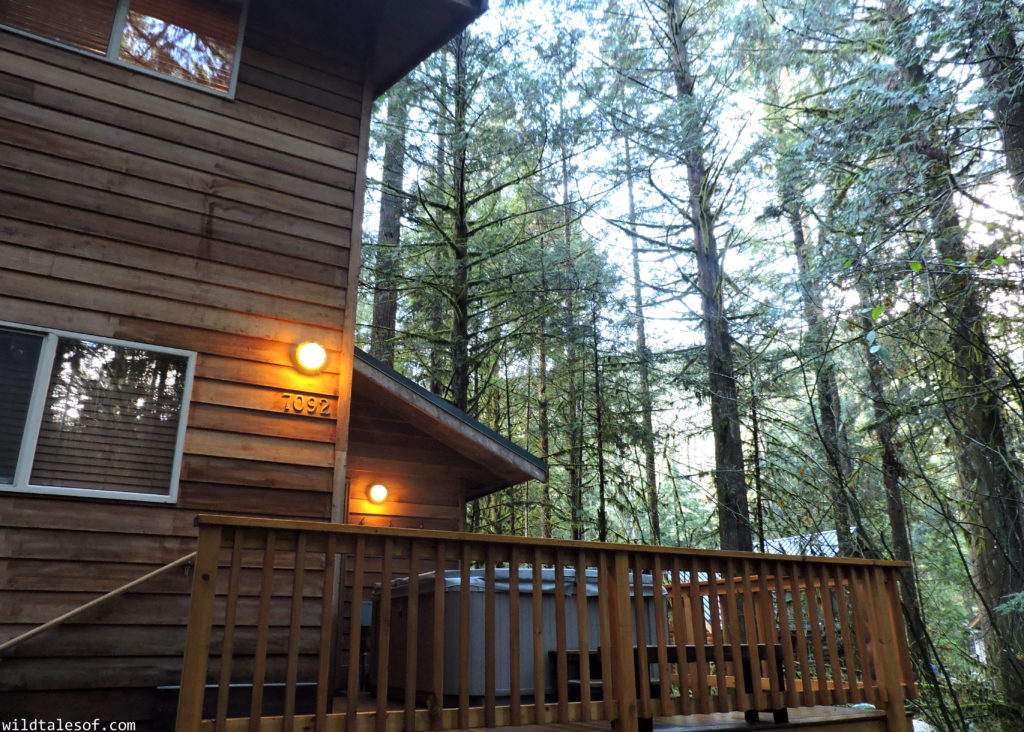 A large entry way greeted us as we stepped inside the chalet, which especially with 2 kids and a dog, this is much appreciated.  Even without skiing, snowboarding or snowshoeing, we had so much gear to protect us from the rain and cold.  The entry way gave us an open space to keep everything organized with plenty of hooks for drying items, and a long bench to sit and take shoes on and off.  Puzzles and games are also stored here.
Next, two identical bedrooms (located just across from each other) provide sleeping for 4 with queen beds in each.  Just like at home, our kids slept in their own rooms, and it was easy to set-up Georgia's travel crib.  Rooms also have sufficient closet space and dressers for organizing clothes and other personal items.  Just down the hall from the two bedrooms is a large bathroom with shower.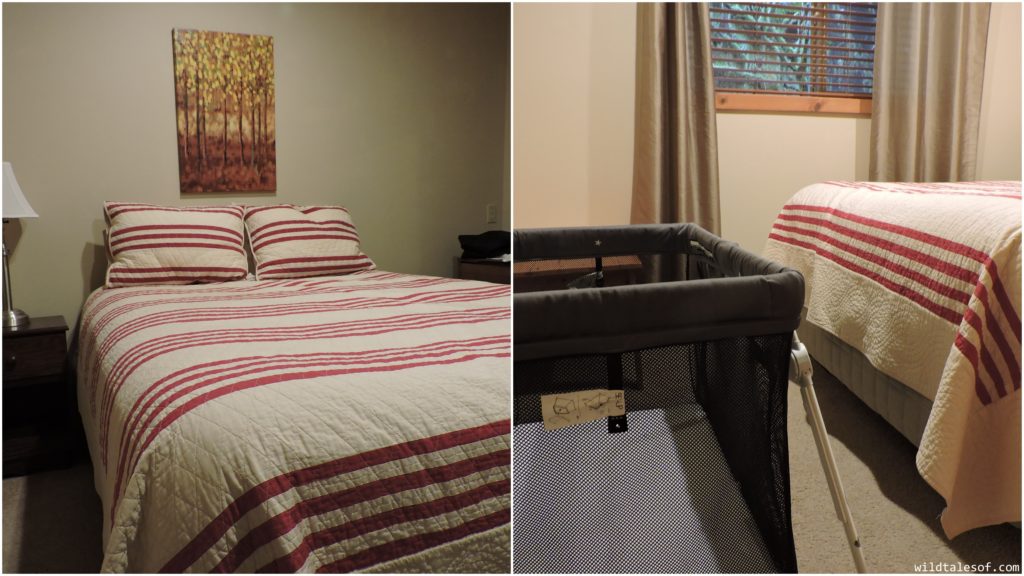 The kitchen, dining area, and living room are open concept, which we really loved.  The kids could play in the living room or at the table while Slaed and I cooked meals and prepared for our next adventure.  We found that the kitchen was well equipped.  We swapped between dining out in town, and cooking meals at home, and didn't have any issues with supplies, but do note that if you plan to cook, there are no "essentials" such as salt, pepper, oil, etc stored in the chalet.
A large dining room table allowed us to comfortably gather for meals, and provided space for our epic puzzle completion mentioned previously! Each evening, Slaed made a fire in the wood burning stove, adding warmth and that dreamy atmosphere that we all crave in a rustic mountain retreat.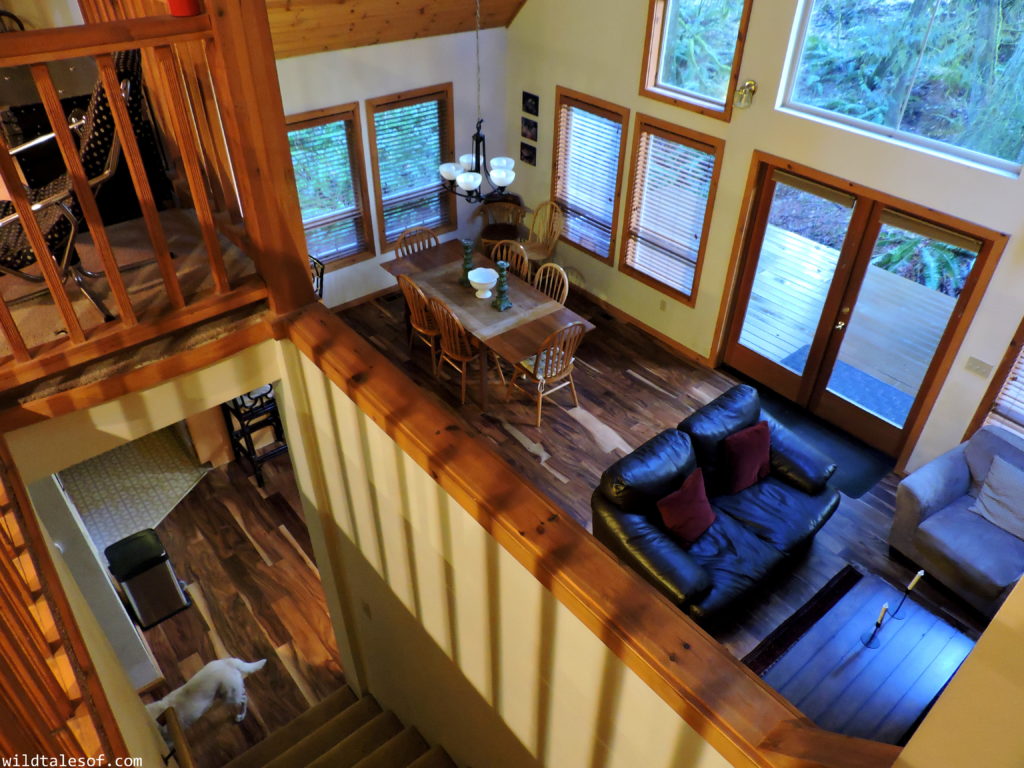 Immediately upstairs is a large loft area with a big screen television (no cable or satellite service), plenty of seating, and a set of bunk beds.  This was one of the keys to our relaxation.  After hiking and exploring for the day, we set the kids up with Mary Poppins (provided) and popcorn while Slaed and I enjoyed local wine and serious puzzle completion.
Just off of the loft space is the master bedroom furnished with a king-sized bed.  The room is separated by a door, so there is plenty of privacy.  The upstairs also has a full bathroom with bathtub, much appreciated by our little toddler.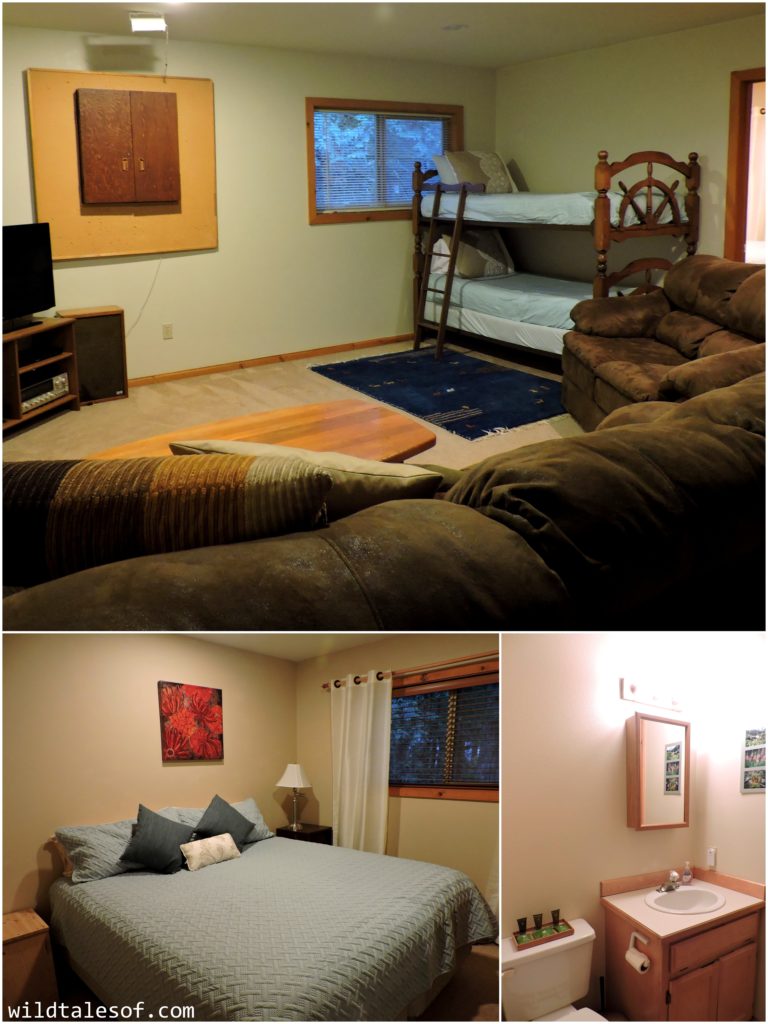 There are a few steps that need to be taken to access the rental, but it all worked out seamlessly, and we were grateful for an early check-in.  A key card to the community gate must first be obtained at the property manager's office in town, and then codes are given out to access the key from the lock box.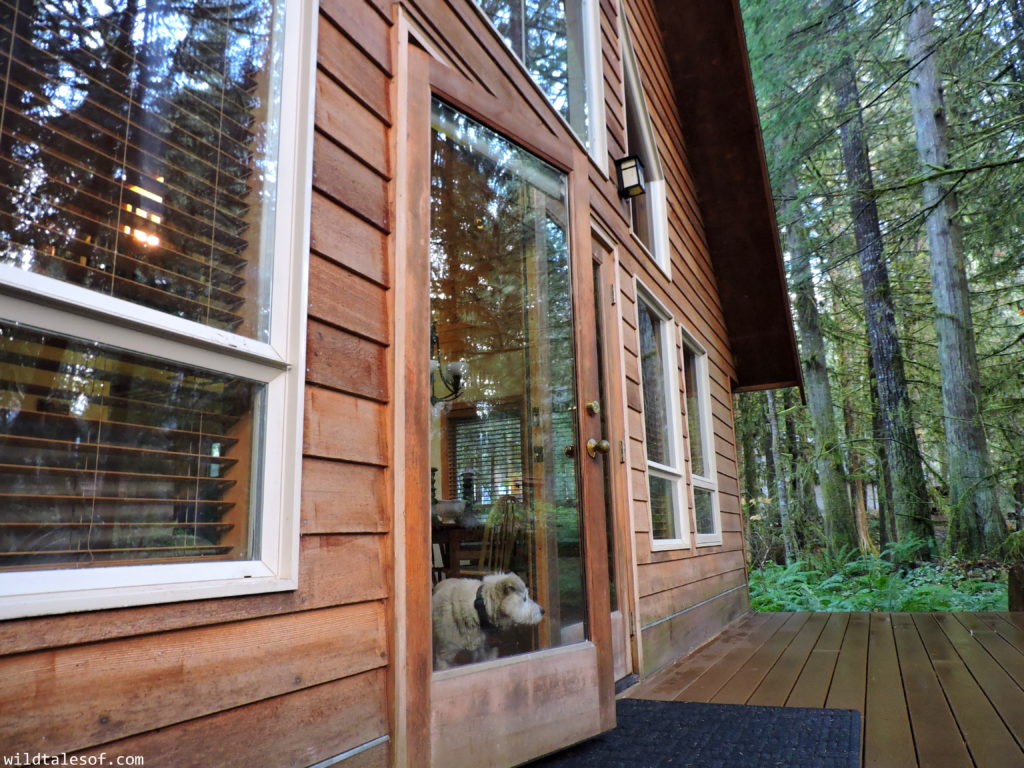 More to Love:
Dishwasher, washer, and dryer—we used and appreciated all three.
The chalet is very clean, and well taken care of with features that add to the coziness (candles, wood accents, books).
Beds are very comfortable!
A welcome binder is located in the main living area of the home, and is full of local information including restaurant menus, and the ins and outs of the home and community.
Accommodates up to 8 guests
Pet Friendly!  We greatly appreciated being able to bring our dog, Norman (with an additional fee) along for the adventure! Glamping Hub has a dedicated page for pet friendly rentals.
While there is little to no cell phone service, the home is equipped with a landline phone in case you need to notify and/or contact friends and family or have an emergency.
Access to community center with books, games, foosball, and air hockey is provided.
Playground and stocked fishing pond/lake is located within the Snowline community.
Wifi access is provided.
Close to great food options: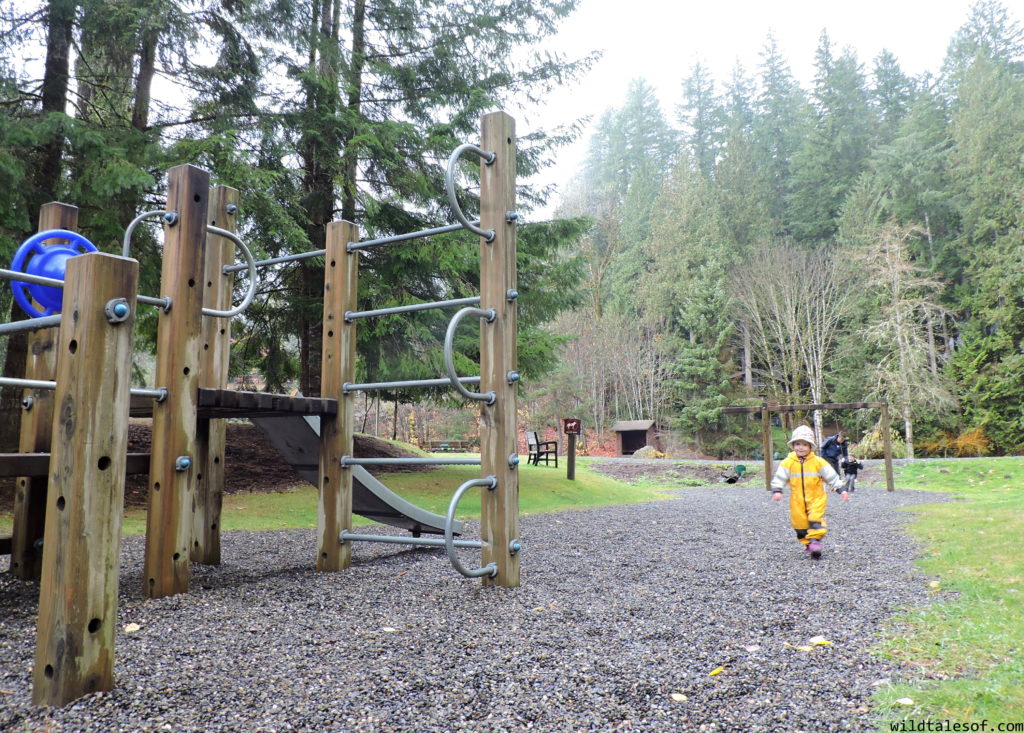 Quick Facts/Info to Know:
"Rustic Pet-Friendly Cabin-Style Chalet with Hot Tub near Mount Baker, Washington" on Glamping Hub rental site.

Located in the Snowline Community in Glacier, Washington near Mount Baker.
3 bedrooms, 1.75 bathrooms, sleeps 8
Washer/Dryer
Wireless internet access
Linens and towels provided.  We loved there were plenty of towels to go around, and they are high quality.
Outdoor porch area with table and chairs and barbecue is located off the main living area (we suggest a fire pit!).
Property is available year-round.
As you can probably gather, we utterly enjoyed our stay in this Mount Baker chalet rental, and highly recommend it to families looking for a mountain getaway.
Have you traveled to Mount Baker/Glacier, WA? We'd love to hear about your accommodations and adventures!
Come join the conversation! You can keep up to date with each and every post by subscribing to the blog via email. We'd also love to have you join us on all of our adventures by "liking" our facebook page, following us on twitter, and exploring with us on Instagram! If you enjoyed this post, please "like it", "tweet it" or "pin it"!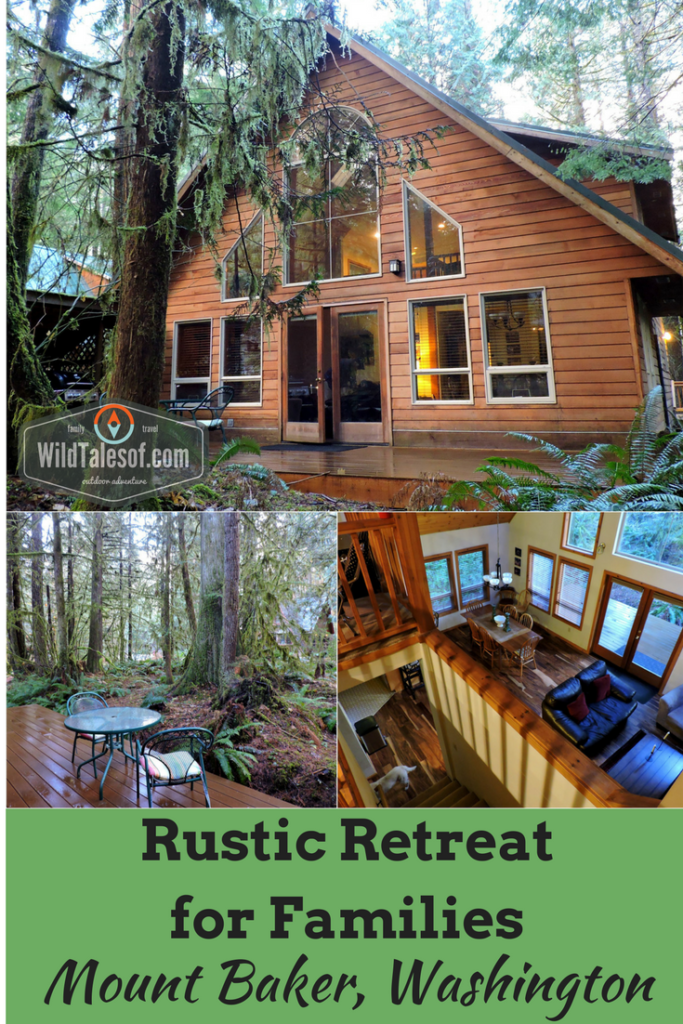 Disclosure: We were provided with a gift certificate from Glamping Hub, which went toward part of the fees for our stay at the Mount Baker Chalet Rental in exchange for a review.  All opinions expressed here are our own, and completely honest.