When your 18-month old takes her first independent steps in a place, you won't soon forget it! Yes, as I think I've mentioned on the blog what seems like at least a dozen times, Georgia figured out the whole walking gig at our apartment rental in Vancouver, BC.  When we arrived at the rental in Vancouver's Crosstown district, I started to settle in.  The boys were off getting the rest of our luggage, and while I should have been unpacking and organizing a bit, I was distracted by more important matters: figuring out the wifi password and brewing a cup of coffee in the Keurig!
Out of the corner of my eye though, I noticed something unusual.  Instead of her typical crawling and knee walking, Georgia was launching herself from the coffee table and cozy white couch, and as her big brother would say, when he finally got back from unloading the car, "walking all over the place!"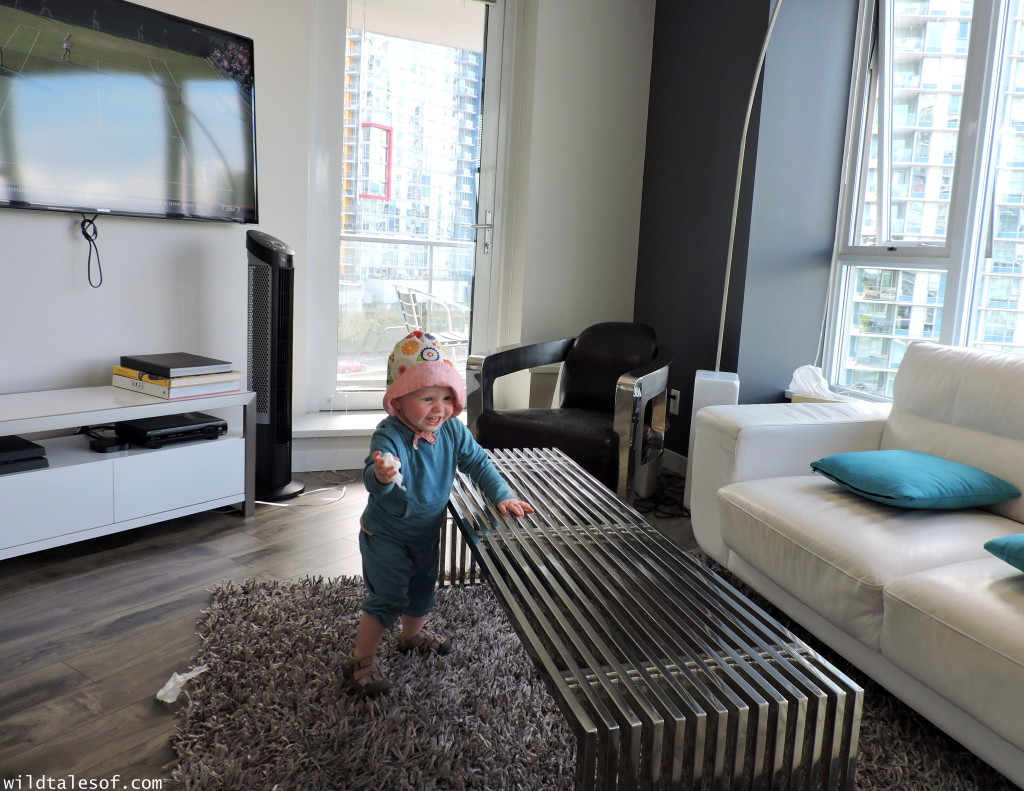 It's unlikely that you forget the moment your babies learn to walk, but I think it's especially memorable when you've waited 18+ months!  I just love that it happened with such a grand backdrop, and in such a fantastic location.  She's worked hard for this milestone, and it's only fitting.
The apartment we rented in downtown Vancouver is located in the Crosstown district near Rogers Arena, south of historic Gastown, and east of Chinatown. The location worked well for us as it allowed us easy access to many different areas and neighborhoods to explore.  We were also meeting up with family and friends, and could walk to see those friends staying in Gastown as well as walk to meet up with my mom staying in an apartment in Yaletown.  We took the bus to Stanley Park and walked to the Aquabus dock and visited Granville Island, so by the end of our 3-day weekend, we realized we never once needed our car! I hadn't even thought about it, and it wasn't as though we intentionally made that decision. We just naturally opted to journey by foot each day.
A quick video tour of the apartment rental:

The apartment is part of The España, which is made up of about 450 units centered around a beautiful garden courtyard.  The rental has two bedrooms, and two bathrooms.  The master bedroom is a suite with a full bath consisting of a large luxurious tub and lots of room.  We opted to use the space for Georgia's sleeping quarters, and set up her travel crib there, so while we didn't get to use the beautiful tub/shower, she appreciated the quiet space, and tub for her baths!  The master bedroom features a comfortable king-sized bed, closet with plenty of space, and a gorgeous (nearly) floor to ceiling view of the city.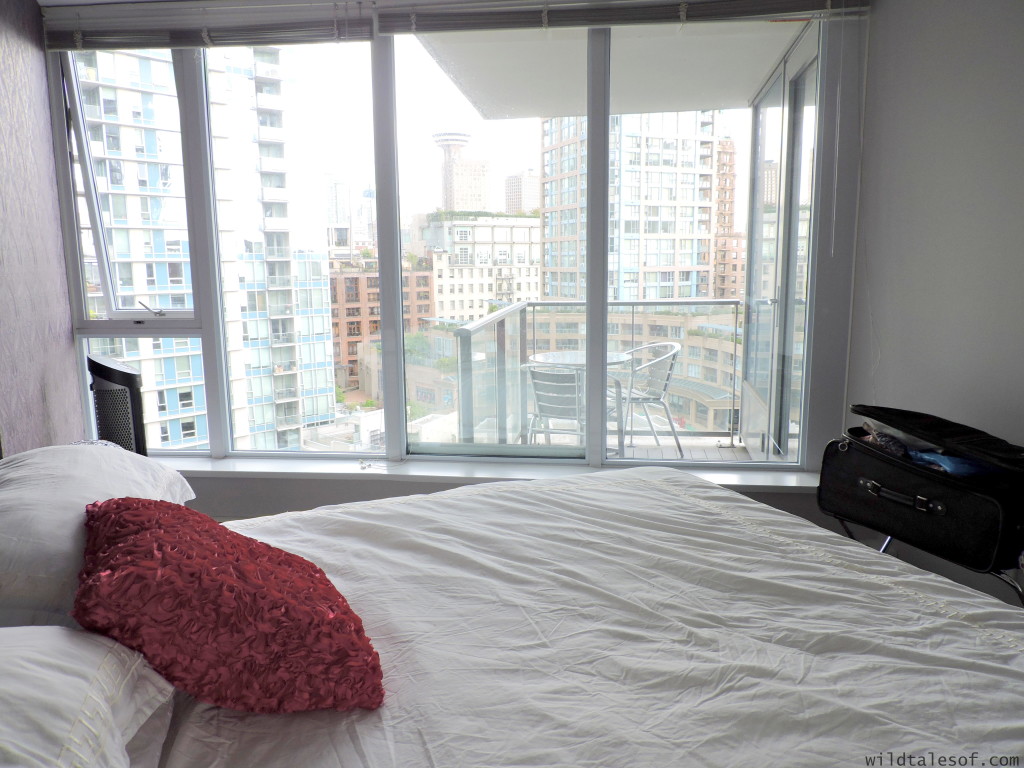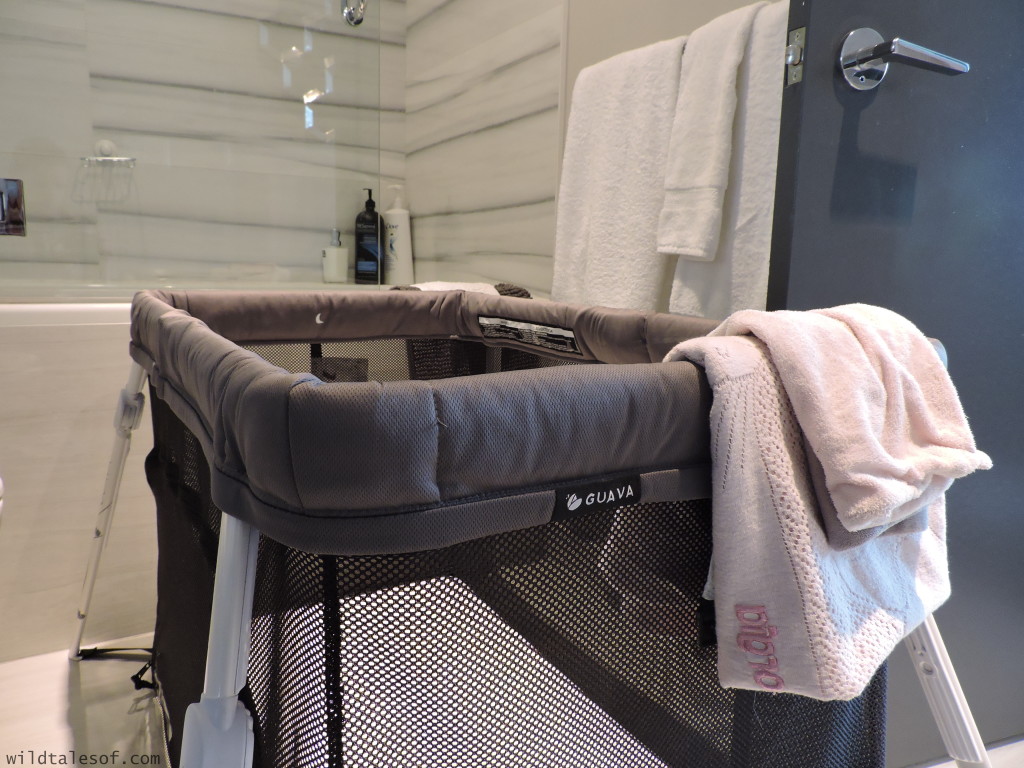 The second bedroom features a queen sized bed, and also has a closet with ample space.  Some would argue the view from this space is even better than the master.  Lucky Bergen! He loved sleeping here, and the lower style bed gave us piece of mind that he wouldn't be falling out of the bed in the middle of the night!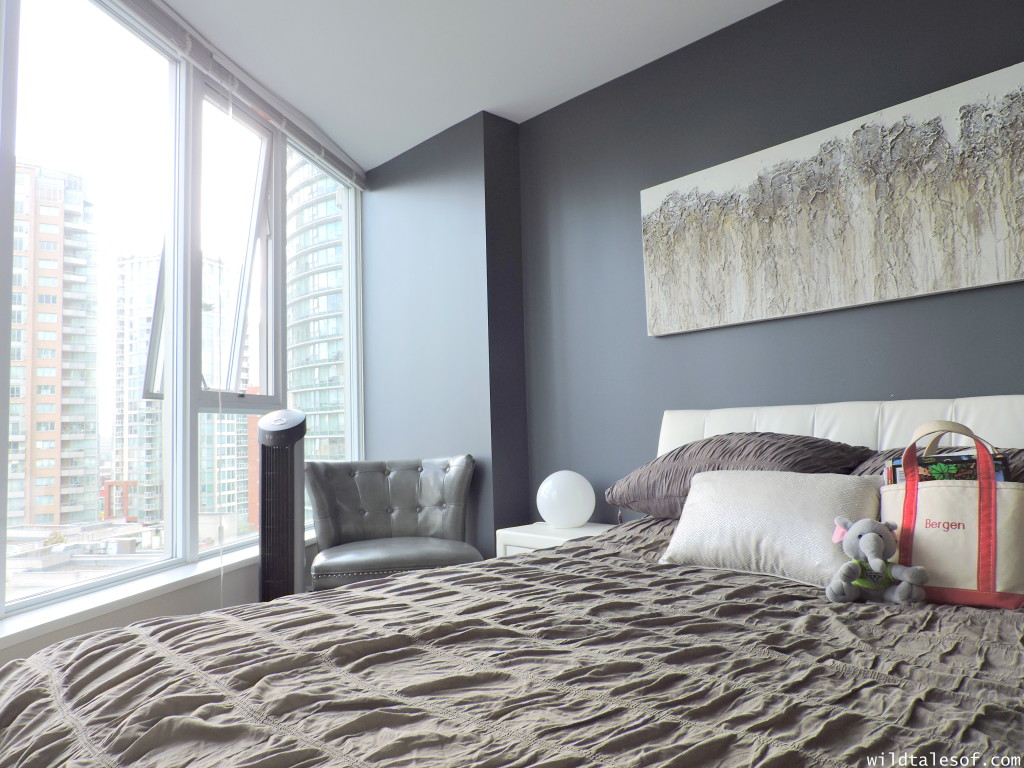 We used the bathroom off of the main living area the most.  With Georgia sleeping in the en-suite bathroom, it was easier for us to do our business and get ready for the day there.  No tub in this bathroom, but a lovely shower that we all enjoyed.  We also appreciated the toiletries provided since one way or another some necessity is always getting left at home.
The main living space is open with the kitchen, living room, and dining nook all in the same general area.  We never got tired of the sweeping views of the city–no better way to get excited about exploring and sightseeing than that! So many extra touches that we appreciated as a family are included in this rental.  See the full detailed list below for all of them, but some of the highlights included, a Keurig coffee maker with plenty of pods, highchair, washer/dryer, and dishwasher.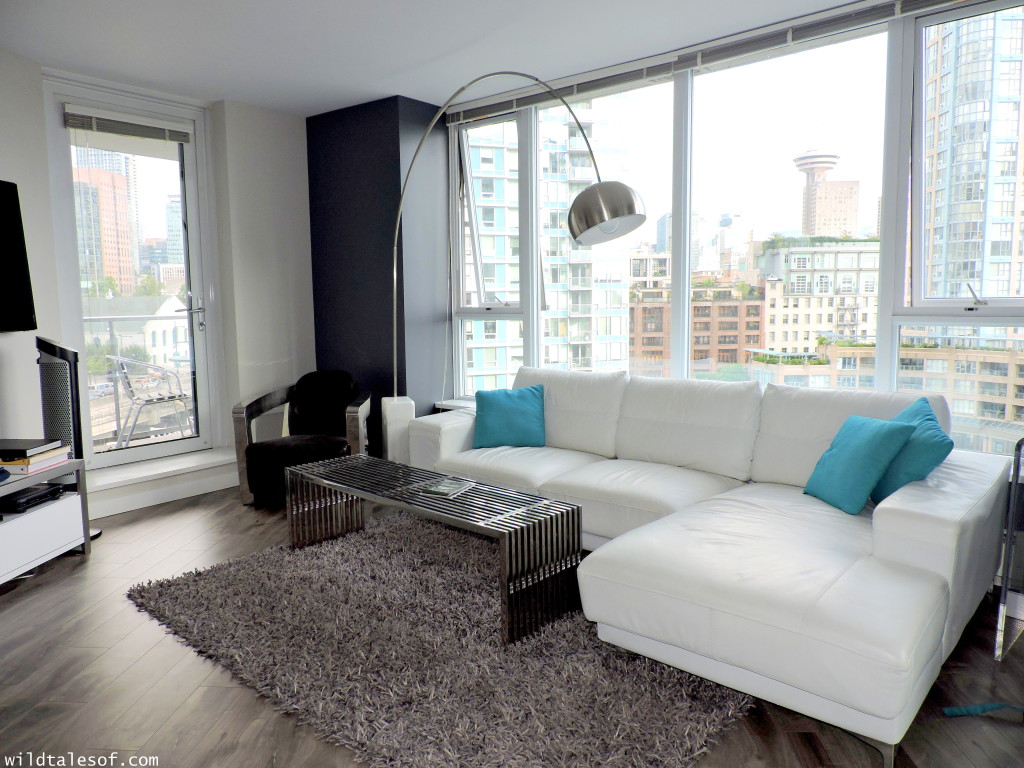 Slaed and I got used to our routine of "late night" happy hour on the balcony each evening after the kids went to bed, and while it still sends you into helicopter-parenting mode because of the height, it was perfectly safe for the kids to take in the view here as well.
Upon arrival, the owner's nephew met us, hopped in our car, and gave us a personal tour of the building and apartment unit pointing out the pool (Slaed and Bergen used this amenity each day) and workout facilities.  We were thankful for this extra step, and learned things about the apartment and building that we might not have seen or realized, right away at least. 
More to Love:
The apartment is well equipped for families with a high chair, portable crib, dishwasher, washer/dryer, and pool.
Apartment was very clean & well-taken care of with beautiful modern touches.
A local coupon book is provided for guests to take advantage of discounted dining and attractions.
Dedicated Parking Spot.
Notebook with helpful local information including thoughtful restaurant recommendations.
Close to great restaurants, shops and stores (including Costco!).  A few of our favorites:

Hai Phong (great bubble tea)
UYU Ice Cream
Acme Cafe
T&T Supermarket
Quick Facts/Info to Know:
"Stunning Modern Luxury 2 Bedroom, 2 Bath Condo Rental" on Vacation Rental by Owner (VRBO.com): https://www.vrbo.com/3695473ha
Located in downtown Vancouver, British Columbia in the Crosstown district on the 11th floor (3 elevators)
2 bedrooms, 1.75 bath
Washer/Dryer
Wireless Internet Access (free)
Linens & towels provided
Balcony space with small table & chairs
Dedicated secured parking spot
Fitness Room & Pool Access within building
Pets considered (additional fee)
We thoroughly enjoyed our stay at this Vancouver rental & highly recommend the apartment for visiting families! Have you traveled to Vancouver, BC? We'd love to hear about your accommodations! P.S. View our 3-day Itinerary here & read about the amazing Sea to Sky Gondola here.
Come join the conversation! You can keep up to date with each and every post by subscribing to the blog via email. We'd also love to have you join us on all of our adventures by "liking" our facebook page, following us on twitter, and exploring with us on Instagram! If you enjoyed this post, please "like it", "tweet it" or "pin it"!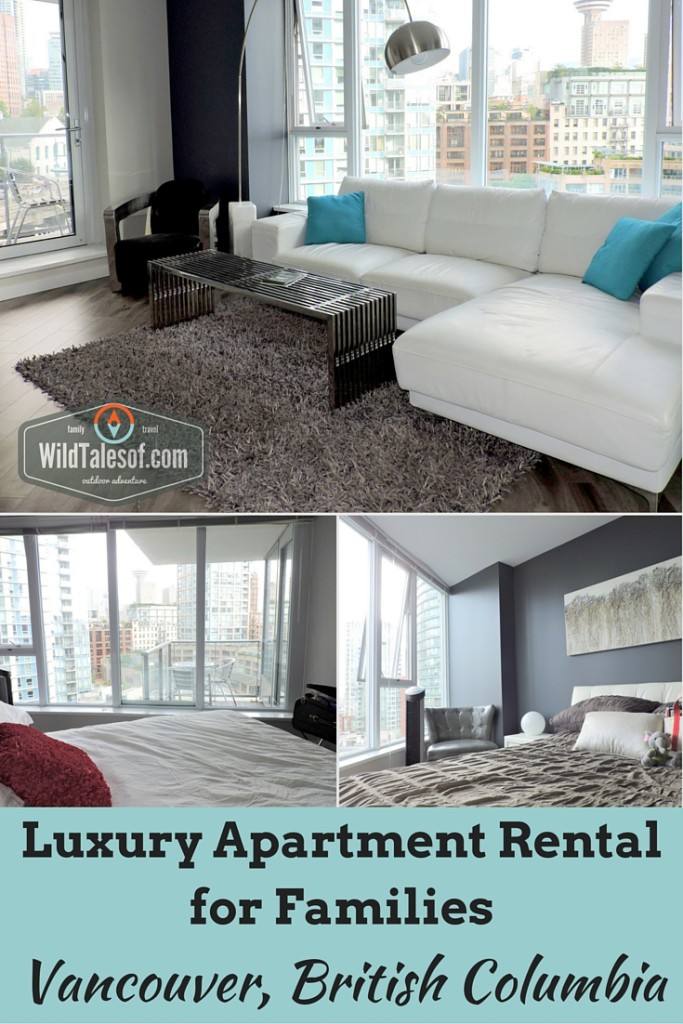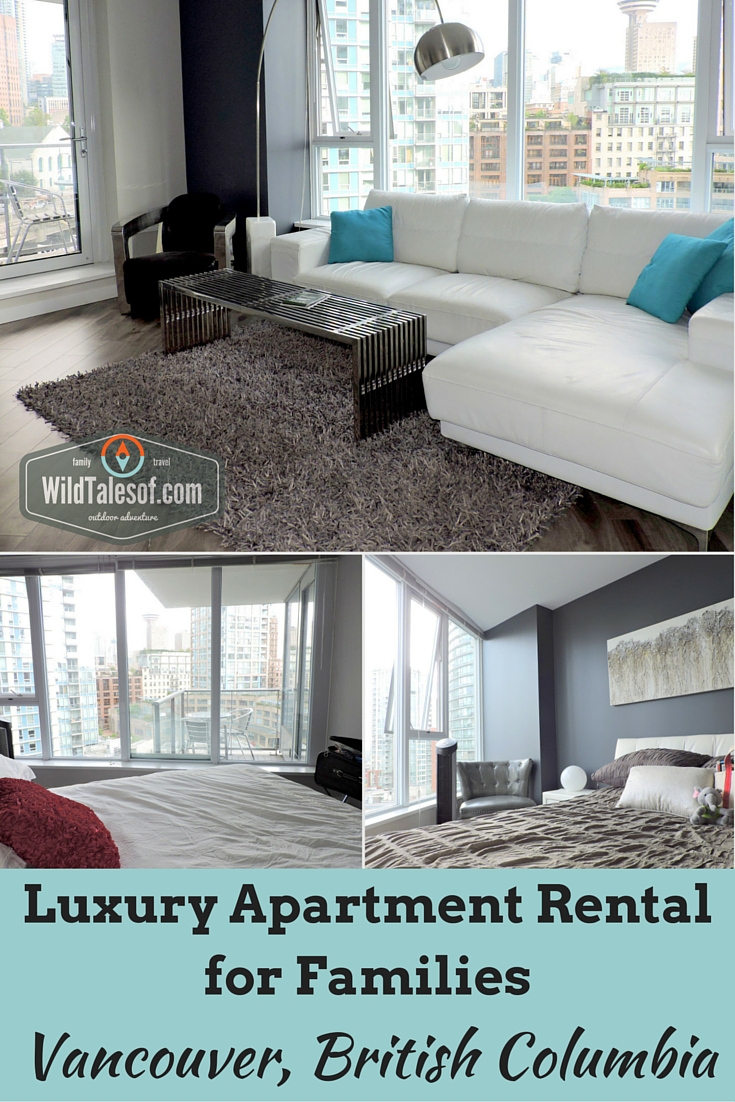 Thanks to the owner, Hellena, for providing us with a small discount on our 3-day stay for purposes of review. As always, all opinions expressed here are my own.