We traveled down to the Olympia, Washington area earlier this week because someone who shall remain nameless (okay, it was me) forgot to order her daughter (who is now almost 14 months old) a birth certificate! We need a copy of Georgia's birth certificate in order to cross the border into Canada for our trip to Vancouver Island later on this month.  Rather than wait for it to come in the mail & pay a bunch of shipping costs, we opted to drive a little over an hour to the state's Center for Health Statistics.
If you know us, you can probably guess we wouldn't be able to just drive down, retrieve a copy of the certificate, and head back home! No, we'd have to make it into an adventure! So we took an hour and a half or so to explore the nearby Nisqually Wildlife Refuge.  I hadn't visited Nisqually since Bergen was just a wee baby, so I was excited to go back, and experience the wetlands a bit more.
We only had time to make the 1-mile Twin Barns loop, a walk that's all on boardwalk with several viewpoints and cutoffs along the way to take in the scenery and try our hand at bird watching.  We ended up seeing eagles, several types of ducks, geese, and lots of sparrows!  We documented our journey around the loop in this quick video:
About Olympia's Nisqually Wildlife Refuge
Our Route: We spent a few minutes near the Visitors Center, then walked the Twin Barns boardwalk loop.  We didn't have enough time during this visit, but if you're visiting with kids, check out the Nature Explore Area.  It's designed for kids ages 2-8 years, and features hands-on learning materials from the natural environment. There is also a Junior Refuge Manager program for kids ages 4-11 years.
Length: 1 mile (plus a few additional .1 mile spurs to overlooks)
Elevation: None
Location: Located just off  I-5 at exit 114 near Olympia. Once off the interstate, follow signs to the refuge.  For more information, visit the Nisqually Wildlife Refuge website.
Entrance fee & Hours: $3, Open everyday sunrise to sunset, but the Visitor Center is only open Wednesday-Sunday 9am-4pm (closed major holidays)
Special considerations: Dogs are not allowed in the refuge.  Also keep in mind that the refuge is not a park, so activities like jogging, bicycling & other sports are not permitted.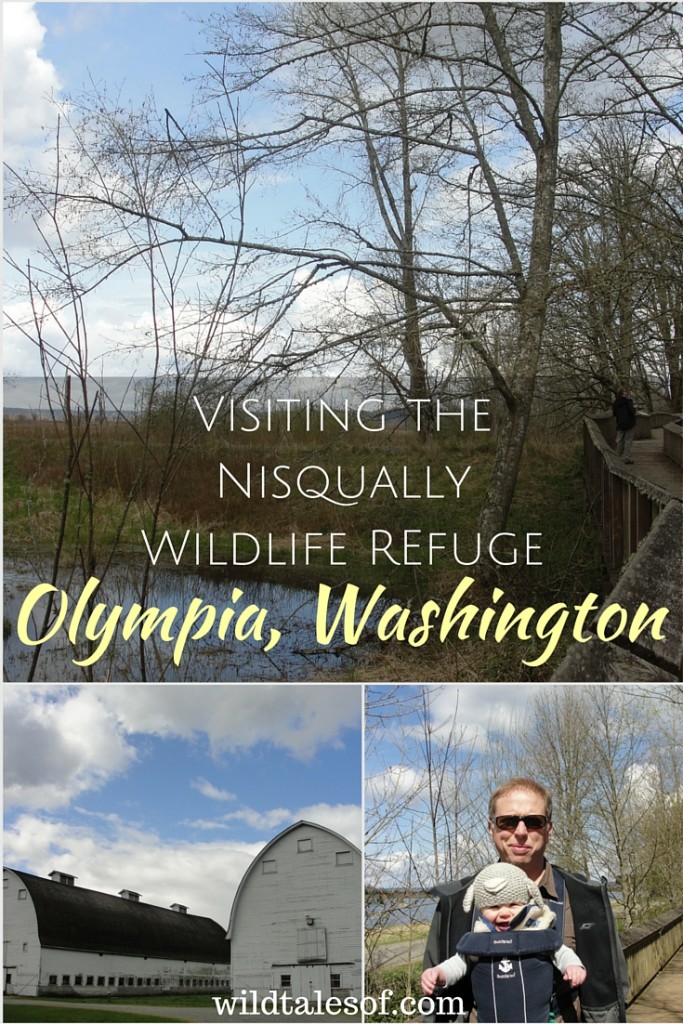 Have you visited a wildlife refuge? We'd love to know about your experience.
Come join the conversation! You can keep up to date with each and every post by subscribing to the blog via email. We'd also love to have you join us on all of our adventures by "liking" our facebook page and following us on twitter! If you enjoyed this post, please "like it", "tweet it" or "pin it"!