The Outdoor Mom Academy experts, made up of Amelia from Tales of a Mountain Mama, Rebecca from Hike Like a Woman, and Susan from Mountain Mom and Tots are back at it! These inspiring ladies are offering their 6-week course for a second time this fall.
If you weren't able to join the course when it was offered the first time earlier this summer, this is your chance to get in on all the action, and take advantage of this amazing learning opportunity! I provide a lot the details of the course (though it's been revamped and updated a bit) in my first Outdoor Mom Academy announcement, but here is the course outline in a nutshell.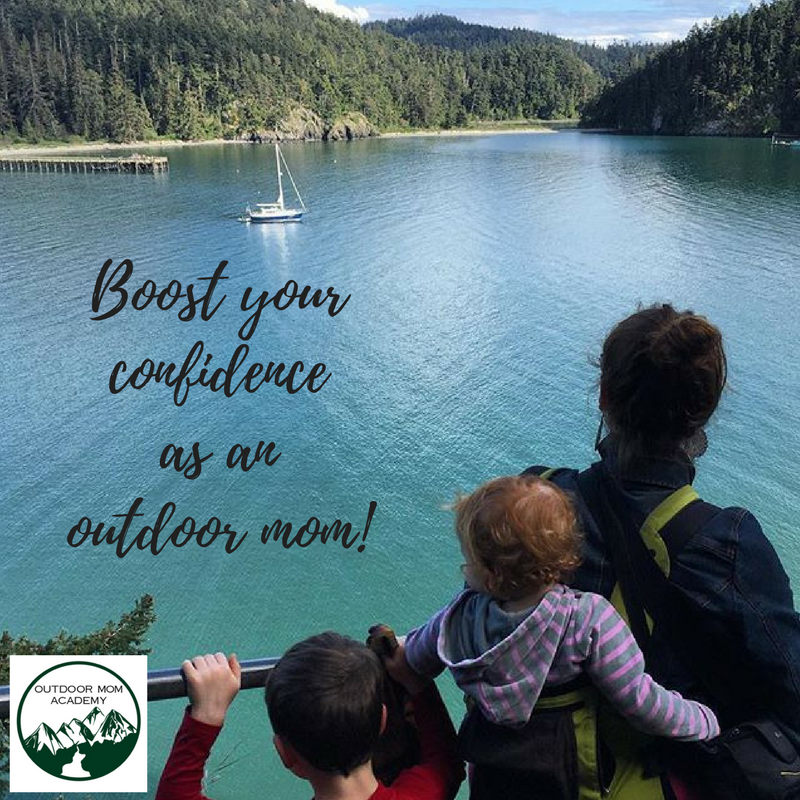 Outdoor Mom Academy Course Outline:
Week 1: Sept 11-17 – Raising Outdoor Leaders
Get the low down on on adventuring with kids broken down by age group (babies to high schoolers).
Week 2: Sept 18-24 – How to Pack What You Need
Learn how to pack and organize your day pack, and receive tips on how to manage all the gear that is necessary for getting outdoors with kids.
Week 3: Sept 25-Oct 1 – Family Adventures on a Budget
Tips on how to find quality items frugally.
Week 4: Oct 2-8 – Family Camping Made Simple
Lessons, pro-tips, and checklists to help you plan and execute an amazing camping trip with kids!
Week 5: Oct 9-15 – Family First Aid
Find out what you really need in your first aid kit, and what items you'll actually use the most.
Week 6: Oct 16-22 – Identifying and Mitigating Risk in the Outdoors
Learn how to keep kids safe, but also enjoy yourselves, and have a little fun and adventure outdoors!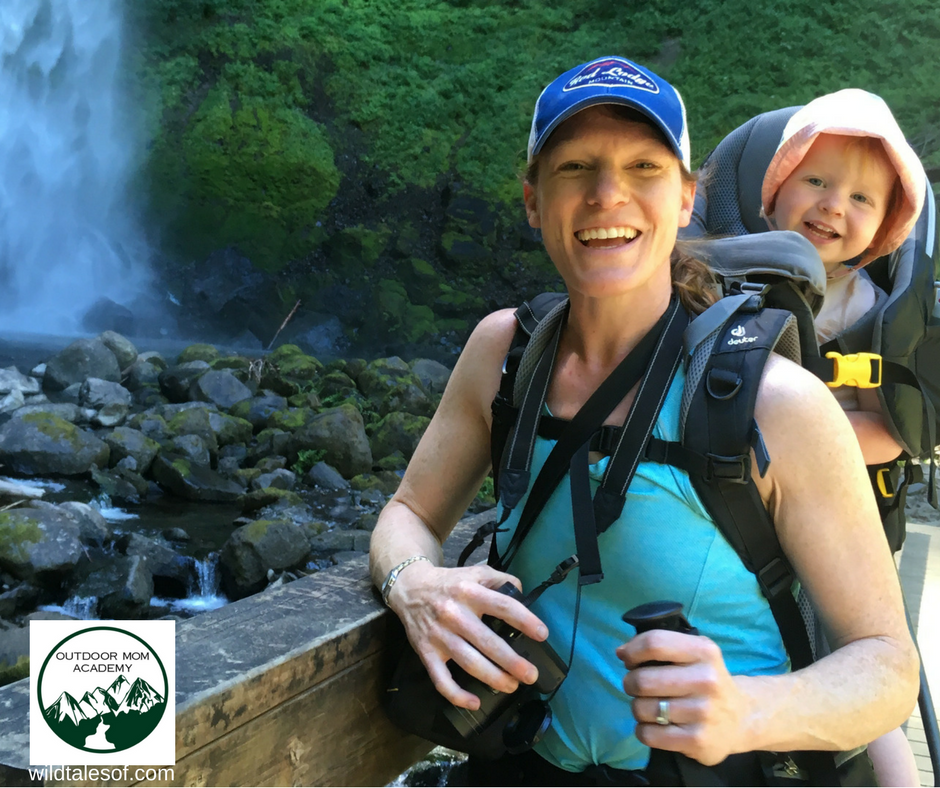 Don't worry, you won't be graded, and there won't be any quizzes or tests! Just a comfortable, safe environment to build your confidence as an outdoor mom.  If you can't get to the lesson one week, no problem! You can always catch up the next week, and move at your own pace.
As an ambassador for the Outdoor Mom Academy, I had the chance to take the course earlier this summer (during the first session), and will be joining in on session two as well.  Based on my experience with session one, I wanted to share some takeaways.  *If you are ready to join, make sure to continue reading below–I have a special coupon code for you!*
3 Reasons to Join the Outdoor Mom Academy
1. Gain Confidence.
Because of all the new ideas and content provided in the course, you'll gain confidence as an outdoor mom.  You'll feel braver, about taking steps to add more outdoor adventure into your family's life.
If you have babies and young toddlers, you'll love Amelia's tips on putting your kids in carriers.  If you have preschool children, you'll love Rebecca's tips on keeping kids moving (and relatively happy!) on the trail.  I don't want to give any spoilers, but one of her tips has made a HUGE difference in my family's ability to end strong when we hike.  And finally, Susan made me realize that having teenagers isn't so scary! There are so many rich and amazing experiences head.
2. Acquire valuable information for safety and preparedness.
Because I don't feel that our adventures out on the hiking trail are super intense, I tend to be a little laid back when it comes to safety and preparedness.  However, the Outdoor Mom Academy team taught me that of course there is risk involved, and it's better to be prepared.
It's hard to know exactly what you really need in a first aid kit, but in session 5, Amelia breaks it down and makes it easy! I also love that because the instructors cover a wide age range of children, I'm learning what to expect as my kids get older.  Now that my oldest is 6 years old, I need to give him more responsibility on the trail (like carrying more gear) and in turn practice more safety situations ("what-if…") and scenarios.  I'm not worried about though–Amelia, Rebecca, and Susan have my back, and have provided all the important information!
3. Become a part of a thriving community!
Not only will you feel part of a greater community just by watching and/or listening to the lessons each week, but admission to the course also comes with an exclusive facebook group.  I loved reading about other mom's successes, and gathered more motivation to get outdoors with my kids.  I also appreciated hearing about mishaps, they happen to all of us, and didn't feel so alone in my own outdoor mom fails.
Course instructors check-in several times a week to discuss lesson topics, pose challenges, and offer additional advice.  I should also mention that there are giveaways!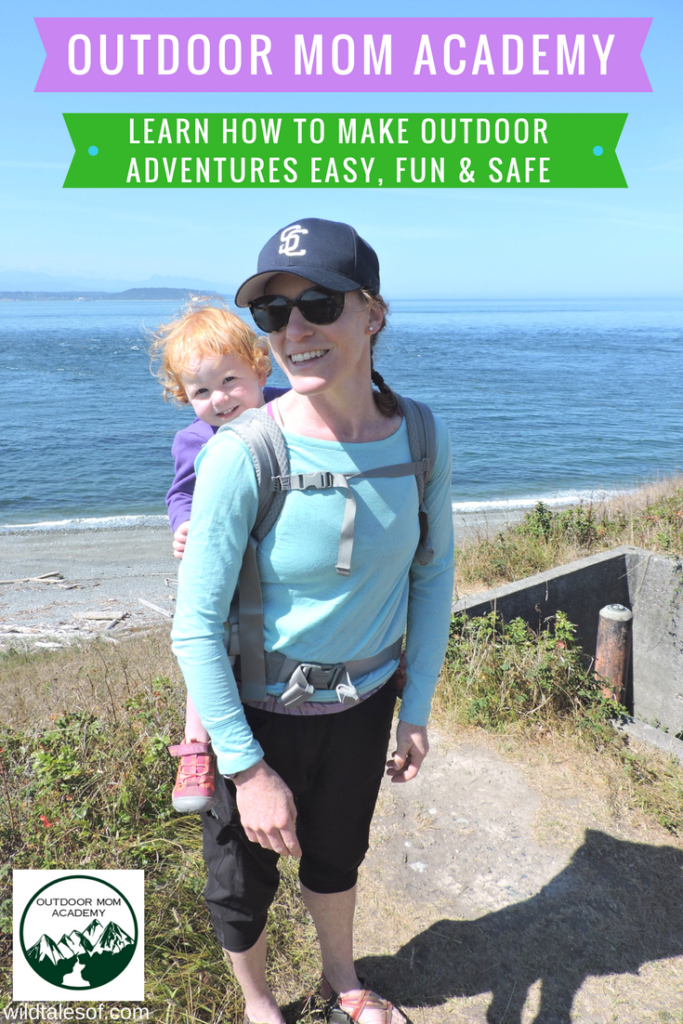 How to Sign-up for the Outdoor Mom Academy!
Visit the Outdoor Mom Academy page (via Help You Explore).
Register anytime between Monday, August 28 and Sunday, September 10th! Classes start September 11th. 
The course is just $99. Enter my special affiliate code OMA-WILDTALES for $5 off! Only one coupon code per checkout.
Email me! When you join, send me a message, and I'll send you some of our best printables to help with your family's outdoor adventures.
Bonuses!
The Outdoor Mom Academy team has partnered with REI to offer weekly giveaways to OMA students. One $25 REI gift card will be offered each of the six weeks of the course. Along with the course, when you sign-up you'll receive 3 free E-books written by Outdoor Mom Academy instructors.  You'll also receive a special Outdoor Mom Academy patch that you can sew onto your backpack or jacket!
Will you join me in building your confidence as an outdoor mom? Don't forget my $5 off affiliate coupon code–OMA-WILDTALES. Questions? Make sure to email me! wildtalesof@gmail.com
As an ambassador for the Outdoor Mom Academy, I am receiving complimentary access to the course in exchange for sharing my experience here on the blog.  As always, all opinions expressed are my own! 
Come join the conversation! You can keep up to date with each and every post by subscribing to the blog via email. We'd also love to have you join us on all of our adventures by "liking" our facebook page and following us on twitter! If you enjoyed this post, please "like it", "tweet it" or "pin it"!