This shop has been compensated by Collective Bias, Inc. and its advertiser. All opinions are mine alone. #NatureMadeVitaminD #CollectiveBias
It's easy to get caught up in the hustle and bustle of the holiday season.  The to-do lists, the parties and activities, and shopping can have us thinking there isn't much time for anything else.  However, with a little planning and creativity, we can also focus on what's most important, Our health!
We can have a joyous (and productive) holiday season if we are intentional with our time and choices.  Getting outside connects us to the natural world, provides us with fresh air and sunshine, and in turn bolsters our immune system helping us to stay healthy.  Then we have the energy and strength to live our lives with exuberance!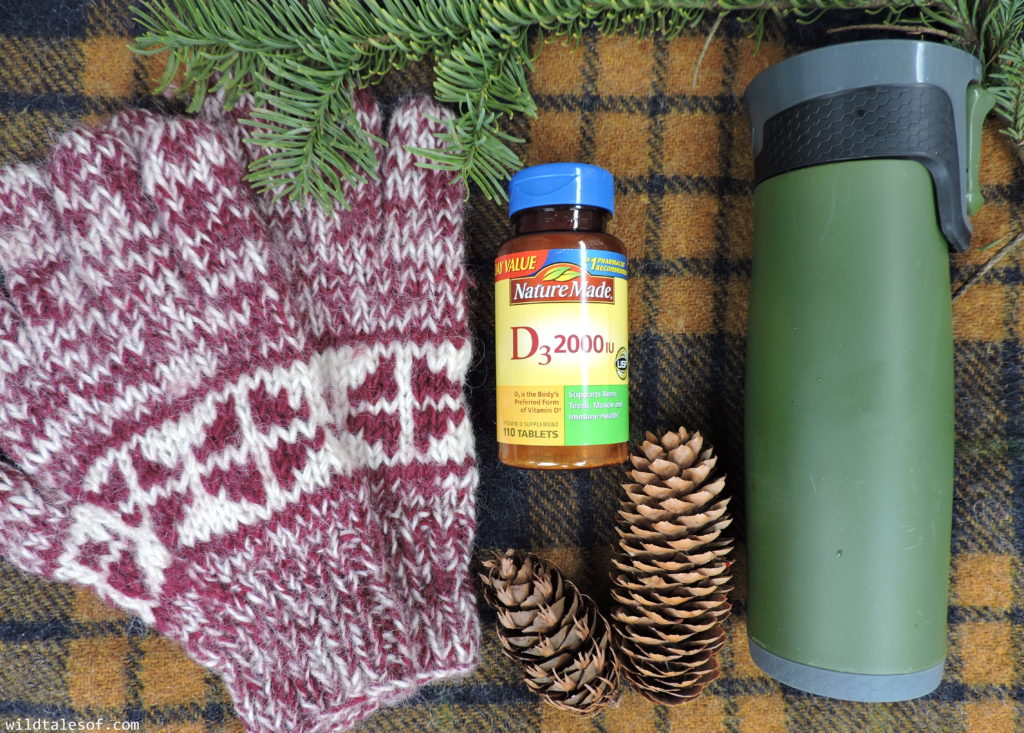 One of the ways we find balance in the Christmas season is through our experience advent calendar or "countdown to Christmas"  As a family we brainstorm 25 ideas (crafts, events, special family traditions), and then spread out the activities by choosing and assigning one per day.  Last year, I wrote down each activity on a strip of construction paper, and then created a chain, but of course there are a slew of creative ways to organize them.
Wondering what this has to do with staying healthy? Well, not only does that careful planning ensure that our family isn't stretched too thin, but amidst the parties, cookie exchanges, and endless candy canes, I make sure that many of those activities are outdoor related!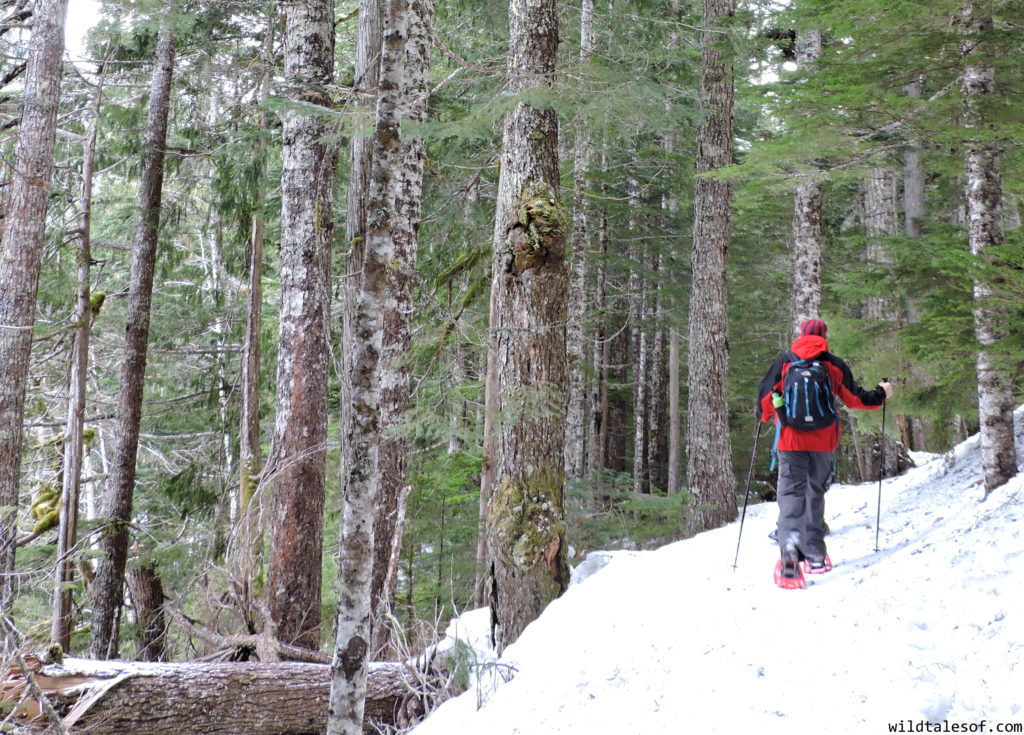 If you are looking to infuse some outdoor activity into your holiday season, but are worried about the cold temperatures and just how you'll fit it in, we're here to help!  In this cold weather activity guide, I'm sharing ideas for getting outside despite the cold including tips for dressing the entire family, activities everyone will enjoy, and ways to warm up and keep spirits high.
In addition to getting outside as much as possible, to boost my well being even more, I take a daily dose of Nature Made® Vitamin D.  I recently stocked up at our local Walmart.  Nature Made® offers several levels of Vitamin D at Walmart, including Nature Made® Vitamin D3 2000IU Tablet and Nature Made® Vitamin D3 5000IU Softgel. The 5000IU high dose product is intended for those deficient in Vitamin D as determined and recommended by their physician.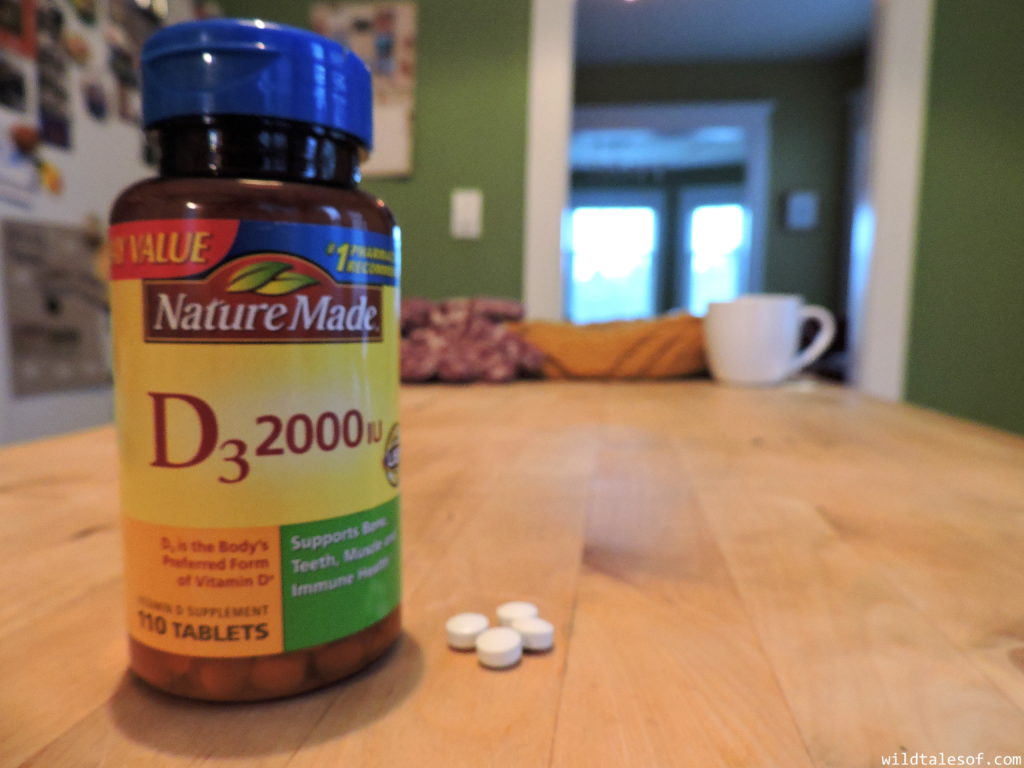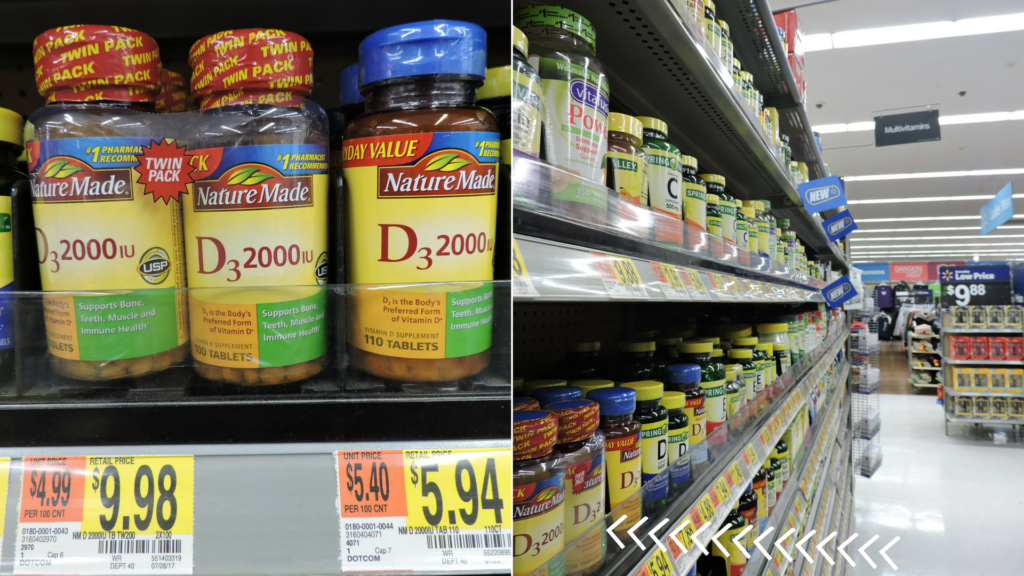 Cold Weather Activity Guide
Dressing for Cold Weather
As the Scandinavian says goes, "There's no bad weather, only bad clothing.", so outfitting you and your family for the weather conditions is half the battle! Get organized and have your cold (and rainy) weather gear handy.  Put mittens, gloves, hats, and even flashlights and headlamps in specific places in your home.  Be intentional, and they will always be ready for you when it's time to head outside.  A sure fire way to delay (and steamroll) an adventure is the great mitten (glove, hat, boot, etc) search!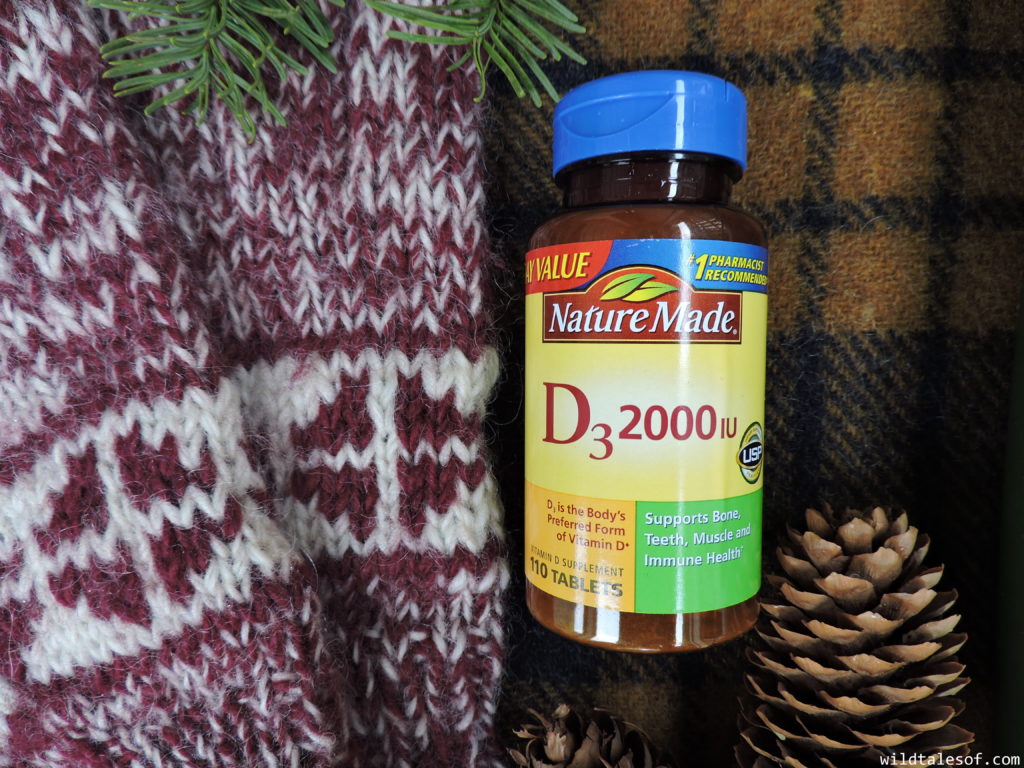 Of course how you dress will depend on your location's specific weather conditions and temperatures, but my basic advice is to layer.  You can always take off pieces! Here are the essentials from head to toe:
Hat (wool beanie is best)
Base layer (long underwear made of merino wool or soft polyester fabric)
Mid-layer (wool or fleece top and bottom)
Waterproof Layer/Outer shell (rain coat, insulated coat)
Accessories:

Wool socks
Waterproof and/or insulated shoes
Gloves or mittens (mittens keep hands warmer)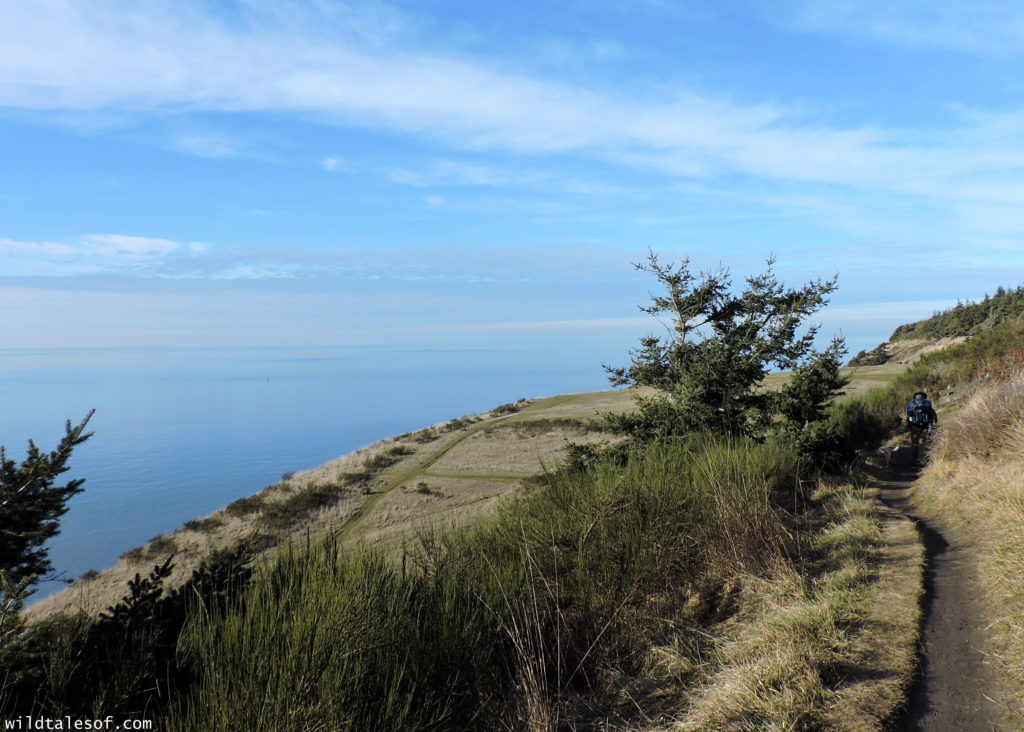 More important cold weather tips:
Kids in carriers and strollers will need more protection (extra blankets, bunting, etc.) than those who are active.
For very cold days, consider carrying babies and toddlers in soft structured carriers to keep them close to you.  Your body heat will keep them more comfortable!
Mind the gaps! Pants can cinch up when kids are carried, so consider extra long socks or leggings/pants that can roll down.
Activities to Enjoy the Season
Use the festive atmosphere with all the lights and decorations to lure your family outside to take in the beauty of the season. Grab your local newspaper's event section, use a few of our ideas as starters, and begin to brainstorm your own list of holiday fun!
Hike or walk with a mission: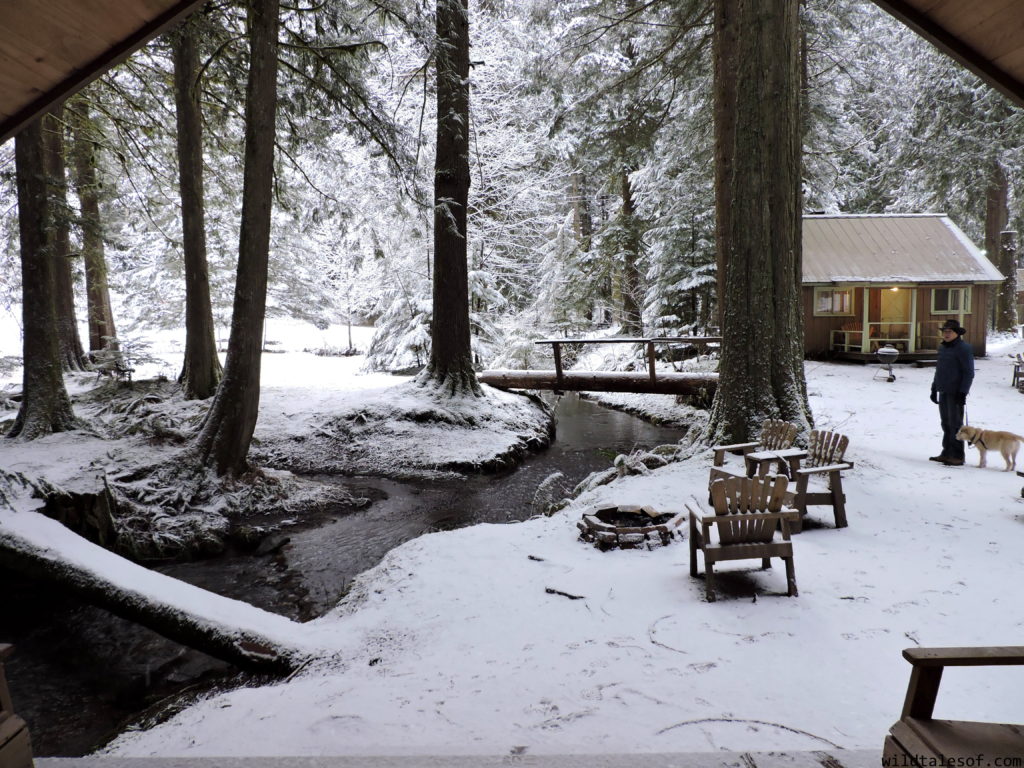 Choose locations with indoor/outdoor options:

Zoos and aquariums
Botanical Gardens
Parks with education centers

Harvest your Christmas tree in a National Forest.
Walk around the neighborhood to view holiday lights instead of driving.
Warm up & Stay Cozy!
Even with the most perfect clothing, kids (and adults) are bound to feel the chill in the air during cold weather months.  The following will give you ideas on how to thaw out and create a more comfortable atmosphere.
Bring along a thermos of hot chocolate or tea, and use it as an incentive to get a little further in your outdoor adventure. You might even consider bringing along a small camping stove.
Have a "warm-up" location as part of the adventure.  Walk to a cafe, doughnut shop, or even the library to take a break from the cold and treat yourself!
Additional items and accessories that will help: hand warmers, wool blanket to sit on or bundle up in, and extra layers such as mittens and scarves.
Keep moving! A few ways to keep the activity level high:

Races–the power of "on your mark, get set, go!" is amazing.
Vary movements–hop, skip, jump, gallop, and march
Engage in treasure hunts or geocaching.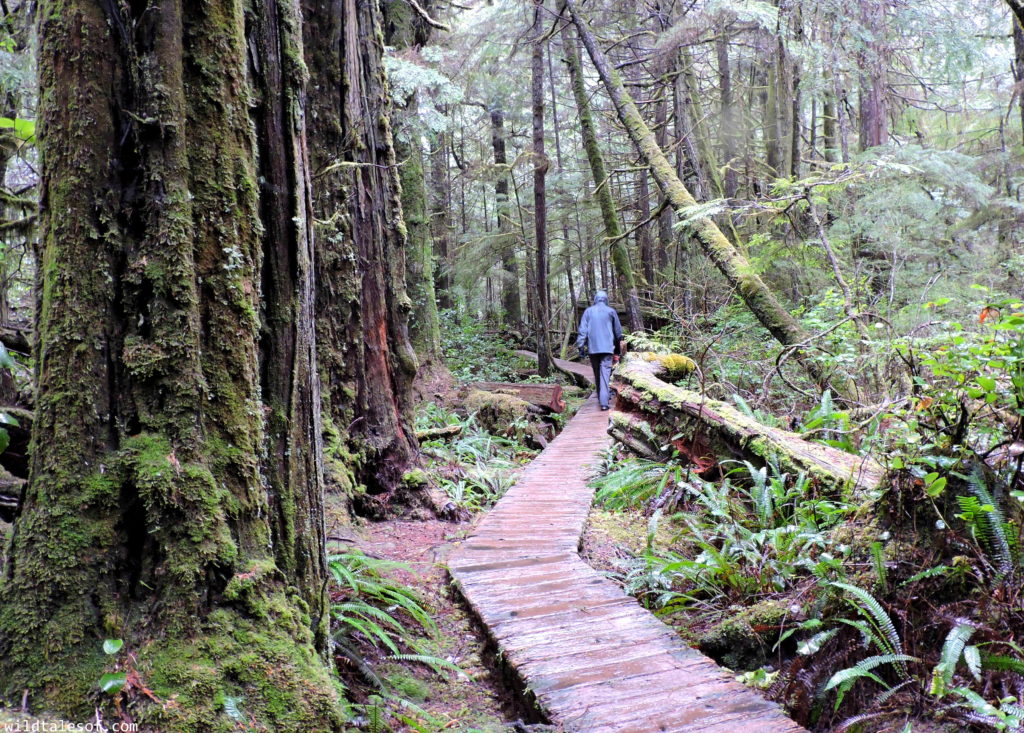 Start a fire! While this might not be an option in every outdoor location (check rules and guidelines), fires are a great way to gather people (even just in the backyard).  Add in some marshmallows for roasting, and you've got yourself a party!
Keep the adventure short and sweet.  It's perfectly acceptable to limit your time at first, and build up to staying out longer and longer.  Small victories that end on a high note will lead to grander experiences later.
Despite our best efforts, sunlight (especially here in the Pacific Northwest) is at a premium in the cold winter months.  I'm glad that along with frequent outdoor activity, we can support our healthy lifestyles through Nature Made® Vitamin D3!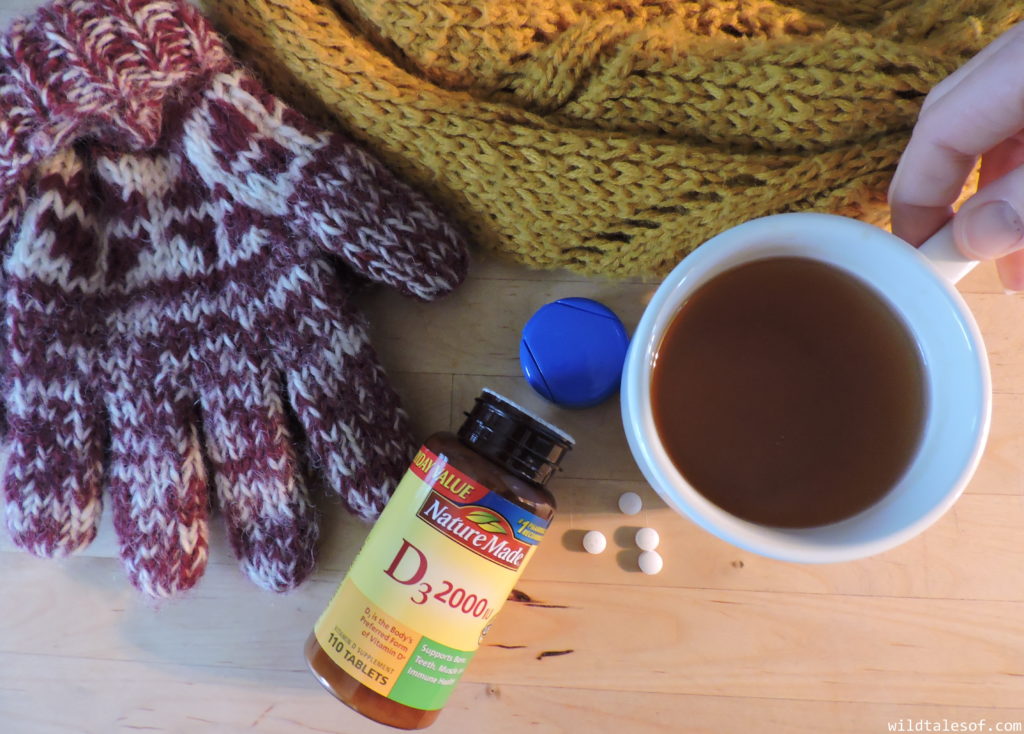 Does cold weather keep you indoors?
Share your favorite activities and warm-up tips–we'd love to add to our lists!
Come join the conversation! You can keep up to date with each and every post by subscribing to the blog via email. We'd also love to have you join us on all of our adventures by "liking" our facebook page and following us on twitter! If you enjoyed this post, please "like it" "tweet it" or "pin it"! This post also contains affiliate links.  If you purchase through our unique links, we'll receive a small commission (at no cost to you) to help us keep the blog up and running.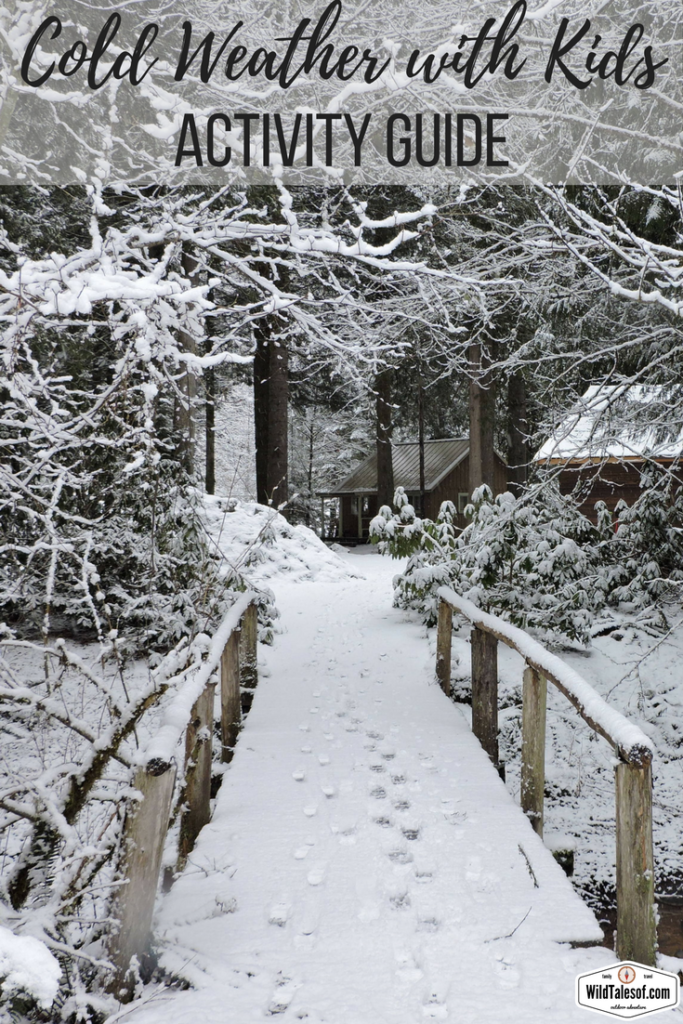 † These statements have not been evaluated by the Food and Drug Administration. This product is not intended to diagnose, treat, cure or prevent any diseases.