Since our oldest, Bergen, was a wee baby, we have been taking family trips to Hayden Lake, Idaho every summer. For Slaed, it's been since his freshman year of college! We are lucky to have a good friends with a lake house who allow us to stay and live the lake life for a long weekend.
We often fall into the same routines.  We relax on the porch, play on the dock, take boat rides around the lake, and eat delicious home-cooked meals together.  This past month we still did all of the above, but in order to spread our wings a bit, and get to know the area more, we added to our usual activities.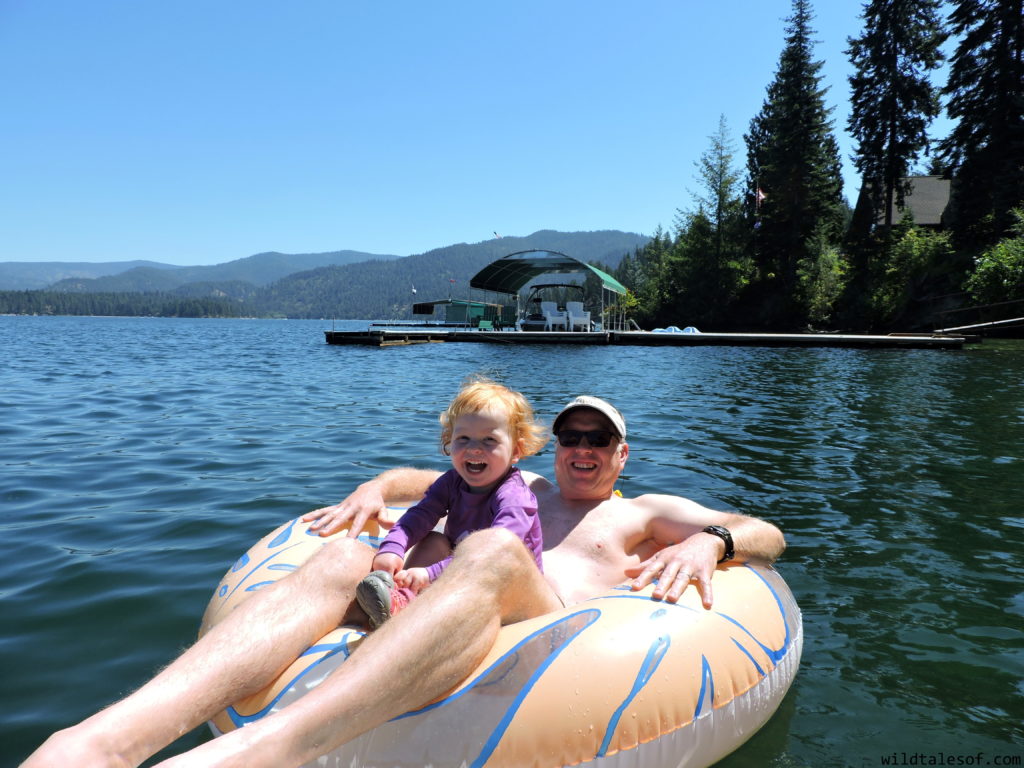 To give some context to our adventure, here's our short and sweet accommodations itinerary:
From our home base in Hayden, we traveled north and south along the Idaho panhandle locating family friendly activities, parks, recreation opportunities, and dining options.  As always, we couldn't get to everything offered in this fantastic region, so if you have suggestions for us, please leave us a comment! We'd love to incorporate them into our trip next summer.
Family Activities in North Idaho with Kids
Hayden
Honeysuckle Beach is Hayden Lake's only public beach.  It is a great swimming beach for young children, and is staffed with lifeguards from noon to 6pm mid-June to late August.  A shallow swimming area is roped off, and there are several docks that form a barrier.  There are several picnic tables, a good amount of sun vs. shade, and clean restrooms.  We stopped here twice during our North Idaho visit (both times to picnic for lunch), and also noticed an ice cream and concessions truck called the Arctic Kat that seemed to be a regular fixture.  This is also a public boat launch, so parking can be tricky. However, we didn't have a problem finding a spot for both of our visits.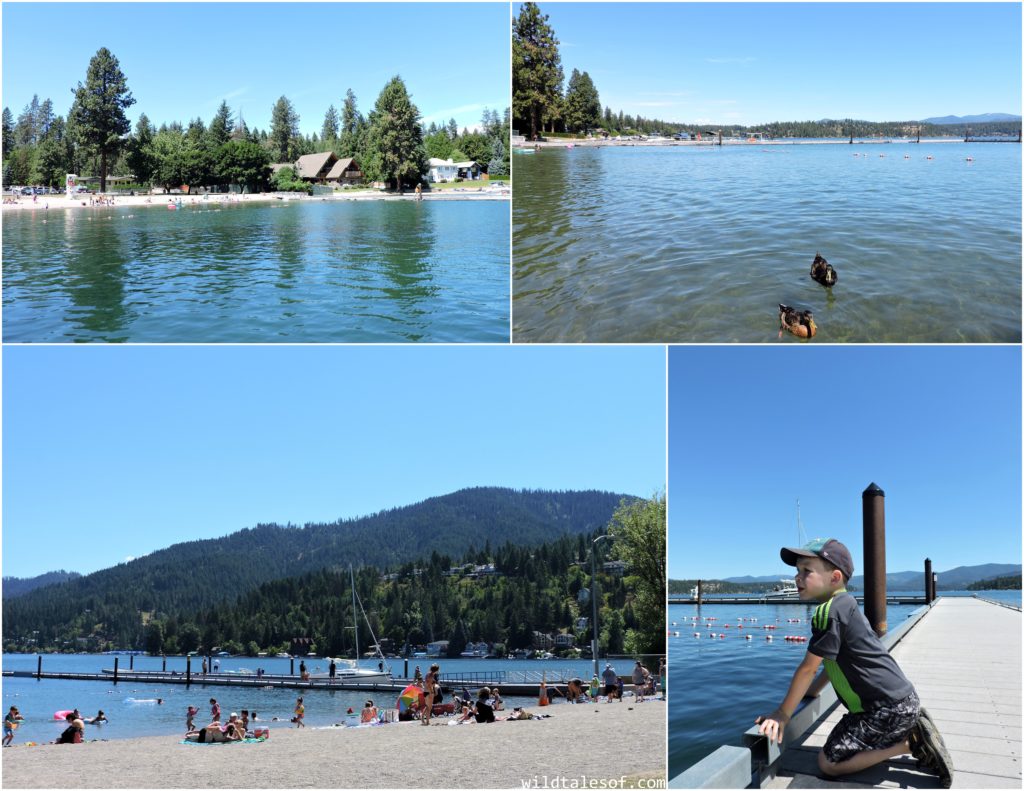 English Point is a delightful place to hike, and take a break in the beautiful shaded forest.  It is part of the National Forest system, and known as a National Recreation Trail.  The area is well-signed with various color loops for hiking, cross country skiing, biking, and horseback riding.  Because of time constraints, we were limited to the 1.6 mile red loop–an easy trek that afforded us peek-a-boo views of Hayden Lake.  Don't miss the stump man carving at the end of the red loop!
Just as we were finishing our hike, we met a grandmother hiking with her grand kids. She was the one who alerted us of the stump man tree carving that we would have missed.  She also gave us a reason to come back—in another part of the park, there's a "toy tree".  Legend has it that fairies deposit toys around the tree for kids to exchange. Such a fun idea & great way to motivate little legs!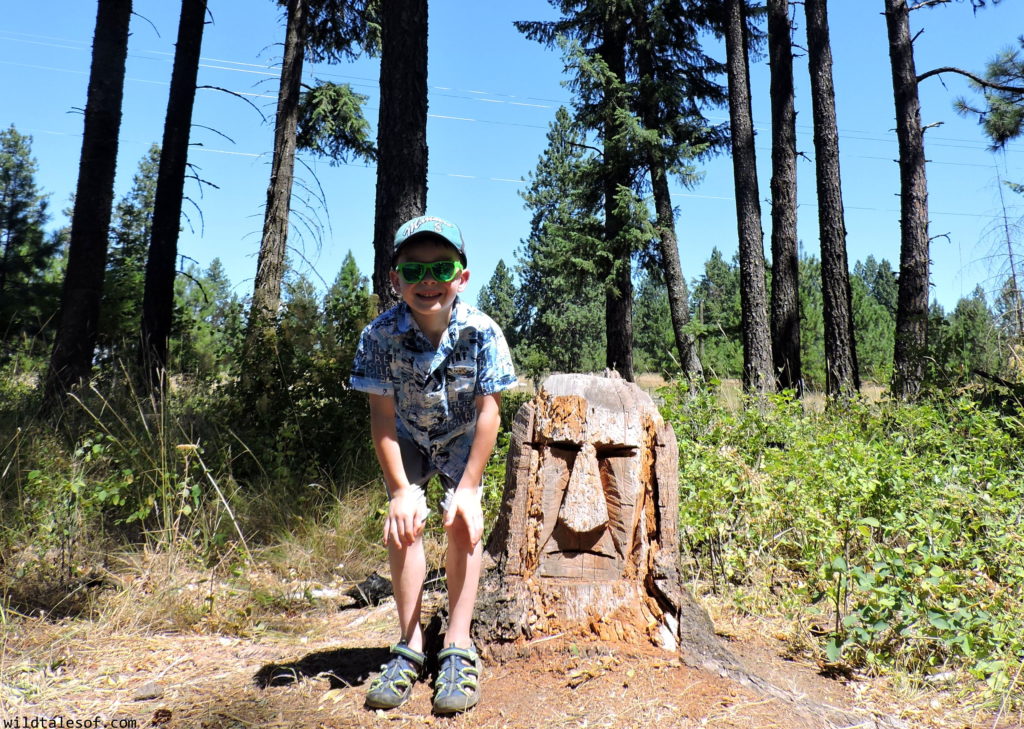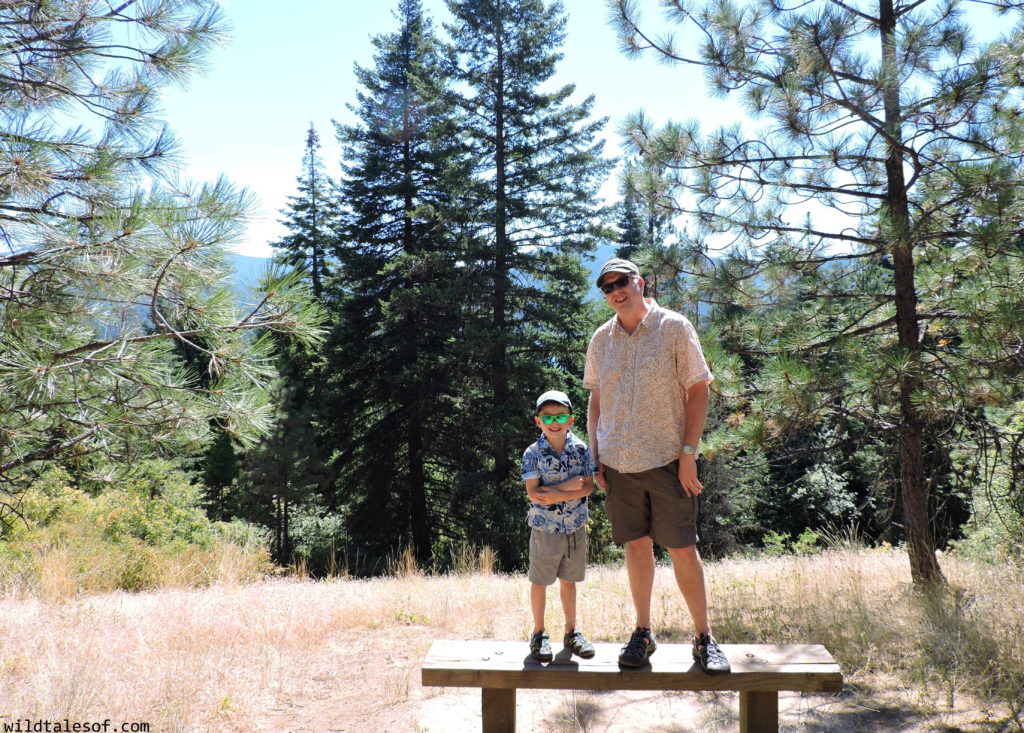 The Kootenai Farmer's Market is open every Saturday from May to October, and for the past several years we've made a point of visiting.  We now have our favorite vendors that we return to.  We always purchase fresh flowers for our hosts, can't leave without a pie or two from Lil Punkin Pie Co–delicious! The market is also a great spot to pick up local berries (huckleberries are the most sought after), listen to live music, and check out the lovely works of local artists from woodwork to handmade cards.  There are also activities geared just for kids such as face painting, and getting to hold adorable bunnies!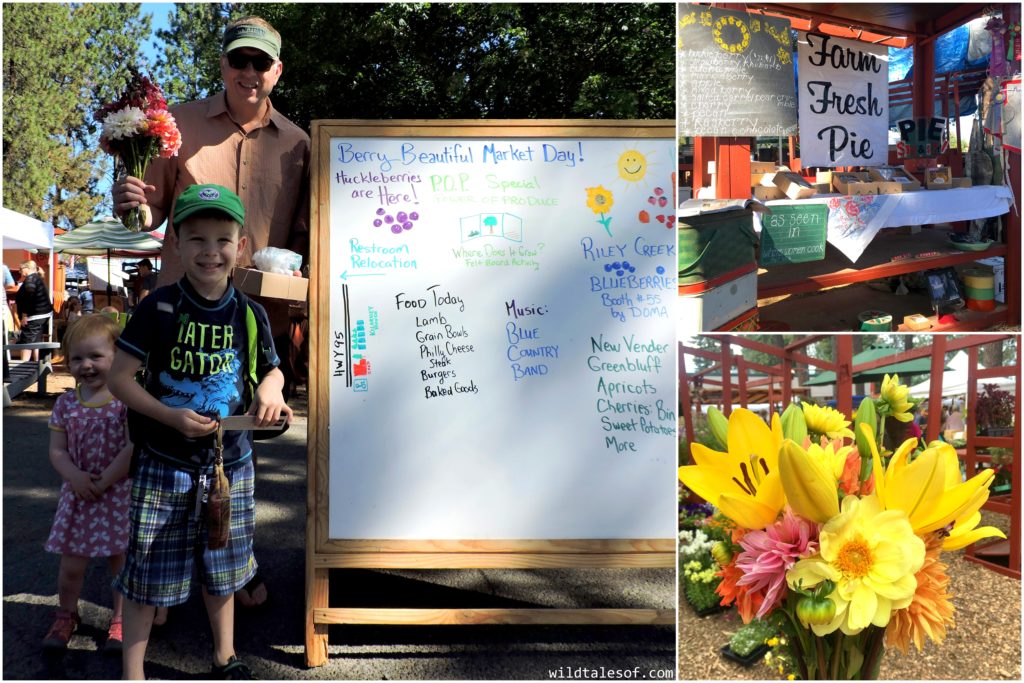 McIntire Family Park is a small park right next to Hayden's city hall.  While the park is simple, it provides a nice shady space for families to enjoy time outdoors.  There is a small play structure along with a covered picnic area, and the park also hosts several annual Hayden events and celebrations.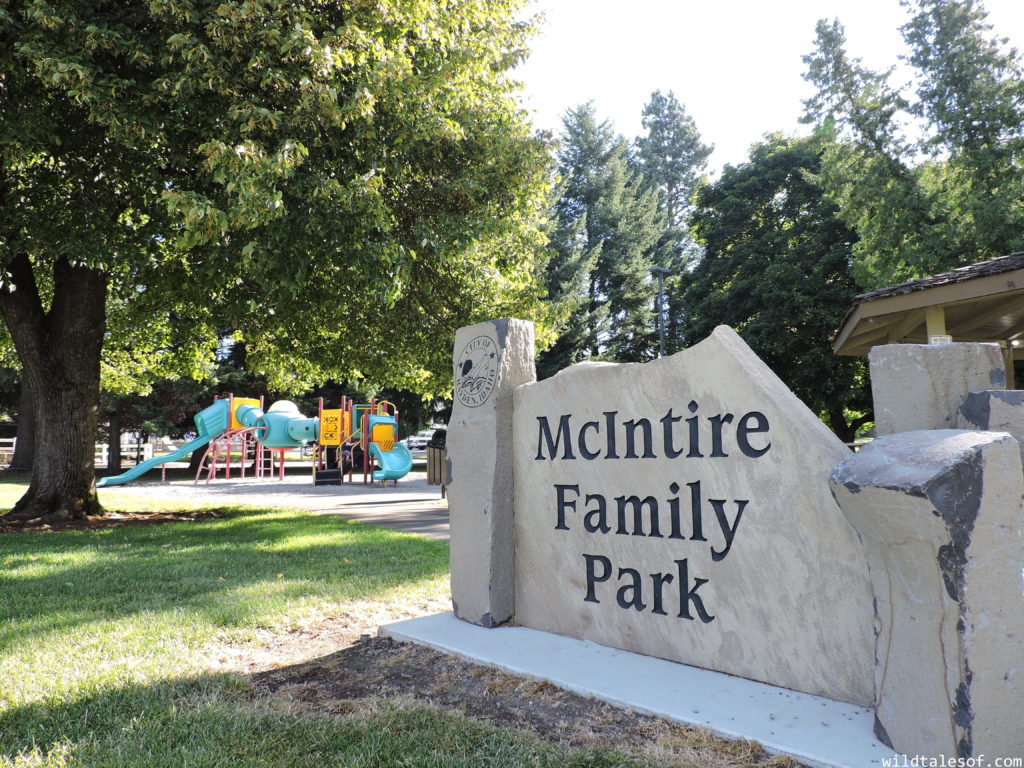 Finucane Park is another Hayden city park that provides families with young children with space to run and get their wiggles out.  Since the playground isn't in the shade, summer time visits can get hot, but there are a couple of gazebo areas that provide a little relief.  There are also baseball/softball fields here, and restrooms.
If you are really looking to entertain the whole family and have a ton of fun, Triple Play Family Fun Park has a lot offer! The main attraction at Triple Play is their Raptor Reef Waterpark, but the park also offers a ropes course, bowling, bumper cars, laser tag, rock climbing, mini golf, go-carts, and more.  With the time we had to spend (half day), our family focused on the waterpark, and had an absolute blast together.
Bergen (nearly 6 years at the time) immediately jumped into the excitement of the place dashing from the children's play area to the wave pool, and up and down the stairs to the water slides.  There are 4 large water slides (check height restrictions), and a handful of smaller slides in the children's play area.  It took Georgia (2 years at the time) a few minutes to "warm up", but once she got her bearings, she was zipping around the play area, playing with the water features, and going up and down the slides on repeat.
Since one of us had to stay with Georgia, Slaed and I took turns riding the large slides with Bergen.  We are so appreciative of the fun and stress relief that Raptor Reef provided for our family! Check their pass prices carefully to find the best deal for your situation and your family.  Kids 2 years and under are free, but must be accompanied by a paid adult (kids 2 years and under are restricted to the children's play area).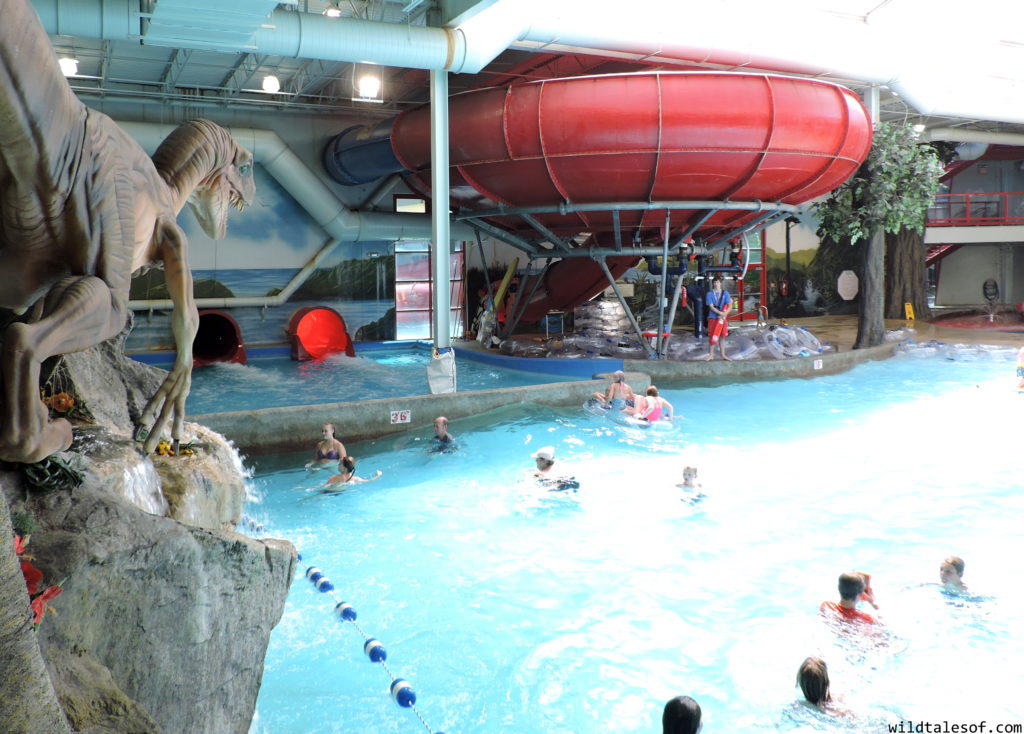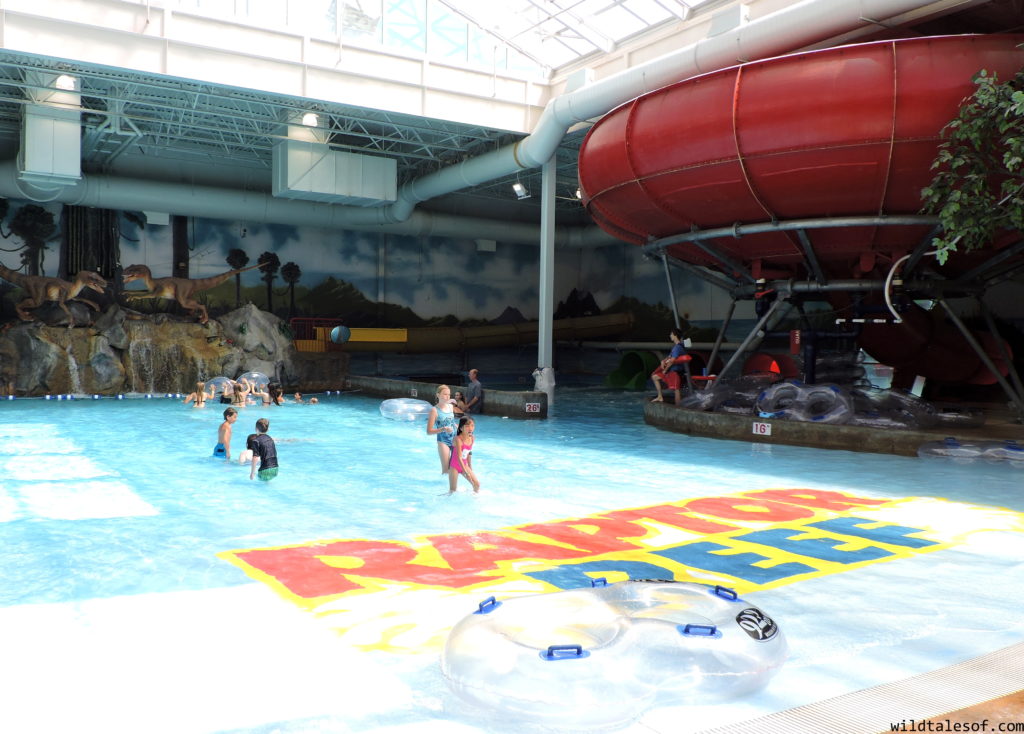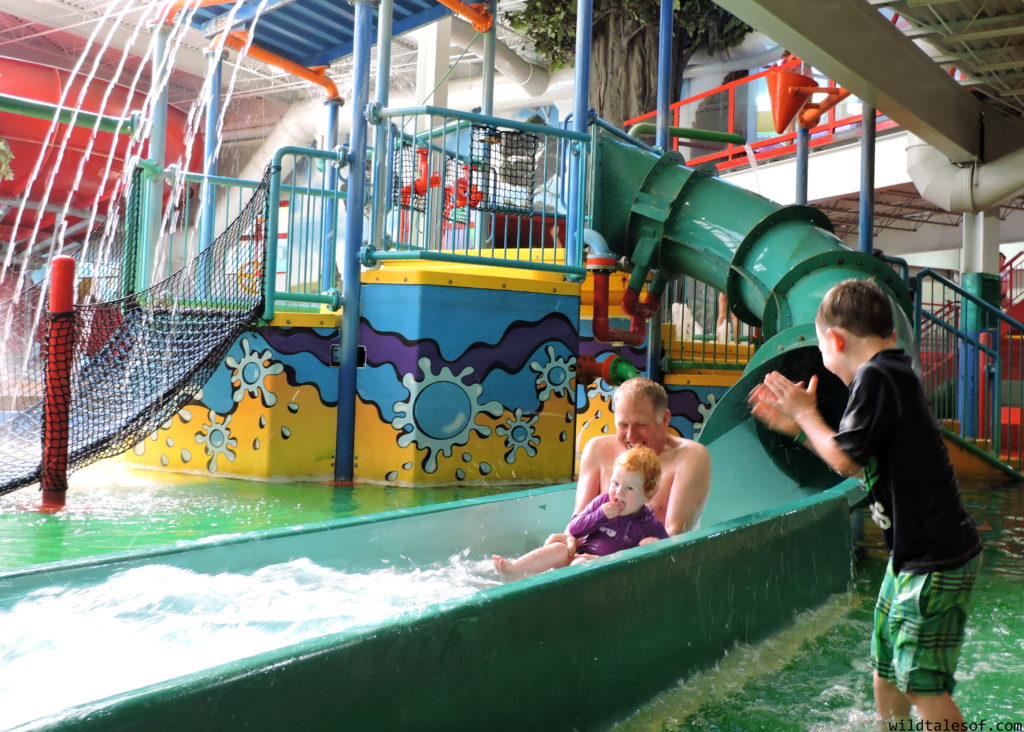 Farragut State Park
Located about 20 miles north from our home base in Hayden, Farragut State Park is a 4,000 acre park on the southern end of Lake Pend Oreille.  Farragut offers hiking, water activities, camping, and many more recreational opportunities.  We were surprised to find that on our sunny Friday morning visit, there were not very many folks out!
We parked at Beaver Bay, and hiked the shore trail to the Sunrise day use area.  At Sunrise, we braked for a snack and some time to enjoy the views and playground.  We only saw a handful of people–one biking on the trail, and a few launching boats.  The Visitor's Center at the west entrance is worth a stop-in to get oriented and learn about the flora and fauna of the area.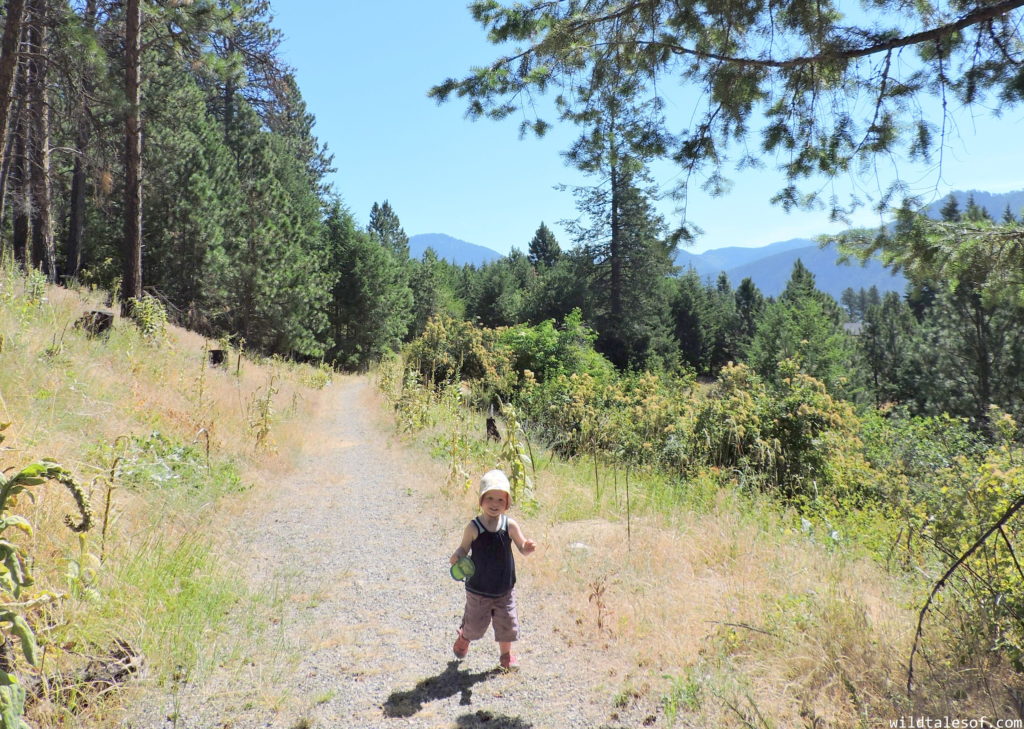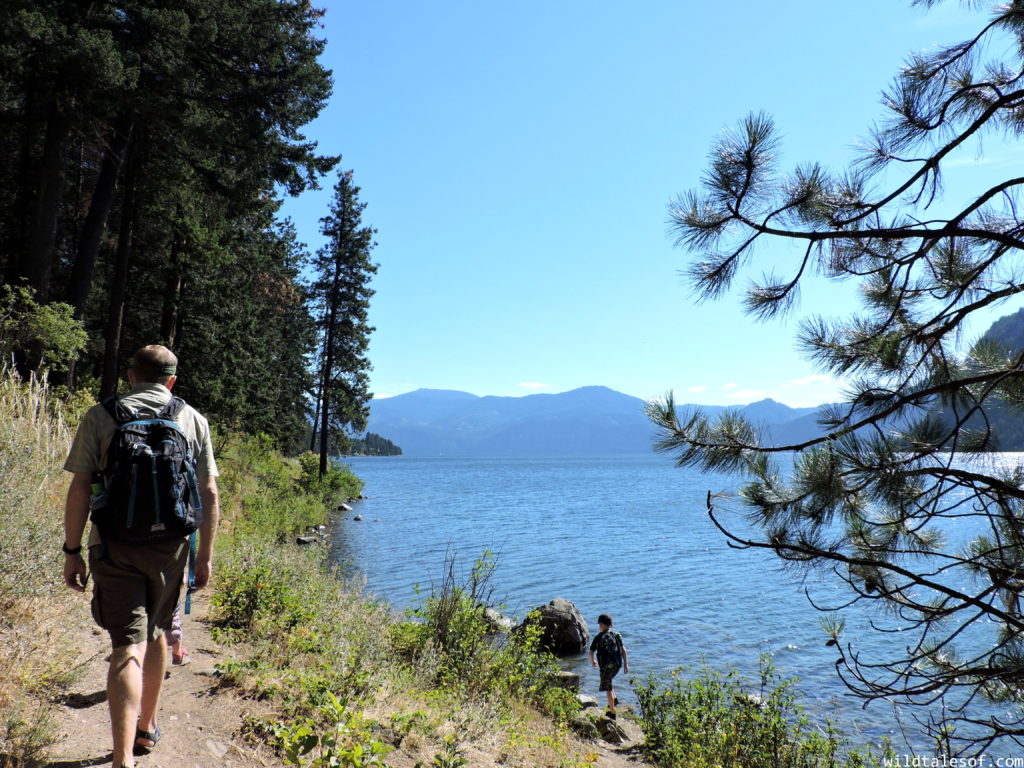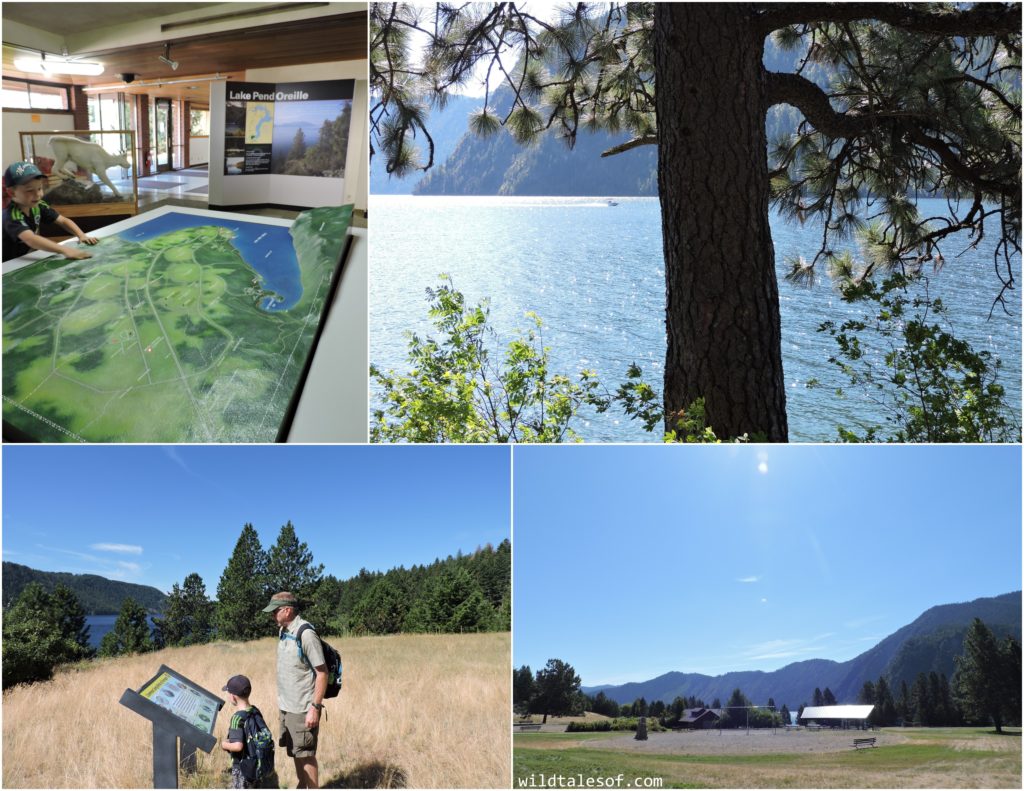 Coeur d'Alene
Coeur d'Alene is the largest city in north Idaho, and certainly the panhandle's most popular and well-known destination.  It's just up the road from Hayden, so we made a special visit one evening during our trip for dinner and ice cream.  You can read more in our dining section (below), but we thoroughly enjoyed our dinner at Crafted Tap House & Kitchen, and ice cream at Shenanigans Toy Emporium and Sweet Shop.
Coeur d'Alene has a lovely downtown area with many shops and restaurants to dine at and explore.  We always find ourselves wandering down to the area around Coeur d'Alene Resort to view the water, but there are plenty of parks and trails to explore all along the lake.  For our next visit, I have my eye on Fort Sherman Playground.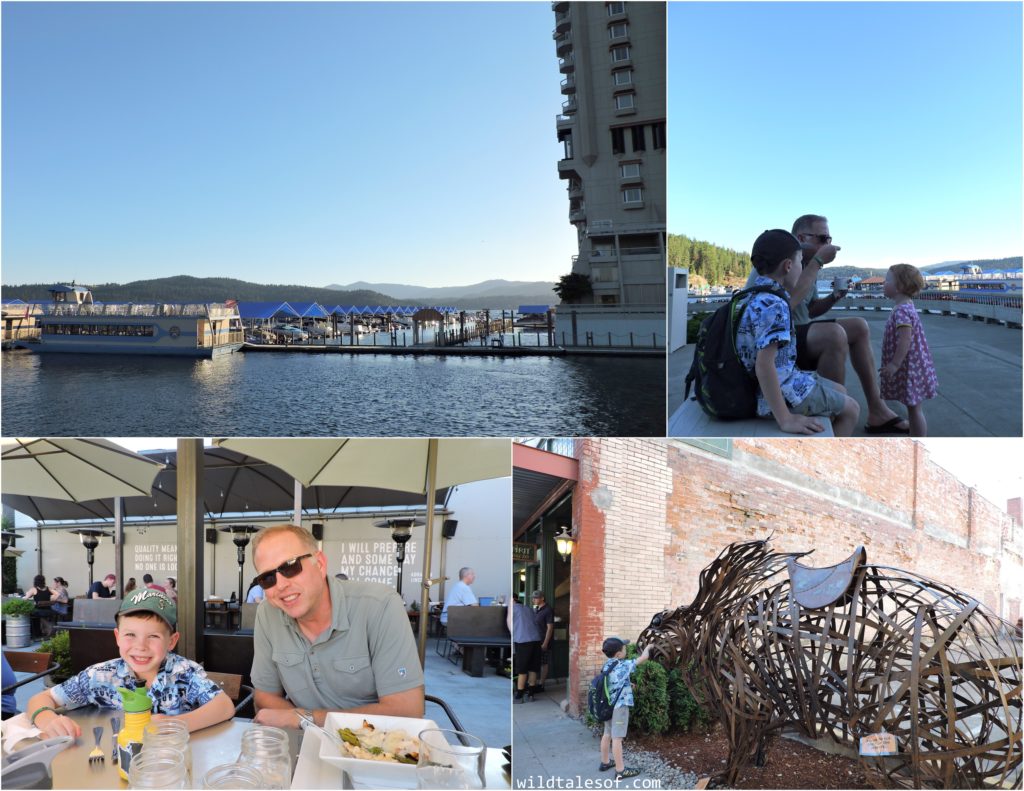 Silverwood Theme Park
What an experience! Silverwood Theme Park is the northwest's largest theme and waterpark, and we can't recommend it enough for families looking to have a little (okay, A LOT) fun and spend some quality time together. Silverwood is well designed, clean, and has beautifully maintained grounds.  Blooming flowers were around every corner, we were never far from a bathroom (huge plus for us with a potty training toddler), and cooling stations kept us comfortable and refreshed.  Stay tuned for a full review of the theme park coming soon including our tips for visitors with young children.
Because we had just visited the Raptor Reef water park (Triple Play) and just had a day to explore Silverwood, we stuck to the theme park and tried to fit in as many rides and attractions as we could.  While the roller coasters are the most popular attractions at Silverwood, there is so much more the park than just high intensity rides.  With the Country Carnival, Garfield's Summer Camp, and Main Street sections, we found endless entertainment possibilities for our 5 year old (though he was even tall enough to go on a couple of roller coasters) and 2.5 year old.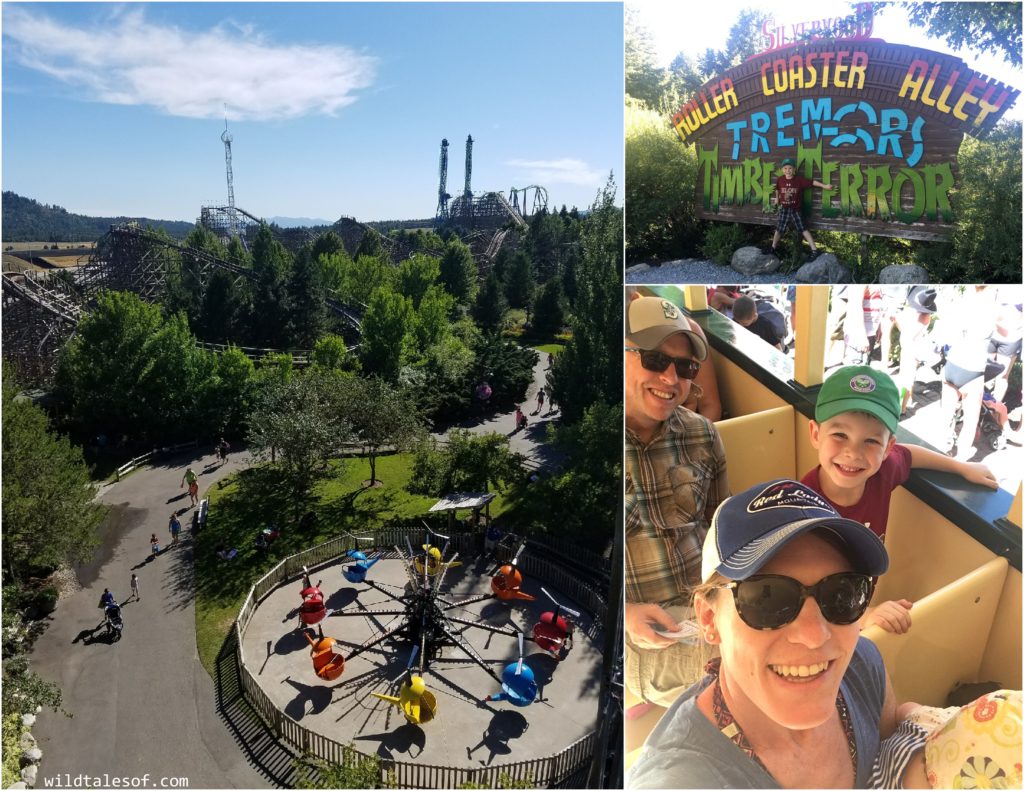 Family Friendly Dining in North Idaho
We always stop in at the Boathouse Bar & Grill (via boat) at least once during our annual visits to Hayden, but it's always just for a drink or some ice cream while our buddy fills up his boat with gas.  However for this visit, we made sure to actually check out the restaurant, and we were not disappointed! We highly recommend their Smokey Joe Sandwich—it's turkey with crispy bacon, and a nice house made smokey sauce.  Delicious.  We were also impressed with their kid's pizza–flatbread style and big enough to share.  With coloring for the kids, boats to watch, and docks to walk up and down while we wait, it's hard to beat the Boathouse in terms of family-friendliness!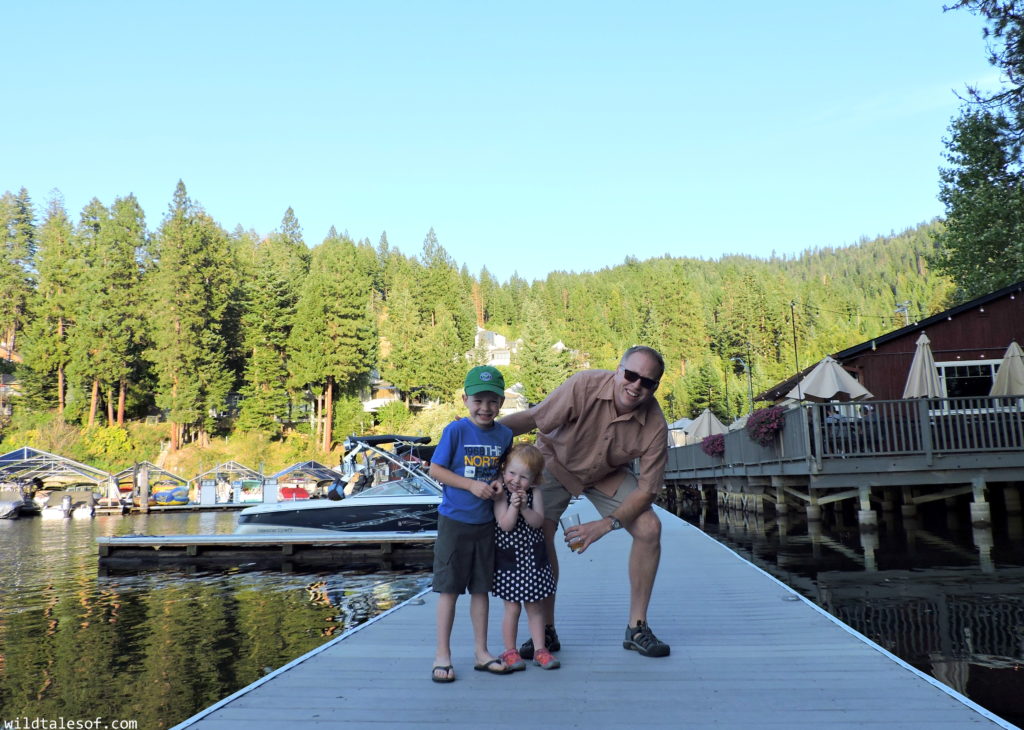 Tim's Special Cut Meats is not a restaurant, but for those renting or staying at a house (or maybe just want to do a little barbecuing?), we recommend a stop here for their great meat selection.  Tim's is our go-to spot now to pick up quality ground beef for our taco night (another one of our Hayden lake traditions), but we also love their jerky!
One of the lifeguards at Raptor Reef (of all people!) told us about Crafted in downtown Coeur d'Alene, and we are so glad we took his advice! Delicious food, live music, and a fun, lively atmosphere.  Initially we were disappointed to see i-pad type contraptions on the all of the tables (we are not fans of this new trend at chain restaurants), but the staff quickly reassured me–they are only for the drink menu! With 50 taps, there is a lot to keep track of, so this makes it easy to update.  Each of us enjoyed our meals from gourmet macaroni and cheese with asparagus to a huge burger with all the fixings.  However, the star of the show was Bergen's (our 5 year old) order–chicken and waffles from the kid's menu–yum!
Before heading back to our hotel to rest up for Silverwood Theme Park in the morning, we stopped in for ice cream at Shenanigans.  If you visit in summer, make sure to try their huckleberry ice cream.  Shenanigans has generous portions (and such reasonable prices!), so order accordingly.
The end of our day at Silverwood came on too quickly, and soon the food options at the park were dwindling because of long lines.  Instead of waiting, we opted to head back to our hotel, and possibly order food to be delivered.  I'm so glad we checked out Triple Play's Garden Fresh Grill before heading up to our room! We were hesitant, but went ahead and ordered their Hawaiian pizza.  This worked out well since Slaed could get the kids up for a bath while I waited, and even better, the pizza was actually really good! A nice crispy crust and generous amount of toppings. The grill is a great option for families staying at the hotel and/or enjoying the water park and other activities for the day.  Check around the hotel (and your paperwork) for coupons. I unfortunately discovered too late that there was a $7-off coupon for any large 2-topping pizza–amazing deal!
Thomas Hammer is a local chain of coffee shops around Eastern Washington and North Idaho (there is a Boise location too), and we visit almost every day of our Hayden vacations.  Baristas are friendly, always asking how our day is going, and what we are up to, and even remember us from one day to the next! Most importantly, they make great coffee, and aren't fussy about fussy orders! We usually use their drive-thru, but the inside of their shop is delightful, and they have nice clean bathrooms.
Slaed and Bergen stopped into The Donut House in Hayden one morning while Georgia slept-in, and were very impressed with their donuts! The shop is family run, and prides themselves in serving only the freshest donuts (no day old donuts sold here!).  Since Georgia and I missed out on the experience, you know we'll be fitting in a visit next year!
While not the healthiest of dining options, I couldn't leave out a mention of Zip's Drive-in! If you are looking for fast food, at least it's nice to have a local option, and one with plenty of history.  There are locations throughout Eastern Washington & North Idaho, and I must say their burgers are pretty delicious!
Family Friendly Lodging in North Idaho
Triple Play Resort Hotel & Suites
Triple Play Resort Hotel & Suites is located in Hayden with 96 guest rooms that are specifically designed for families.  Because we like to spread out for maximum sleeping potential, we chose to book one of their 2-room family suites.  Our family suite featured a large open area with kitchenette, dining table, sitting area (with sofa bed), and king-sized bed with a second separate bedroom furnished with a queen-sized bed.  The suite also included a spacious bathroom with jetted tub that our kids quickly discovered and couldn't get enough of!
Triple Play Resort serves a complimentary breakfast buffet for guests each morning.  We loved the variety of items, and appreciated the small changes in their hot offerings from day to day.  The pancake machine was a big hit for our family, and with Sponge Bob (as opposed to the usual news at most hotels) playing on the dining room's television, I fully realized the kid-friendliness of this hotel! I should also note that while we didn't bring our dog Norman on this particular trip, Triple Play Resort is a pet friendly hotel, and pets are welcome with a small additional fee.
Triple Play Family Fun Park is connected to the hotel (via a indoor sky bridge), and special packages are available to "play and stay".  Another important note: Triple Play Resort Hotel is the closest hotel to Silverwood Theme Park!  In addition to all the fun family activities (see our Triple Play Family Fun Park above), the hotel has movies and games for families to borrow.  We really enjoyed our stay at Triple Play, would recommend it to our friends and family, and look forward to staying there again soon!
Have you traveled to North Idaho? Braved the rides at Silverwood Theme Park? We'd love to hear about your adventure!
Special thanks to Visit Idaho and Visit North Idaho for helping us plan our itinerary.  Thank you to Silverwood Theme Park for hosting us at the park for the day, and to Triple Play Resort Hotel & Suites for providing us with a discounted room rate, and complimentary passes to the Raptor Reef Waterpark.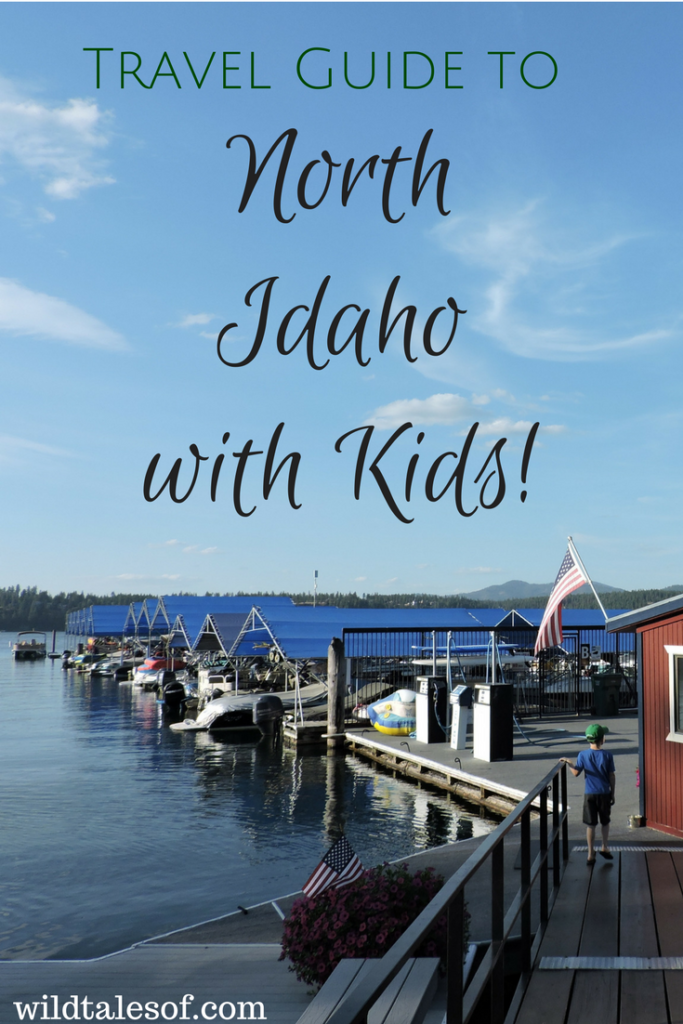 Come join the conversation! You can keep up to date with each and every post by subscribing to the blog via email. We'd also love to have you join us on all of our adventures by "liking" our facebook page and following us on twitter! If you enjoyed this post, please "like it", "tweet it" or "pin it"!