As active as our family is, I must admit that it came to a surprise, and of course was concerning, that our little girl was not reaching gross motor milestones (sitting up, crawling, standing) at the same rate as her average peers.  We were especially worried when at her 18-month check up with the pediatrician, we had to report that she wasn't yet walking.
"You must be carrying her too much" was what many bystanders would reason.  Since she is our second child, some thought we held her more, and thus impeded her development  We were moving at Bergen's (now 4.5 years) pace rather than allowing Georgia the chance to move on her own.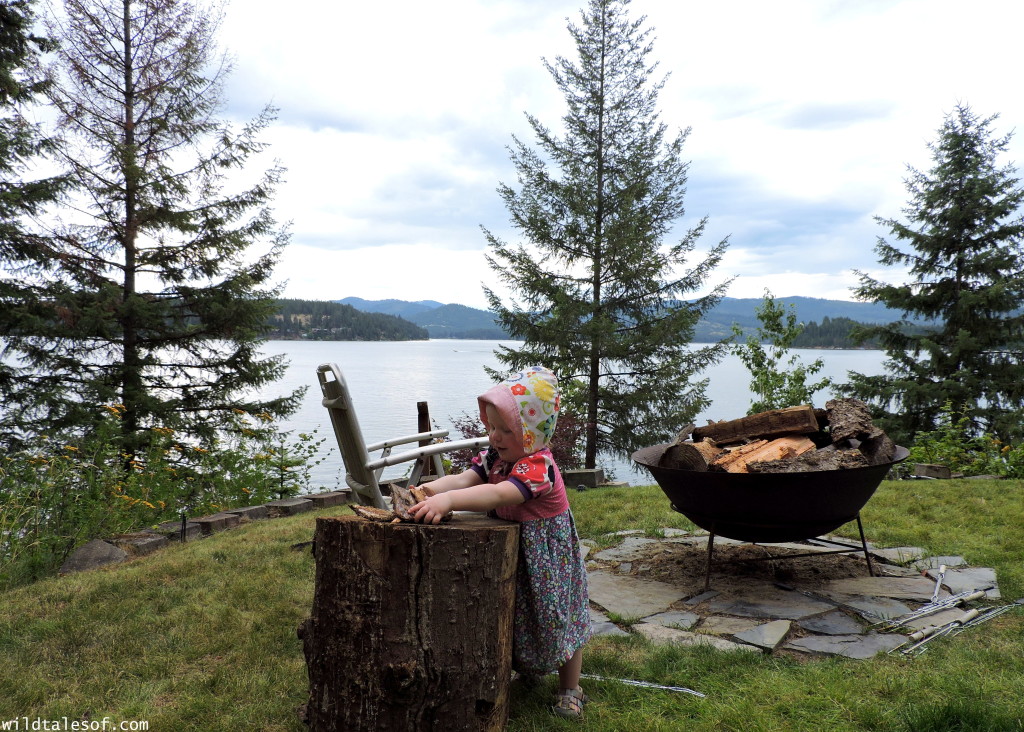 We disagreed, knowing that in reality, Bergen was held, carried and strolled just as much, yet still managed average milestones.  Even though we knew it was taking Georgia longer to make progress, I knew deep down that she would find her way.
She marches to the beat of her own drum, and in due time, just like she learned to sit-up, crawl, pull to stand, and cruise around on the furniture, she would eventually take her first steps and walk on her own two feet.
Even with all the optimism in the world though, as a mom, you fret, and blame, and feel guilty and frustrated.  Could I be doing more? When should we start a formal intervention like physical therapy? Will she ever show the desire to walk? Is she scared? When your 18-month old doesn't walk, there are so many questions!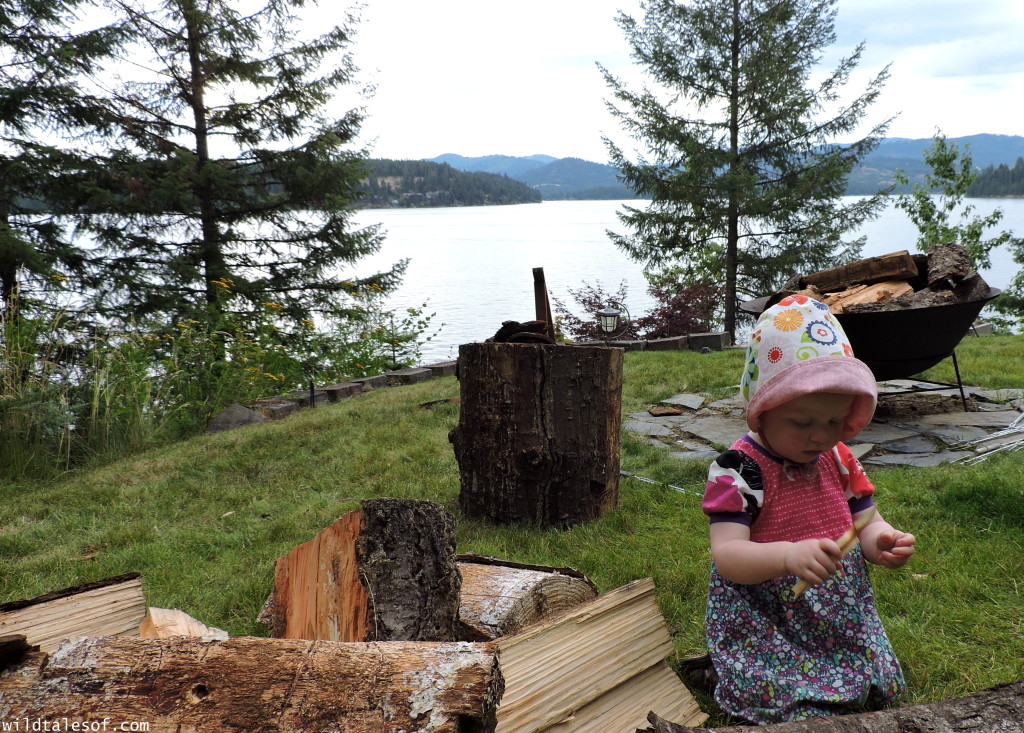 We waited though, and gave her the chance, and the time, and the space.  And at the most unexpected time, when we we'd just arrived in our rental condo in Vancouver, BC, she went for it! She walked! All by herself, and by her own initiative!
That was about two weeks ago.  Does she still crawl? Yes.  Does she still walk on her knees? Yes (we still might need to invest in baby knee pads).  But she also walks! And when she does, she has the most delightfully pleased look on her face!
Waiting for those first independent steps can be hard, at least it was for us, so I wanted to share a few things that helped us as parents in hopes of encouraging others.  Just know that we are not medical professionals, but simply sharing what helped us in our journey as parents of a budding walker.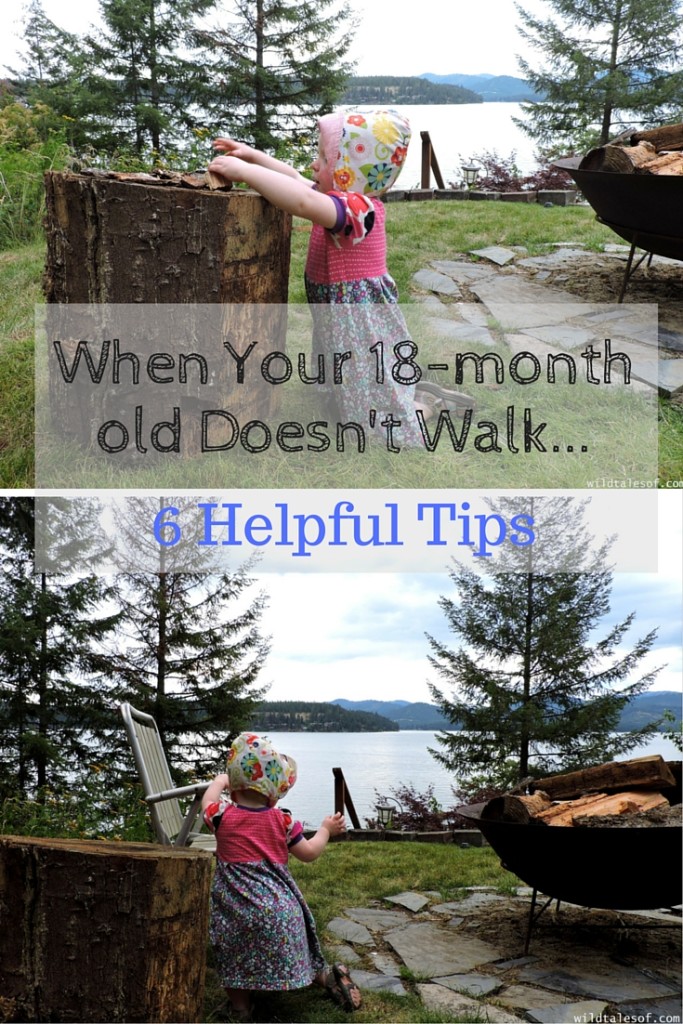 When Your 18-month old Doesn't Walk
Know and Understand her development.
Think about what she's accomplished so far, and how long those milestones took to develop.  Georgia didn't sit-up independently until 8 months, and she crawled at 11-months, so we knew other milestones like pulling up to stand (occurred at about 13 months) and walking would take much longer.  As our pediatrician pointed out, just make sure the child is not backtracking.  Taking notes in her baby journal helped to keep track of dates and time periods of accomplishment.
Provide Support and Accommodate
Once our pediatrician showed us that Georgia could actually sit-up without support if we just put her into the position (we thought she had to do it ALL by herself, so we never helped), we realized that a little more scaffolding was necessary.  All children are different, and some benefit from a little "push" in the right direction.
Once she could pull-up to standing, the walkers/carts were useful in showing her what the upright world was all about! I saw walking as a skill that took practice, and those toys/tools gave her more confidence, and the idea that moving around on her own was possible. She also just liked it (and still does) when one of us held her hand and walked along beside her.
When the months just roll by with what seems like little to no progress, it can be SO HARD, and so discouraging, but again, taking a step back, and realizing the bigger picture was more beneficial that panicking and hurrying her along.
Celebrate all the other Positives
Don't forget that gross motor skills are not the only part of a child's development! We were sure to point out and "brag" about all the other accomplishments happening.  A mouth full of teeth, eating meals along with the rest of the family, sleeping 13+ hours a night, and being an overall social and interactive child were all reasons to celebrate!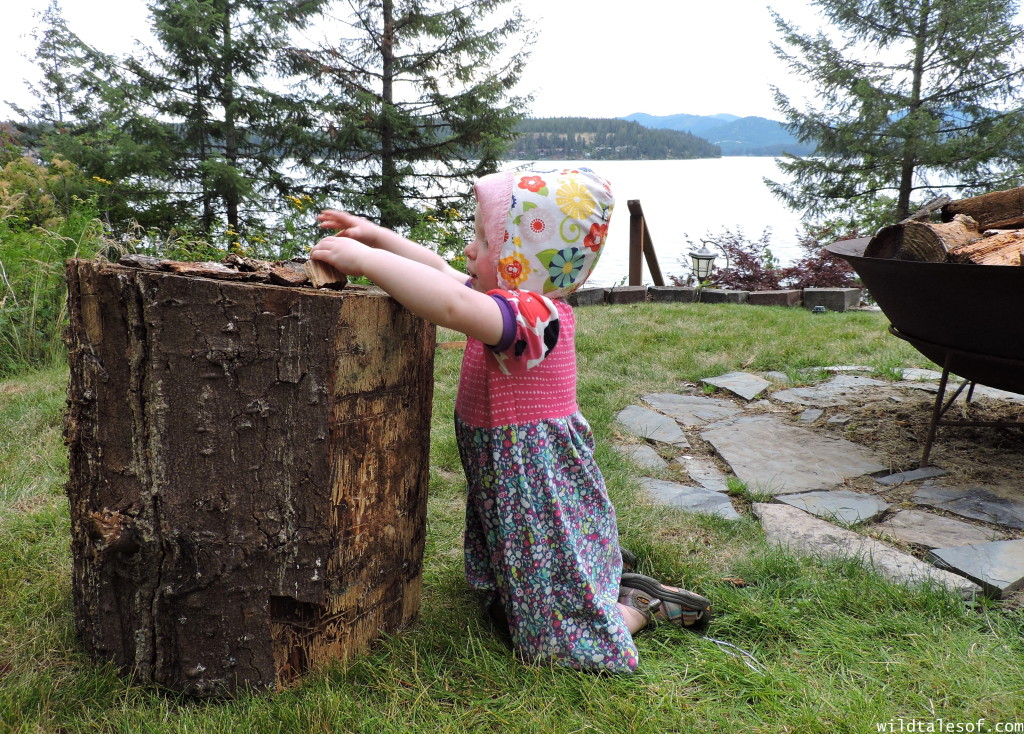 Just because babies in your playgroup or daycare are walking already, doesn't mean that your child is behind or developmentally delayed.  Your child develops at their own unique pace, and the age given for those milestones, such as walking at 12 months and crawling at 9 months are just estimates.   Is  your baby making progress? That's what's important.
Continue to be Active as a Family
Even though Georgia wasn't walking, we continued to maintain our active lifestyle and continued to provide her with age appropriate activities.  At parks and playgrounds (we take daily walks), we still gave her the opportunity to get out of the stroller or backpack. She couldn't yet walk around the playground and attempt the climb up structures by herself, but we gave her support.  For example, one of us would set her up at the base of the playground structure, then she could climb up, crawl around, and she'd often make her way down the slide, one way or another!  We believe that giving her these opportunities to be independent and active helped to boost her confidence, and gave her the chance to practice her skills in different environments.

What better way to celebrate and show-off Georgia's new skill of walking than a beautiful (and comfortable) new dress? Just before Georgia took off with walking, our latest design (and last as part of this year's ambassadorship with The Patchery) arrived in the mail!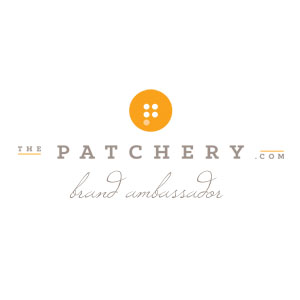 You can see her donning the "pleats and pockets" dress her as she explores the fire pit area at our friend's cabin on Hayden Lake in Idaho.  As soon as I saw the Lorraine collection of fabric from The Patchery, I knew I had to design something for Georgia with it.  I can't get enough of the bold floral prints, and love how it's feminine, but still forgiving with the potential of stains (we've got active, messy kids)!
As ambassadors for The Patchery, we are given clothing products in order to review and share on the blog.  If you're thinking of purchasing pleats and pockets dress for your adventurer (or any of the other adorable clothing pieces on their site), you receive 15% off with our special code! Just use "WildTale15" at checkout.  Looking for different clothing options? In February, we featured Bergen's hoodie, in March we featured Bergen's lounge pants, in April we featured Georgia's baby jumpsuit, in May we featured Bergen's long sleeve t-shirt, and in June we featured Georgia's swing dress.  You can also see the unboxing of this latest dress, plus another look at all of our other designs on this video from YouTube!
When did your children learn to walk? How long before they made it their regular "mode of transportation"? Even though I mentioned not comparing, it's still fun to see how kids truly do develop at their own pace!
Come join the conversation! You can keep up to date with each and every post by subscribing to the blog via email. We'd also love to have you join us on all of our adventures by "liking" our facebook page, following us on twitter, and exploring with us on Instagram! If you enjoyed this post, please "like it", "tweet it" or "pin it"! **Affiliate links are used in this post to direct readers to resources from our partners.