Missoula, Montana was the last leg of our big Idaho-Montana road trip this past summer.  Missoula is near and dear to our hearts.  Slaed went to college there at the University of Montana, and for me, Missoula was the very first town that I visited in Montana.  That may not seem like a big deal, but Montana was high on my list of places to see, so I have fond memories of crossing the border from Idaho, where I was volunteering with Americorps after college, to Big Sky Country.
For this particular visit, we stayed two nights, and as usual managed to squeeze in quite a bit of fun and activity into our days.  This was our first time bringing the kids to Missoula and so much nostalgia comes along with visiting your old college town, so we had a lot to show them! My guide of what to do, where to eat, and where to stay with kids will hopefully give you an idea of what we were up to, and provide you with some possible plans for when you decide to visit!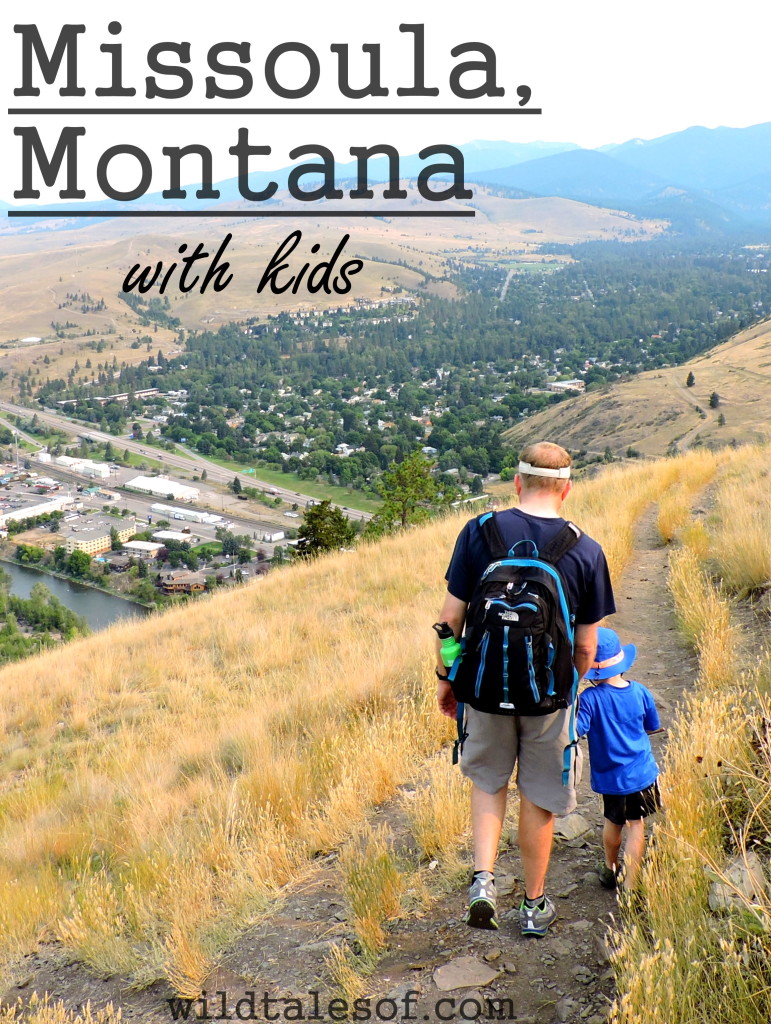 Things to do when Visiting Missoula, Montana with Kids
Caras Park 
There always seems to be something happening around Caras Park when we visit Missoula.  We wandered through our first evening in town and found The Big Sky BBQ Festival going on.  While it wasn't our intention to stop, enjoying a local beer while Bergen danced to the live music sure made for a fun pre-dinner activity.  Here you'll also find Missoula's Carousel and you might even get to watch folks surfing or kayaking "Brennan's Wave" (a man-made whitewater feature) in the Clark Fork River.
Bonner Park 
Bonner Park is located in the University District, and close to the house we rented for our 2-night stay in Missoula.  Plenty of space for kids to run around, fun playground features, and for those visiting in the summer (we were there the first weekend of August), a splash pad! Would also be a great spot for picnicking, though we unfortunately didn't get the chance during this visit, we did enjoy our ice cream cones from the Dairy Queen just down the street while Bergen played!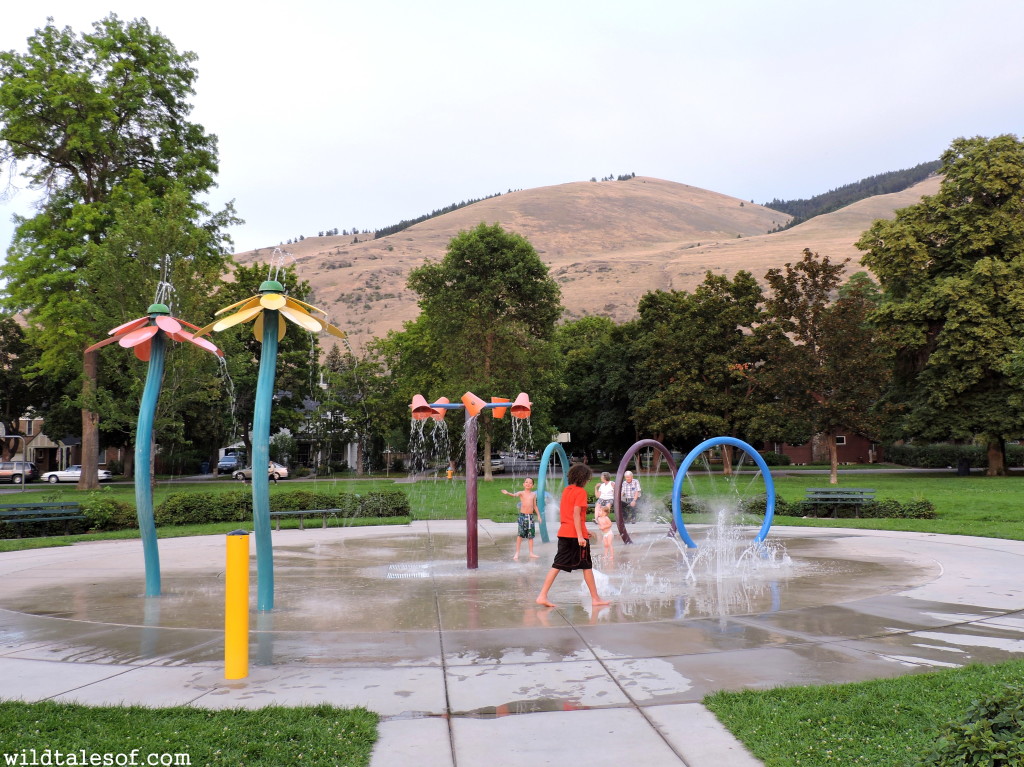 Greenough Park 
It was hot hot hot when we visited Missoula, so after naps on our first (and only) full day in town, we headed to this forested green space along Rattlesnake Creek.  Bergen rode his balance bike, and we hiked along the trails for awhile before settling on a shady spot to dip our toes into while Bergen splashed around.  In addition to the trails and creek, 42 acre Greenough Park has a playground, picnic tables, and restrooms.  Also a great spot for fishing!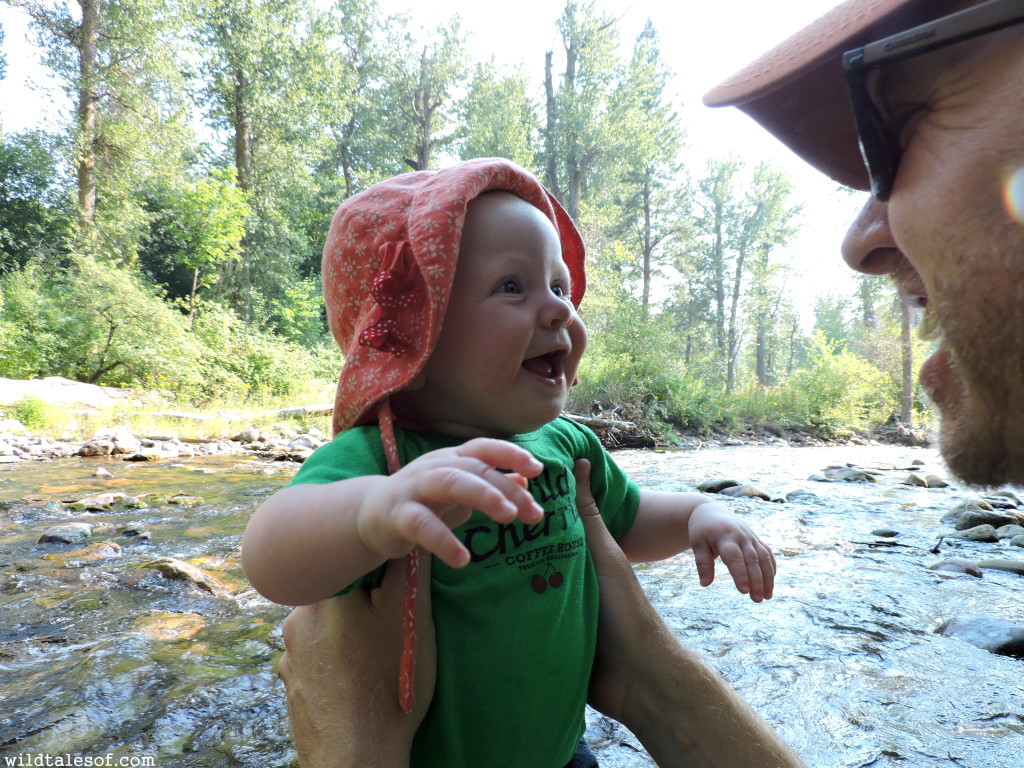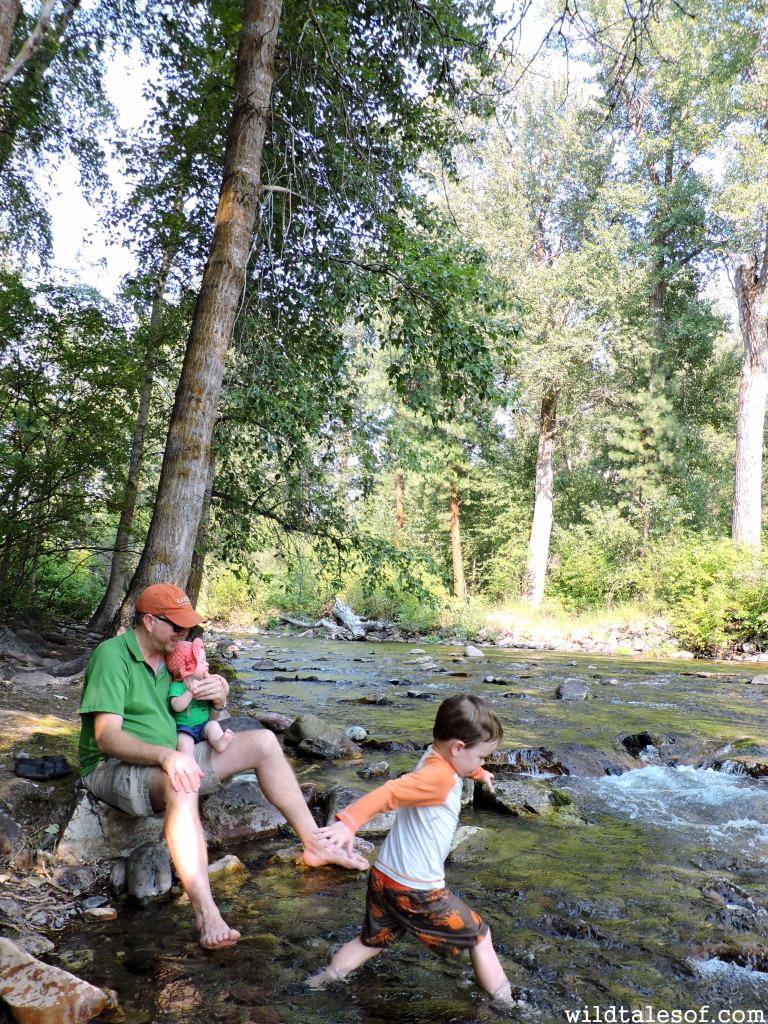 Tour the University of Montana Campus
No visit to Missoula is complete without stopping by the University of Montana.  Since Slaed is a Griz graduate, it's more of a walk down memory lane, but I love any chance I can get to tour the beautiful campus.  With kids, we suggest stops at the Grizzly Bear statue, Main Hall's clock tower, and the football stadium.  The book store is also a lot of fun to breeze through, and I also appreciated "The All People Tree" that's located in the oval's (center of campus) northeast corner and stands for the university's commitment to diversity.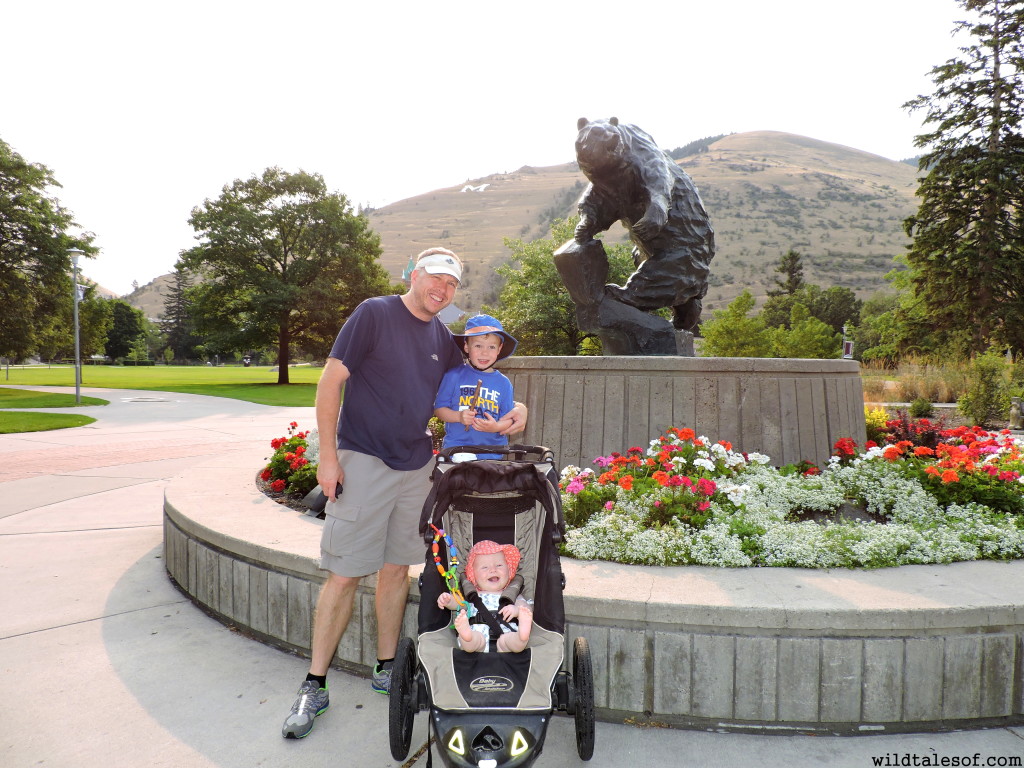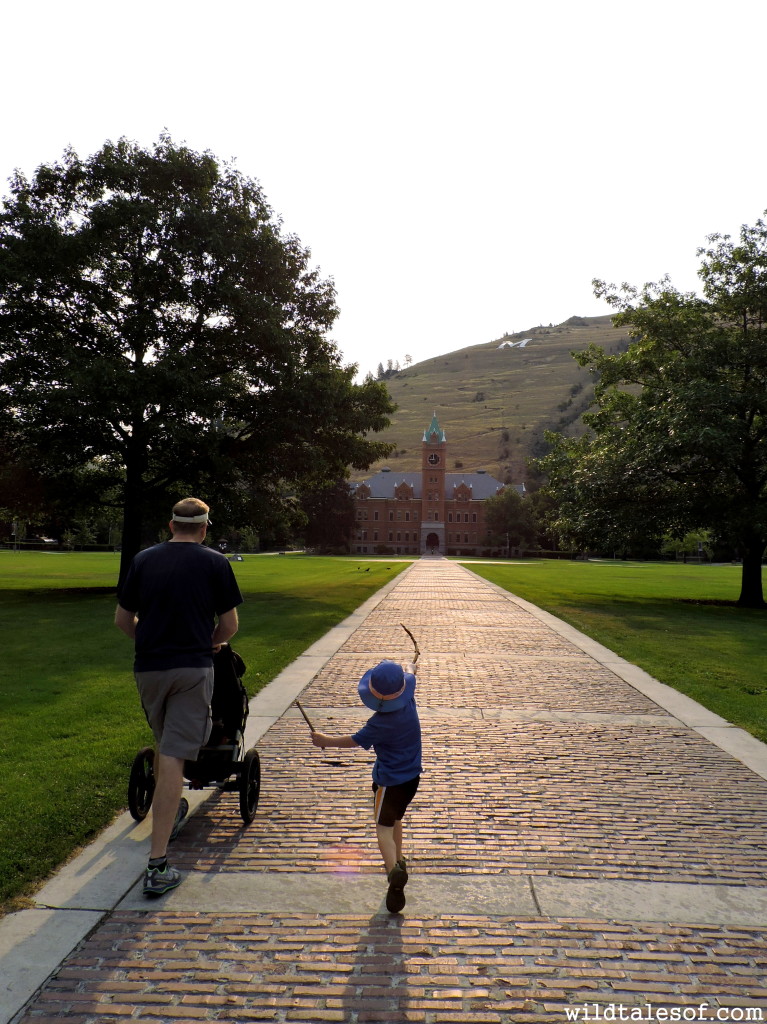 Hike to the "M"
Hiking to the "M" on the side of Mount Sentinel and part of the University of Montana's campus is an absolute must when visiting Missoula.  We opted to start our hike bright and early to beat the heat, and possibly crowds, so after a quick campus run through, we scrambled up the 3/4 mile path of 11 switchbacks.  It's not an easy climb per se, it's actually quite steep, but completely doable and the views are well worth a little bit of huffing and puffing. Bergen managed the hike on his own, and I carried Georgia on my back in the ergo.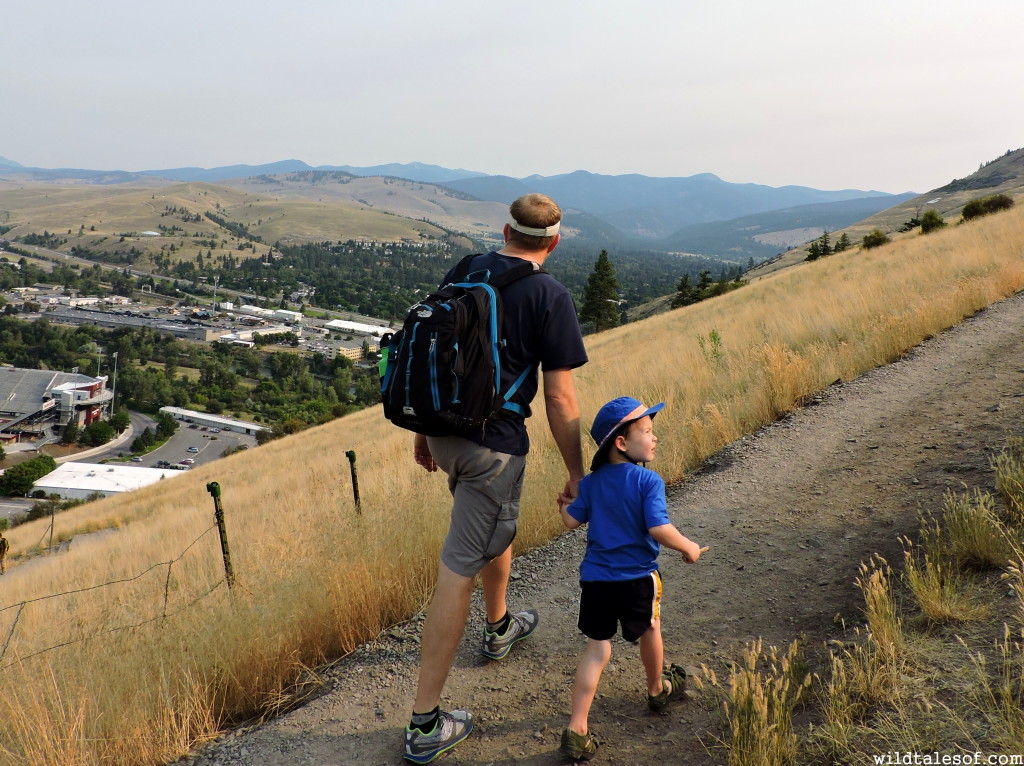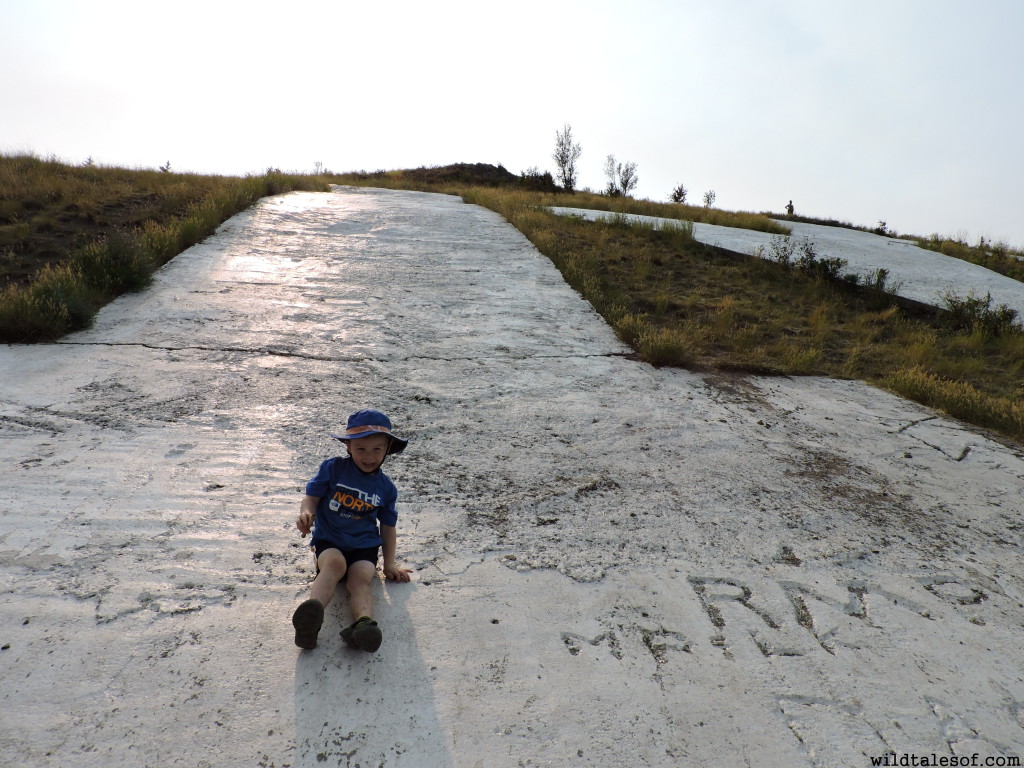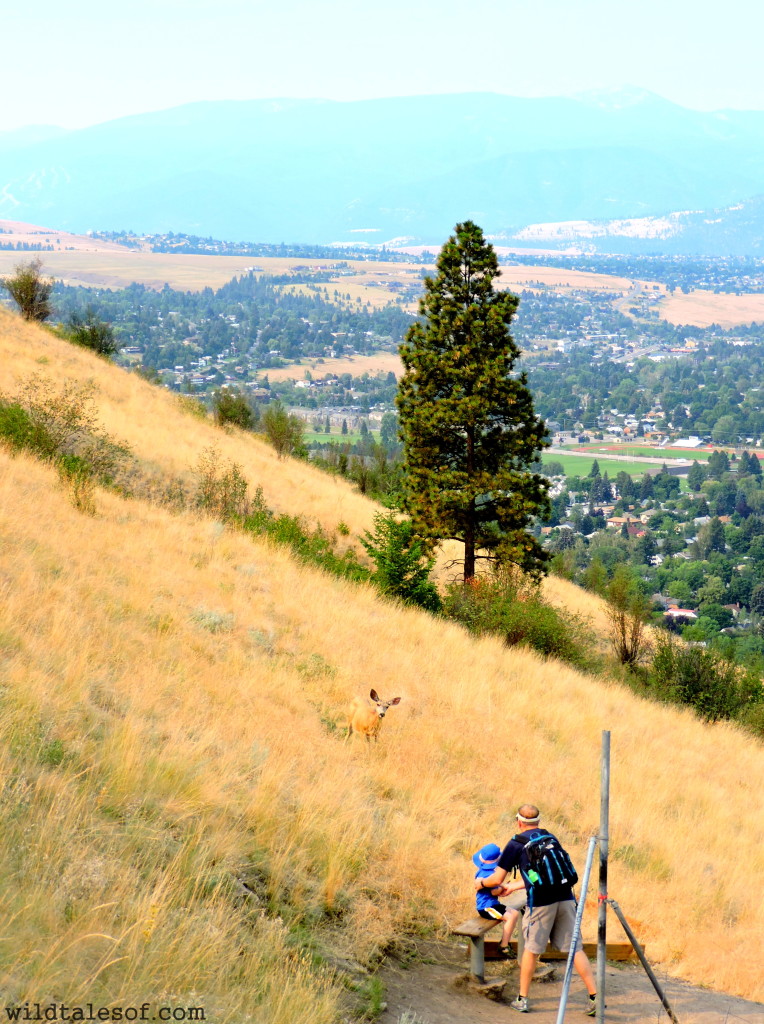 Places to Eat (with kids) in Missoula, Montana
Located downtown, Bagels on Broadway is a classic Missoula spot that's perfect for breakfast or lunch.  I've had breakfast here on past visits, but for this most recent visit we stopped in for lunch, and found their sandwiches to be the perfect thing after a morning of hiking and seeing the sights. Bergen was so appreciative of the toys available that he threw a mini-meltdown when it was time to eat–not our finest moment, but everything worked out and he thoroughly enjoyed his "Carousel" bagel (peanut butter topped with honey and sliced banana).
Slaed has been visiting The Depot, also located downtown (near the railroad tracks) since his early college days and has a tradition of ordering their popular shrimp wontons.  The wontons are stuffed with cream cheese, chives, and shrimp with sweet & sour and hot mustard on the side.  While they've supposedly gone downhill since 1993 (or maybe his taste buds have matured?) they are still incredibly tasty.  The Depot can be a little on the pricier side by Montana standards, but we found it welcoming and appreciate the casual yet elegant atmosphere.  It may have also helped that we didn't dine in the dining room, but rather the more casual deck/bar area.
There's no question.  When you are in Missoula, you MUST visit the Mo Club for a burger.  Because we are used the law here in Washington State of no kids in bars, we thought for sure that the Mo Club would turn our little family of 4 away.  Therefore, we made a plan for Slaed to go in on his own, and pick up a few burgers to go.  I was pleasantly surprised to get a phone call a few minutes later as the kids and I were exploring downtown, that we needed to head back.  The Mo Club welcomes kids until later in the evening, so the whole family can relax and enjoy one of the best burgers in the country! Not fancy, but a Missoula institution.
We didn't get to stop by the Big Dipper when we were in Helena earlier on in our ID-MT road trip, so we were excited to have the time to enjoy the Missoula location (there's also one in Billings).  The Big Dipper serves, from a walk-up window, delicious homemade frozen goodies including ice cream cones, shakes, floats, and sundaes.
This small grocery store (locally owned & family operated) was just a few blocks away from the house we rented.  We enjoyed their breakfast sandwiches and coffee on our first morning in town, and also got to stock up on Missoula's famous Casa Pablos salsa.  Another place of nostalgia for Slaed.  Back in his college days, he would come here every Friday to cash a check for $20. That was his spending money for the week!
U of M's University Center Market
Another great spot for a quick stop, especially if you happen to be touring University of Montana's campus.  The University Center Market was the perfect place to grab coffee and a few tasty pastries before hitting the road on our last morning. Very inexpensive.
Where to Stay in Missoula
We've almost always stayed with friends when visiting Missoula, but now with 2 little kids and friends moving away, we found a lovely rental house close to campus in the University District.  The craftsman style house was perfect for us, and definitely made us want to stay for longer than just two nights! Thanks to a downstairs den/office area and 2 bedrooms, the 4 of us were able to spread out, and enjoy to wonderful 2 nights of sleep! The house also has a fenced backyard giving plenty of space for Bergen (almost 4) to play, and a space for us to enjoy in the evening after the kids went to bed. The house is thoughtfully decorated, and well equipped with everything we needed.  The owners even made sure that a crib was set up for Georgia giving us one less thing to deal with when unpacking and setting up.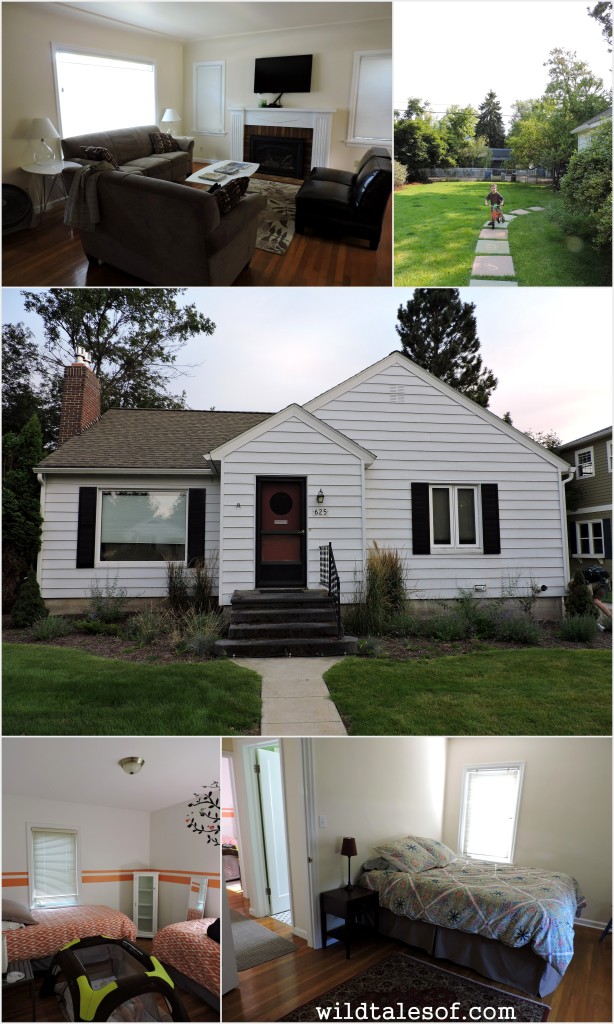 Have you traveled to Missoula? Have a favorite college town? Let us know in the comments!
Come join the conversation! We'd love to have you join us on all of our adventures by "liking" our facebook page and following us on twitter! You can also keep up to date with each and every post by subscribing to the blog via email.