On our first full day in town, our friends and Red Lodge hosts had quite the adventure up their sleeves! Luckily they prepped us with a hardy breakfast complete with stacks of fluffy pancakes, fresh fruit, and their family tradition of little smokies.
Then we filed into our car and followed wondering what we might be getting into.  As we began to climb higher into the mountains after driving just a few minutes out of town, Slaed got his bearings.   He realized that we were traveling through the Beartooth Highway, arguably one of the most beautiful mountain passes in the states.
Red Lodge is located in south-central Montana about an hour from Billings.  We had the pleasure of staying with dear friends in their family cabin for a few days as part of our 12-day Idaho-Montana road trip.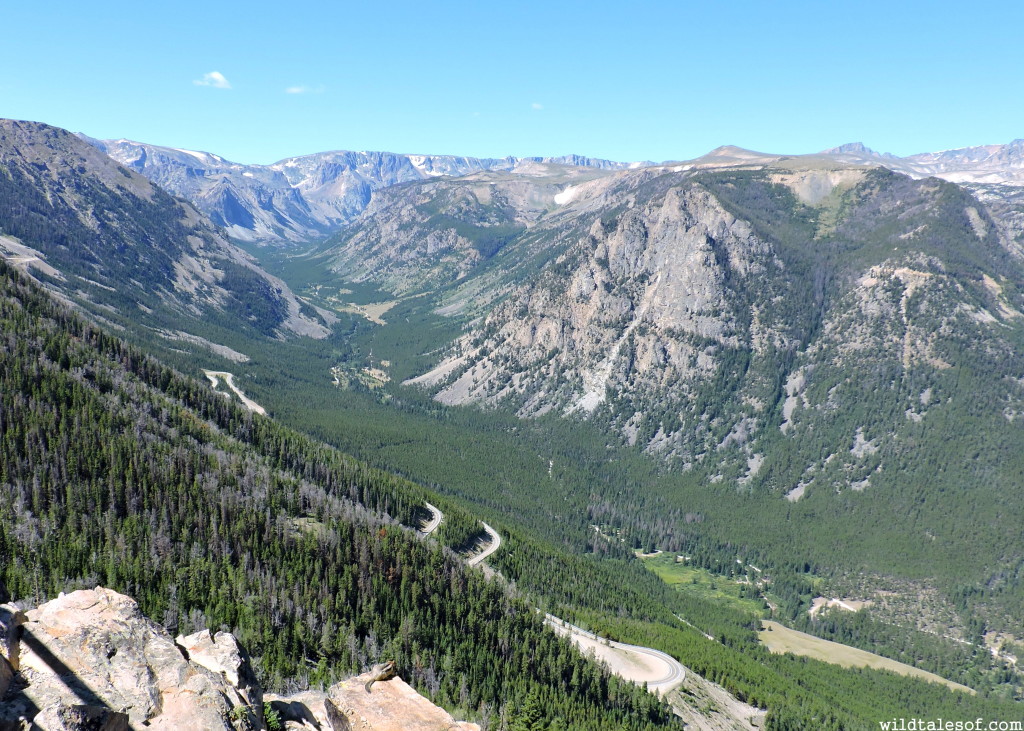 We stopped at one of the scenic viewpoints along the way to break up the drive and get a good look at our surroundings, and let our stomachs settle a bit, but the real adventure was upcoming.
Hairpin turn after hairpin turn we ascended.  We'd point out cars that were above us, and then marvel at the fact that after a few minutes we were one of those same cars that seemed to be in such a far reaching place.
If we'd done just a little bit a of research (or glanced at our GPS) it probably would have been obvious, but we were surprised and excited when we unexpectedly crossed over into Wyoming! Bergen ticked off this state when we visited Yellowstone 2 years ago, but Georgia was able to add one more state to her list. Soon after crossing the border, we came to our ultimate stopping point, and I struggled to catch my breath, at about 10,000 feet.
What followed was a rock scrambling adventure!
Ever popped into a state unexpectedly? What's your favorite scenic drive?
Come join the conversation! You can keep up to date with each and every post by subscribing to the blog via email. We'd also love to have you join us on all of our adventures by "liking" our facebook page and following us on twitter! If you enjoyed this post, please "like it", "tweet it" or "pin it"!