This past spring we made a mandatory stop in Oakland, California as part of our big Oregon-California road trip.  We were supposed to be spending our time cooing over our brand-new baby niece, introducing her to her Seattle cousins, and swapping newborn parenting stories.
As babies do though, she wasn't cooperating, and decided to hold off on being born until a few days after our departure.  So as consolation, instead of welcoming the little one, we got to explore Oakland with Slaed's sister and her husband who live there. Not the same as getting to meet that squishy, adorable newborn but a treat nonetheless!
Oakland has character.  Rough around the edges for sure, but from shops and restaurants to parks and beautiful walks, there's so much to explore. It seems that every time I visit, I say to myself and then to Slaed, "Let's move here!". We've almost always lucked out with amazing sunshiny weather and I feel like the flowers are always in bloom.
Here's what we got into during our most recent visit, plus a few more recommendations taken from our explorations in Oakland through the years.  Note: Not shown is our little one who was 3 months at the time.  Always tucked away in the ergo, she never made an appearance on camera!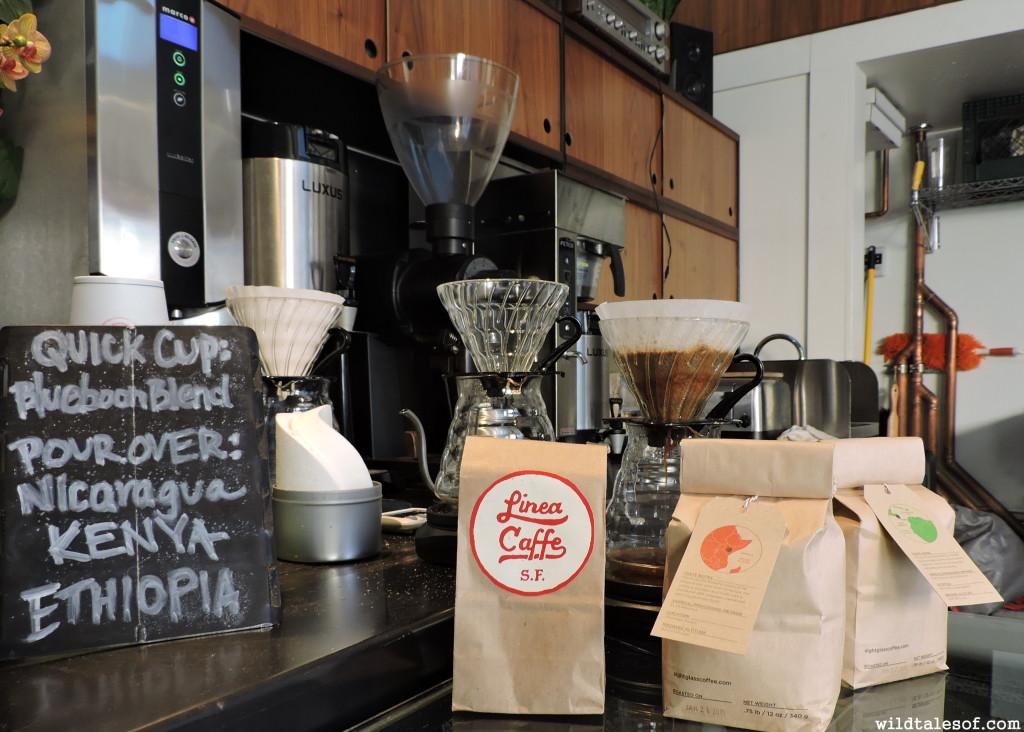 Since we were coming from Sonoma that morning, we'd already had breakfast, but our mid-morning arrival in Oakland was the perfect time for a pick-me-up.  Tucked inside the Temescal Alley just off of Telegraph Avenue is the Cro Cafe.  Simple and to the point.  Good coffee located among other neat shops that I wish I could have perused more.
Next time, I'm stopping in for a doughnut at Dolly's or maybe an ice cream cone at the Curbside Creamery (or maybe both?).  I could have spent all morning in the Walrus, a shop featuring vintage and upcycled goods, but tiny hands that are prone to destruction were getting in the way!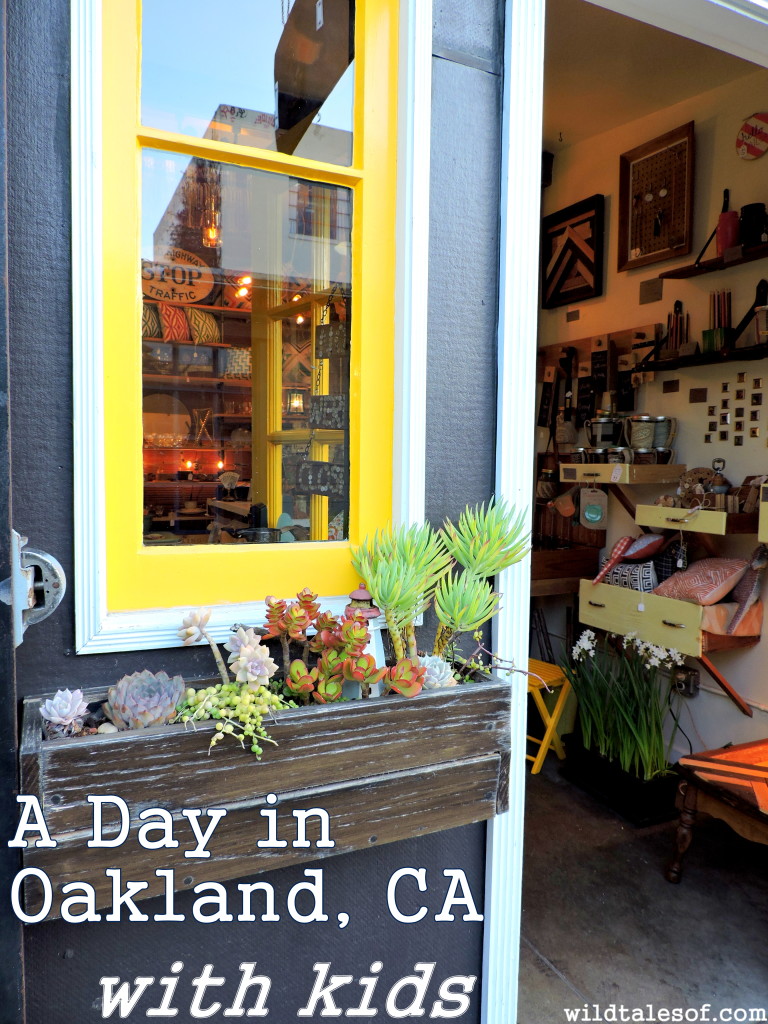 With coffees in hand, it was time to allow Bergen to have some fun and get some energy out after being cooped up in the car all morning.  In turn, the adults got to catch up, and chat about why exactly this little baby wasn't working with our schedule.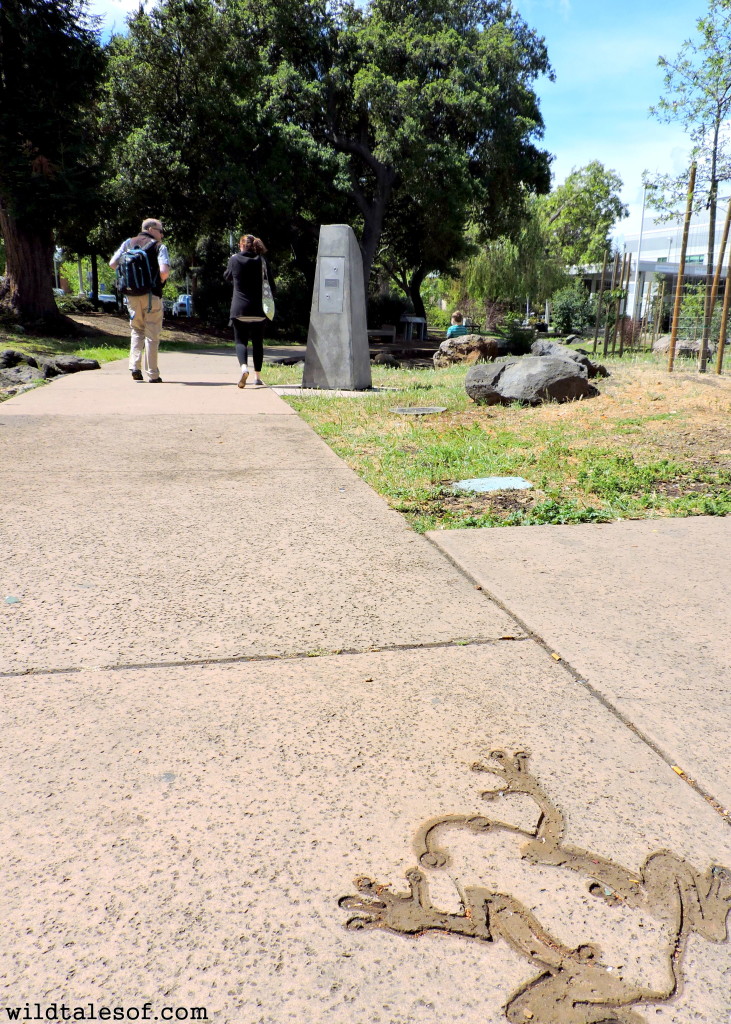 FROG Park is a small, 3-block long greenbelt flanked by two playgrounds.  What more could a 3.5 year old ask for? Along the greenbelt path, which follows the now dry Temescal Creek, visitors are encouraged to look through scopes to find various objects (mostly animals) that existed here historically.  This increased the fun and engagement, and we all learned a little something about what Oakland was like many, many years ago.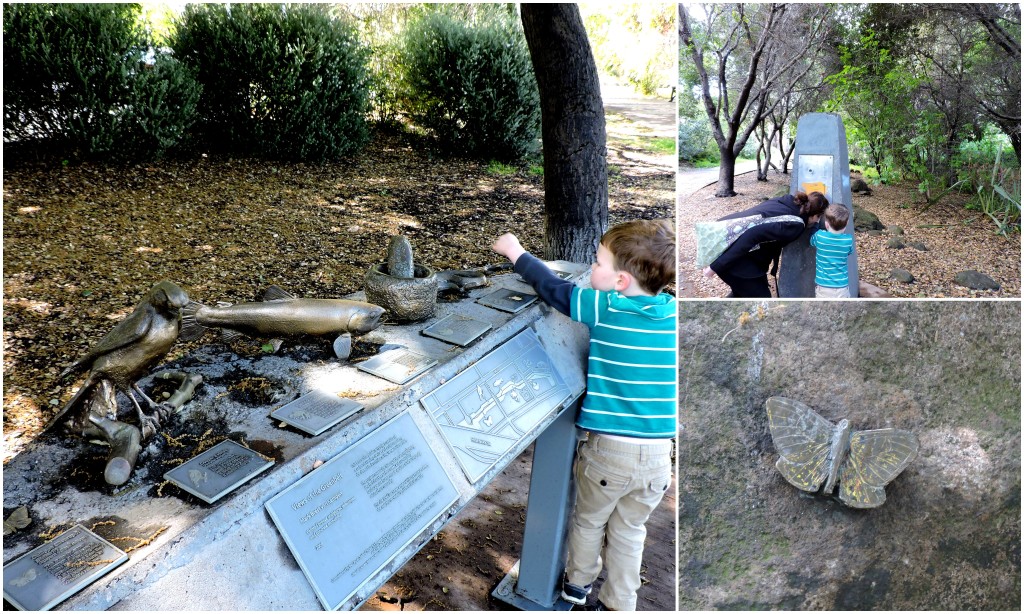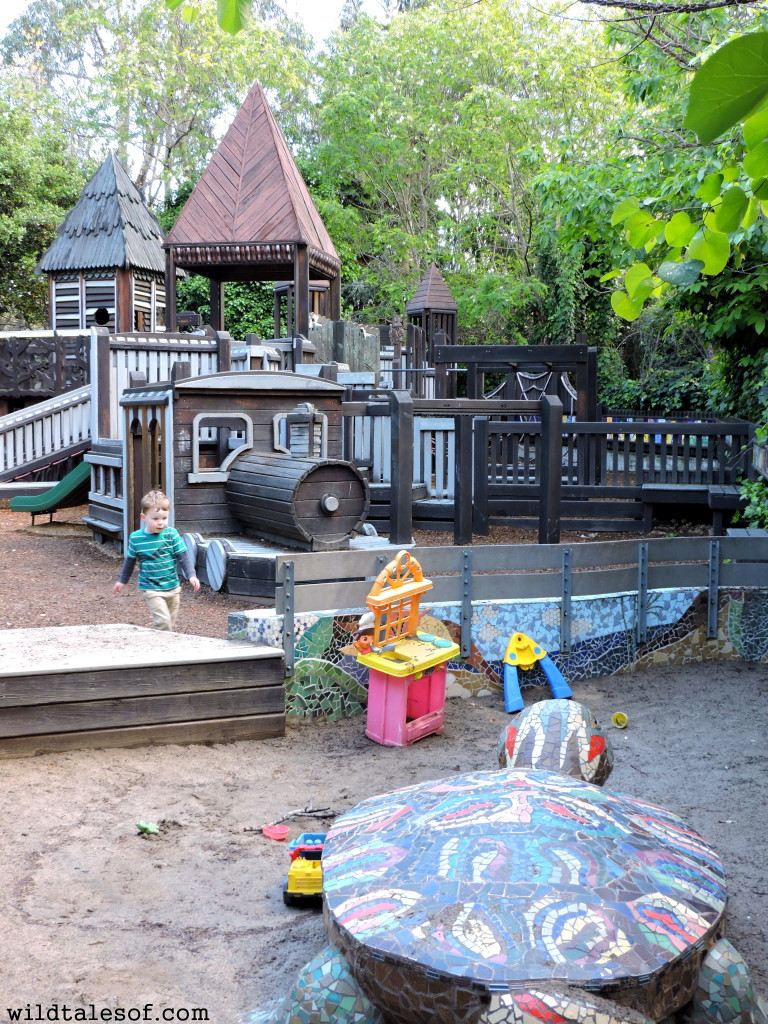 Obviously we'd worked up an appetite with all this activity.  For lunch, we only had to travel a few blocks to Telegraph Ave where fresh tacos, quesadillas, and sandwiches awaited us at Cholita Linda.  The yucca fries and aguas frescas (made daily) are both tasty treats too.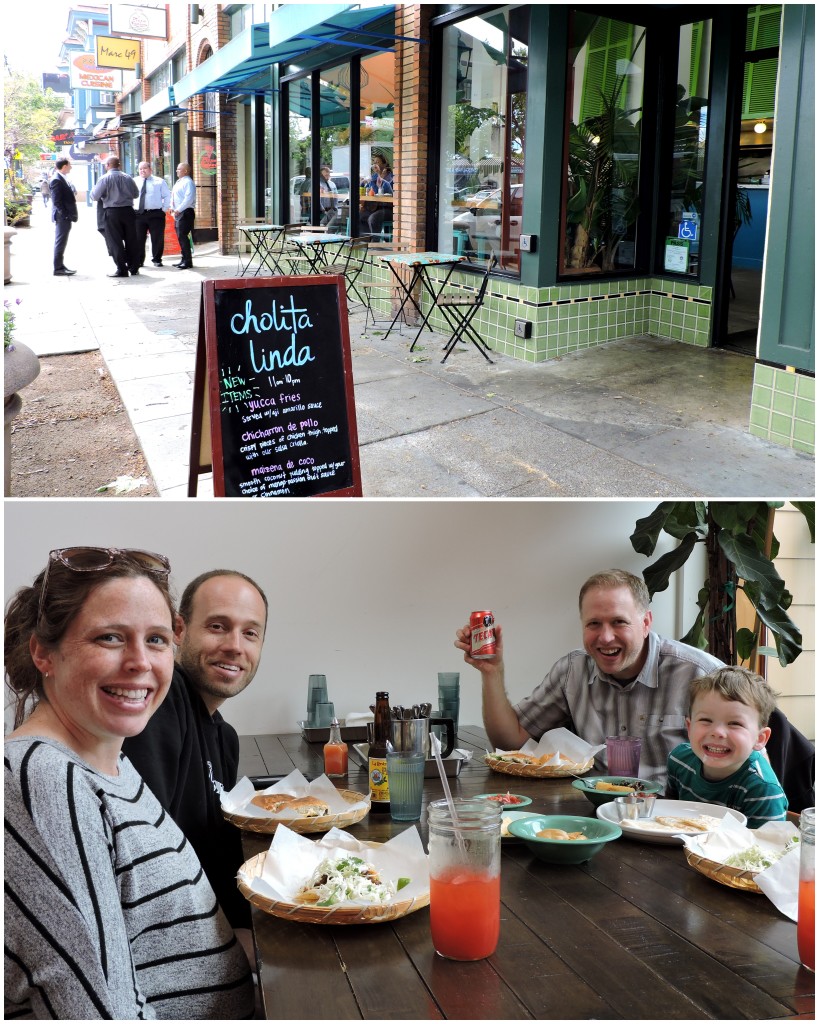 After lunch, it was time to check into our hotel.  We got settled and organized, as much as you can when staying just one night with two young children, and we were refreshed to tackle the rest of the evening.
Another outdoor adventure was planned, as we thought, "Who knows? Maybe we can walk that baby out, and she'll decide to come while we are still around!".
Joaquin Miller Park is operated by the city of Oakland is located about 5 miles outside of town in the Oakland Hills.  I'm used to parks like this at home in Seattle, but I wasn't expecting such a lush and wild place just a few minutes drive from the hustle and bustle of Oakland.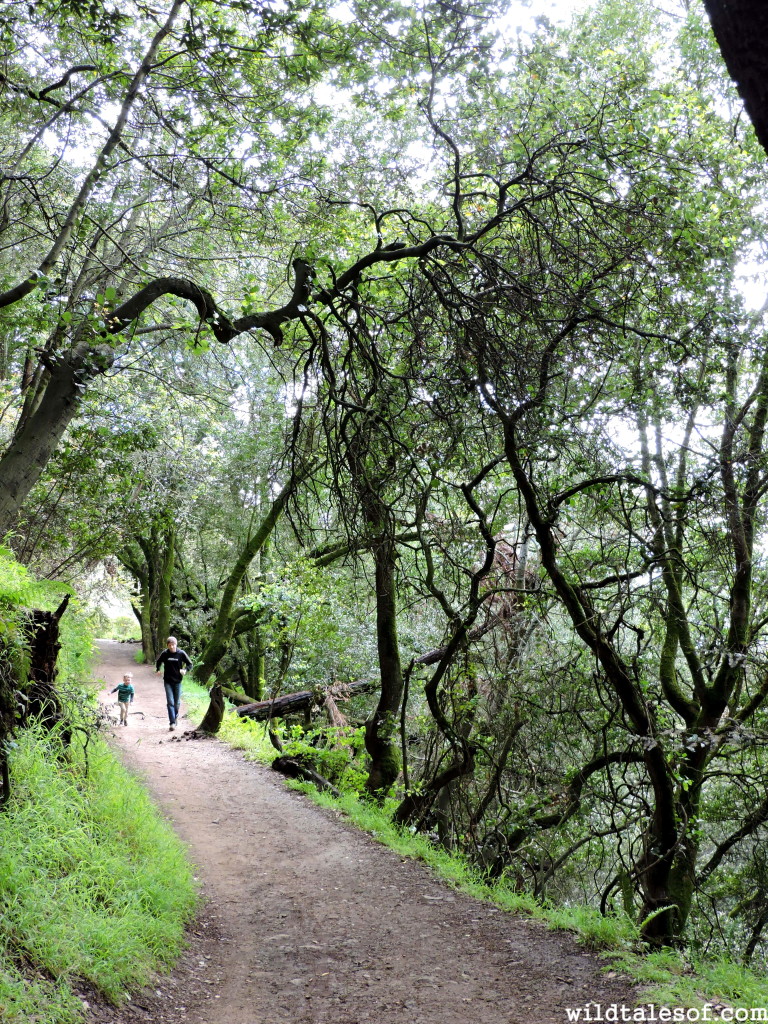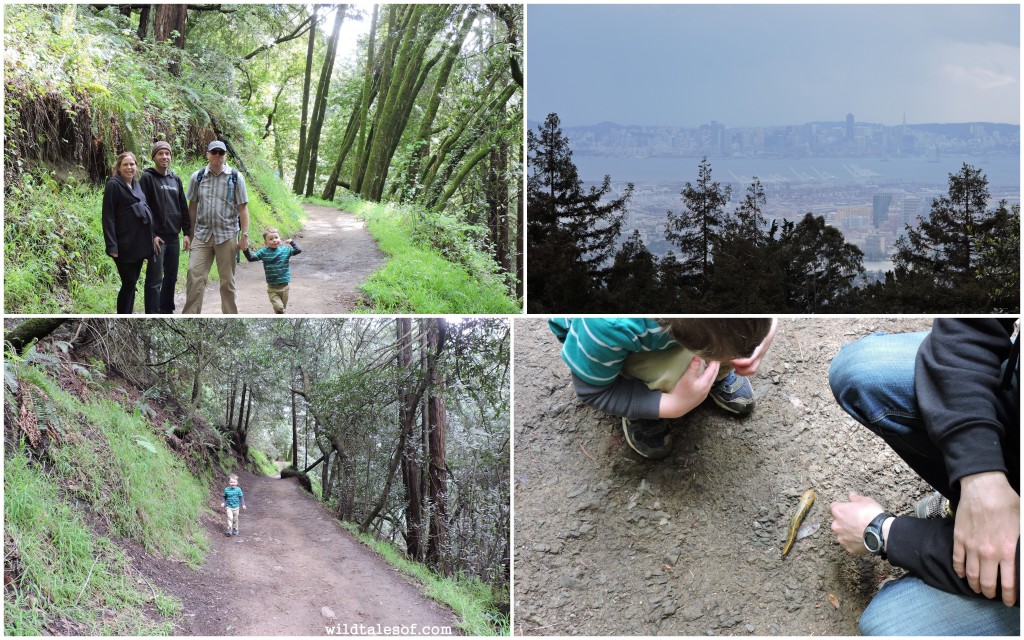 The hike was followed by homemade, hand-crafted pizza back in town at my sister and brother-in-law's house, so since we didn't dine out this time, see below for some of our favorite spots in Oakland to eat and drink.
All that activity and no baby to show for it, but as they say, I guess we'll just have to come back! And lucky for us, plans for a return trip are already in the works!
More Oakland recommendations:
Eat & Drink:
Hudson Bay Cafe–Good coffee, simple breakfast & great sandwiches for lunch located in cute Rockridge neighborhood.
La Farine–French bakery with fancy pastries and treats.  3 Oakland locations.
Lanesplitter Pizza & Pub–Family friendly pizzeria serving east coast style pizza & plenty of great beer on tap.
Le Cheval–Delicious Vietnamese food.  Large restaurant, plenty of space for families to spread out.
Fenton's Creamery–Traditional ice cream shop that's been around for 121 years!
Stay:
Hyatt House (in Emeryville)–Newer hotel with suite style rooms available.  Staff is very friendly and accommodating.
Airbnb–Many good choices in Oakland.  Find the neighborhood you're interested in & search from there.  Georgia and I stayed in this fantastic studio when visiting last January (just the two of us).
Have you traveled to Oakland? Tell us about your favorite spots to eat, play & stay!
Come join the conversation! We'd love to have you join us on all of our adventures by "liking" our facebook page and following us on twitter! You can also keep up to date with each and every post by subscribing to the blog via email.