During our February visit to the small coastal town of Tofino on Vancouver Island (British Columbia), we had the pleasure of staying at Ocean Village Resort in one of their cozy 2-bedroom cabins.  After several days of urban exploring in Victoria, plus a full day of driving, the resort and the surrounding area was the perfect place to slow down, immerse ourselves in nature, and bond as a family.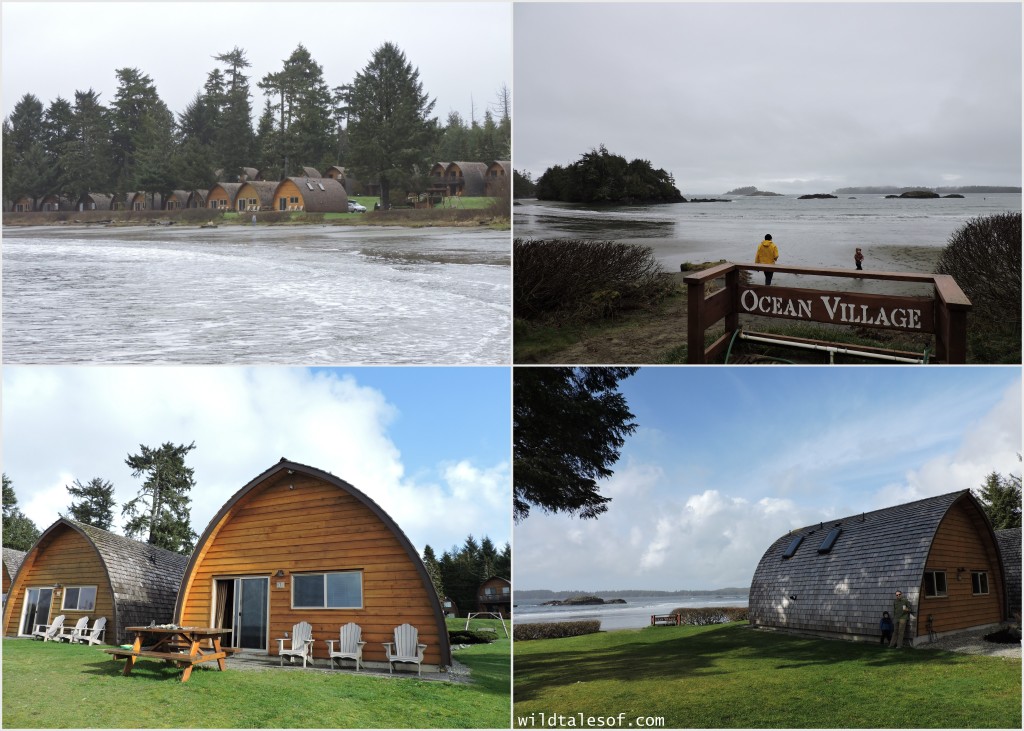 There is so much to love about Ocean Village Resort:
We noticed so many considerations taken to make a family's stay at Ocean Village comfortable, special, and a whole lot of fun! Beach toys, games and books available at the front desk, heated salt water indoor pool, laundry facilities, highchairs, and cribs are just a few of the highlights!
Thoughtfulness Throughout
The cabins are well designed (known for their "beehive" structure), well equipped, comfortable, and so pleasantly rustic.  Our cabin, and all the common areas that we visited (office, pool, laundry, etc) were clean and well-maintained.  You can tell that a tremendous amount of effort goes into creating a enjoyable atmosphere for all.
We were so impressed with Ocean Village's friendly, courteous, and helpful staff.  We received a warm welcome upon arrival, and our interactions throughout our three days on the property were always met with smiles.  Two things of most notability:
The staff set-up an in-house (one of the resort's housekeepers) babysitter to take care of Bergen and Georgia for an evening.  She took such good care of the kids (had much more energy than Slaed and I combined), strolling on the beach with them and showing them special little nooks and crannies of the resort that they would have otherwise not seen.
Bergen came down with a stomach bug, and was up off and on for the entirety of our 2nd night.  Without going into the off-putting details, we had A LOT of sheets and other laundry to clean up by the following morning. The housekeepers who helped us re-make beds, and replace towels were so gracious and understanding doing everything they could take make us more comfortable.
Our Cabin
We stayed in Cabin 101, one of the resorts 2-bedroom cabins that are located on the beachfront row.  The cabin included a full kitchen, dining/living room with pull out couch (queen-sized) and a large dining table, master bedroom with queen-sized bed, 2nd bedroom with 2 twin beds, and a full bathroom with large shower and tub.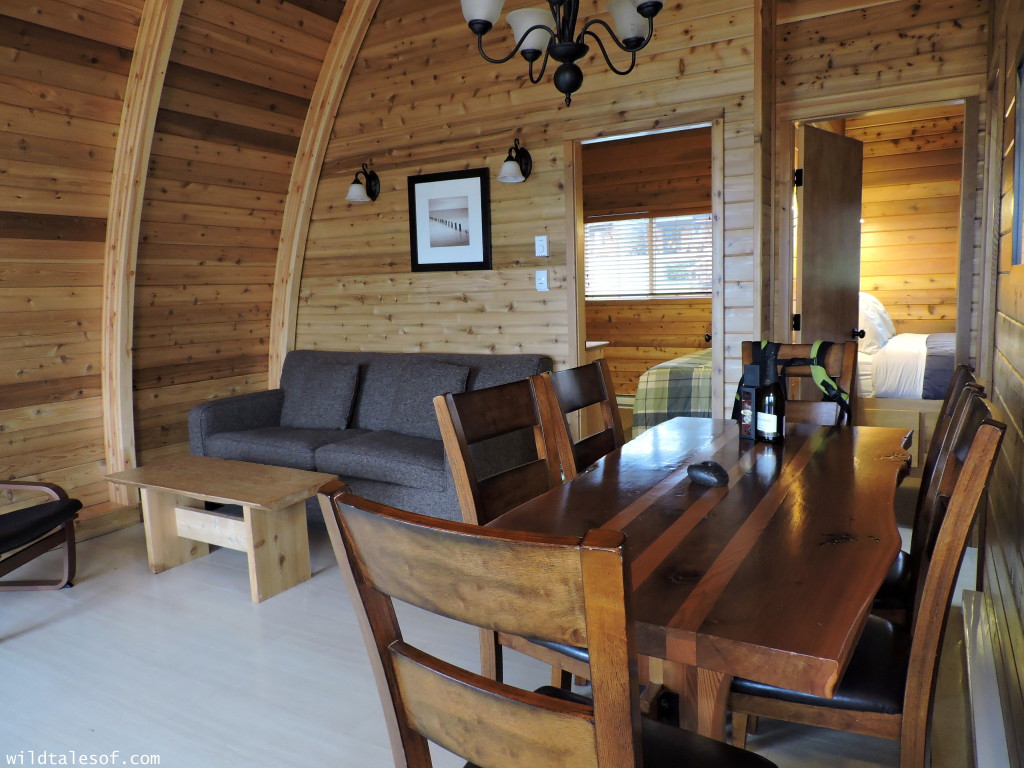 Guests access the cabin through a sliding glass door, and walk into the living/dining room.  There is also a small coat/shoe area to the immediate right of the entry. We appreciated the space to be able to spread out and were happy to have a dedicated space for all of our gear after hiking in the rain, and exploring at low tide!  Later on, housekeeping brought us a high chair for Georgia (14 months), making meals here at the dining room table very comfortable and "home-like".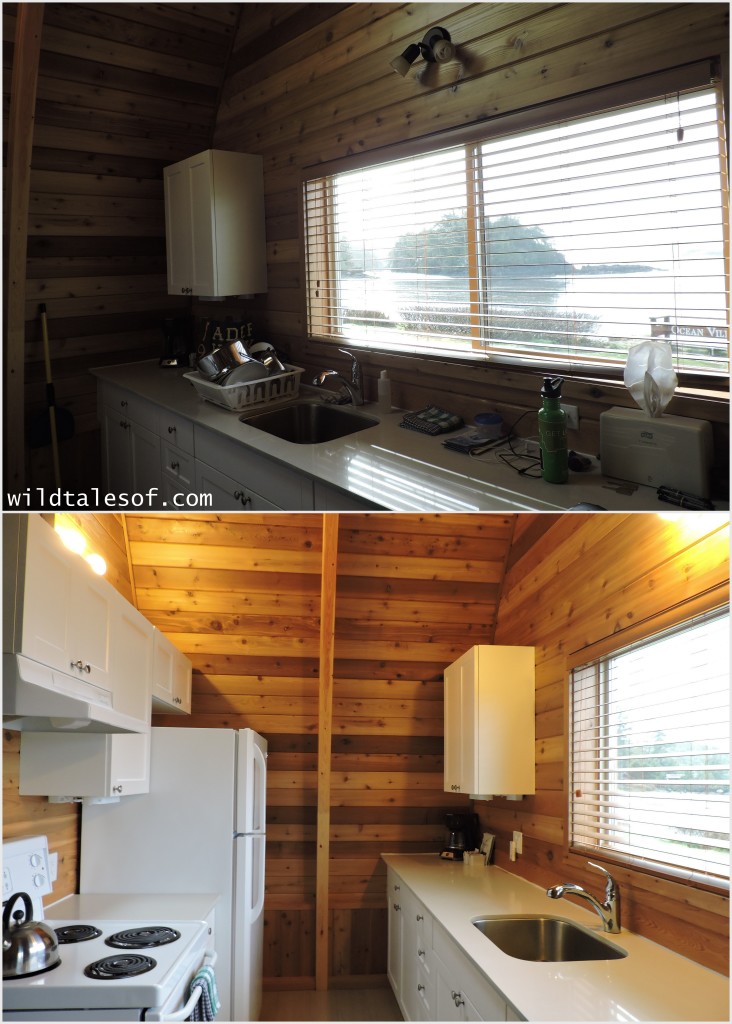 The kitchen is fully equipped, and includes dishes and cookware as well as a coffee maker, dish rack, towels, and cleaning supplies (coffee included too).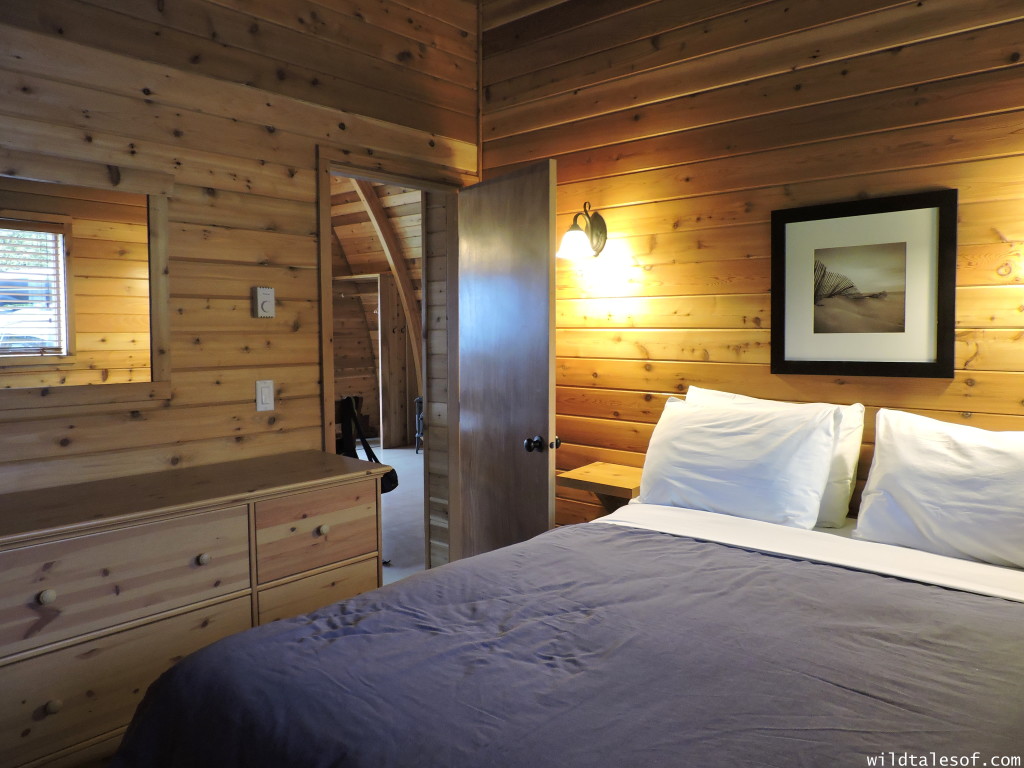 As I mentioned, the master bedroom has a queen-sized bed, and Slaed and I found it quite comfortable.  There is plenty of storage for those who like to unpack and organize gear and clothes, and extra blankets and sheets were housed nicely in drawers under the bed.
I'm showing two photos of the 2nd bedroom, which includes two twin-sized beds in order for you see the entirety of the room and how it's laid out.  We were able to move the small side table over, and placed Georgia's crib in that corner of the room.
For those curious about how our kids sleep in the same room: We put Georgia to bed first, let her get settled into dreamland, and then bring Bergen (4 years-old) in after 30 minutes or so.  To our relief (since we don't practice this at home), he's actually quiet and goes right to sleep!  The fact that he's completely worn out from all the hiking, exploring, swimming, etc has a lot to do with it!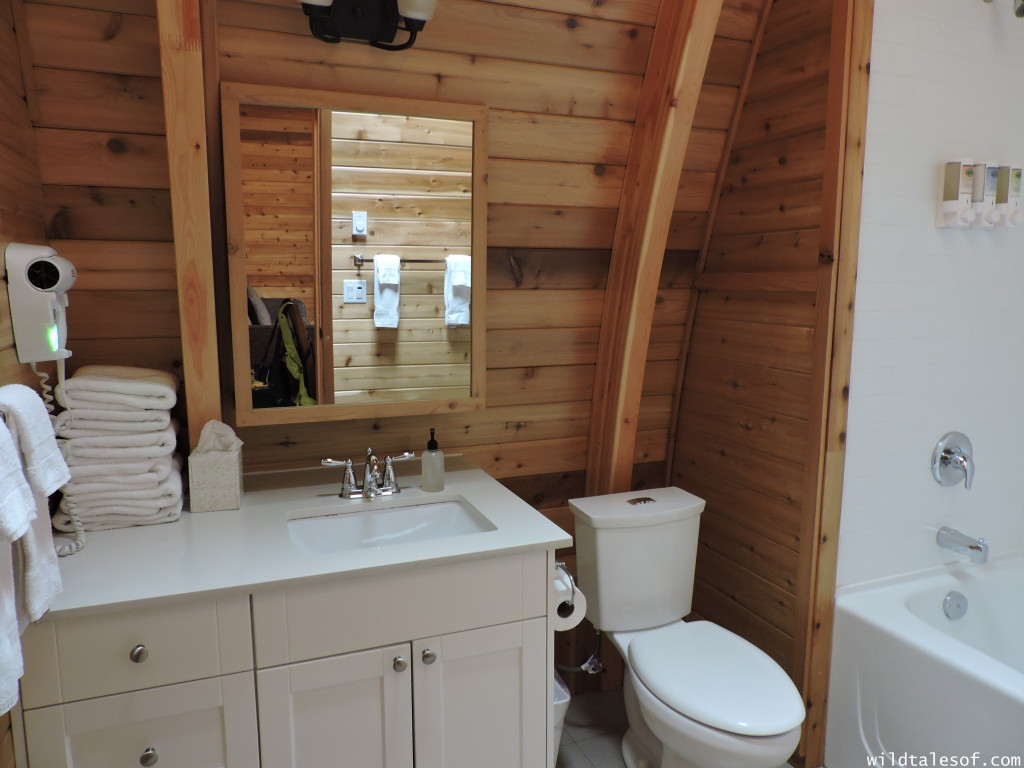 Bathrooms in hotels and other lodging accommodations aren't using anything noteworthy for us as they are just a place to wash-up and do our business, but both Slaed and I felt the bathroom in our Ocean Village cabin was really special! Something about the design, amount of space, and beautiful light streaming made us want to linger a little and take longer showers.
We were also SO impressed by the resort's choice of provided shampoo, conditioner, and body wash.  The toiletries come from Sea Wench Naturals and are so delightfully fragrant that we said good-bye to the supplies that we brought, and used the Sea Wench products exclusively.  We felt like we were visiting the spa every time we showered!  Lucky for us, they stock products for purchase in the resort office so we were able to bring some home, and pick-up a few gifts for friends and family.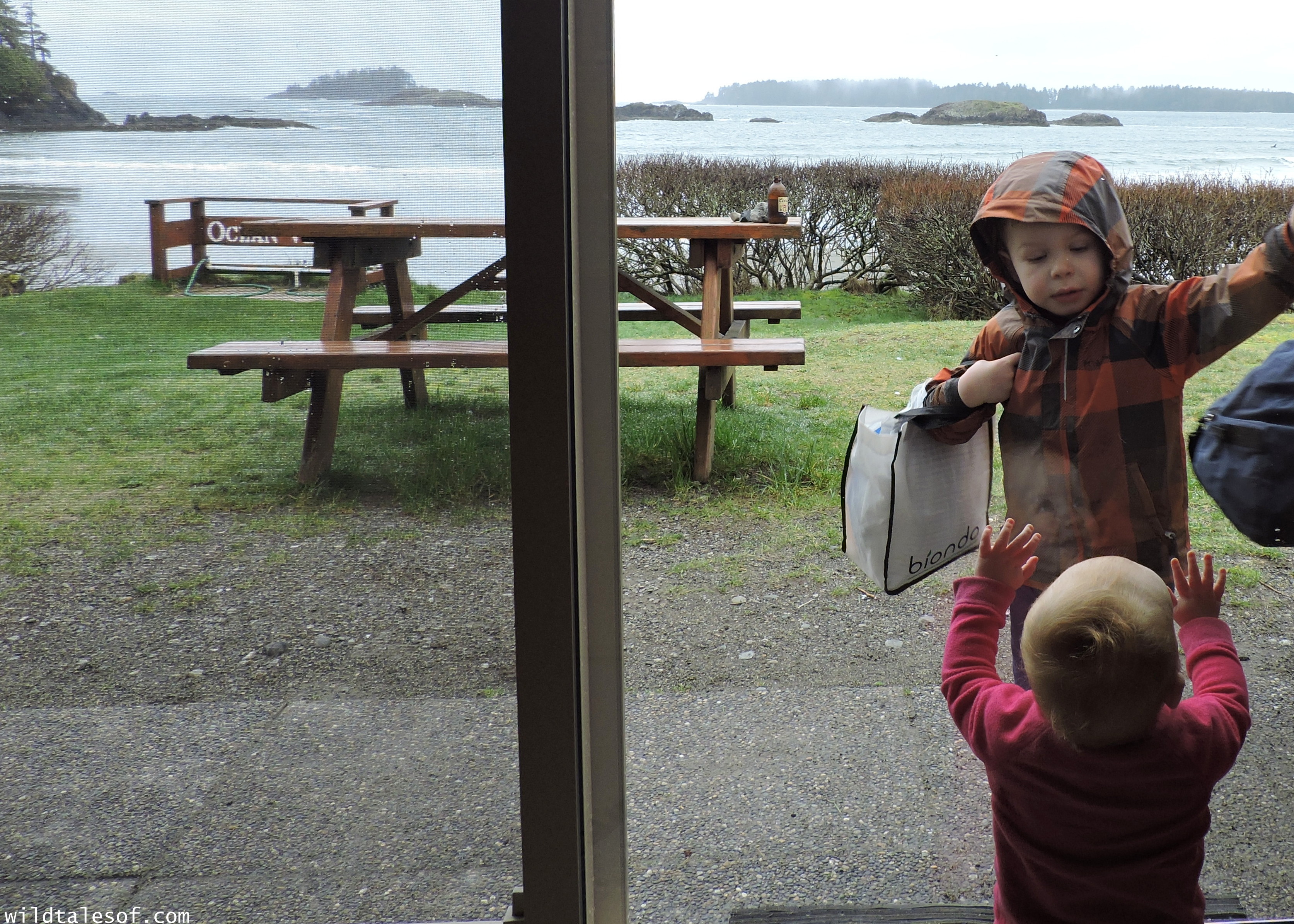 Amenities
All units have a private entrance.  1 and 2-bedroom cabins are available along with studio cabins and garden suites.
Heated saltwater indoor pool and hot tub
Laundry facilities on site (coin-operated)
Large outdoor barbecue area and foot washing station
Free high speed internet (cell coverage is also very good here and throughout the town)
Free Parking
Info to Know:
Ocean Village Resort is located in Tofino, British Columbia on MacKenzie Beach, just past the north part of Pacific Rim National Park :

555 Hellesen Drive Tofino, BC V0R 2Z0, Canada
1-250-725-3755

Opened in 1976, but taken over by new ownership and renovated in 2009: about 30 cabins with several options including 2-bedroom, 1-bedroom,  and studio spaces (cabins divided by upper and lower levels).  Rates starting at $99 for a garden studio in the winter season all the way up to $549 for a 2-bedroom cabin in summer.
Check in 3pm, check out 11am.
Dogs welcome. Fees apply & some rooms/units are excluded, so make sure to communicate with the resort if you plan to bring furry friends.
Cribs and highchairs available by request
All units are equipped with a full kitchen including refrigerator, dishes, stove/oven, dishes, cookware & coffee.
All cabins are smoke-free.
Free Parking for up to 2 vehicles per cabin.
Have you lodged in cabins? What did you think? Tell us about your experience!
More on our Vancouver Island Adventure: 
Come join the conversation! You can keep up to date with each and every post by subscribing to the blog via email. We'd also love to have you join us on all of our adventures by "liking" our facebook page and following us on twitter! If you enjoyed this post, please "like it", "tweet it" or "pin it"! 
Special thanks to the Ocean Village Resort Tofino, BC for providing us with a small discount on our 3-night stay in exchange for our honest review on the blog.  As usual, all opinions expressed here are our own! Questions? Don't hesitate to email us at wildtalesof@gmail.com