#advertisement I received compensation from Dr. Scholl's® to write this post. All opinions are entirely my own. #CustomFitRelief #DrScholls
Every time of year is appropriate for a nature walk, but our family particularly loves fall as a chance to get outside, and enjoy the fresh, crisp air.  Here in Seattle, we're experiencing the perfect scenario.  Bright, vibrant autumn leaves remain on the trees, but those leaves of yellow, red, and orange are also falling to the ground.  There's something so satisfying and magical about walking through a trail or sidewalk filled with leaves listening to them crunch with each step.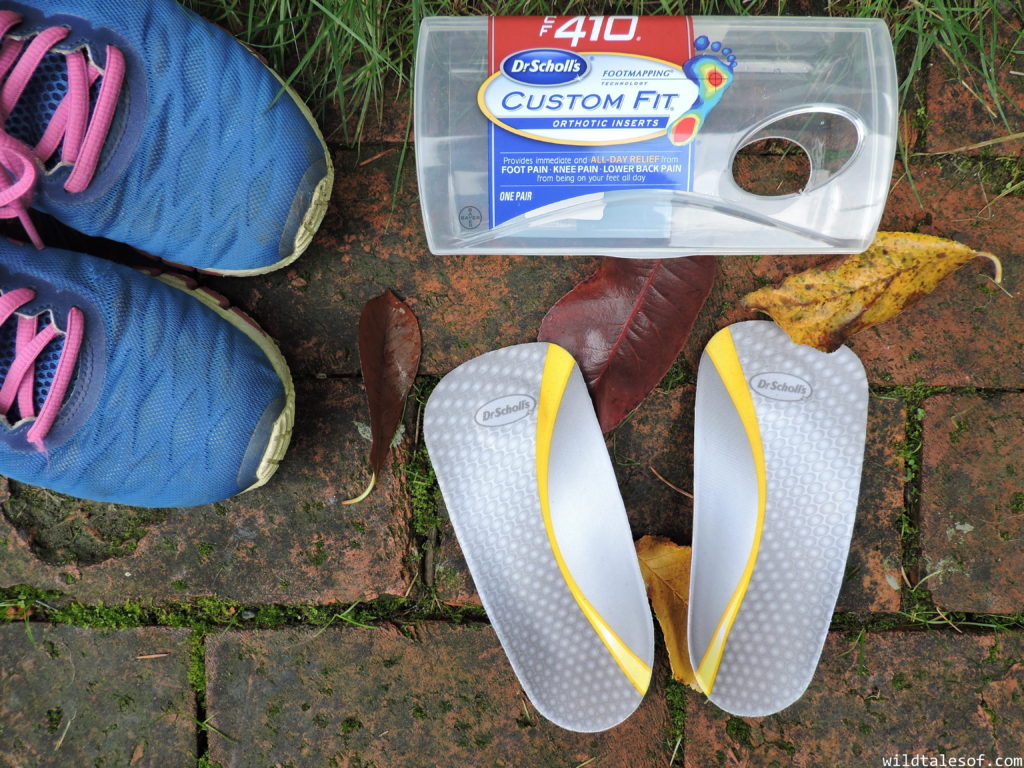 And who can resist gathering up an arm full of those gorgeous leaves, and tossing them into the air? My children certainly can't! In fact, Georgia loves to shout, "HAPPY NEW YEAR" each time those leaves are thrown.  We're not sure where the sentiment came from,  but she clearly sees fall as a festive occasion worth celebrating!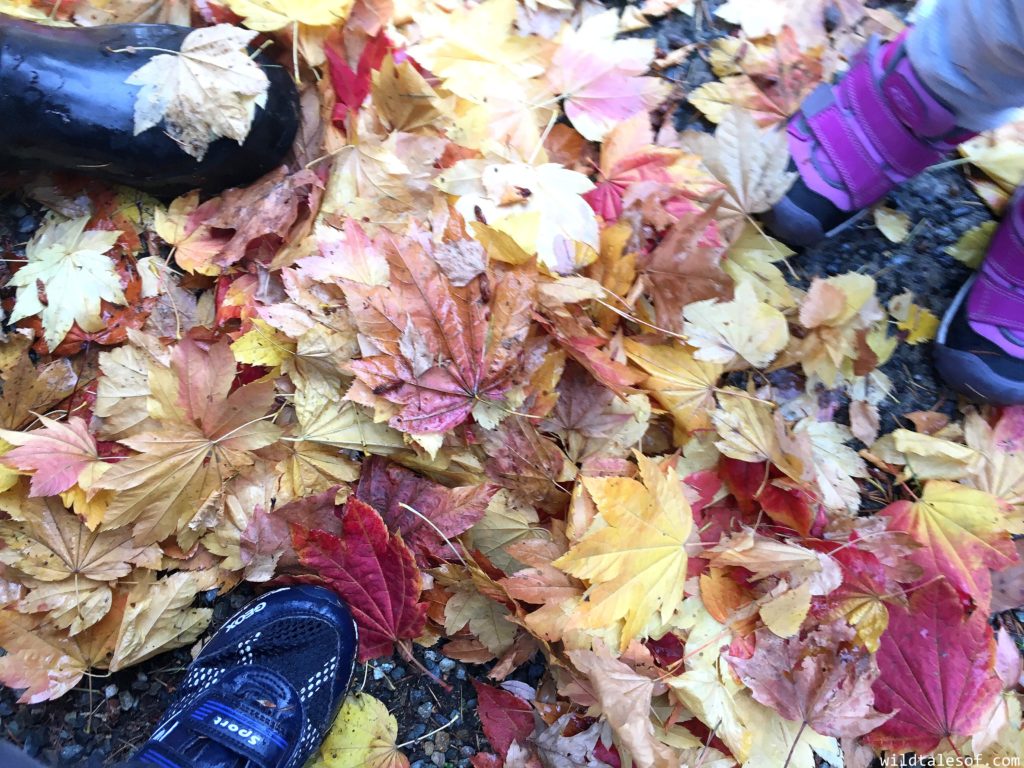 As you know, we walk a lot as a family.  It's one of our daily rhythms to take an afternoon walk shortly following nap time.  Our walks are a way for us to connect, enjoy the outdoors (rain or shine), get some exercise, and truthfully, combat the behaviors that can often come with "the witching hour".
Unfortunately, with all that time on my feet, not to mention all the running around I do taking care of two children, I'm left with tired, achy feet at the end of the day.  For that reason, along with our best tips for fun and enjoyable nature walks, I'll also be sharing how to get fitted for Dr. Scholl's® Custom Fit Orthotics Inserts at a Walmart kiosk.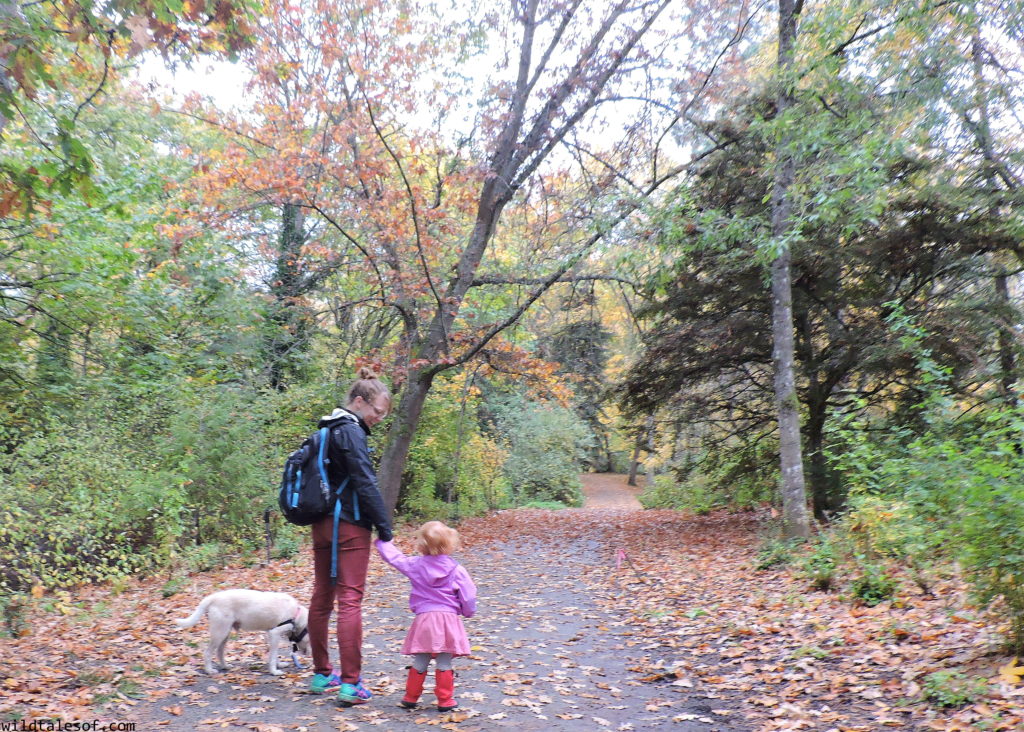 Fall Nature Walks: 6 Tips for Fun and Enjoyment
Prepare for the Weather.
Make sure to check the temperature and weather forecast before heading outside, and dress accordingly.  We suggest dressing in layers, and being overly prepared so as not to be caught by surprise, but at the same time keep things simple.  No need to bring everything, plus the kitchen sink!
Also consider the weather of the past few days.  If it's rained a bunch, you may want to dress your kids (and yourself) in rain boots.  That way, feet will be protected from the alluring mud and puddles!
Location, Location, Location.
Again, keep it as simple as possible, but choose a location that you know will provide you with plenty of the "attractions" that make fall so special.  We love going for nature walks in our local arboretum because of the variety of fall foliage, and easy navigation along carefully planned pathways.  Botanical Gardens, Japanese Gardens, lake loops, and state parks are also great choices.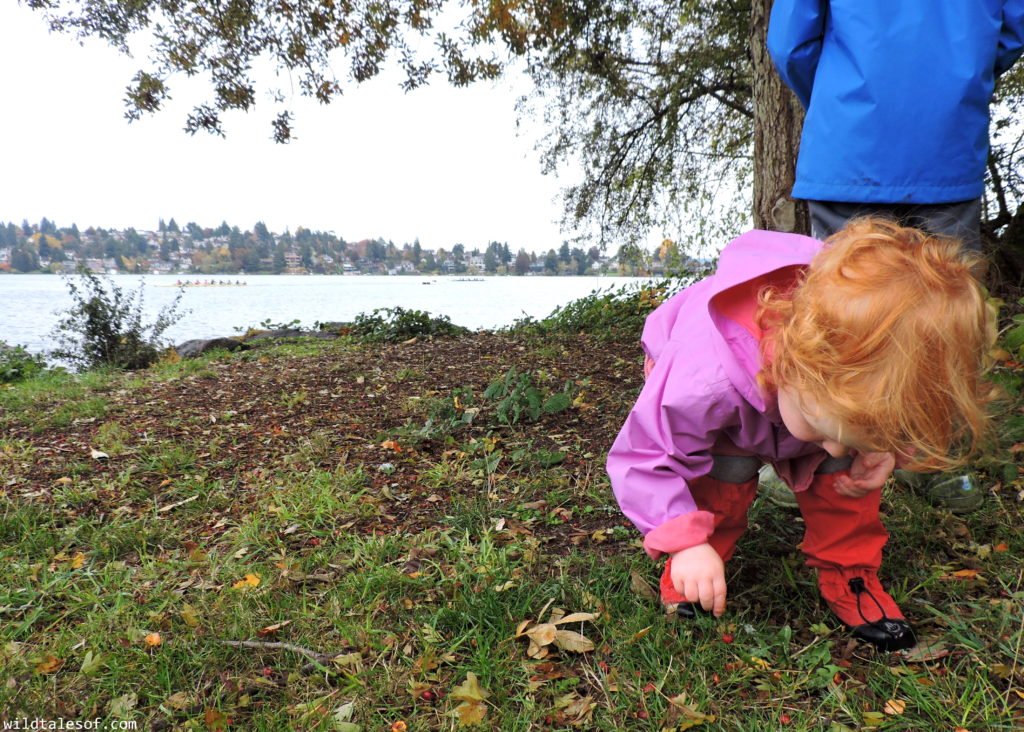 Consider Distance and Time Available.
Don't bite off more than you can chew! Think carefully about the capacity of your children, and plan accordingly.  I also suggest building in more time than you think you'll actually need–so much less stressful and rushed that way!
Set the Tone.
Whether you are out for a specific reason, or out just to enjoy nature together, talk to your children about why you are setting out on this nature walk.  You don't have to have something specific every time you head out, but here are some fun ideas to set the tone:
Counting or collecting a certain amount of…acorns, leaves, mushrooms, or critters

Treasure Hunts such as Geocaching or Letterboxing

Set out to walk to a certain landmark such as a waterfall, lake, spooky tree, or other natural/historical wonder.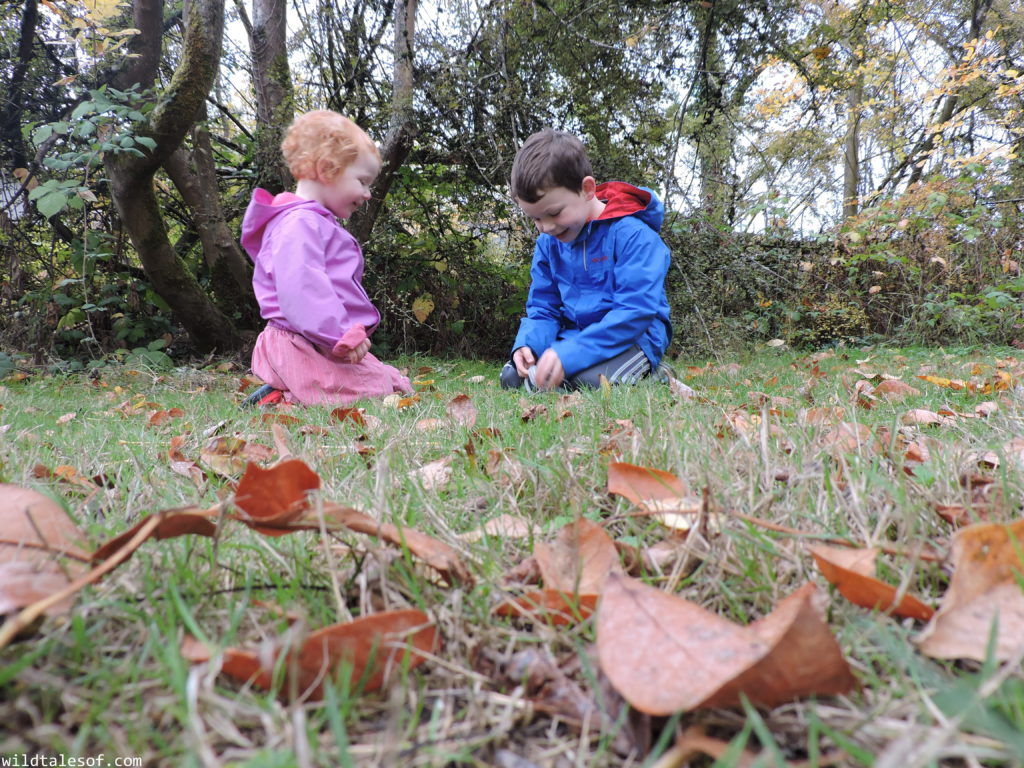 Don't Forget the Treats!
Whether the temperatures are dropping or holding steady and still feeling like summer in your neck of the woods, you'll want to bring along some tasty treats to keep everyone energized and satisfied.  And why not make the experience super special, especially if it's chilly and rainy, by bringing along a thermos of hot chocolate or kid-friendly tea? Also, remember to bring plenty of water!
Celebrate the Beauty of the Season.
No matter how far you walk or what location you end up in, make sure to take in and really celebrate the signs of fall in your region. Talk about what you see with your children, and share what you enjoy most.  Maybe even tell a story of what you used to love about fall when you were a kid.  A little enthusiasm goes a long way!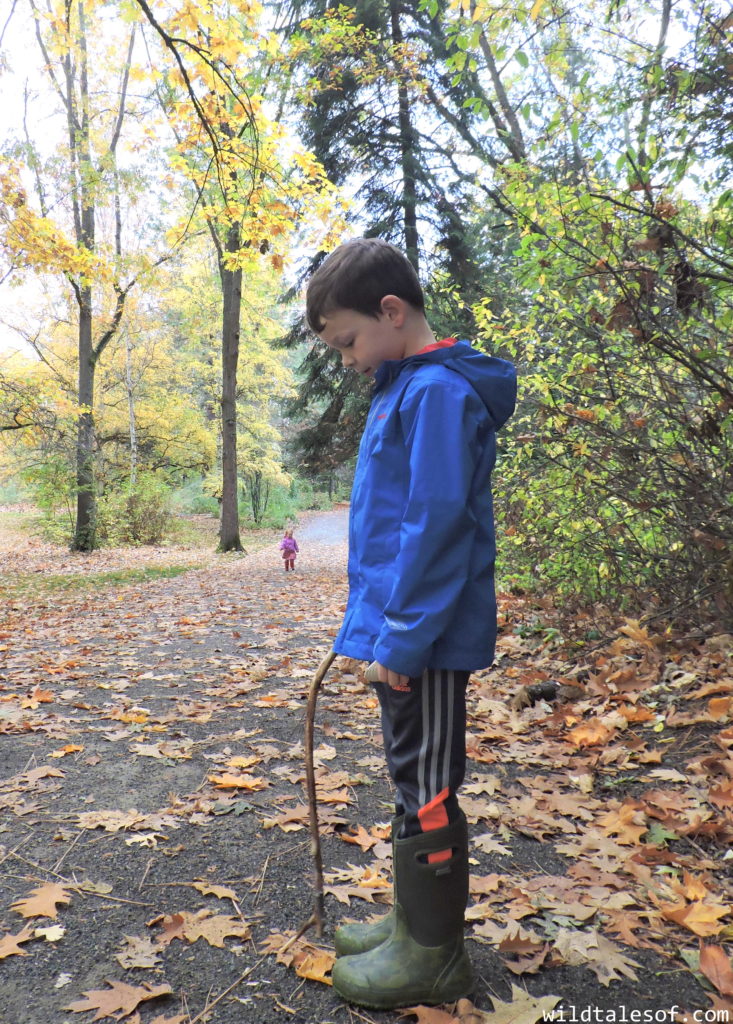 How to Use a Dr. Scholl's® In-Store Kiosk
Dr. Scholl's ® Custom Fit Orthotic Inserts feature 4 layers that support feet where they need it most.  The top layer of the insert is for comfort and durability.  The middle is called the "cushion layer" and disperses foot pressure and reduces the shock from the heels hitting the ground.  The bottom 2 layers are called the "cradleflex support system", and it reinforces and supports the arches of the feet.
Using the kiosk to find out the insert that is right for your specific feet is EASY.  It was also eye-opening for me.  I've been living with my feet for 37 years, but never actually knew I had low arches.  Now it makes complete sense! In addition, I found out that I have a high level of foot pressure.  With the inserts my feet are comfortable all day long.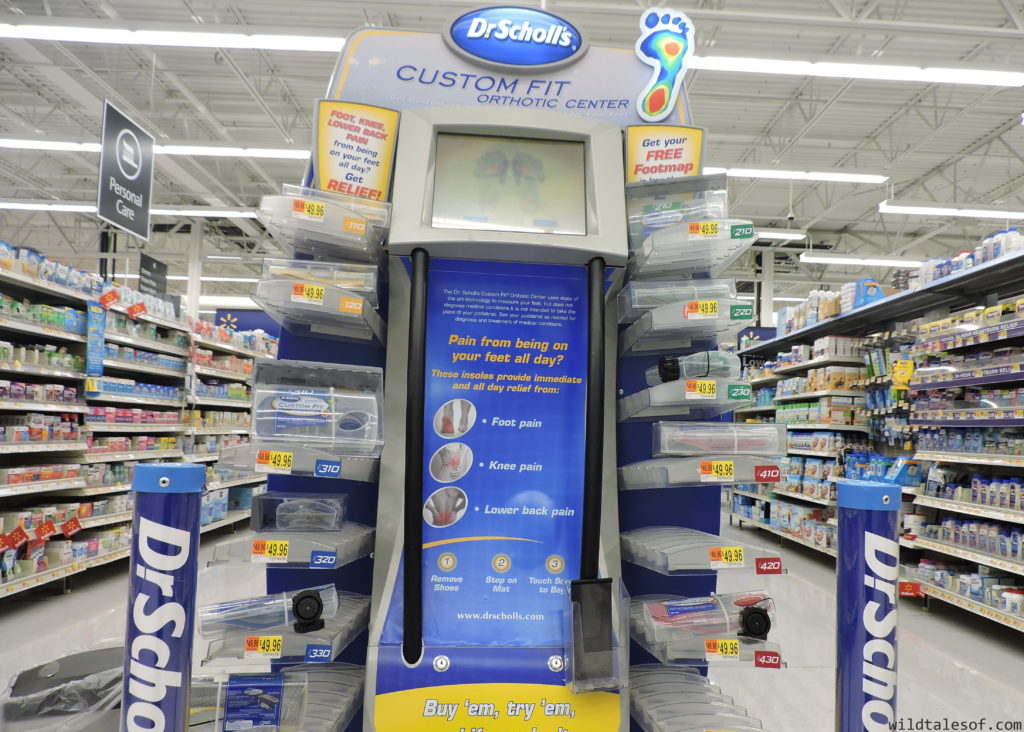 1. Find a Custom Fit Kiosk at a Walmart store near you!
Not every Walmart store has a Custom Fit Orthotics Kiosk, so be sure to refer to the locator list.  Enter your zip code or city into the locator, and options will appear depending on the mileage radius you select.
2. Remove Your Shoes.
This is an important step since the machine has a special Footmapping® technology that measures your arches and your specific pressure points.  Socks remain on! Also, in order to get your most accurate reading, make sure your feet are NOT freezing cold.
3. Step onto the mat, and Follow Screen Instructions.
On the floor of the kiosk, you'll see two black foot outlines.  Step onto those outlines, and press the start button on the touch screen.  The Dr. Scholl's® Custom Fit Orthotic Center will measure your arch type, foot length, and pressure points, and then recommend an insert just for you.  The whole process takes just 2 minutes.
The machine will ask to perform a series of movements (all virtual!):
Stand normally, and move toward the blinking target on the screen (this measures your feet).

Hold the black bars, lift your

right foot

, and move the yellow circle into the green blinking target on the screen.

Hold the black bars, lift your left foot, and move the yellow circle into the green blinking target on the screen.

Stand normally one last time.
4. Select your recommended custom fit orthotic insert!
After you perform the screen instructions, your recommended Dr. Scholl's® Custom Fit® Orthotic Insert number will appear.  Most Walmart stores carry all inserts on the sides of the kiosks, but some choose to house them behind the pharmacy desk.  Check the pharmacy hours to make sure the inserts will be available when you visit the store!
Save your receipt! Visit the Custom Fit® Online Rebate Center for $10 savings after your purchase.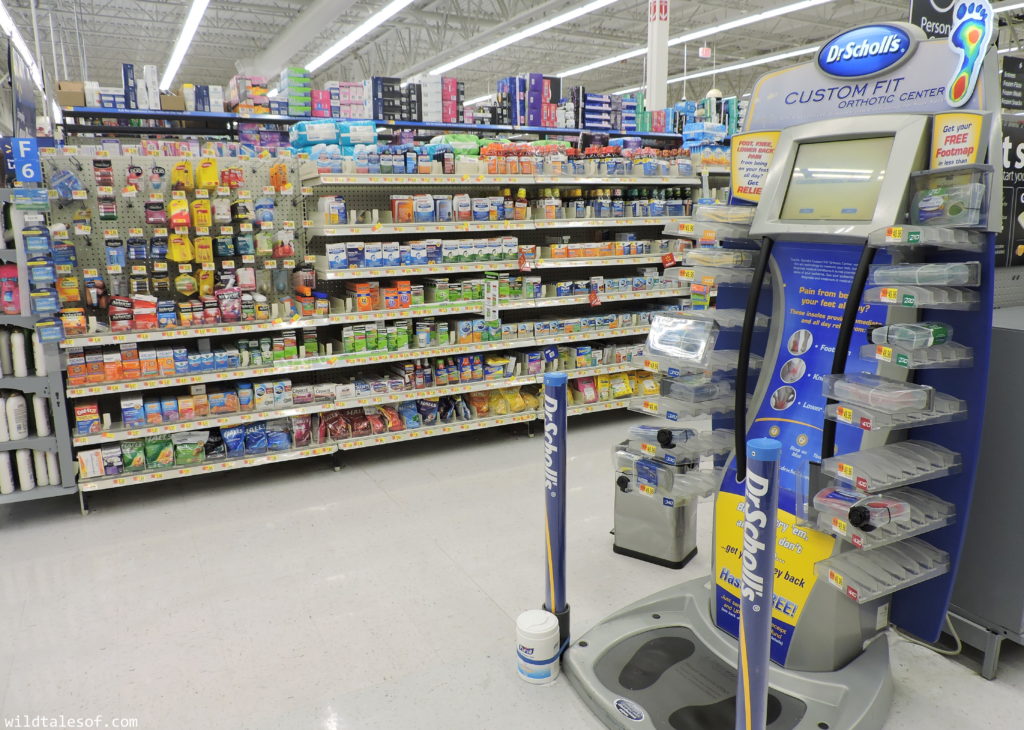 Do you experience foot pain, knee pain, or lowerback pain after being on your feet?
What do you love most about the fall season?
Come join the conversation! You can keep up to date with each and every post by subscribing to the blog via email. We'd also love to have you join us on all of our adventures by "liking" our facebook page and following us on twitter! If you enjoyed this post, please "like it" "tweet it" or "pin it"!