Since we're so big on planning ahead, we almost always have plenty of time research and get excited about upcoming travel and vacation.  We get ideas for what to do in the locale that we are visiting from guide books (we almost always purchase one for our trips), fellow travel bloggers, tourism websites, magazines, and just talking with family and friends who have traveled before us.  You'd think I'd would have been more organized with all that information coming at me, but really it was just a jumbled mess of torn out pages from the newspaper, magazine clippings, and random notes here and there.  Until now!
I finally got around to creating a tool that would help me keep all the potential activities, tours, restaurants, shops, parks, and more organized! It's just a simple brainstorming list with spaces to jot down those ideas by categories that make sense.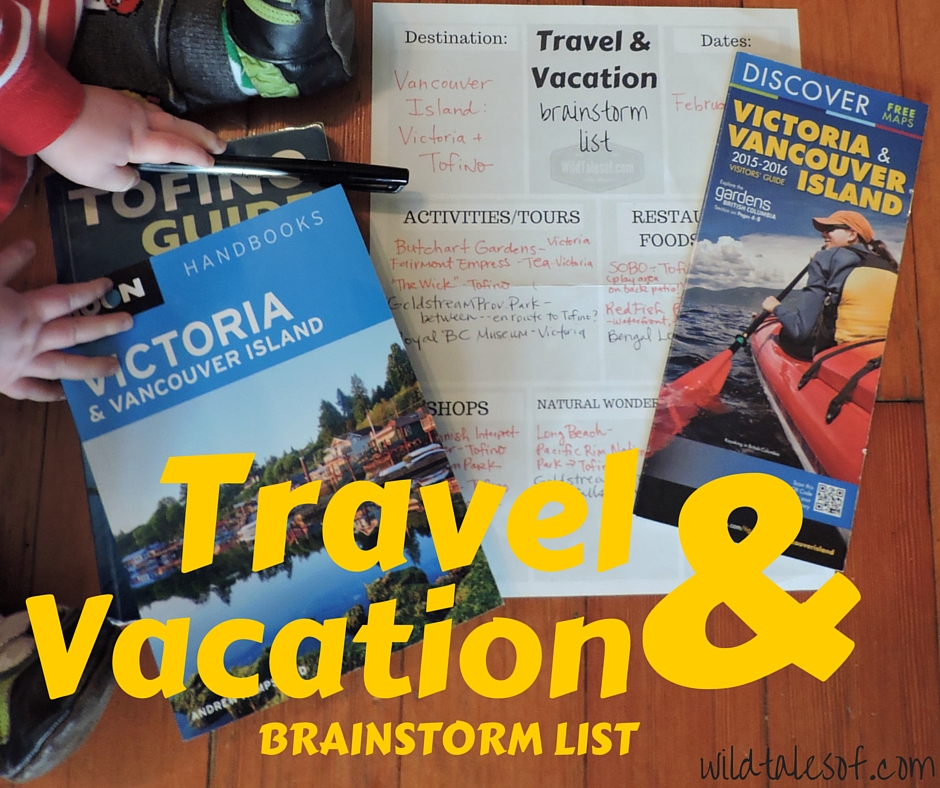 How we use the Travel & Vacation Brainstorm list
Simple! 
Once we know the location that we're traveling to, I fill in the top portion the destination & potential travel dates.  You can see in the above photo that I have one all set for our trip to Vancouver Island, BC this month!
Then as we gather ideas, I write them down in their respective categories.  Sometimes it's just off the top of my head.  Butchart Gardens, for example, has been on my list of places to visit since moving out west 10 years ago, so I automatically wrote it down.  Other ideas have come from reading our guide books, perusing blogs, and listening to suggestions from friends and family.
Now when we go to set up our vacation days/itinerary, we can start filling in some plans since we've done our research! It's a good way to keep all your "must-dos" organized in one spot rather than flipping back through the guide books and notes looking for that thing you wanted to do, or restaurant you wanted to try while in town. We might not get to all of these places, but at least we have options, and we're not going to waste time trying to remember that great food or park recommendation!  It's all written down in one place.
Travel & Vacation Brainstorm List Printable
Sign up for our newsletter, and receive our free travel & vacation brainstorm list printable!  After signing up (name & email), we'll send you the special password to our resource library where the printable is located.  The newsletter goes out every Wednesday, and in addition to updates from the blog, subscribers receive an extra dose of inspiration in the form of travel tips, deal alerts, and how-to's for adding more travel and adventure into their lives! Already on our newsletter list? Then you're all set with the password! Forgot the password? Email me: wildtalesof AT gmail.com.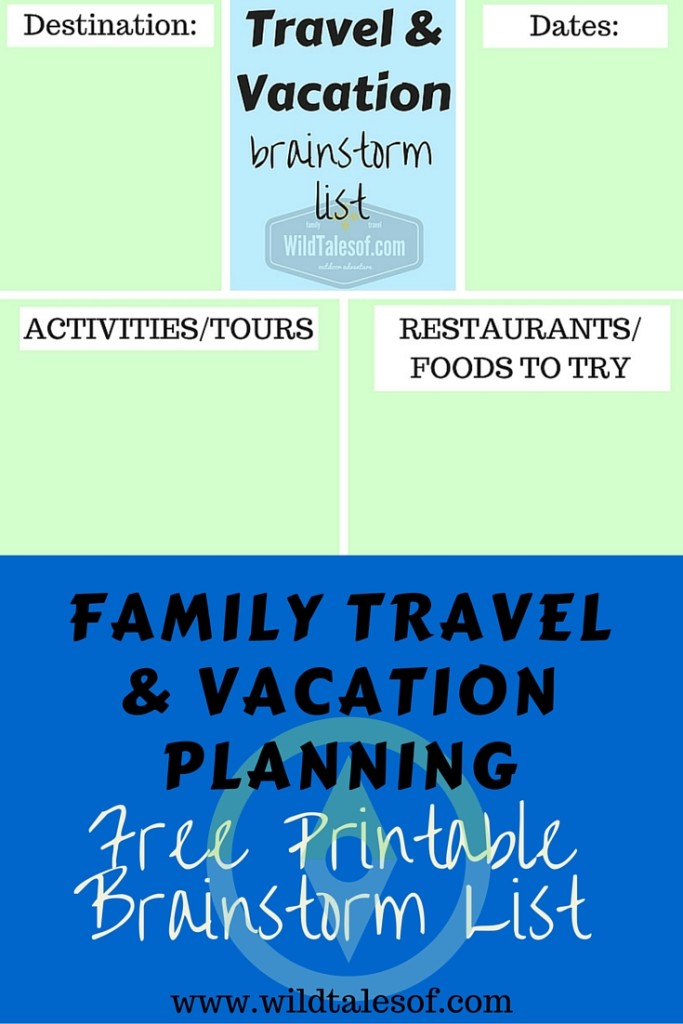 How do you prepare your itinerary for travel & vacation? Do you use guide books? We'd love to chat with your more in the comments!
 Come join the conversation! You can keep up to date with each and every post by subscribing to the blog via email. We'd also love to have you join us on all of our adventures by "liking" our facebook page and following us on twitter! If you enjoyed this post, please "like it", "tweet it" or "pin it"!