Do your kids find it fun to make up stories about why things are the way they are? Bergen (our almost 5 year old) is always coming up with grand ideas and reasoning about phenomena in our natural world.  He's also particularly interested in trolls.  Between the Three Billy Goats Gruff and the enormous troll statue under the Aurora Bridge in Seattle, he's got plenty of cause to believe that one of these days, he'll actually manage to catch a real-live troll under one of the many bridges he checks.  It's rare to cross a bridge (over or under) where he doesn't crouch down and do his inspection, or at least talk about it.  
Our friends at Sasquatch Books (hey–there's even another mythical creature!) are fueling the fire the with publication of a new "Wheedle on the Needle" book.  Good Night, Wheedle by Stephen Cosgrove is a sweet little story for the youngest lovers of Seattle and it's iconic Space Needle.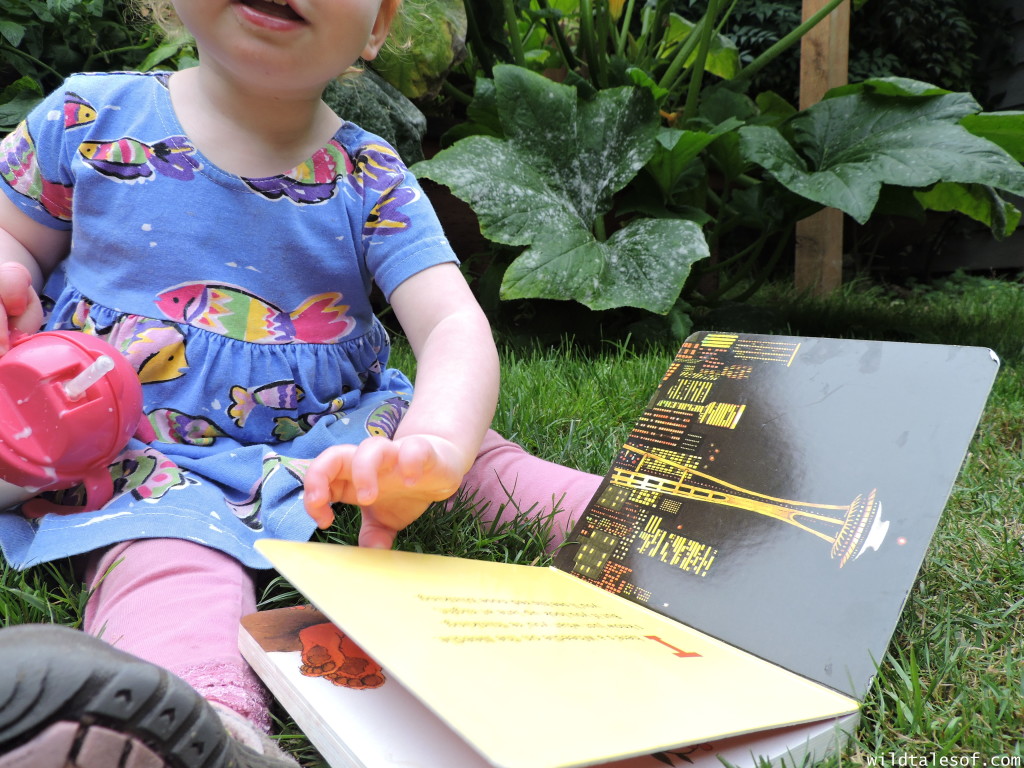 We actually didn't know much about the Wheedle, even though the original story was written in 1974, so we headed to our local library to do some research! The Wheedle is a funny looking orange character who lives at the top of the Space Needle.  He's quite fond of sleeping, and when he really gets into a deep snooze, which is a lot of the time, his nose turns on and off.  That's why you see that orange blinking light at the very tippy-top of the Space Needle!
Since making his debut at the top of the needle in the 70's, the Wheedle has now been joined by an adorable little cat named Noodle.  It took him a little while to warm up to this idea, but now the two live happily at the crown of one of world's most famous landmarks.
The new book, Good Night, Wheedle is in the board book format, and provides a shorter version of the classic story for babies and toddlers to enjoy. As Bergen and I learned, the original story is quite long, so it's fun to be able to share an adaptation with Georgia since unlike her big brother, she's not so keen on sitting through an entire picture book.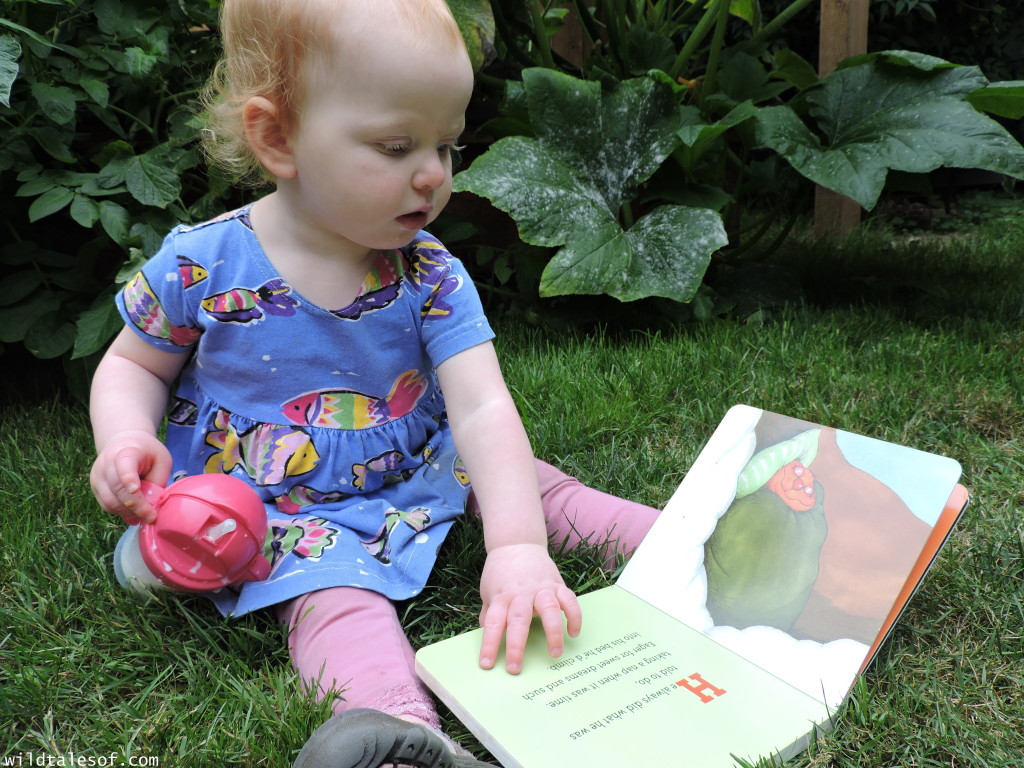 It's also a cautionary tale; weaving in a warning to reluctant nappers that they need their sleep or else they'll be "very, very grumpy, grumbling like a thunderclap".   As parents, even though we are quite blessed in the sleep department, we appreciate the subtle message, and I imagine if (and when) we do have trouble, we could refer to the Wheedle—"Remember what happened to the Wheedle? He had such a terrible time when he didn't nap!"
You too might find it helpful to know the original story of the Wheedle in order to explain some of his actions in the board book to your kids.  For example, he gathered the clouds up on Mount Rainier, his old stomping grounds, in order to sop Seattle in with rain and gloom.  That way, none of the loggers would want to whistle–a sound that really bothered him and kept him from getting the good sleep he needed!  Who knew a this furry orange creature could cause such a disturbance?!
I hope you'll check out the Wheedle books.  Even though they might sound bizarre, they really are a lot of fun, and a great way to appreciate, and perhaps learn more about, our great city and diverse region.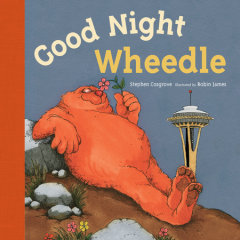 Info to Know:
There are currently 3 books in the series written by Stephen Cosgrove and Illustrated by Robin James:
Do you have a favorite mythical creature? We'd love to chat about it in the comments!
Disclosure: Thanks to Sasquatch Books for providing me  with a copy of Good Night Wheedle for purposes of review. All opinions expressed here are my own.  Affiliate links to our Amazon store are also used. If you purchase the book through our link, we'll receive a small commission at no extra cost to you. Thanks! 
Come join the conversation! You can keep up to date with each and every post by subscribing to the blog via email. We'd also love to have you join us on all of our adventures by "liking" our facebook page and following us on twitter! If you enjoyed this post, please "like it", "tweet it" or "pin it"!