Travel and adventure can get messy (and sticky), so I love that we have the option to bring board books along as we explore the world.  Real books that my kids can hold and flip through without ripping help keep us entertained on the plane, road trips, and then provide a great ending to our day as we go through our bedtime routine.  And if they happen to spill or get jelly all over the pages? I can just wipe them clean! Board books aren't just for babies! (see more below…)
Thanks to our friends at Sasquatch Books, our local publisher here in Seattle, we've been enjoying two new board books this summer.  First we're sharing the enchanting story of the Three Bears of the Pacific Northwest by Richard Vaughan & Marcia Crews with illustrations by Jeremiah Trammell.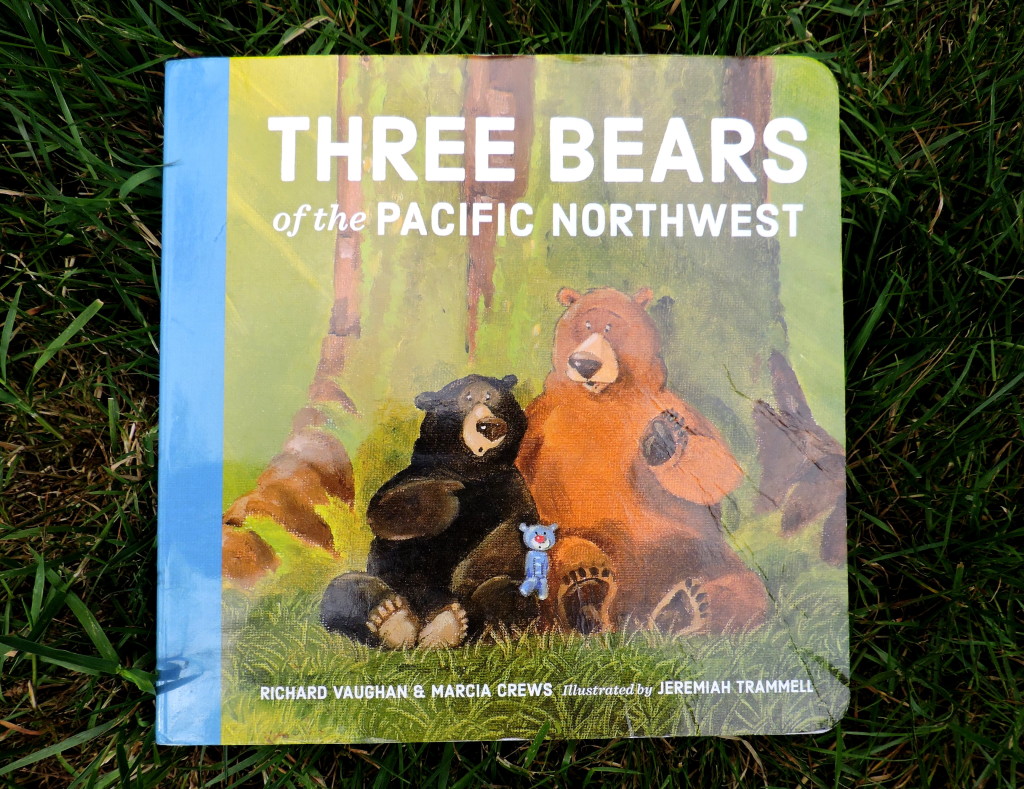 It's an adaptation of the original hardcover version, but tells the same great story of two bears (a black bear & a brown bear) helping a little blue bear (stuffed animal) find his "boy" after he accidentally falls out of the RV.  They meet other native creatures of the Pacific Northwest, who help them out and guide them along all while showing fantastic backdrops and up close glimpses of our beautiful Cascadian lands.
You'll have to pick up a copy to find just what animals are featured, and how the search for blue bear's home on wheels turns out.  Both Bergen (almost 5) and Georgia (1.5 years) have enjoyed reading and looking through this book over and over again.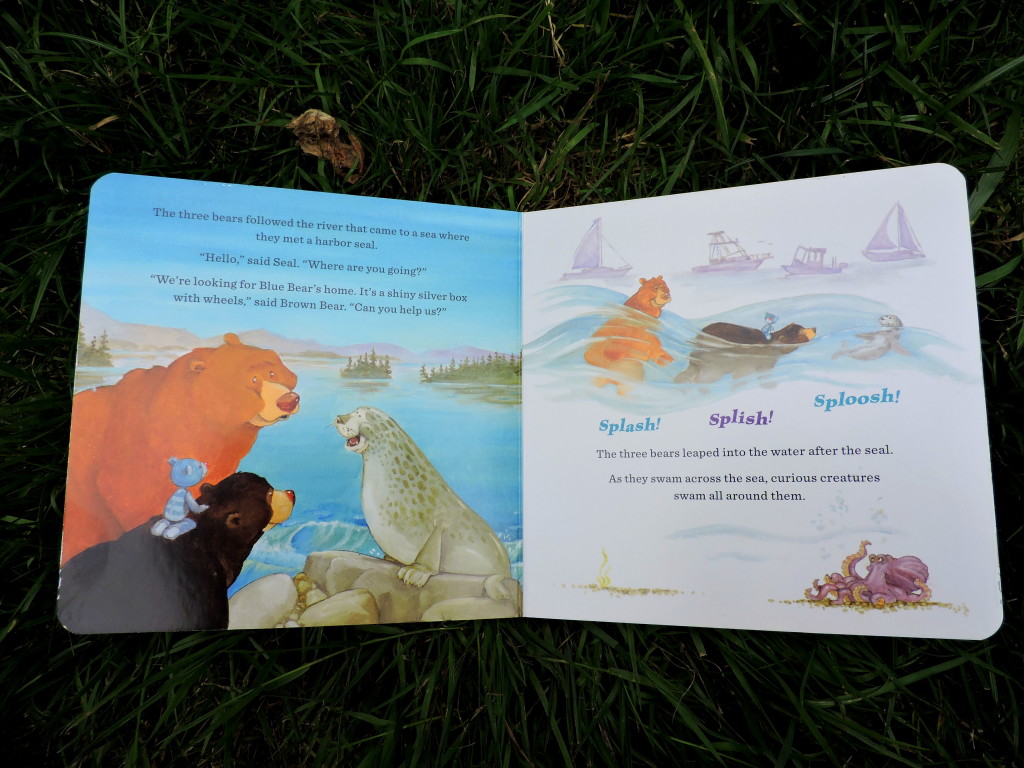 Here's more on what I love about Three Bears of the Pacific Northwest:
As I mentioned above, it's easy to travel with thanks to the compact (and washable) board book format.
Even though it's a board book, a format typically associated with babies and toddlers, it's longer than your average "baby style" board book and tells a complete and captivating story.
The animals featured are native to our home here in the Pacific Northwest!
The camping element gets my kids excited and interested in the outdoors.  While we haven't camped in an RV, we certainly see plenty of them at the campgrounds we visit, and who knows, maybe one day we'll have our own (or rented) shiny silver box with wheels!
Kids easily associate and are familiar with the attachment of a lovie or stuffed animal.  Being able to make connections to the stories we read is so important.  Plus, the title (Three Bears in the Pacific Northwest) is spin on a familiar fairy tale, Goldilocks and the Three Bears. Literary connections are great too!
The pictures (by Jeremiah Trammell) are realistic yet playful.  They depict what the actual flora and fauna of the Pacific Northwest looks like, but offer a friendly illustrated format.
There is repetition to the story as different "characters" provide help with finding blue bear's home, but unlike many stories where the same refrain can seem tedious or monotonous, the Three Bears of the Pacific Northwest is fun, engaging, and a joy to read aloud!
Info to Know:
To purchase a copy of Three Bears of the Pacific Northwest visit the Sasquatch Books website, or you can purchase through our Amazon affliliate link:

Board Book ($9.99 retail, coming out 8/9/16, but available for pre-order)
Hardcover ($16.99 retail)
What books are you and your family reading this summer?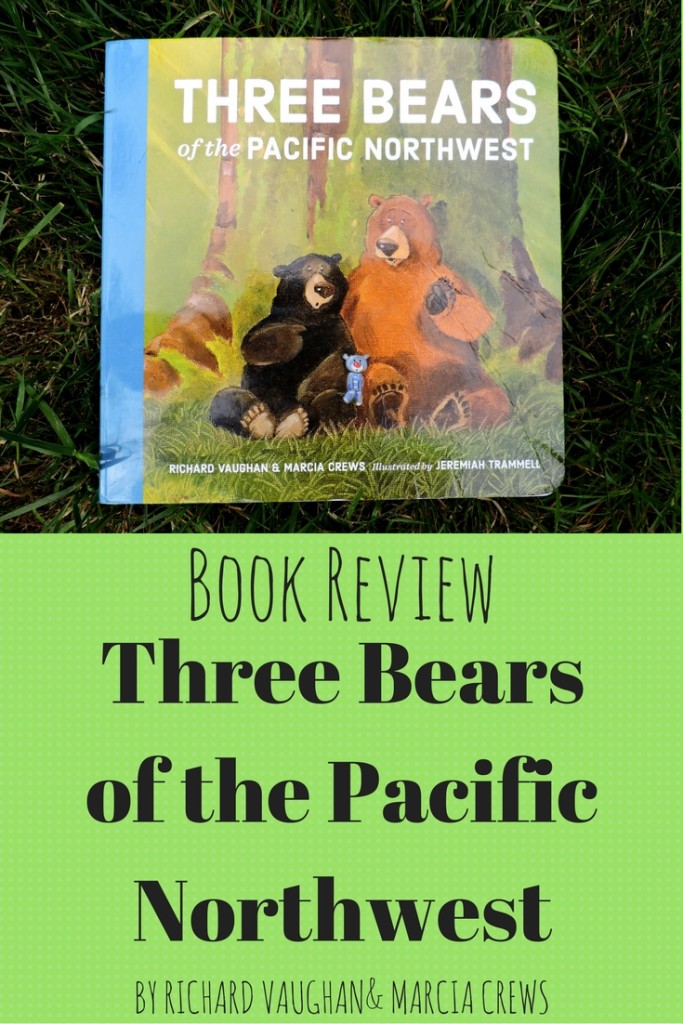 Disclosure: Thanks to Sasquatch Books for providing me  with a copy of Three Bears of the Pacific Northwest for purposes of review. All opinions expressed here are my own.  Affiliate links to our Amazon store are also used. If you purchase the book through our link, we'll receive a small commission at no extra cost to you. Thanks! 
Come join the conversation! You can keep up to date with each and every post by subscribing to the blog via email. We'd also love to have you join us on all of our adventures by "liking" our facebook page and following us on twitter! If you enjoyed this post, please "like it", "tweet it" or "pin it"!