Needing one last family getaway before the busyness of the school year took over, we headed to Lummi Island over Labor Day weekend.  Lummi Island is one of Washington State's San Juan Islands, and is accessible by a small ferry that crosses over from Gooseberry Point (in the Lummi Reservation) near Bellingham.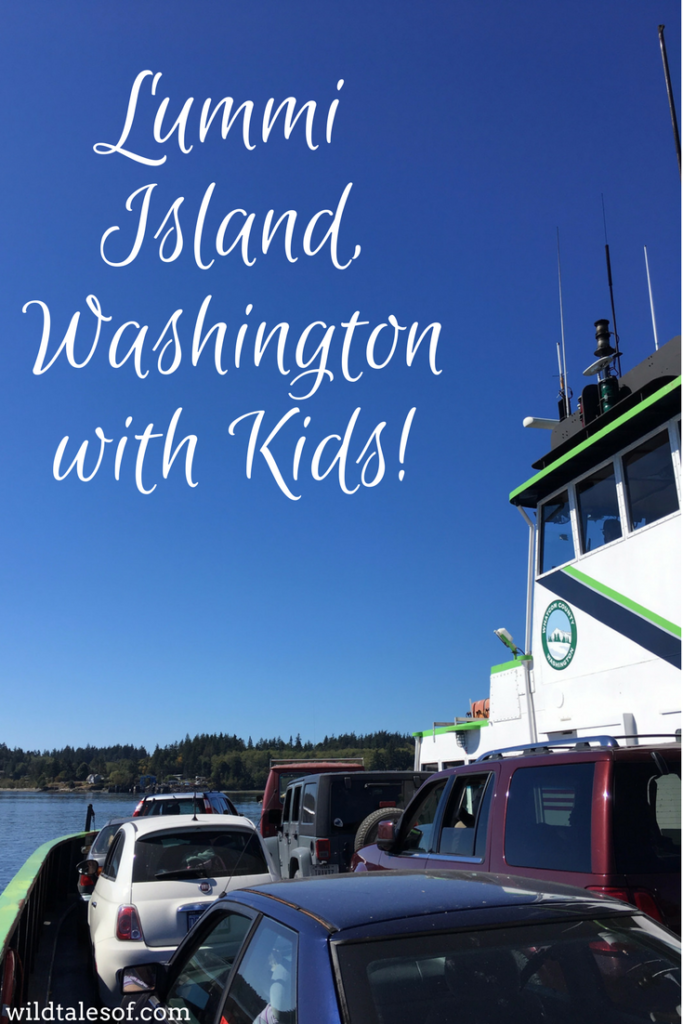 The island is small at just 9 miles long, and as we overheard locals declare, it feels like stepping back in time 15-20 years.  There is a slower pace of life on Lummi, no big stores or chains, and really only 3 restaurants, one of which is only open 3 days a week.
We rented a condo through Airbnb for our 4-night stay.  There are several bed and breakfasts, more short term rental homes, and The Willows Inn (luxury lodging), but as you might imagine no large hotels or even motels.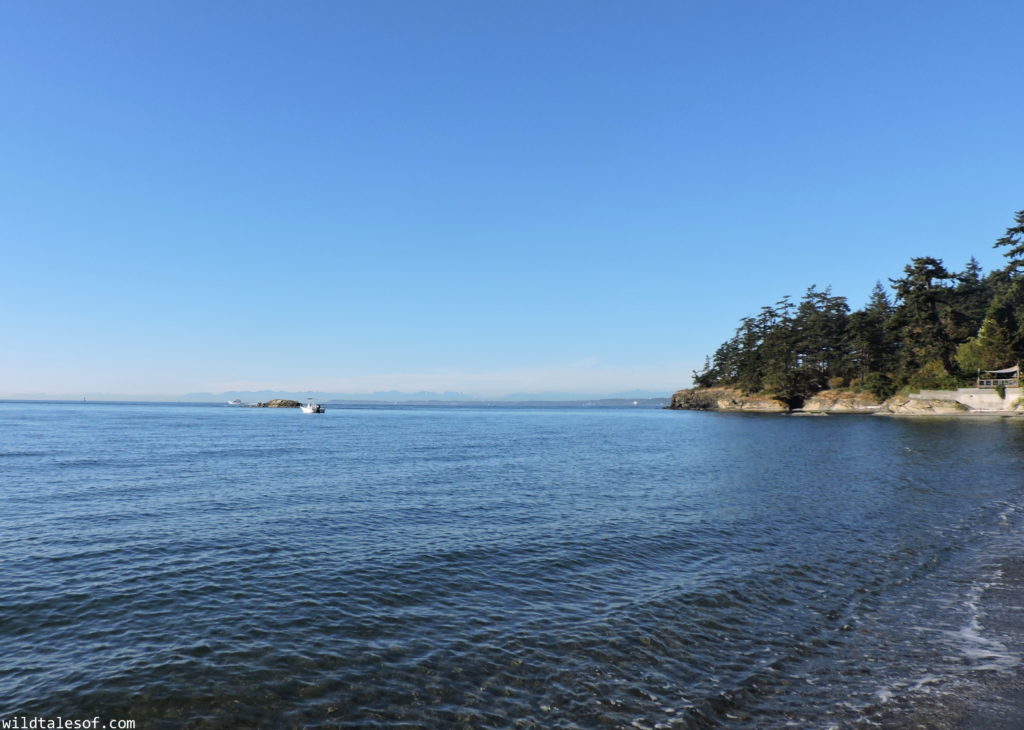 After settling into our rental and poring over the owner John's extensive record collection, we explored the condo community's grounds and ultimately headed to the beach.  The beach is where we spent most of our 4 days on the island.  Just a 5-minute walk and private to just the condo owners and their guests, we came to the beach multiple times a day to…
watch and listen to the seals on "seal rock"
tide pool
walk and take in gorgeous views of the sound and surrounding islands
enjoy happy hour while the kids played
watch and chat with locals as they brought in their crab pots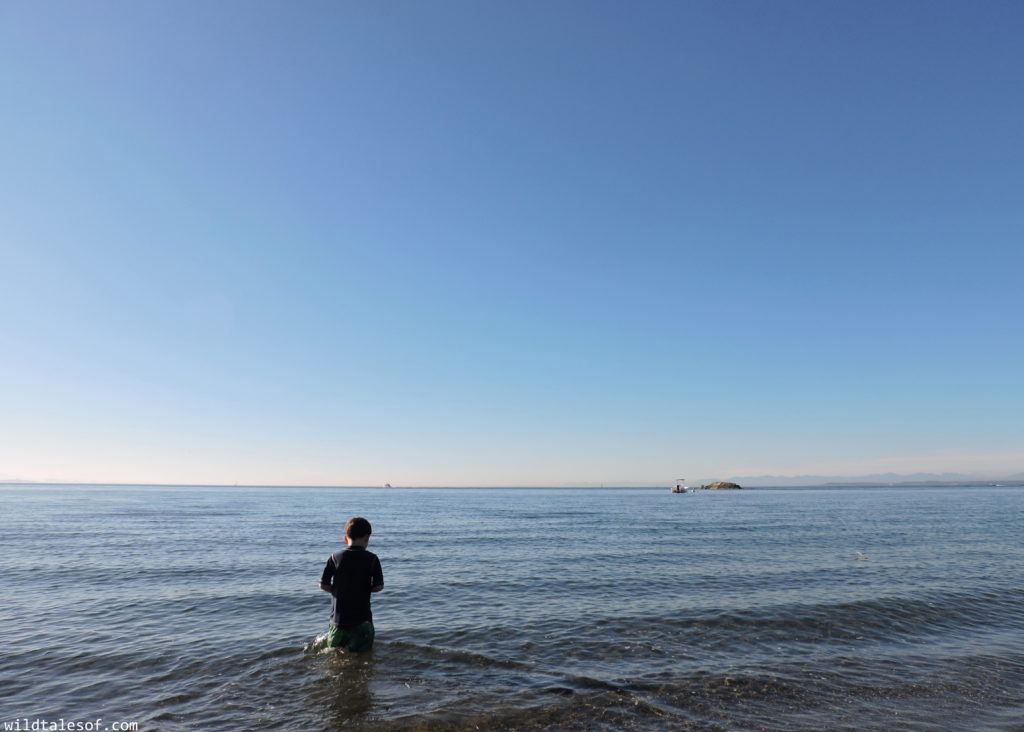 We spend our Saturday morning around "town", visiting the farmer's market, library, and island store.  The library is clearly so valuable to the island.  After spending just an hour or so at their sale (a bag of books for $1!), and browsing the shelves while the kids played, I could feel it's role in not just in providing books and resources for residents, but being a gathering and community building space.  On the way back to the condo, we stopped at the Lummi Island Congregational Church, and meandered down it's secret pathway to the beach.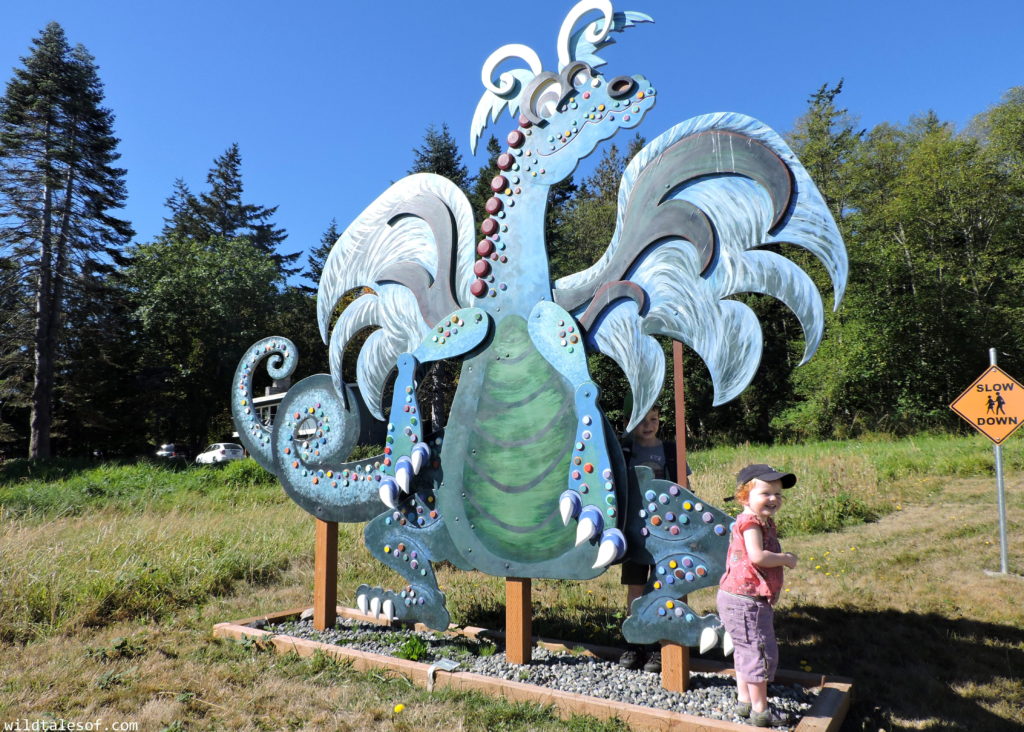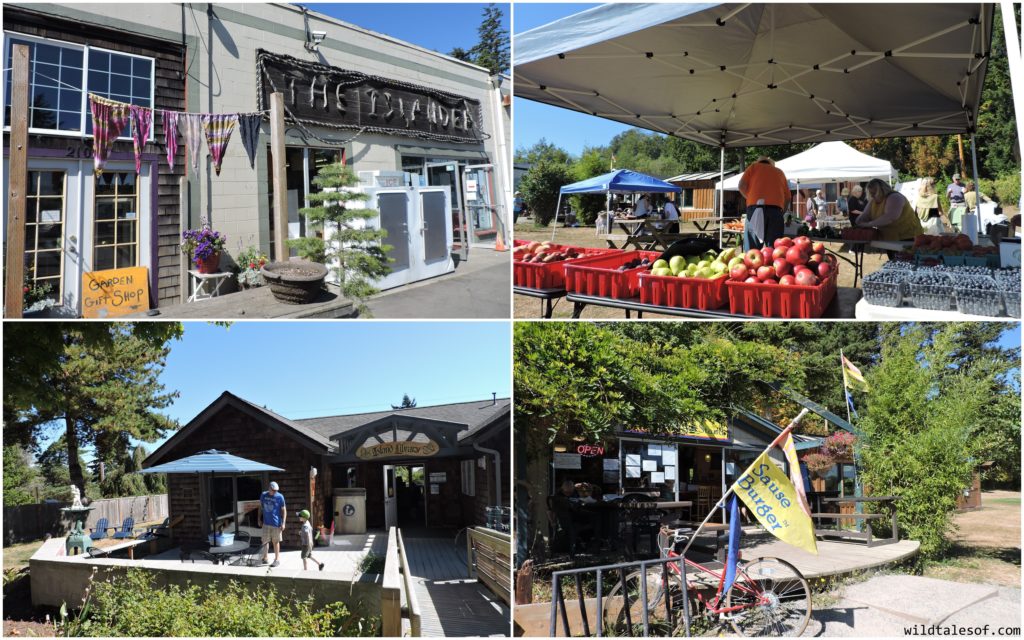 After naptime, we spent time at the pool before heading back to town for one of the island's only annual events–the Salmon BBQ at the Grange.  The event is another amazing display of the power of just a small group of people–from taking tickets, to cooking, serving, and cleaning up, these folks were organized and so warm and welcoming! And to top it off, our dinner was delicious.  I just wish I would have asked for their cheesy potato recipe.
Sunday morning we ventured to one of Lummi's few restaurants, the Beach Store Cafe for breakfast.  As far as we know, the Beach Store Cafe is also the only place on the island that serves espresso.  As I watched the kitchen staff work dutifully, visible right in the dining room, I knew our plates would be something special.  I was not disappointed–fluffy pancakes and scrambled eggs for the kids, Eggs Benedict for Slaed, and a perfectly crafted breakfast sandwich for me.
With full bellies, Bergen and I attended the Sunday service at Lummi Island Congregational Church.  We felt incredibly welcome, and the pastor even did a special children's version of her sermon.  Because Bergen was the only child in attendance, it was just for him!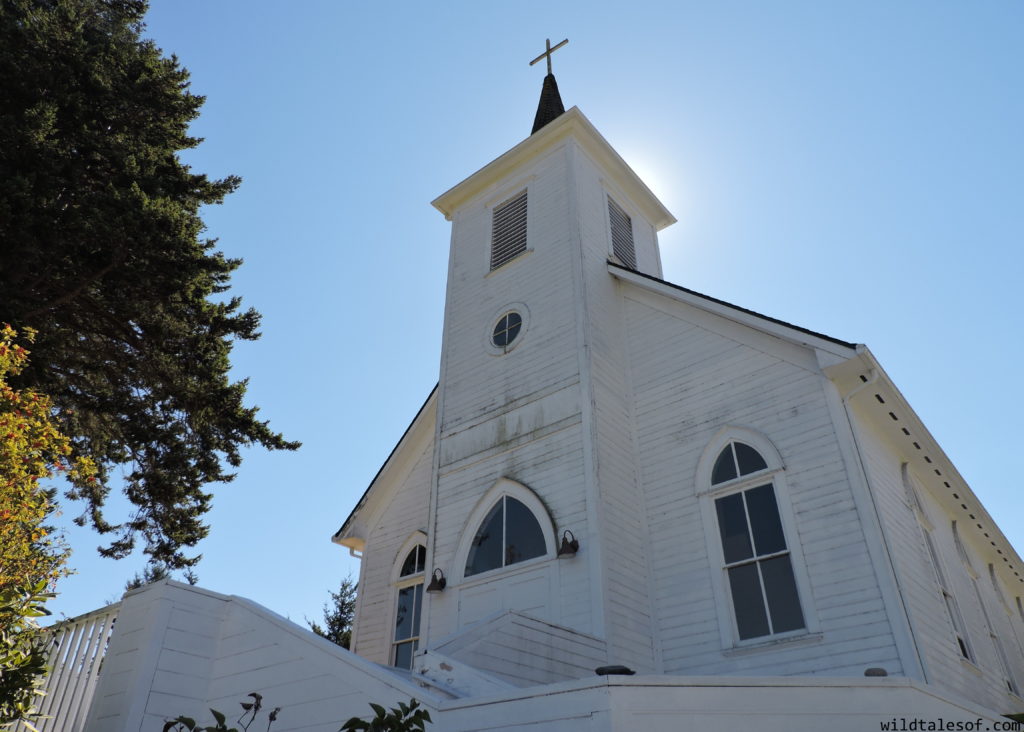 Bergen and I raced back to the condo following church to prepare for the babysitter who would care for the kids so that Slaed and I could sneak away for a few hours.   The 4 kid-free hours flew by.  Our first stop was The Willows Inn for their midday snacks and drinks on the front deck.  We treated ourselves to the best charcuterie plate I've ever experienced.  Delicious meats and cheeses, savory olives, and my favorite addition—fiddlehead ferns.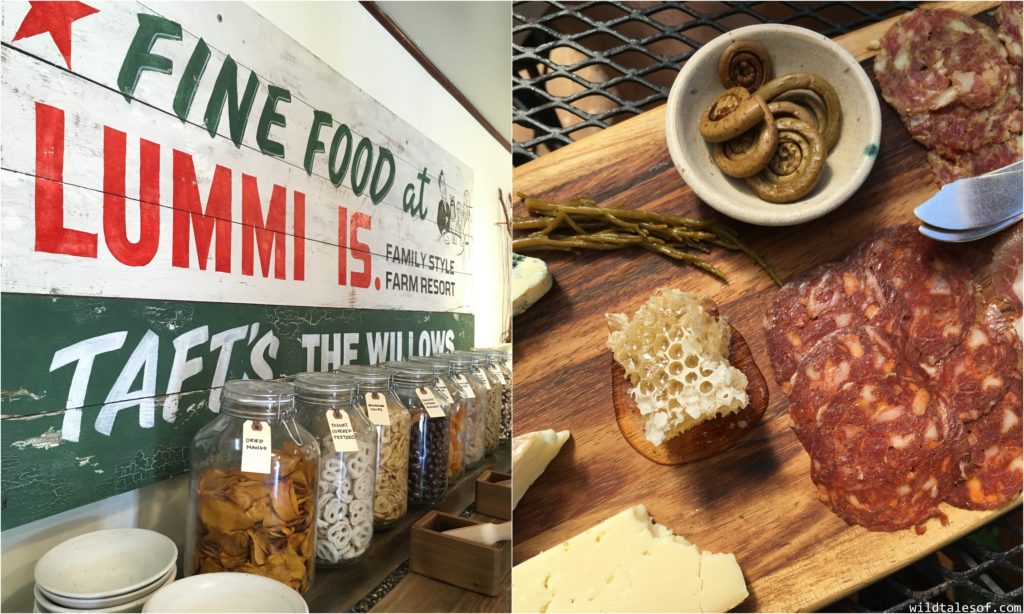 After lunch, we made our way to Legoe Bay to poke around the Silly Goose shop, and do some wine tasting.  On the way, we noticed several people pulled over so we stopped to see what all the fuss was about.  A pod of 6 or so whales were in pretty close range feasting on the fish out in the bay! It was thrilling to watch.  You can barely make them out in the photo below, to the left of the fishing boats.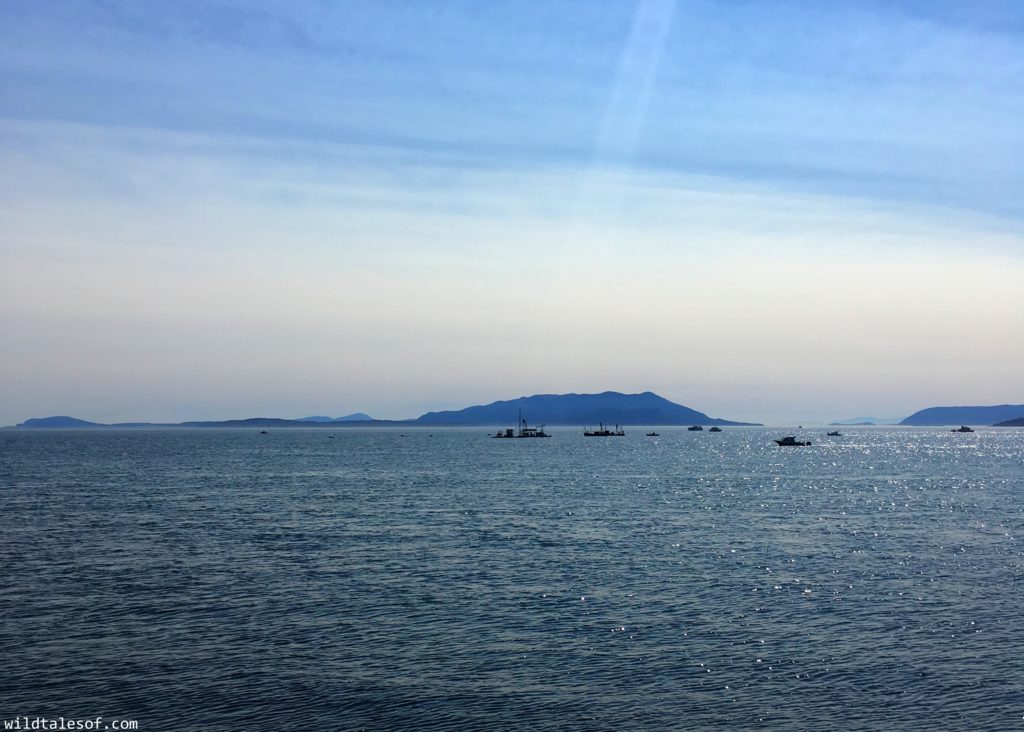 Wine tasting at Legoe Bay Winery was a lovely experience. We enjoyed several of their offerings, and decided to purchase a bottle of their buttery chardonnay.  The owners were just as excited as we were about the whales, and allowed us to use their binoculars to get a closer look.
We then meandered around the bay checking out the fishing shacks, and ultimately made our way back to the Silly Goose (located right next to Legoe Bay Winery) for some shopping.  What an adorable store! I could have stayed there all afternoon looking at her various collections of home decor and knick knacks.  There is definitely something for everyone.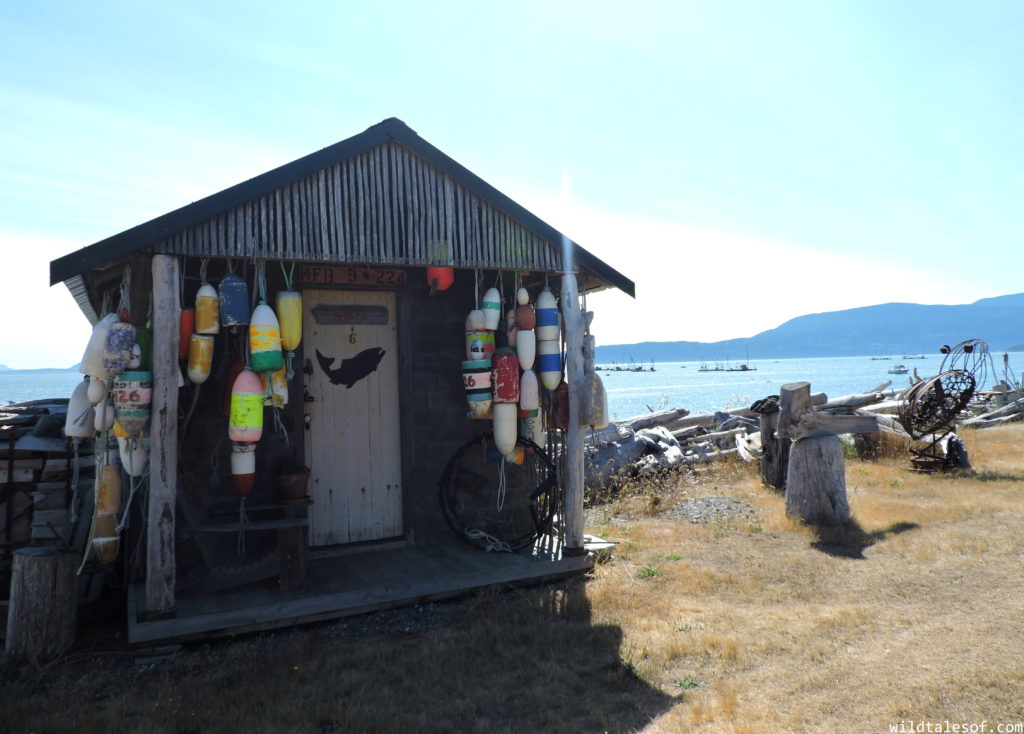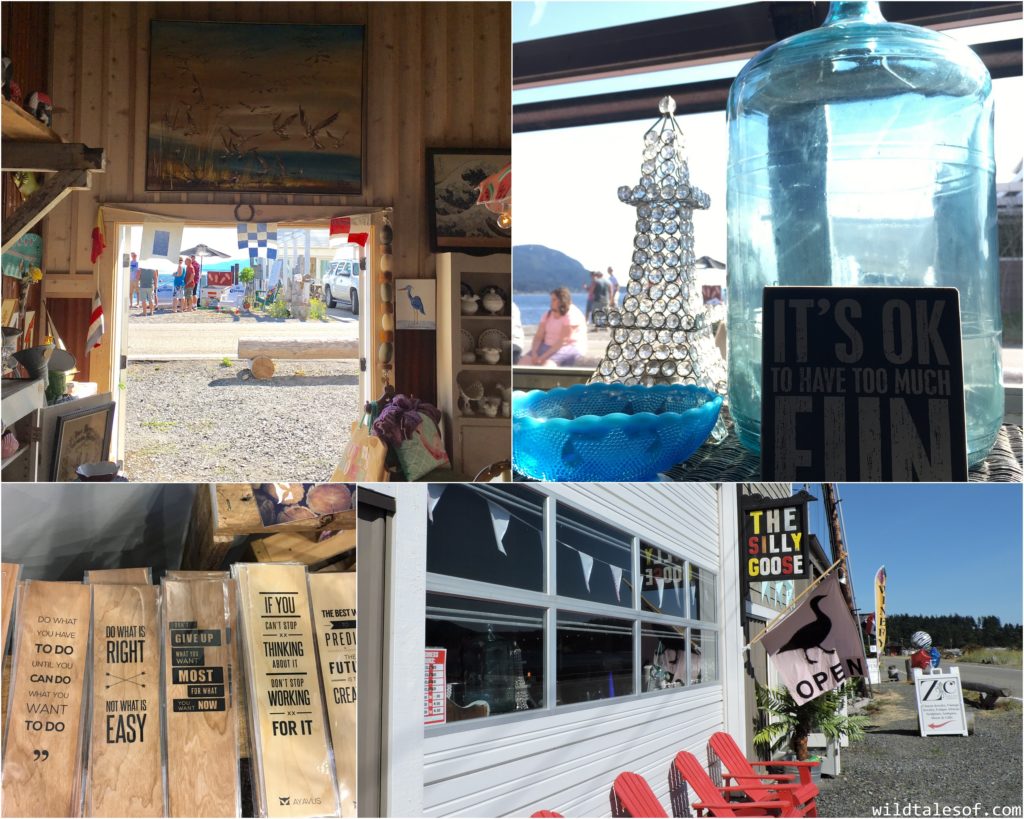 With just a little bit of time left on our "babysitter clock", we made our way back to the condo area, and walked along the beach.  I'm so glad we fit this visit in because as I mentioned at the beginning of the post, Slaed ended up helping some folks with their boat, and because of his good deed, they gifted us one and a half freshly steamed crabs! To make the most of it, we removed all the meat, saved it, and made some amazing crab cakes later in the week.
Once reunited with the kids, we spend the rest of the afternoon around the condo and at the pool.  We took advantage of the deck and outdoor space, and had a nice family barbecue.
For our last full day on Lummi, we headed out after breakfast at the condo for a hike in Baker Preserve.  The preserve is a very special place to the island as many individuals worked hard to ensure the land remained protected permanently.  Thanks to the San Juan Preservation Trust and the Washington Department of Fish and Wildlife, the property, which includes forest, grassy areas, farm land, and shoreline is set aside and limited to development.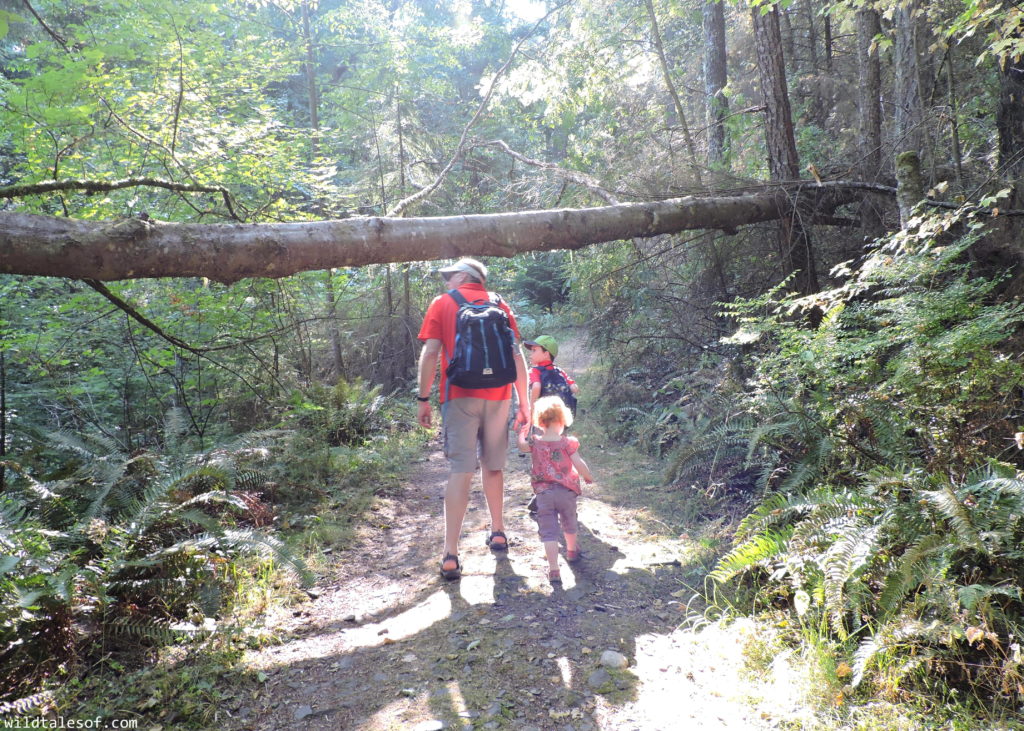 From the trailhead, it's a climb right from the start with some leveling out midway and plenty of gorgeous forest scenery.  At the end of the trail, we were treated to a spectacular view of the San Juan Islands, and were lucky enough to catch a blue sky before more smoke from forest fires settled into the region.  Just outside the preserve's boundaries, Bergen was also delighted to get to find one of his beloved geocaches.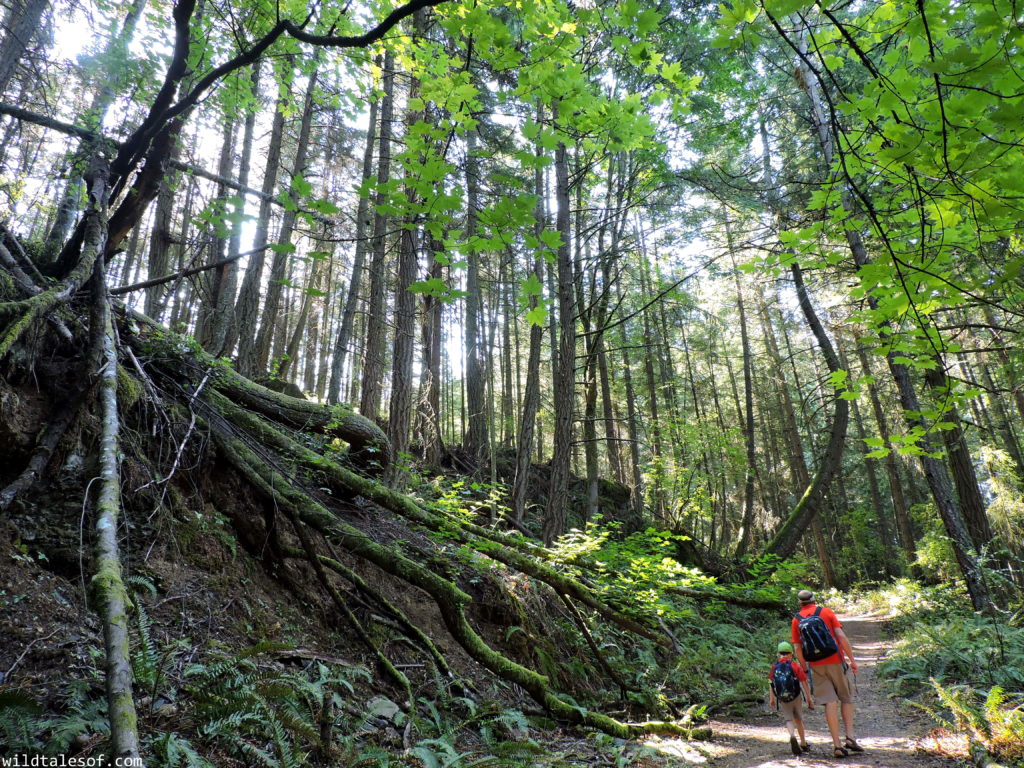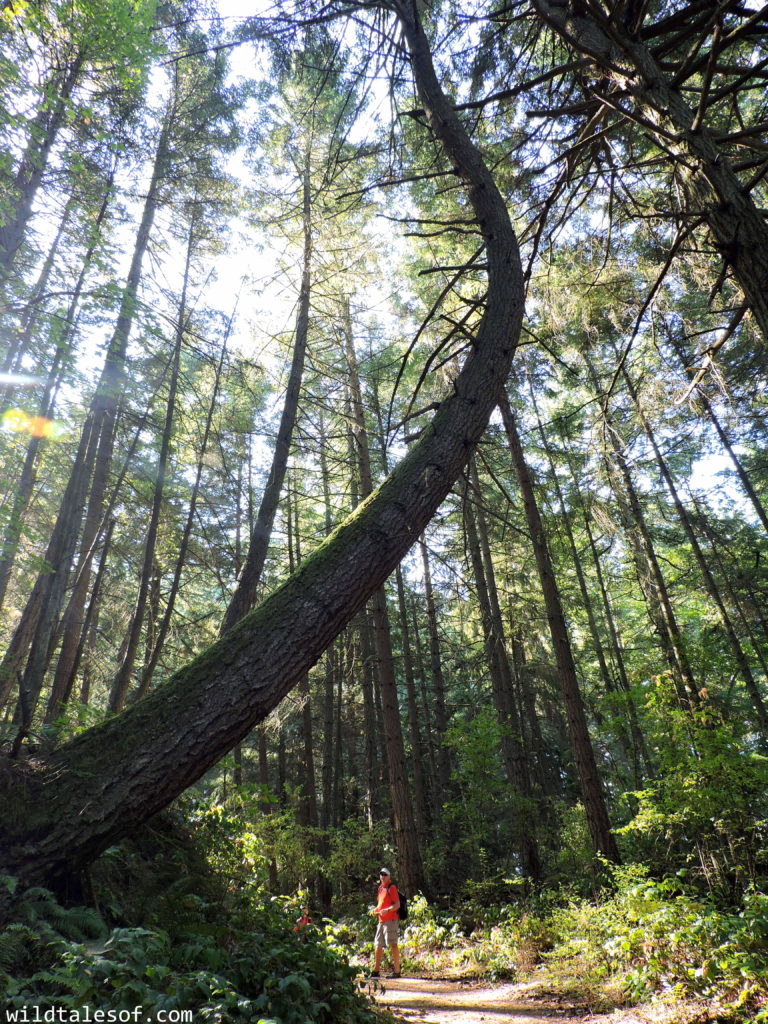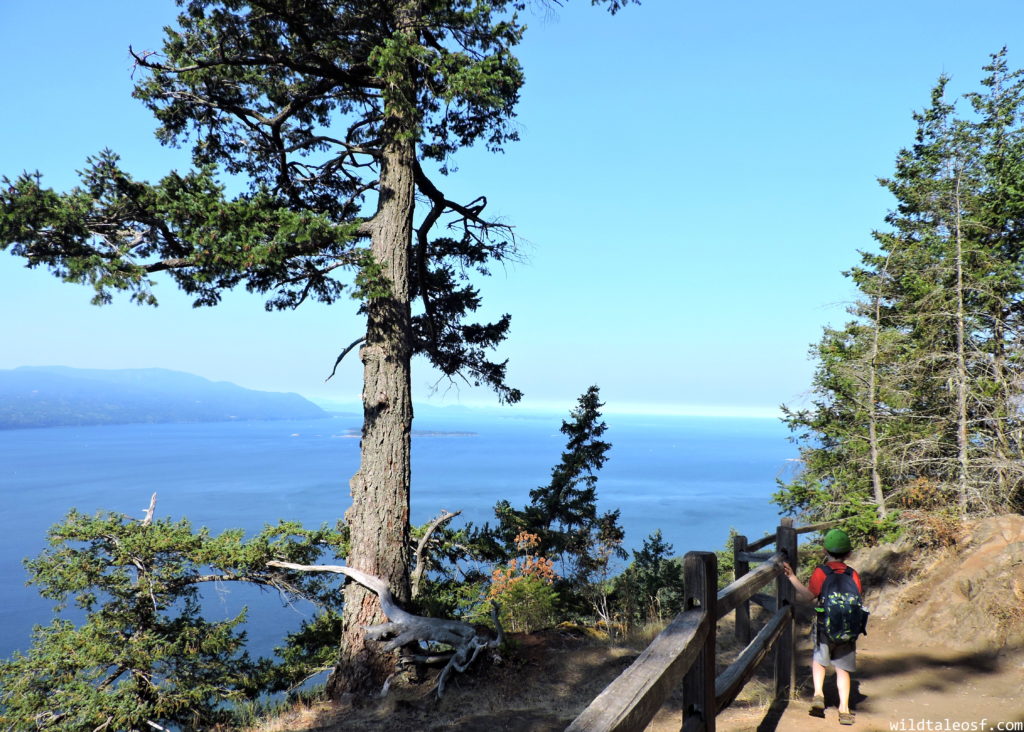 We stuck around the condo area with more beach and pool time that afternoon.  Wanting to enjoy our evening to it's fullest, Slaed and I fed the kids leftovers and got them to bed early.  We ordered takeout from the Beach Store Cafe, and while I made sure the kids were well off into dreamland, Slaed raced into town to pick it up.  We were very happy with our gourmet pizzas, and enjoyed sunset from the top deck just off the master bedroom—such a perfect way to savor our last evening on Lummi!
We expected our departure day to simply involve us cleaning up, packing up, and heading out on the 10 AM ferry.  We took our time even, and fit in one last walk to see the seals and show Slaed and Georgia Sunset Beach, a public beach right by The Willows Inn.
The ferry takes less than 10 minutes to cross back to the  mainland, and to our surprise, the line of cars waiting to depart just kept going and going as we approached (and passed) the main town area. We thought we were smart for extending our visit past Labor Day.  However, it turns out that the ferry goes to dry dock for maintenance at this time every year!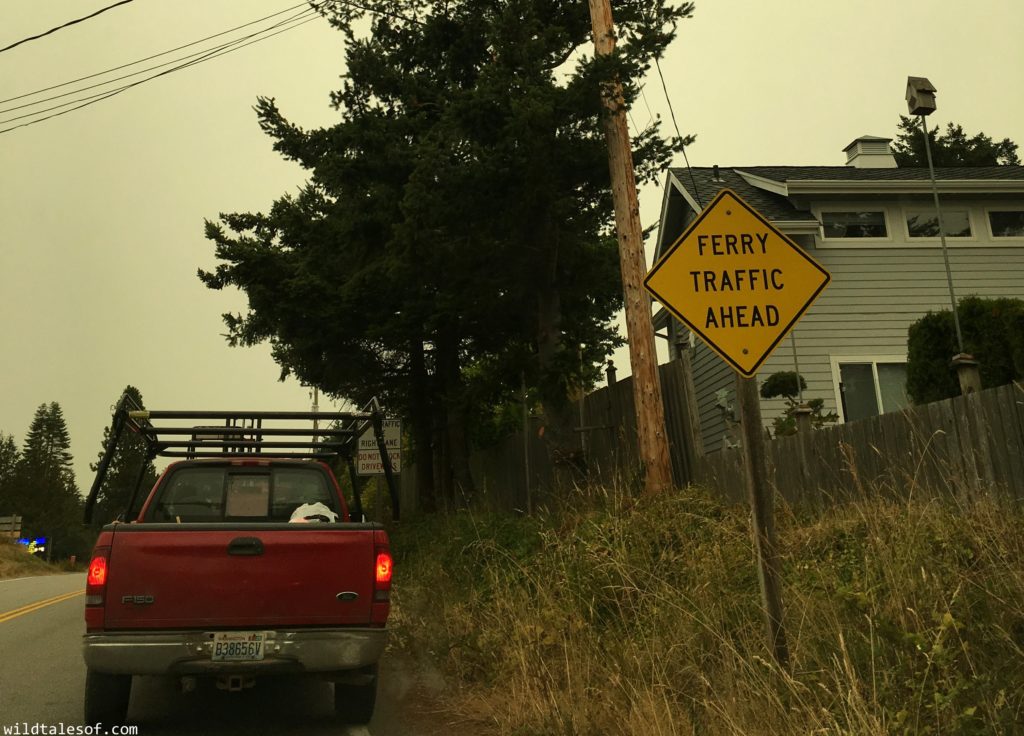 This particular day was the last day the ferry would run before taking almost a month off.  Residents were dropping spare cars over on the mainland, and getting in last minutes errands before they were limited to just a foot ferry for the maintenance period.
It was an inconvenience to have to wait HOURS longer than we'd planned for, but it's times like this that I treasure as well because we're forced to (literally) slow down and just enjoy ourselves right where we're at. I got to sip my coffee slowly, indulge on treats from the island store, and reflect on what a gift this mini vacation to Lummi Island was to our family.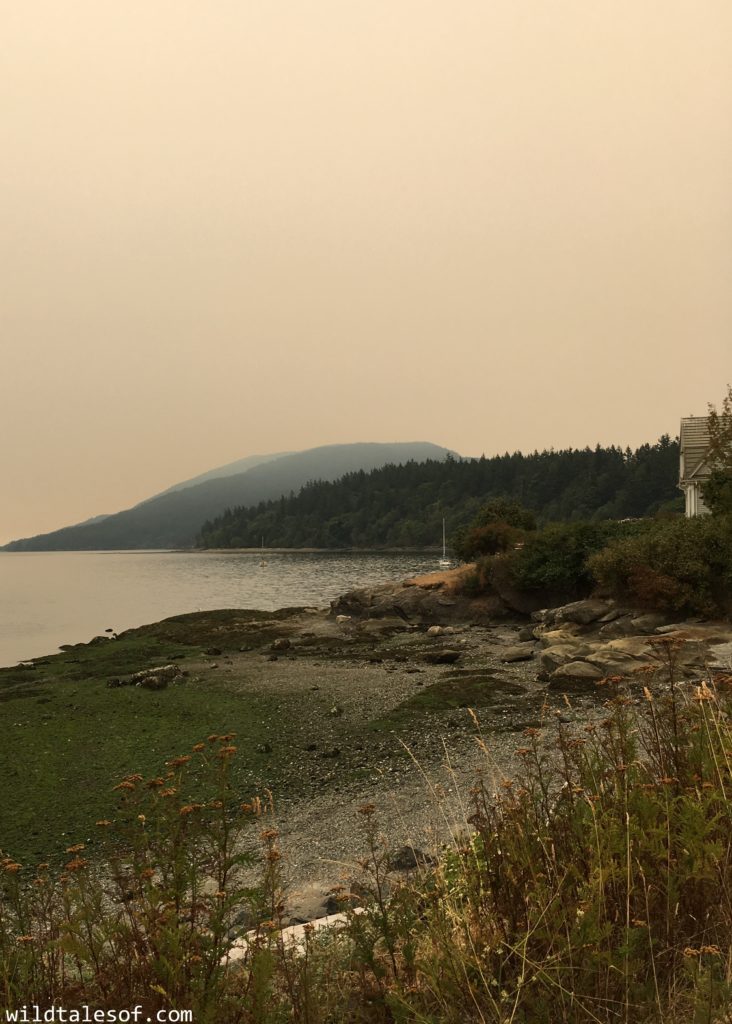 P.S. I didn't put a funky filter on those last 2 photos! The hazy feel appears unfortunately because smoke from regional wildfires had settled into the Puget Sound area.
Have you traveled to the San Juan Islands? Ever been to Lummi? We'd love to hear about your experience!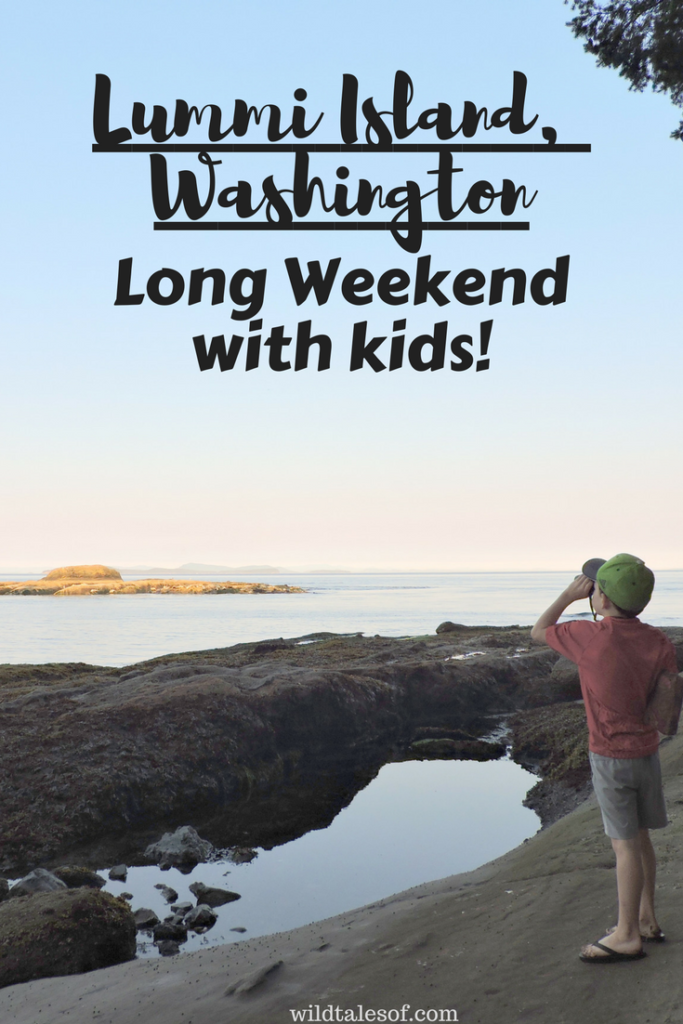 Disclosure: If you use our special link to book your accommodations on Airbnb, we'll receive a $20 travel credit, BUT guess what? If you use the link, YOU'LL receive a $40 travel credit! For more on why we love Airbnb for family travel, check out our post our post that also includes Airbnb navigation and booking tips.
Come join the conversation! You can keep up to date with each and every post by subscribing to the blog via email. We'd also love to have you join us on all of our adventures by "liking" our facebook page and following us on twitter! If you enjoyed this post, please "like it", "tweet it" or "pin it"!