We often get poked fun of or are the recipients of eye rolls because of how far in advance we plan for travel, but we have our reasons for making travel arrangements ahead of time! While I know it's not for everyone, and we certainly don't end up scheduling in advance for every trip, I wanted to share why we plan ahead, and why we think it's such a good thing for families to consider.
At the time I'm actually writing this post, summer vacation is about 3 months away, so it really is smart to be thinking about trip ideas and booking tickets and lodging if you haven't already!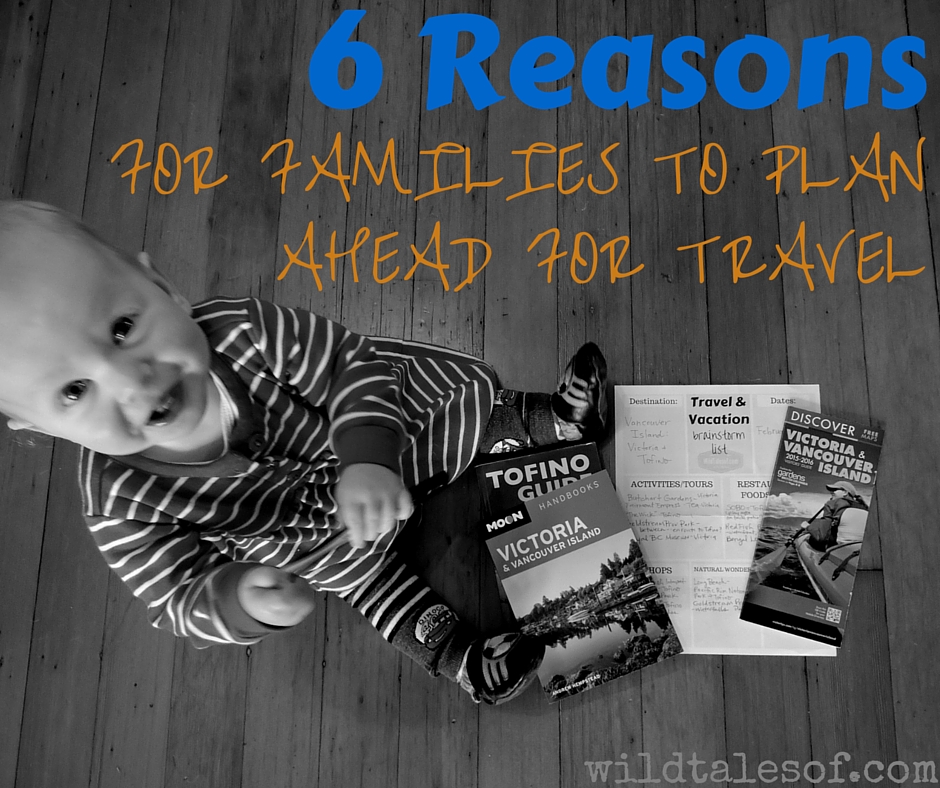 Why We Plan Ahead for Travel
Save Money
Saving money really is our number one reason to plan ahead.  Airfare will be less expensive when you plan ahead (unless you are willing to wait (and flexible) for last minute deals, of course).  In fact many airlines will refund the difference (sometimes in the form of cash, sometimes travel voucher) if and when the price of your purchased fare goes down before you travel.
When you plan ahead, you also give yourself more time to find deals or your best price on all things related to your travel including lodging, rental car, and activities.
Easier Budgeting
When we plan far in advance, we're able to space out payments and expenses for the trip.  For example, we recently booked a summer visit to Vancouver, BC.  We'll be lodging in a rental home, which requires us to pay a deposit now, and will then pay the remainder of the balance closer to the date of travel.  This is a concrete example with actual deadlines, but you could also budget by setting aside funds every month for that upcoming trip and pay all the expenses at once.
Builds Excitement
It's hard to think of anything more exciting than an upcoming vacation, even if it's over a year away (yes, we have something already on the calendar for 2017)! We love giving ourselves things to look forward to, and we also like having plenty of time to research and learn about the destination.
More Choices
Especially in terms of lodging, we want to be able to stay at the hotel or rental house that is right for our family.  Space, budget, and location (location, location) are all factors that we consider.  The further out we plan, the more choices we'll have because spots aren't getting gobbled (and reserved) by other travelers.
Better able to Schedule around Holidays & Work
Planning ahead gives us the opportunity to work around Slaed's work schedule and Bergen's (our 4 year old) school schedule. When we know that we have certain clusters of time off, we can pop in travel opportunities.  Since Bergen is in school and often having the same days/weeks off as the rest of the country, it's even more crucial to plan ahead; spring break, winter break, summer break and all the major holidays are busy.  Places get booked up, and prices sky rocket.  And in terms of Slaed's work, the more time he can give his office mates and co-workers notice of his absence(s), the better!
You'll Actually Go!
Days off and vacation days will come and go if we aren't intentional about what we do with them! If we didn't take the time to plan, we'd still have those days off and we also still might travel, but when left the last minute the adventure wouldn't be as rich, exciting, or memorable.  I imagine we'd just get stuck in ruts of visiting the same places that are easy, safe, and close to home.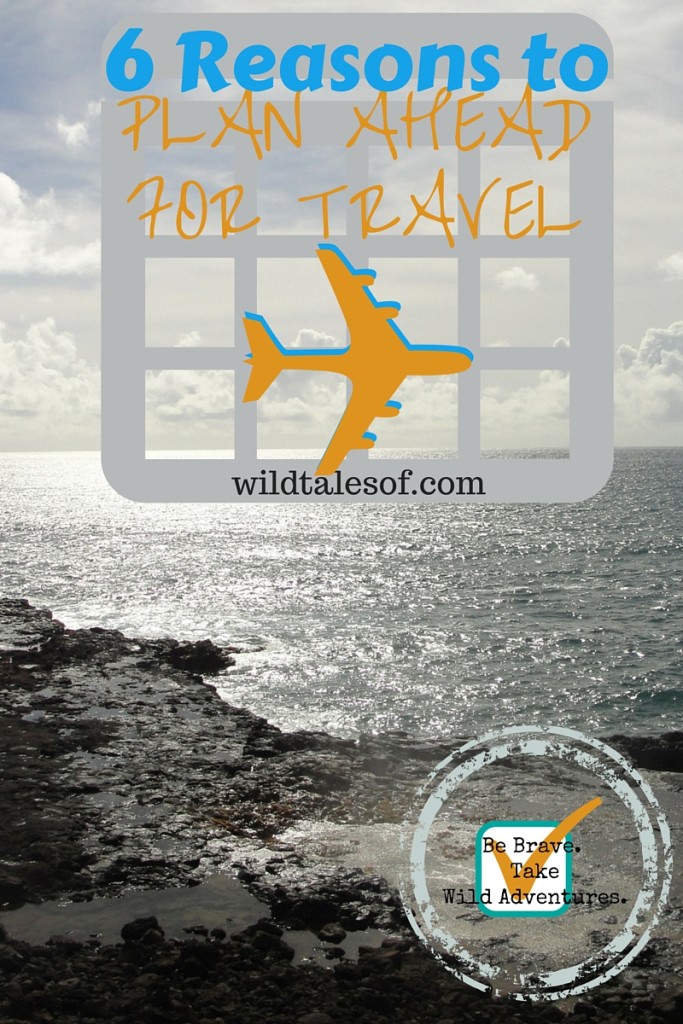 Travel & Vacation Brainstorm List Printable
Sign up for our newsletter, and receive our free travel & vacation brainstorm list printable!  After signing up (name & email), we'll send you the special password to our resource library where the printable is located.  The newsletter goes out every Wednesday, and in addition to updates from the blog, subscribers receive an extra dose of inspiration in the form of travel tips, deal alerts, and how-to's for adding more travel and adventure into their lives! Already on our newsletter list? Then you're all set with the password! Forgot the password? Email me: wildtalesof AT gmail.com.
What's the furthest in advance you've planned for travel? Do you plan ahead for travel often? Why or why not?
Come join the conversation! You can keep up to date with each and every post by subscribing to the blog via email. We'd also love to have you join us on all of our adventures by "liking" our facebook page and following us on twitter! If you enjoyed this post, please "like it", "tweet it" or "pin it"!